The best nightclubs and dance clubs in Chicago
Bust a move while listening to the city's top DJs at some of the best nightclubs and dance clubs in Chicago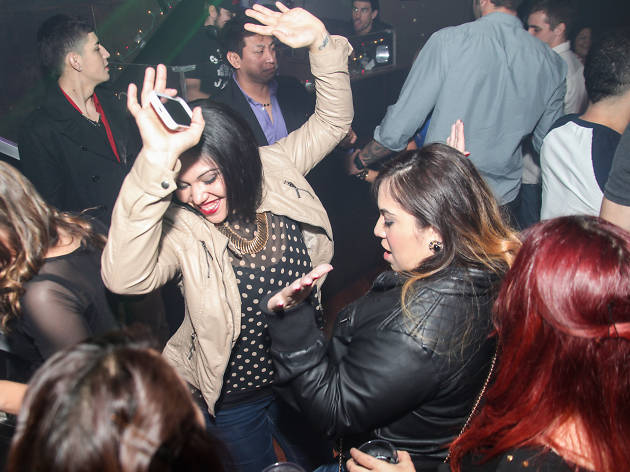 Three decades ago, dance club DJs Ron Hardy and Frankie Knuckles starting spinning a new breed of disco music built from bass and drum machines. They played these hypnotic electronic records by producers like Jessie Saunders and Mr. Fingers at the Warehouse nightclub. Thus, "house" music was born.

Today, the Warehouse is long gone from Jefferson Street. That area of the West Loop is better known for its art galleries and cutting-edge restaurants. Point is, Chicago invented this whole house music thing. We know how to get down (that's why we host so many summer music festivals). There are dance parties at clubs and bars across the city, offering everything from hip-hop to country. These are our favorite spots for a sweaty night of dancing.
The best dance clubs in Chicago
1
Originally on the fourth floor of the magnificent Wrigleyville building (also home to Metro), this venerated dance club is now in the basement. A recent makeover slicked up the looks a notch and brought back a vibrant young crowd. But more important, the club boasts a world-class Funktion One sound system, which sounds tremendous on the central dance floor. Cutting-edge DJs from Europe, Detroit and Chicago form the bulk of the weekend bookings with house, techno and electro styles; but local mash-up and indie jocks rule on bargain weekday nights.
Read more
2
Between its oversize dance floor, massive LED wall, 30-foot bar and craft cocktail program, Primary is sure to become the envy of its Gold Coast neighbors, and fast. Owned by a posse of nightlife veterans with their ears to the sound of now, it's a hip alternative to clubs near the "triangle" that have been coasting with the same formula. Look for some of the city's top up-and-coming DJs spinning house, electro, dubstep, underground disco and indie dance alongside the occasional global talent. What do real clubbers crave? An intimate, music-focused but still stylish night out free of bullshit. This NKOTB puts it all on a top soundsystem. We think this basement club fills the void left by Sonotheque.
Read more
3
One of the most versatile venues in town, the Mid combines traditional venue options with the bottle-popping club world. Two stories allow for dancing and drinking on weekends, but smaller nights see just the main floor used for everything from indie bands to up-and-coming DJ talent. Brought to us by some of Chicago's biggest promoters, this Fulton Market area upstart only took a few years to rise to the top. It now nabs many of the big name bookings swinging through town—which can mean huge lines to get in.
Read more
4
Now outfitted with a 4am license, East Room has quickly become one of the top destinations for pre-gaming, after-parties and everything in-between. Arrive at the Logan Square bar on a random night and you may find local tastemakers playing tracks at the Aux Cord DJ night or encounter a line down the block for sets from national acts like Gaslamp Killer and Nosaj Thing.
Read more
5
This freak-friendly dance destination in Lakeview built its reputation back in the mid-'80s with a mix of German new-wave music, art installations and weekly parties. These days, it's still quirky but more retro, with Prince-tribute, disco and '80s nostalgia nights. Goths and gays are extra welcome, but the scene here is made up of almost everyone. Thursday night's Stardust a major locus of creativity in nightlife.
Read more
6
With outposts in New York, San Francisco, Austin and Portland, Chicago seemed like the next logical location for the kitsch-happy Beauty Bar concept. Retrofitted into the old Sonotheque, the bar carried over the sound system but otherwise got a complete face-lift. Sparkling glitter paint adorns the walls, '60s beauty salon furniture acts as seating, and the backroom dance floor is completed with a shimmering disco ball. The music stays obscure and mostly dusty during the week, but DJs turn it into an electro dance party most weekends.
Read more
7
Second-generation restaurateurs R.J. and Jerrod Melman raised the bar with the opening of this second-floor nightclub above their French restaurant, Paris Club. Tables can be secured only with bottle-service reservations, resident and touring DJs spin, and roving photographers snap black-and-whites of the scene. In warm weather, a retractable roof turns the room into an open-air deck.
Read more
8
This spot may have changed names more than any other venue in the 'hood, but it's become an unlikely young hipster hangout thanks to long-standing weekend dance parties hosted by local jocks Zebo, Marco Morales, Johnny Walker, and the Porn and Chicken posse. It's making serious inroads on our weekdays as well thanks to the over-the-top exploits of Monday throwdown Porn and Chicken and Thursday's Let's Get Weird. No one really loved the Evil Olive space, but through sheer force of party will and audacity (and porn, and fried chicken) it's the joint.
Read more
9
One of Wicker Park's hottest spots—especially for you kiddies, as it's the only place on the stretch catering to an 18+ crowd—boasts two floors of indie, electro and dance-rock mayhem. Events run the gamut from rock-fueled burlesque nights on weeknights to open-ended DJ dance parties on the weekends. Former Lakeview institution Neo programs events in the basement, bringing its signature alternative vibes and goth-punk crowd.
Read more
10
Want to party where the celebrities go? Billy Dec's River North nightclub is a frequent destination for VIPs of all stripes, from athletes to movie stars. Though it once sported an underground bunker theme, the subterranean space has been remolded to reflect the tastes of its chic clientele. You'll find DJs spinning electronic beats, tables sporting bottle service and—if you're luck—a famous face to take a selfie with.
Read more
11
This slick, modern, multilevel Euro-style club in River North opened to much fanfare in 2004 and has kept clubbers busy ever since, hosting big-name touring progressive house and techno DJs on a regular basis. With a solid lineup of resident DJs, costumed dancers and a powerful sound system, this multiroom venue always seems to boast a spectacular scene.  
Read more