The nightclubs where you should go dancing in Chicago
Bust a move while listening to the city's top DJs at the best nightclubs and dance clubs in Chicago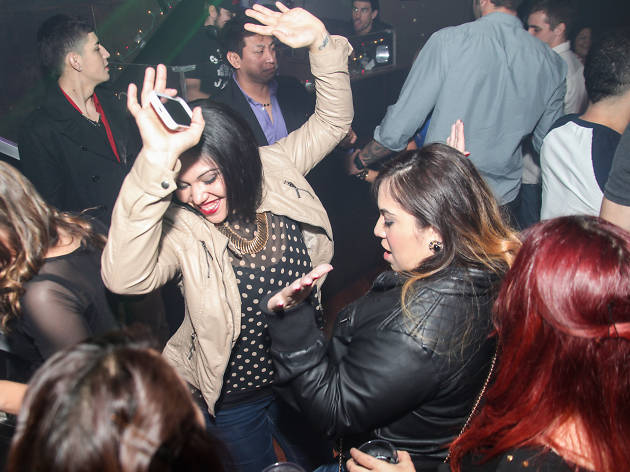 When DJs Ron Hardy and Frankie Knuckles started spinning a new breed of disco music built from bass and drum machines in Chicago dance clubs more than three decades ago, they established the city as a hub of dance culture. While some of the city's most legendary clubs have been turned into restaurants, there are still plenty of places to hear dance music in Chicago (we even have entire summer music festivals devoted to electronic acts and DJs). If you're looking for a place to cut loose, enjoy some bottle service and show off your moves, get in line at the best nightclubs and dance clubs in Chicago.
The best dance clubs in Chicago
This subterranean club adjacent to Metro is a testament to Chicago's storied dance music history, hosting a weekly Sunday night party (Queen) that carries the torch for the city's house music scene. Open four nights a week, the Wrigleyville venue is the local home base of internationally renown DJs like the Black Madonna, Derrick Carter and Mark Farina. Whether you're listening to cutting-edge DJs or dusty old records, Smart Bar's cozy confines and European sound system make it an ideal place to lose yourself to dance.
Fulton Market may be best known for its thriving dining scene and Google headquarters, but all of those people need somewhere to go pop bottles and blow off some steam. Enter the Mid, a two-tiered dance club that books top-tier DJ sets and hosts local parties three nights a week. Reserve a table and celebrate a special occasion with bottle service, or just show up after you're done with dinner to dance with friends and strangers on the floor.
Now outfitted with a 4am license, East Room has quickly become a preferred destination for pre-gaming, after-parties and everything in between. Arrive at the Logan Square bar on a random night and you may find local figures spinning tracks or encounter a line down the block for DJ sets from national acts like Toro y Moi and Nosaj Thing.
A preferred hideout of local weirdos since the '80s, when the club lived up to its name by regularly featuring German new-wave music and art installations. These days, Berlin is best known for its weekly drag shows, '80s dance parties and quirky tributes to artists like Prince, Madonna and Björk. Stop by every Thursday for the rotating Stardust party, which features events like Femme's Room and DURO, which explicitly welcome LGBTQ, Latinx and other underrepresented communities.
Chicago's outpost of the kitschy Beauty Bar concept falls in line with iterations in New York, San Francisco and Austin, outfitted with sparkling walls and '60s beauty salon furniture. Hang out under the disco ball at popular recurring parties like Timbuck2esday, Emo vs. Pop-Punk and themed Friday night happy hours. If your nails need a bit of work, you can sometimes score a manicure and a martini in the front room for $15.
The preferred nightclub of local celebrities like Chance the Rapper, Studio Paris resides on the second floor of River North Italian restaurant Il Porcellino. While cover charges can be pricey, it's one of the only places in town where you'll find high-profile touring DJs and musicians stepping behind the decks for relatively intimate sets. Tables can be secured only with bottle-service reservations, so get ready to pony up some cash for the privilege of partying in these exclusive surroundings.
Located above Celeste in River North, Disco wears its retro aspirations on its sleeve, boasting a gigantic lighted dance floor and plenty of massive mirror balls. The playlists are also a conscious throwback to the '70s, filled with key disco (duh), funk, soul and house music cuts. Show up on Friday and Saturday nights from champagne and dancing in this Instagram-worthy club.
This two-tiered nightclub brings the party to Lincoln Park... just across the street from the Whole Foods Market. You'll find big-name DJs like Steve Angello and Afrojack dropping beats, in addition to regular parties like F.A.M.E. Saturdays that always seem to draw a crowd. PRSYM boasts three bars, plenty of tables for your bottle service splurges and a VIP suite that you can rent out if you're feeling extra flush.
You're likely to run into a VIP at Billy Dec's River North nightclub, which is frequented by everyone from athletes to movie stars. Though it once sported an underground bunker theme, the subterranean space has been remolded to reflect the tastes of its chic clientele. You'll find DJs spinning electronic beats, tables sporting bottle service and—if you're luck—a famous face to take a selfie with.
It may not have the ideal layout for dancing, but party people still cram into this palindrome-monikered Bucktown club. Evil Olive's main attractions are its powerful sound system, $2 drinks on Tuesdays and a Saturday night trap music party that keeps the floor vibrating with bass-heavy tracks for six straight hours. You'll scream yourself hoarse here, but sometimes that's just the cost of having a great time.
Located in Wicker Park's prominent Flat Iron Building, Debonair caters to the young people that seem to fill the neighborhood's streets each weekend. On Fridays and Saturdays, the venue's signature video dance party keeps guests visually stimulated while they groove on the dance floor. Legendary goth and punk club Neo lives on in the basement on Thursday nights with a mix of New Wave and '80s music.
A slick, modern, multilevel Euro-style entry in River North's crowded club scene, this venue has kept clubbers busy ever since opening in 2004, hosting touring progressive house and techno DJs on a regular basis. With a solid lineup of resident DJs, costumed dancers and a powerful sound system, this multiroom venue always seems to boast a spectacular scene.