Heads up! We're working hard to be accurate – but these are unusual times, so please always check before heading out.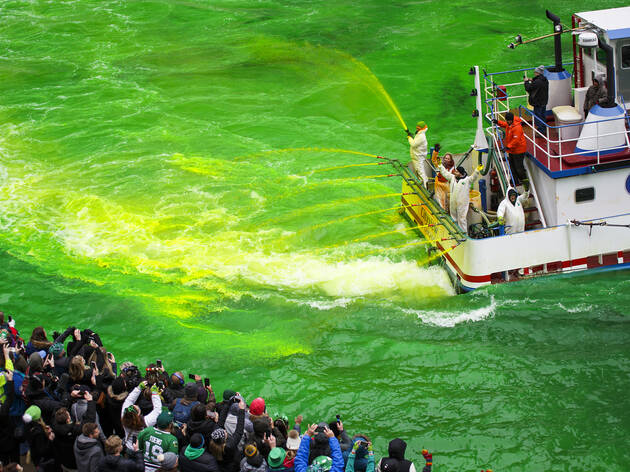 The inside scoop on how the Chicago River is dyed green for St. Patrick's Day
We found out how many plumbers it takes to turn the Chicago River green for St. Patrick's Day
Before the annual Chicago St. Patrick's Day Parade steps off in Grant Park each March, representatives of the Chicago Journeymen Plumbers Local Union 130 are tasked with turning the Chicago River a vibrant shade of green. Thousands of people show up to take in the spectacle, lining sidewalks, bridges and the Chicago Riverwalk (or buying tickets to viewing parties on nearby rooftops). To find out exactly how this unnatural phenomenon is accomplished each year, we asked Plumbers Union recording-secretary Patrick McCarthy to fill us in on the details.
RECOMMENDED: Everything you need to know about St. Patrick's Day in Chicago
When did Chicago begin its annual river-dyeing tradition?
The dyeing dates back to 1962 and has always been performed by the Chicago Journeymen Plumbers Union.
What length of the river is dyed?
A quarter mile of the waterway, stretching from Columbus Drive to State Street.
How many boats are used to dye the river?
Two boats—one to drop the dye in and another to stir it up.
How long does the dye last?
At least a day, but sometimes two to three days if there's no wind or rain.
What's in the dye?
The exact formula is a secret, but it's an orange-red, vegetable-based powder.
Who operates the boats?
Eight people in all, including members of the Butler and Rowan families, who originated the tradition.
How much dye is dumped into the river?
Fifty pounds over the course of about 45 minutes.
How messy is the dyeing process?
Very. The folks who dye the river are usually washing dye out of their hair for a couple of weeks.