Chicago St. Patrick's Day Parade 2019
Find the best spots to watch the bagpipers and dancers in the St. Patrick's Day Parade with our guide to the festivities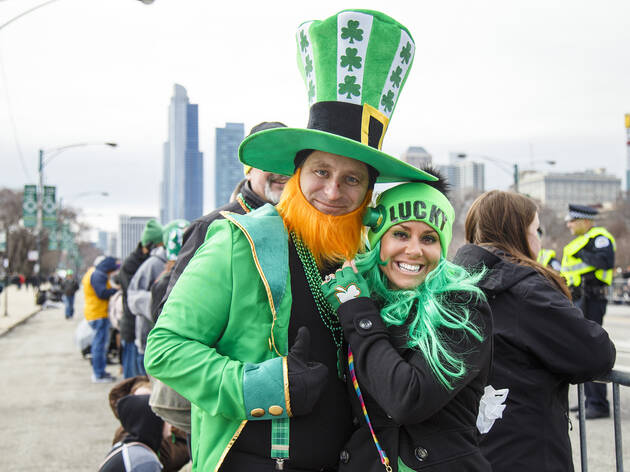 It's not St. Patrick's Day in Chicago without a parade, and you can't have a procession in Grant Park without dyeing the Chicago River bright green. Kick off the Irish holiday by finding a spot on the Michigan Avenue bridge, where you can watch gallons of dye being poured into the river. Then, make your way over to Grant Park, where bagpipers, dancers and politicians make their way north on Columbus Avenue during the afternoon. After the festivities are finished, stick around to enjoy everything that the Loop has to offer or make your way to one of the best Irish pubs in Chicago. We've gathered everything you need to know about the Chicago St. Patrick's Day Parade to make the greenest day of the year a little bit easier.
RECOMMENDED: Our guide complete guide to St. Patrick's Day in Chicago
When is the Chicago St. Patrick's Day Parade?
The Chicago St. Patrick's Day Parade begins at noon, but the festivities start with the dyeing of the Chicago River at 9am on Saturday, March 16. For optimal views of the fluorescent green water, head to the east side of the Michigan Avenue bridge, the west side of the Columbus Drive bridge, or find a spot on the Riverwalk between State Street and Columbus Drive.
Where is the Chicago St. Patrick's Day Parade?
This year's parade steps off from the intersection of Columbus and Balbo Drives at noon, continuing north on Columbus until concluding at Monroe Street. Barricades are set up along Columbus, and attendees typically arrive early to set up seats. The main viewing stand is located in front of Buckingham Fountain, where dancers and bands pause to wave to the crowd.
How do I get to the Chicago St. Patrick's Day Parade?
Take the Blue or Red Line and get off in the Loop. Then, walk to Columbus Avenue in Grant Park. You can also access the area via Orange, Pink, Green and Brown lines. Simply get off at Wabash and walk to Columbus Avenue from there.
Attractions to see after the St. Patrick's Day Parade
Restaurants near the St. Patrick's Day Parade
The menu at this all-day French cafe skews toward classics, like escargot and mussels and it's a lively post-work spot for drinks, like a daily shaved ice cocktail, while the excellent burger, a towering stack with two patties, thick bacon, confit onions, American cheese and Dijonnaise, is big enough for two.
Restaurants, Contemporary American
Tucked behind the Game Room in the Chicago Athletic Association, Cherry Circle Room used to be where club members refueled. Now that it's open to everyone, the talented kitchen turns out gorgeous dishes like shrimp cocktail with a delightful Bloody Mary-spiced cocktail sauce and a generous pâté board. A roving cocktail cart serves drinks tableside and ice cream drinks, like a grasshopper served in a milk jar, cap off the meal.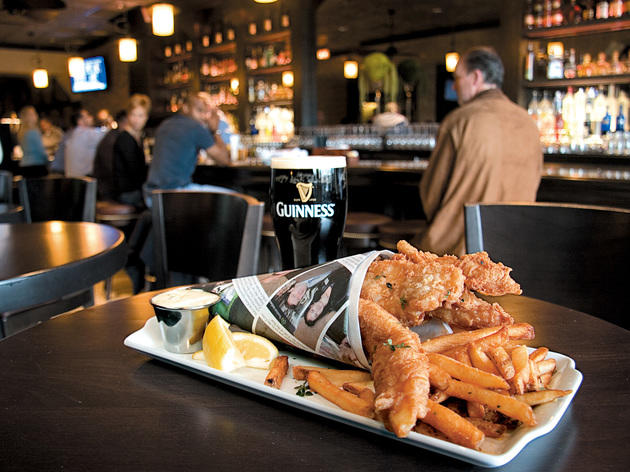 Owner Billy Lawless nailed the gastropub with this Mag Mile hit. The whiskey list is lengthy, beer options reach beyond the basics, and wines are accompanied by clever, straightforward descriptions. The food is rich and aggressively flavorful, from the perfect-for-snacking Scotch egg to the Gage venison burger, served a juicy medium-rare and dripping with pickled onions and gouda.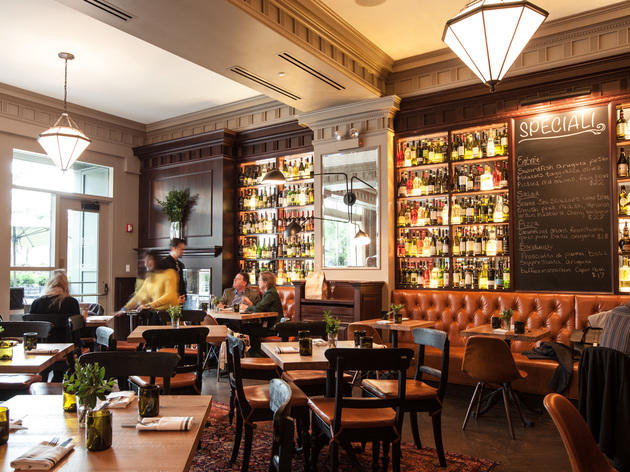 Meet The Gage's little sister, Acanto, offering a casual but quality dining experience on Michigan Avenue. Start with a cheese plate, which comes with an array of accompaniments, before moving onto well-executed pastas, fried artichokes and tender octopus. End with the smoothest, creamiest gelato in town.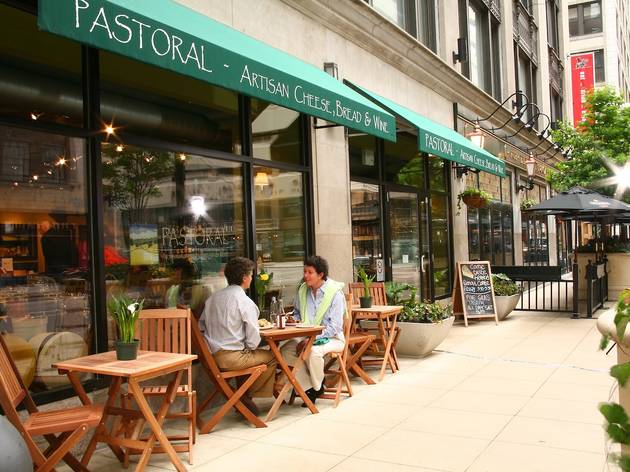 Shopping, Specialist food and drink
Small-batch artisan cheeses are cut to order at this friendly, well-stocked wine-and-cheese shop. Menu items, like the London Calling sandwich of smoked Scottish salmon, cucumber and quark spread, are perfect for a quick lunch in one of the handful of seats on the outdoor patio, and the to-go picnic baskets (choose from cheese-, meat- and Bavarian-focused packages, among many other styles) are perfect for a Millennium Park concert.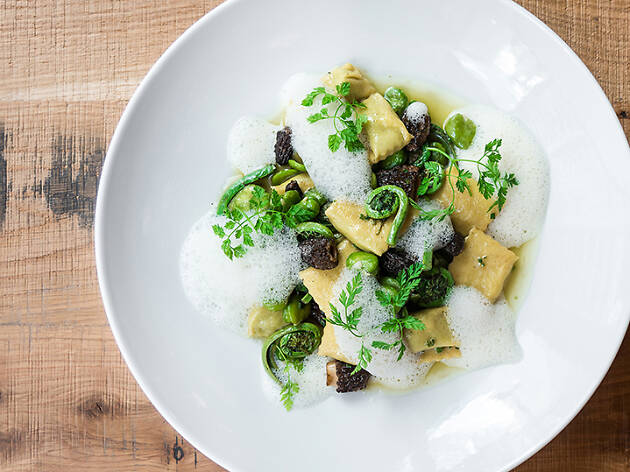 Photograph: Courtesy The Dearborn
Restaurants, Contemporary American
The Dearborn
Whether you're looking for a pre-theater snack at the bar or a new weekend brunch option, The Dearborn has you covered with its versatile menus and sprawling dining room. Go casual with a burger and fries or turn things up with rich options like braised veal cheeks, a 28-ounce dry-aged porterhouse or house-made Parmesan gnocchi. Just be sure to save room for dessert—the caramel apple churros are divine.
Chicago's second Shake Shack location serves burgers in pillowy-soft buns, crispy crinkle-cut fries and some of the richest frozen custard we've ever had.
Bars near the St. Patrick's Day Parade