The 15 ugliest buildings in Chicago
Chicago has some of the most beautiful architecture in the world, minus these 15 ugly buildings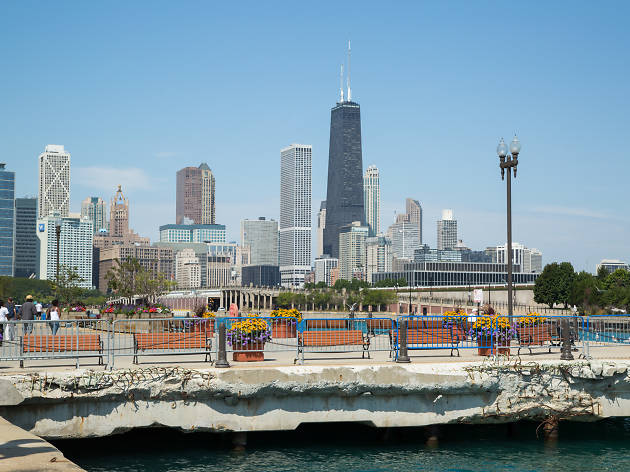 Chicago is known for its diverse and magnificent architecture, from the neo-Gothic facade of the Tribune Tower to the modernist waves that grace the Aqua Tower. In the summer, our streets and waterways are clogged with buses and boats on architectural tours. But even a skyline as gorgeous as ours has a few duds.
We assessed the city's buildings and assembled a list of some of the least aesthetically pleasing edifices (mostly in the Loop): 15 examples of the most depressing downtown downers and suckiest skyscrapers. The upshot? They're vastly outnumbered by the greats.
RECOMMENDED: The 50 most beautiful buildings in Chicago
Chicago's ugliest buildings
1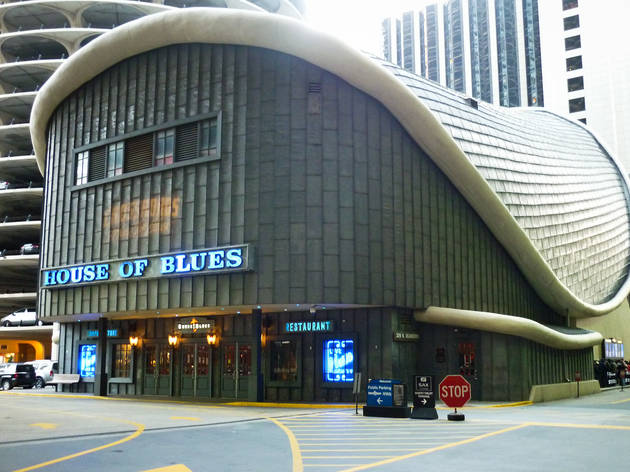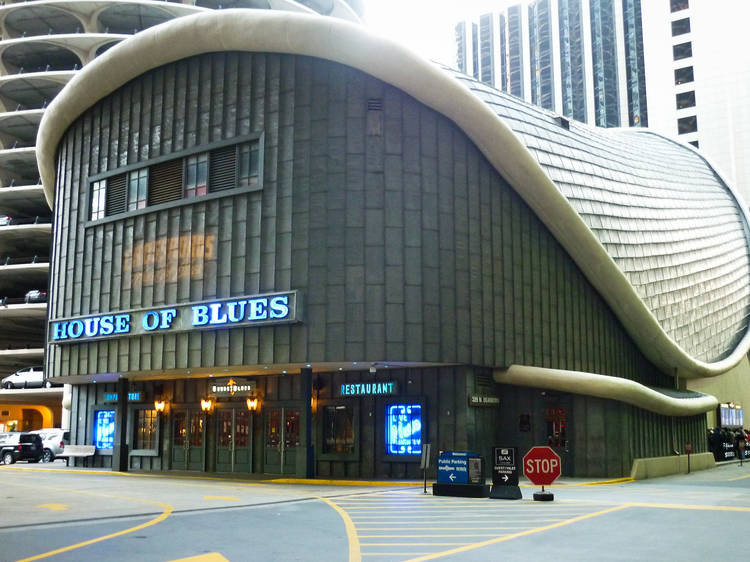 Photograph: Josh Michael G. Belarmino
House of Blues, 329 N Dearborn St
Hidden behind the iconic Marina City towers, Chicago's House of Blues looks like a tiki hut that had a giant concrete pancake dropped on top of it. The venue's acoustics lend further credence to this theory.
2
Photograph: Stephanie Bernstein
Apple Store, 401 N Michigan Avenue
Apple likes to make strong statements with its retail flagships, which we can appreciate—look at the hangarlike open space of the Lincoln Park store, or the glass cube on Fifth Avenue in New York. The squat new Mag Mile store that opened in 2017, though, manages the weird trick of being a permanent structure that looks like a pop-up, with its Macbook-esque roof floating awkwardly over the steps of Pioneer Court. It felt not fully thought-through, even before we learned the architects didn't think about birds. Or weather.
3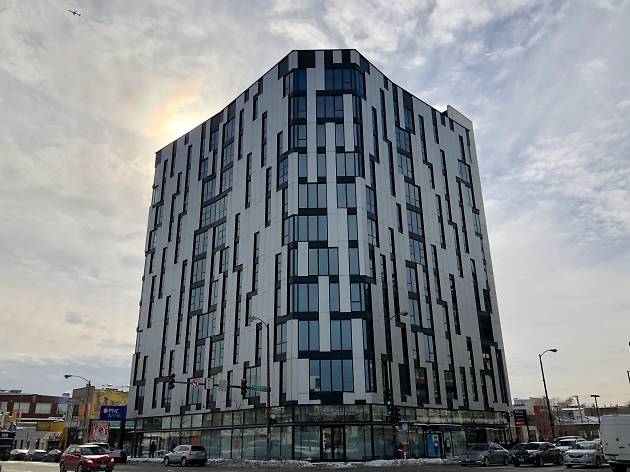 Photograph: Kris Vire
This 11-story Wicker Park highrise went up seemingly overnight in 2013, among the first residential projects in the city to embrace the transit-oriented development movement. We have no objections to the increased density and decreased on-site parking. But there's no excuse for this building's busy, tacky aesthetic, hulking over the Polish Triangle with its seemingly randomized array of cascading panels making it look like a video-game villain's evil lair. Worse, this glitch in the matrix appears to have set a self-consciously contemporary precedent for later TOD projects stretching up the Blue Line—see the jarringly glassy Logan Square twin towers near Milwaukee and California, which the developers insist on calling MiCA (ugh).
4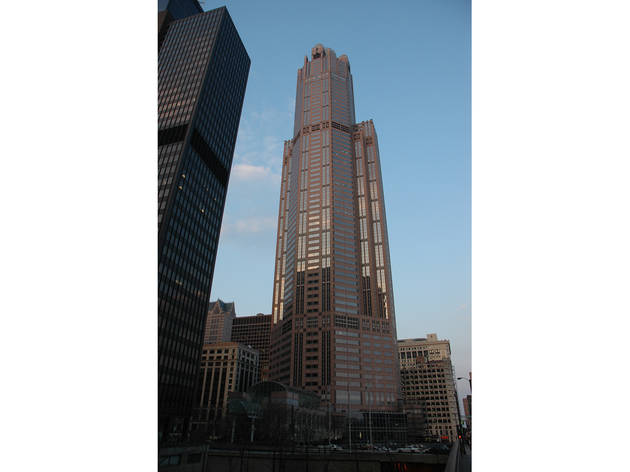 Photograph: Chicagogear
Chicago's best skyscrapers seem to have a timeless quality. This pink, postmodern model of excess, on the other hand, screams "1990," like an outdoor mall in skyscraper form. The building's crown is gaudily lit up at night by more than 1,500 florescent tubes—as if 311 South Wacker knows it can't overshadow the neighboring Willis Tower, so instead will try to literally outshine it.
This is the second-tallest building in Chicago, and that's all it has going for it. This simple, plain building wasn't even built correctly. Chicago has some of the harshest winters, so using marble for the exterior was not a good call. The entire building had to be resurfaced with granite (costing more than $80 million) because chunks of marble were cracking off and falling onto the streets. Ouch.
6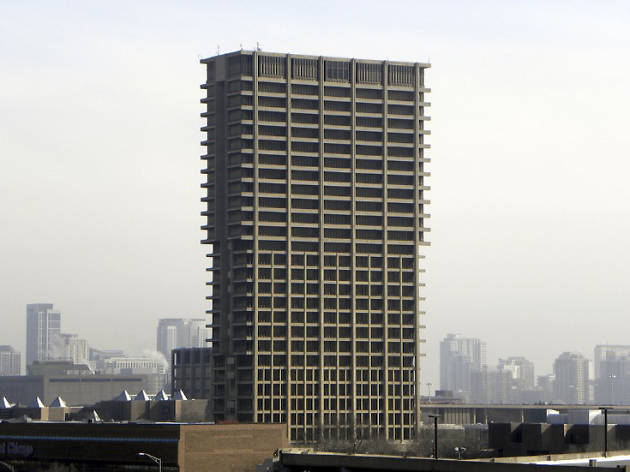 Photograph: Courtesy CC/Flickr
UIC University Hall, 601 S Morgan St
Really, UIC? You built a larger-than-life Triscuit cracker to house your administration. Or maybe it's more of a rogue domino. The vaguely pagodalike expansion at the upper floors makes the 28-story tower an immediately identifiable symbol of the 1960s "Circle" campus, but it's also a good reminder that iconic isn't always a compliment.
We get it, Bertrand Goldberg, no right angles is your thing. But most of us don't like it. After the Marina Towers, no wonder your next building was all the way down on the other side of the river. This building is a trypophobe's worst nightmare and reminds us of some post-apocolyptic pod people world.
8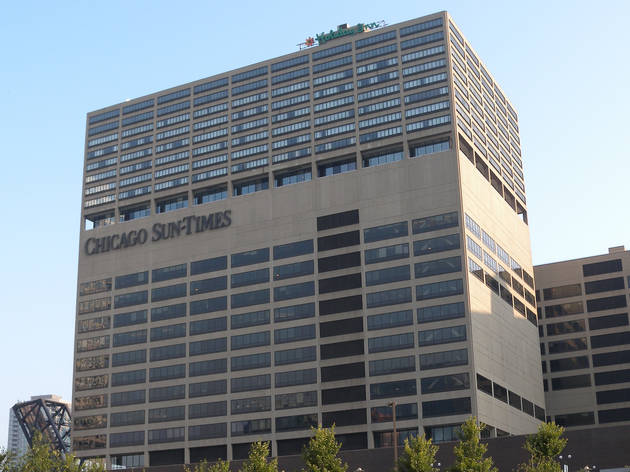 Photograph: Peter J. Markham
River North Point, 350 N Orleans St
Built in the 1970s as an annex to the Merchandise Mart, this 24-story building has been known by many names: the Apparel Center, Apparel Mart, 350 West Mart Center and, informally, the Chicago Sun-Times building (though the newspaper moved out in 2017). The drab concrete box might not look so bad if it didn't invite comparisons to its majestic older sibling. In a few years, River North Point will be largely hidden from river view by the three-tower Wolf Point development, which seems for the best.
9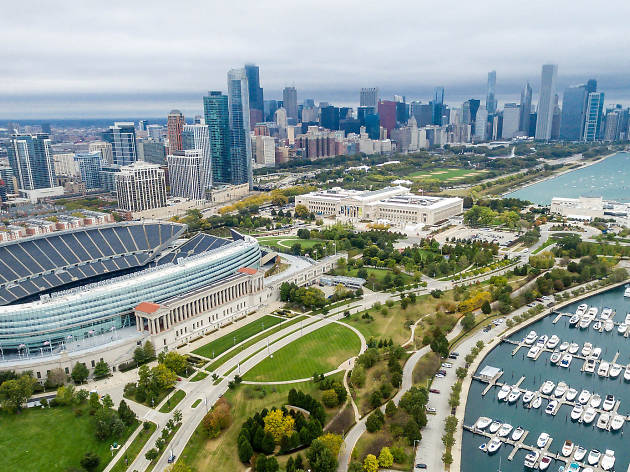 Photograph: Courtesy CC/Flickr/Marco Verch
Soldier Field, 1410 Museum Campus Dr
After 15 years, we've mostly gotten used to the sight of the UFO that landed inside the old Soldier Field's classical colonnades—viewed from Lake Shore Drive or out on the water, it no longer seems so jarring, just by virtue of time stood. But growing accustomed to the design isn't the same as growing fond of it. Try taking a look with fresh eyes, and the not-so-super bowl of steel and glass nestled uncomfortably into the Museum Campus confines is just as janky as it always was.
10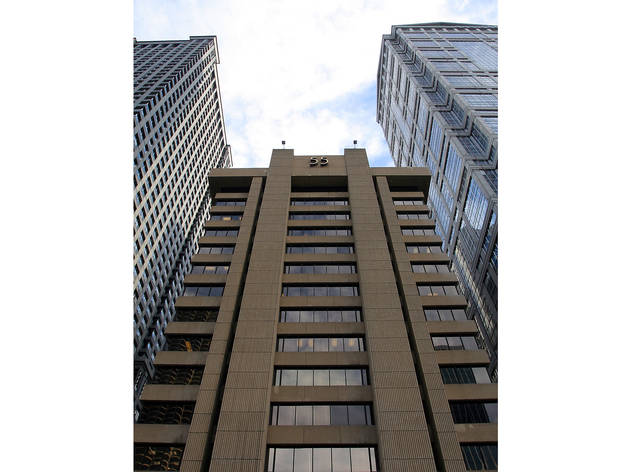 Photograph: Bo Nash
An otherwise impressive stretch of riverfront architecture is marred by this 15-story molded concrete tic-tac-toe board, adorned with tacky fonts.
11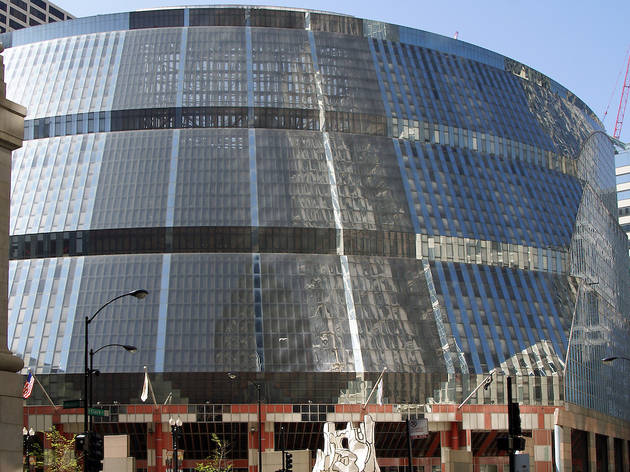 Photograph: Terence Faircloth
Thompson Center, 100 W Randolph St
The Thompson Center was seemingly designed in anticipation of a future where everything is big and shiny. These days, it's a glaring eyesore (literally, on a sunny day) that houses a bad food court and racks up outrageous utility bills.
12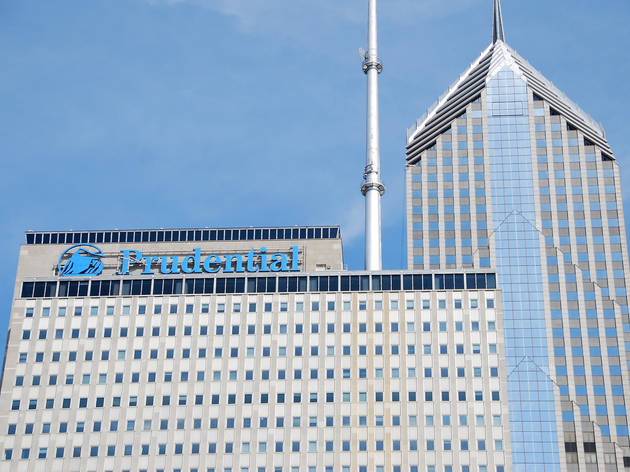 Photograph: Adam Fagen
One Prudential Plaza, 130 E Randolph St
A big gray box, skewered by a giant silver pole. Sorry, but this is the cardboard box of the sky. It couldn't be a less interesting mar on the Chicago skyline.
13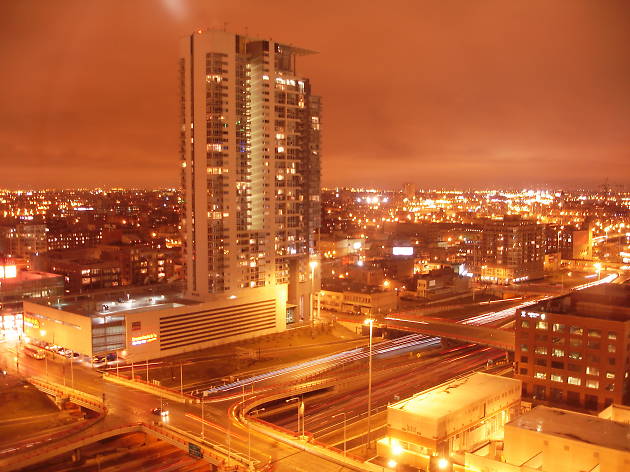 Photograph: Courtesy CC/Wikimedia Commons/John Delano
Skybridge, 737 W Washington St
This luxury condo highrise is actually two separate towers, connected by glass walkways, allowing for inset balconies on nearly every level—each floor has eight corner units. Nice perk for the residents, but from the exterior it makes the 39-story building (the tallest building west of the Kennedy, until the 44-story 727 West Madison is completed next door) look unfinished. Along with the giant trellis extending over the sundeck, Skybridge looks like an Erector Set project where the kid got bored and walked away.
14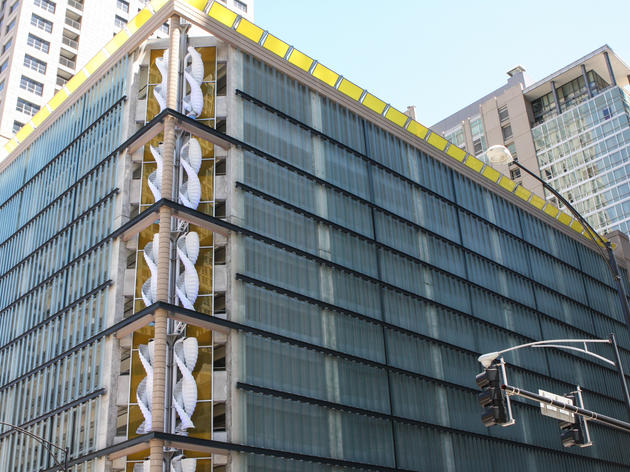 Photograph: Monsurat Yusuf
Greenway Self-Park, 60 W Kinzie St
You are a lowly parking garage in River North. Don't pretend you're the damn Pompidou Center in Paris. You embarrass yourself.
15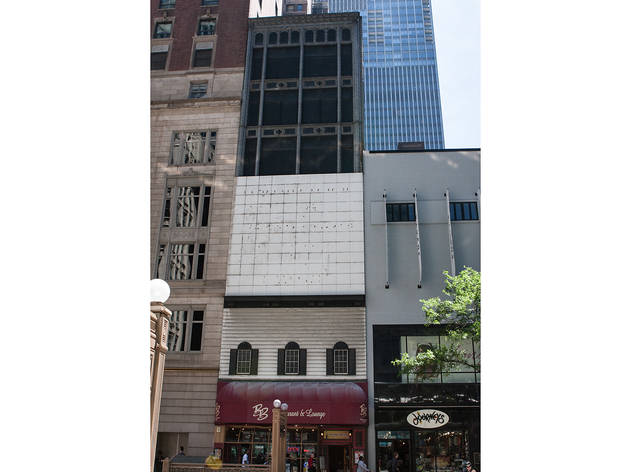 Photograph: Monsurat Yusuf
The saddest part about this building, built in the late 1910s, is that you can see, at the very top, that it was once inoffensive. Then some dimwits had the idea to update it with slapped-on features. Behold the section with the white siding and windows with shutters, making it look like a Gold Rush saloon. And above that…what is that, even? White squares of concrete?