The best arena concerts to see in Chicago this summer
Chicago's arenas and outdoor venues attract long-awaited reunions, pop idols and indie heroes all summer long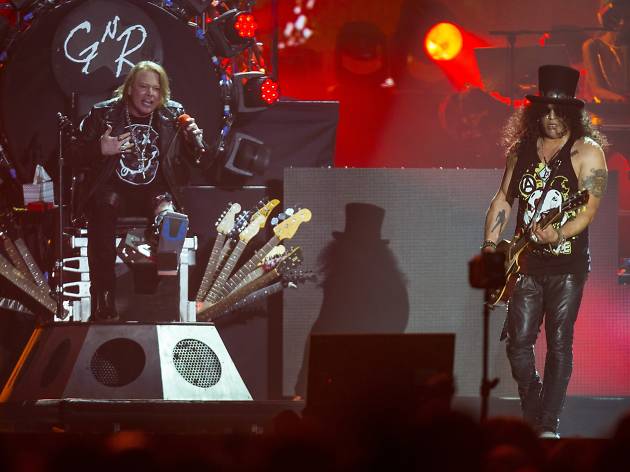 Chicago's warmest months may be dominated by summer music festivals, but for every big name act that headlines Lollapalooza, there are at least two more who perform at an arena, stadium or amphitheater. These shows may not be as intimate as gigs in a smaller Chicago music venue, but acts like Guns N' Roses, Adele and Wilco are usually better with a crowd of thousands surrounding you and singing along. Check out some of the most exciting large-scale shows coming to the city this summer.
RECOMMENDED: Find more of the best summer concerts in Chicago
Best summer arena concerts
1
In the tradition of the Eagles' infamous Hell Freezes Over Tour, the original members of Guns N' Roses have buried the hatchet and reunited for the Not in This Lifetime Tour. Well, most of them, at least—lead singer Axl Rose will be joined by top hat–wearing guitarist Slash and bassist Duff McKagan. Expect the setlist to lean heavily on classic records like Appetite for Destruction and largely gloss over the more recent Chinese Democracy. Hopefully it all goes more smoothly than the band's infamously problematic Use Your Illusion Tour. Fellow '90s rockers Alice in Chains open the show.
Read more
2
Chicago's most beloved active rock act celebrates the arrival of summer with an outdoor concert at Pritzker Pavilion. Last summer, Wilco debuted its ninth studio album, Star Wars, during its headlining performance at the Pitchfork Music Festival. Frontman Jeff Tweedy recently revealed that the band already has another album in the can—could this show mark its (surprise) debut? Regardless, you can expect Pat, Glenn, Nels, John and Mikael to dig into Wilco's extensive catalog and deliver some deep cuts, if only to placate the super fans incessantly yelling out "Magazine Called Sunset."
Read more
4
Child actor-turned singer Lovato is still cool for the summer. To prove it, she's teaming up with fellow Disney Channel alumni Nick Jonas on the Future Now Tour, promising an evening packed with slick pop songs from their respective solo releases. Detroit singer-songwriter Mike Posner opens the show.
Read more
5
The Alabama neo-soul quartet returns for more smokey old-time rock-and-soul on its sophomore album, Sound & Color, mixing up authentic and respectful R&B with bluesy arrangements that recall the Black Keys. Lead singer Brittany Howard is a far more commanding presence than Keys' frontman Dan Auerbach, passionately delivering heartfelt lyrics alongside ripping guitar solos. It might seem impossible, but Alabama Shakes have the chops that can make a cavernous venue like the Civic Opera House feel intimate.
Read more
6
Avowed Chicago Cubs fan Eddie Vedder can't pass up a chance to play in Wrigley Field, especially during a season when his beloved team seems to have a shot at the World Series. Keep your fingers crossed that the storms that plagued Pearl Jam's last appearance in the Friendly Confines don't return for these shows. The band is celebrating its 25th anniversary in 2016, so expect a career-spanning set—that includes Vedder's heartfelt ode to the Cubs, "All the Way."
Buy tickets
Read more
7
English singer-songwriter Florence Welsh knows how to belt out a refrain—for proof, just listen to any song from her solid 2015 release, How Big, How Blue, How Beautiful. Backed by the Machine, she's also a sight to behold in concert—during her headlining set at Lollapalooza last summer she pranced across the stage in front of a flowing sequin backdrop, seemingly unperturbed by the lightning flashing in the distance. On this stop in Tinley Park, she'll be joined by Icelandic indie-folk juggernauts Of Monsters and Men.
Read more
8
Pop superstar and master impressionist (look up her Saturday Night Live sketches) Ariana Grande headlines this radio station–sponsored summer blowout. She's joined by EDM mainstay Calvin Harris, "All About That Bass" singer Meghan Trainor and outspoken rapper Iggy Azalea. Still need more reasons to show up? Charlie Puth, Mike Posner and Daya are also slated to perform.
Read more
9
For the third summer in a row, the piano man returns to the Friendly Confines for an evening of classic ballads. Chicago may not boast a monthly Billy Joel residency like the one hosted at Madison Square Garden, but at least we get to see him outside every summer. Last year, Amy Schumer and Jennifer Lawrence danced atop Joel's piano—because even famous people love singing along to "Uptown Girl." It's anyone's guess as to which celebs will show up in 2016.
Buy tickets
Read more
10
Adult-contemporary mainstay Taylor hits the North Side ballpark behind his recent album, Before This World—his first collection of original songs since 2002. Keep your fingers crossed for a fiery performance devoid of rain. Taylor will be joined by Jackson Browne, another singer-songwriter who came to prominence in the '70s and has a catalog of familiar tracks to his name.
Read more
11
Filled with steamy songs, Gomez's 2015 album Revival was a less-than-subtle announcement that the former Barney & Friends star is entering adulthood. A similarly provocative, Madonna-inspired arena show from the pop star (and former Justin Bieber flame) seems almost guaranteed. Alt-pop trio Bahari—best known for contributing vocals to Zedd's "Addicted to a Memory"—opens the show.
Read more
12
2015's Strangers to Ourselves proved that indie stalwarts Modest Mouse still have plenty of nautical allusions left to sing about. After a headlining set at last year's Riot Fest, Isaac Brock and his band return to Chicago for a show on Northerly Island with alt-rockers Brand New, who have been teasing a new album for 2016.
Read more
13
After fronting the Grateful Dead's gigantic Fare Thee Well performances last summer, Trey Anastasio returns to the head of jam band titan, Phish. While even hardcore fans are quick to pan the band's studio work, its live shows are a potent coktail of extended instrumentals and thick clouds of pot smoke. In short, it's probably the trippiest night you'll ever experience in Wrigley Field.
Read more
14
These psychedelic Aussies have somehow become everyone's favorite band—even Rihanna covered a Tame Impala track on her new album, Anti. Currents (2015) merged electronics with thick guitar riffs, dropping mushrooms on the dance floor while channeling vintage R&B grooves. Now, Kevin Parker and company are bringing heady melodies to an arena, where even more people will be able to lose their minds.
Read more
15
After flirting with EDM on the breakup (sorry, "conscious uncoupling") album Ghost Stories, Coldplay embraces the dance floor wholeheartedly on its latest, A Head Full of Dreams. And you know what? It suits them. The buoyant beats and jittery guitars aren't groundbreaking by any means, but these songs are a nice change of pace from Chris Martin's usual overwrought balladry. The band may claim this is its last record, but it sounds more like a new beginning.
Read more