The best attractions in Wicker Park and Bucktown
The neighborhoods have changed quite a bit within the past few decades, but you can still find beautiful parks, intriguing art galleries and more great attractions in Wicker Park and Bucktown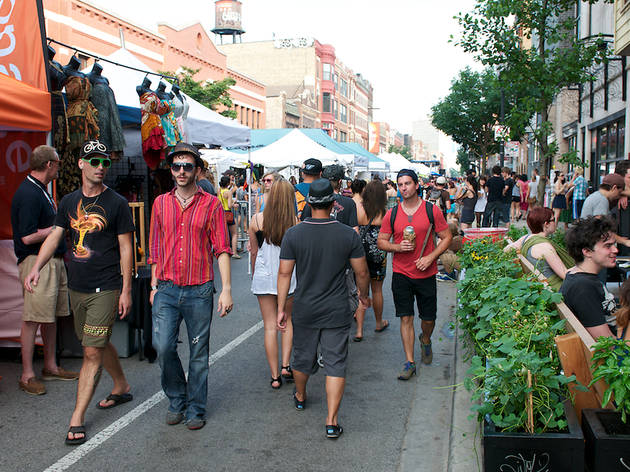 While they're no longer the bohemian enclaves of decades past, Wicker Park and Bucktown still host a thriving community of art galleries and cultural attractions. In the summer, you'll find the streets clogged with people seeing bands at summer music festivals like Wicker Park Fest and Green Music Fest. Art buffs also flock to the neighborhoods to visit respected contemporary galleries such as Corbett vs. Dempsey and LVL3. Gain a new appreciation for the area with our guide to the best attractions in Wicker Park and Bucktown.
RECOMMENDED: Wicker Park and Bucktown guide
Attractions in Wicker Park and Bucktown
Founded by John Corbett and Jim Dempsey in 2004, Corbett vs. Dempsey reflects its owners diverse interests: jazz, film, American modernist traditions, middle-American approaches to abstraction and contemporary art. Located on the third floor of the Dusty Groove building, the art gallery (like a fine record shop) places an emphasis on digging up undiscovered talent, often featuring great regional art.
Read more
The local landmark contains a smattering of artists' studios open to the public Saturdays and Sundays and the first Friday night of each month. Recently Brainstorm Comics took up residence on in the building, stocking cooks and collectibles as well as hosting a monthly comedy show. Resident artists' work can be seen in the Bank of America branch on the ground floor, which still hopes to be forgiven for replacing the beloved coffee shop Filter.
Read more
This small Bucktown park offers baseball fields, basketball courts, a playground, spray pool and one of our favorite (sparsely populated) swimming pools in the city.
Read more
Owned and operated by Chicago artist Laura Lee Junge and partner Chris Jackson, this Wicker Park gallery displays Junge's own work in addition to exhibitions from contemporary artists. The general public can visit the gallery free of charge seven days a week, while patrons can take home prints and reproductions that are produced (and framed) on site.
Read more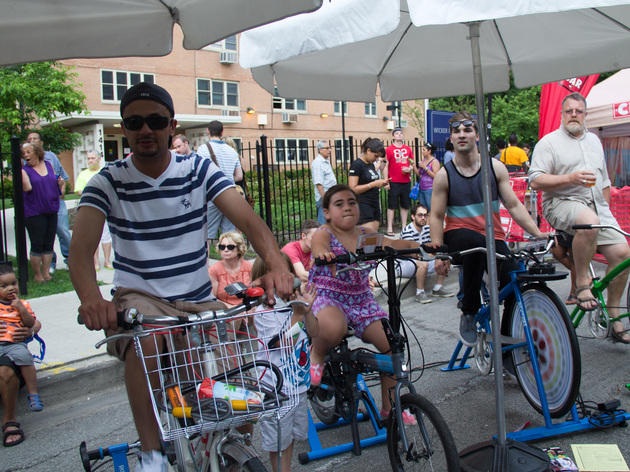 Green Music Fest
This environmentally conscious Wicker Park street festival takes over Damen Ave, bringing green vendors, food and biodiesel- and bicycle-powered live music to the neighborhood for two nights each summer.
A former assistant curator at the Museum of Contemporary Art, Monique Meloche worked for Rhona Hoffman Gallery and Kavi Gupta Gallery before becoming an art dealer herself, opening a space in Fulton Market in 2001. Monique Meloche Gallery is now located in Wicker Park and has established itself as a destination for consistently intriguing contemporary art in all media. Among the artists whose careers Meloche has helped launch is Rashid Johnson, who has become widely known for his conceptual "post-black" art, including photography, sculpture, video and installation.
Read more
Wicker Park's eponymous four-acre recreation area may be a bit small, but when the weather is warm you'll almost always find some residents sitting by the fountain or playing a pick-up game on the basketball courts. A field house in the middle of the park contains a gymnasium and meeting rooms, overlooking a lush public garden that is tended by members of the community. Most importantly, it's perfect place to take your Big Star takeout if the outdoor tables at the popular restaurant are full.
Read more
Each Sunday, a small horde of farmers, vendors and shoppers descend on Wicker Park for the neighborhood's farmers' market, which features fresh regional goods. The market typically begins in May and ends sometime in October when the chill of fall begins to set in.
Read more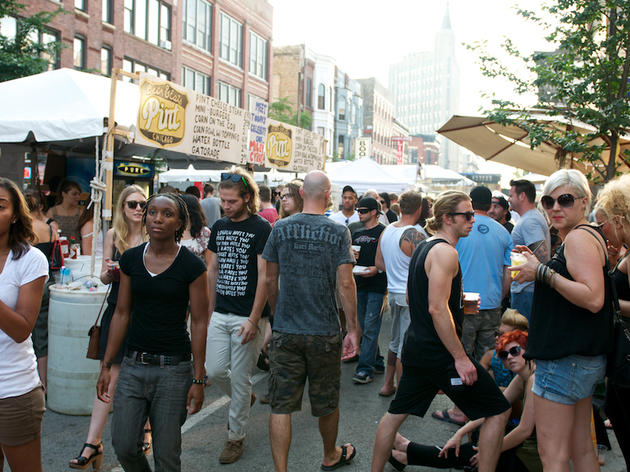 Wicker Park Fest
The Crotch hosts this annual hipster-friendly street festival each July, featuring three stages of Pitchfork-quality tunes on the cheap. Attendees jam Milwaukee Ave, which hosts local vendors hawking their wares as well as restaurants serving up steaming plates of grub.