16 things Chicagoans do that are absolutely disgusting
There's no getting around it: We're all guilty of these gross habits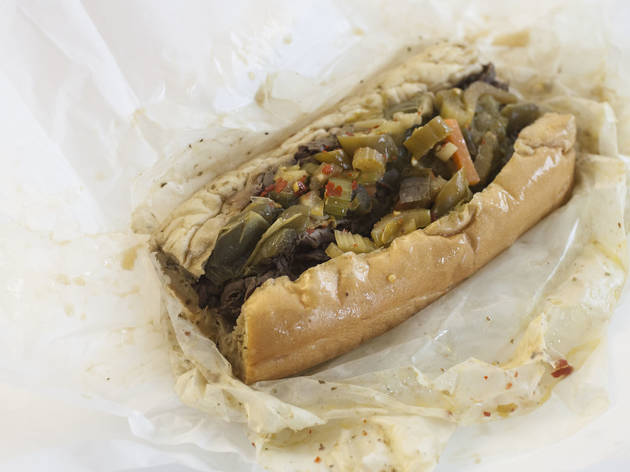 By

Time Out Chicago editors
|
Chicago may be home to world-class institutions and the best dining scene in the country, but let's face it: We are a pretty gross bunch. Our high tolerance of sloppy foods, affinity for genuinely nasty booze and ability to basically live on public transit come to mind immediately. But when we give our day-to-day habits more than three second of thought, we realize it goes deeper than that. Perhaps that comes with having endless things to do and a rambunctious party scene; maybe it's just in our DNA. Regardless, we like to think it's part of the Chicago charm. After all, we're literally named for "stinky onions," so let's just embrace it. Here are 16 things we do that are totally gross:
1. Eat (and love) Italian beef. And answering the most important question: "hot or wet?"
2. Neglect to wash our winter jackets. Wearing any other item of clothing for months without laundering it would be totally insane.
3. Eat after holding onto a pole on the CTA. Sure, you're on the El every day. But so is literally the entire city.
4. Sit in fabric-covered seats on the El. They've most certainly been peed on before.
5. We're more infested with bed bugs than New York. Yep, it's true.
6. Love the shit out of Tamale Guy's tamales. Despite the fact we don't know how they were cooked, who made them or what unregulated environment they were created in.
7. Don't pick up dog poop all winter long. Just because you don't see it in the snow doesn't mean it won't turn up eventually (and probably on your shoe).
8. Sit in the sand at the dog beach. Again, just because you don't see it...
9. Use terrifying bathrooms at summer music festivals. Lollapalooza definitely upped its toilet game in 2017, but Pitchfork, Spring Awakening and Riot Fest have to catch up.
10. Wear sandals and walk around the city all day. Nothing cuter than coming home with pitch-black feet to scrub.
11. Eat food at street festivals. Usually sitting on a curb, no less.

12. Swim in Lake Michigan. Sure, the beaches are gorgeous, but the frequency of E. coli notices are way too common for comfort.

13. Pick up furniture out of alleys. You have no idea where that chair has been.
14. Walk around in used workout clothes. Your athleisure spandex might be cute, but that doesn't make it any less sweaty.
15. Kayak down the Chicago River. Or going anywhere near the Chicago River, for that matter.
16. Genuinely enjoy Malört. We love it, but it's objectively nasty.