Chicago bike routes for hard-core riders
Bikers who know their way around Chicago are well-equipped to tackle our list of hard-core routes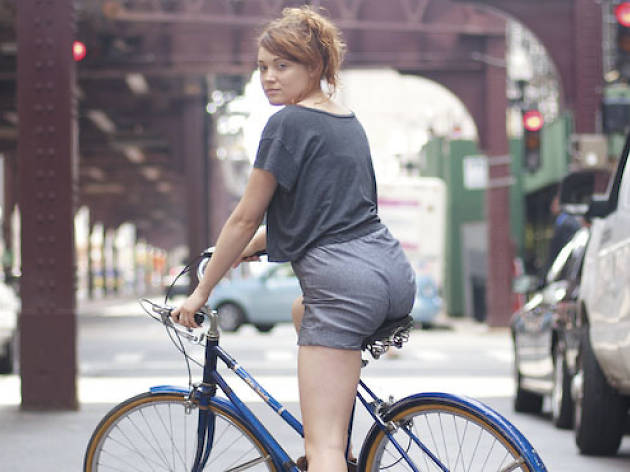 If you're the kind of person who pedals to Chicago's best attractions on a regular basis, you probably don't need much help figuring out how to navigate the city on two wheels. Hard-core Chicago cyclists don't let traffic, mother nature or stop them from getting where they need to be. While you're gliding across our city's pavement, why not see some public art, have a drink at a tiki bar or navigate the historic boulevard system. Show off your skills and go for a spin on these advanced routes.
RECOMMENDED: Check out more Chicago bike routes
For hard-core riders
North Shore Channel Trail from Francisco Avenue to Dempster Street (6 miles)




Set out on the North Shore Channel Trail near Francisco and Lawrence Avenues (just east of the Kimball Brown Line). Follow the trail due north, riding through Lincolnwood and West Ridge until you arrive at Skokie Northshore Sculpture Park at Touhy Avenue. Get a good look at more than 60 artworks you'll pass on the two-mile stretch of green until you hit Oakton Street, where the trail diverges into two paths on either side of the river: Either continue to Dempster Street, where you can turn back, or continue your ride east to downtown Evanston.

PIT STOP: Pack your bat and play a round of home run derby at the Stadium at Devon and Kedzie Avenues, a park that once hosted celebrity softball tournaments.
Three Dots and a Dash to Hala Kahiki Tiki Bar & Lounge (13 miles)




Kick off a tropical quest with a drink at Three Dots and a Dash—just the one, please—before biking to Milwaukee Avenue and heading northwest. Enter the 606 trail near Leavitt Street, and ride it to its end, continuing west on Armitage Avenue and proceeding as it morphs into Grand Avenue. Just across the Des Plaines River, turn north on River Road, and you'll find the Hala Kahiki Tiki Bar & Lounge and a festive cocktail waiting for you. Take the Metra back from Franklin Park if you're buzzed.

PIT STOP: Soak up some of your cocktails with a meal at Hong Huah, a small Chinese restaurant in the Belmont Cragin neighborhood area that serves tasty pot stickers, delicious egg drop soup and crispy duck.
Logan Square to Douglas Park (7 miles)




You might want to write this one down: Begin your boulevard tour in Logan Square, wheeling south on Kedzie Avenue to Palmer Square, then east to Humboldt Boulevard and continue south. Once you reach Humboldt Park, head in for a leafy ride or stick to Sacramento Boulevard. After pedaling west on Franklin Boulevard, take Hamlin Boulevard south past Garfield Park (where it becomes Independence Boulevard). Once you get to Douglas Boulevard, follow it east to Douglas Park, the home of Riot Fest.

PIT STOP: The Garfield Park Conservatory offers two acres covered in stunning flora. It's perfect for a breath of fresh air—and a whack of eye candy—on your ride.