Chicago bike routes for long-distance riders
Go the distance and explore the suburbs with three bike routes that will take you to destinations outside of Chicago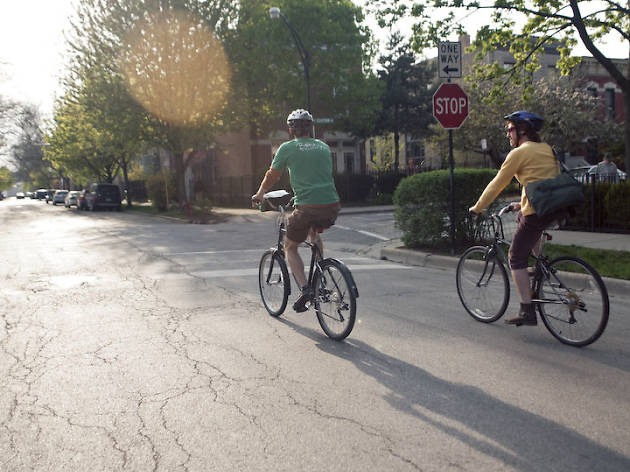 Chicago is filled with great breweries and amazing attractions, but there's nothing wrong with leaving city limits if you need a bit of variety to your life. There's a ton of great stuff in our neighborhoods, but the suburbs (and neighboring state Indiana) contain particle accelerators, sought-after beer and even a state park. If you're an intrepid cyclist who knows the rules of the road (and doesn't mind getting lost a few times), you'll love these long-distance bike routes to destinations well beyond Chicago. Test your strength, endurance and sense of direction with these far-reaching bike trips.
RECOMMENDED: Check out more Chicago bike routes
For long-distance riders
To Fermilab via Illinois Prairie Path (36 miles)
Begin this westbound journey from the Loop on Washington Boulevard, riding through Garfield Park until you reach Fifth Avenue. Just south of Wilcox Street, you can jump on the Prairie Path Trail, which takes you out into the suburbs through Lombard and Glen Ellyn, Illinois. In Wheaton, the path turns southwest; continue until you reach Batavia Road, and follow it northwest. Take Road D into Fermilab, and make your way along the bike trail to the Lederman Science Center. If you're all worn out, ride north to the West Chicago Metra Station to make your way back to the Loop.

PIT STOP: Stock up on doughnuts (ring-shaped, just like Fermilab's particle accelerator), strudel and pound cake at Kuppie's Bakery (42 S Villa Ave, Villa Park, IL) as you make your way to the suburbs.
To Three Floyds Brewing in Munster, IN (30 miles)



Set out on your search for the elusive Zombie Dust pale ale by going south on the Lakefront Trail and riding it all the way to 71st Street. Continue south on South Shore Drive, following Route 41 to the Burnham Greenway Trail just past the Chicago Skyway. At 112th Street, turn east into Indiana and take the Illiana Marina Trail across Wolf Lake. Continue due south (down Johnson, Lyman and Calumet Avenues) and turn onto Superior Drive, where you're sure to see the Three Floyds Brewpub silo. After a few beers, the Flossmoor Metra station is just 12 miles to the west—probably the best choice for a safe journey home.

PIT STOP: Located at the end of Lake Shore Drive, 63rd Street Beach is a perfect place to relax on the sand before you cross the border into Indiana.
To Illinois Beach State Park through Evanston and Waukegan, IL (47 miles)
Pack your bags for a day trip and hit the Lakefront Trail (a.k.a. U.S. Bicycle Route 37). At Edgewater Beach, ride northwest through Evanston to Wilmette, where you can get on the Green Bay Trail at Wilmette Avenue and Poplar Drive; near Ravinia Park, continue north on the Robert McClory Bike Path. When you finally roll past Waukegan to Beach Park, follow Wadsworth Road east to Illinois Beach State Park. After you get your fill of sand and surf, turn back south to Waukegan, where you can catch a Metra back to the city.

PIT STOP: Treat yourself to Italian beef at Capt'n Nemo's (38 Green Bay Rd, Winnetka, IL), and then wash it down with a Skull and Bones Imperial Ale at Lake Bluff Brewing Company (16 E Scranton Ave, Lake Bluff, IL).