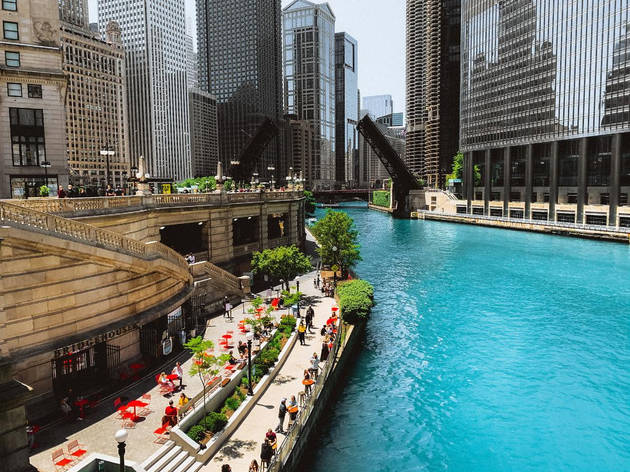 Where to hang out on the Chicago Riverwalk
Find a bite to eat, order a glass of wine, take a boat tour or sit back and relax at these Riverwalk destinations.
Ever since it was expanded in 2015, the Chicago Riverwalk has become a popular destination for locals and tourists alike. The waterfront attraction boasts cocktail bars, views of some of Chicago's most beautiful buildings and access to one of our favorite boat tours.
As of June 12, the Riverwalk has reopened to visitors, with designated times for recreation and dining. From 5am to 10am, guests are welcome to run, jog, walk and bike along the path between Lake Shore Drive and Lake Street. The Riverwalk briefly closes at 10am for cleaning and then reopens from 11am to 9pm to allow access to businesses and select recreation areas along the path.
While some Riverwalk restaurants and businesses allow walk-up customers, some require a reservation, so call ahead if you're unsure. Don't forget to bring along a face covering (they're required), maintain 6 feet of distance from other visitors and stay home if you're feeling sick.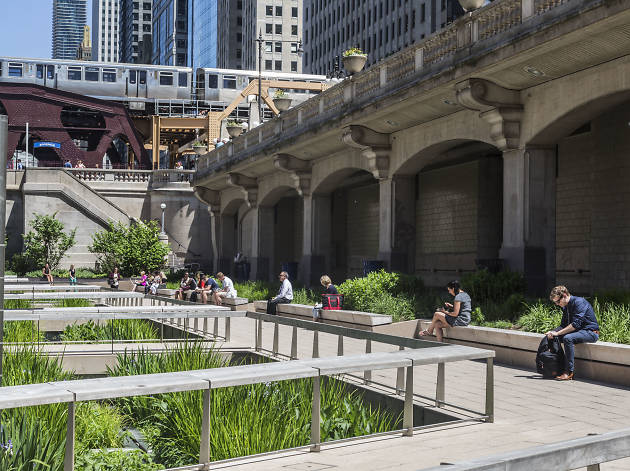 Photograph: Jaclyn Rivas
Located in the Jetty portion of the Riverwalk (between Wells and Franklin Streets), the floating garden is made up of several half-submerged planters that contain wetland grasses and plants. The area is lined with benches and is usually much quieter than the sections of the Riverwalk to the east, making it an ideal spot to relax and enjoy a bit of nature in the middle of the city.
One and one is two, six and two is eight, if you're looking for a snack on the Riverwalk, gelato tastes great! The Chicago River outpost of local chain Sweet Home Gelato offers six flavors of the Italian dessert, which can be enjoyed in a cup, a waffle cone or as a float.
If you need a cocktail or a cup of coffee, you'll find both beverages on the menu at Tiny Tapp, a bar and café located in the Cove section of the Riverwalk (between Clark and Dearborn Streets). Grab a beer, order from the small food menu (which features a Chicago-style hot dog) and enjoy your meal at one of the nearby tables.
The Riverwalk outpost of City Winery is a condensed but faithful recreation of the Randolph Street restaurant and music venue, stocked with a great wine list and some of the best cuisine you'll find on the waterfront walkway. Guests can get in line for a table or order drinks and food from a walk-up window, with adjacent first-come, first-served seating. Throughout the summer, occasional live performances provide an opportunity to enjoy a scenic dinner and a show.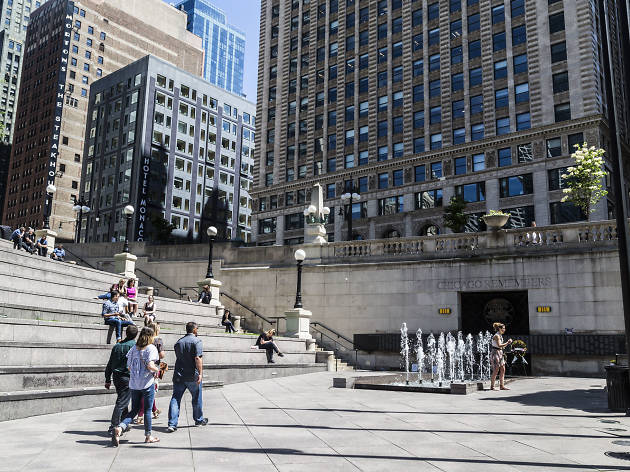 Photograph: Jaclyn Rivas
Vietnam Veterans Memorial Plaza
Dedicated in 2005 to honor those who gave their lives during the Vietnam War, this small fountain is surrounded by tiered seating and some patches of grass that form a peaceful oasis near the Wabash Avenue Bridge. Sit down and look across the river for some knockout views of the Marina City Towers.
With a menu that prominently features local craft beer and dishes inspired by Chicago's various neighborhoods (Pilsen street tacos, a Maxwell Street Polish sausage and a Taylor Street Italian beef), this Riverwalk restaurant caters to tourists looking for a taste of the city. Thankfully, the beer list is decent, packed with drafts from heavy hitters like Dovetail, Maplewood and Off Color. And even if you're likely to find far superior renditions of Brewhouse's dishes in the neighborhoods that inspired them, it's hard to beat the views of the skyline from the riverside patio.
Sit under a bright yellow umbrella, order from a menu of standard pub fare (burgers, wings, fried green beans) and sip a beer or cocktail at this riverside restaurant. O'Brien's frequently hosts live jazz music throughout the summer, so make sure you get your name on the list for a table early if you happen to see a band tuning up.
Beat Kitchen isn't the first Chicago music venue to open a satellite location on the Riverwalk—that distinction goes to Hideout, which launched a bare bones waterfront recreation of the historic club back when the Riverwalk opened in 2015. Following in the footsteps of its Roscoe Village namesake, Beat Kitchen Riverwalk serves a menu of burgers, tacos and pizzas in addition to hosting live music, including DJs and performers. It also boasts two tiers of seating along the Riverwalk and is always first come, first served, so don't worry about making a reservation.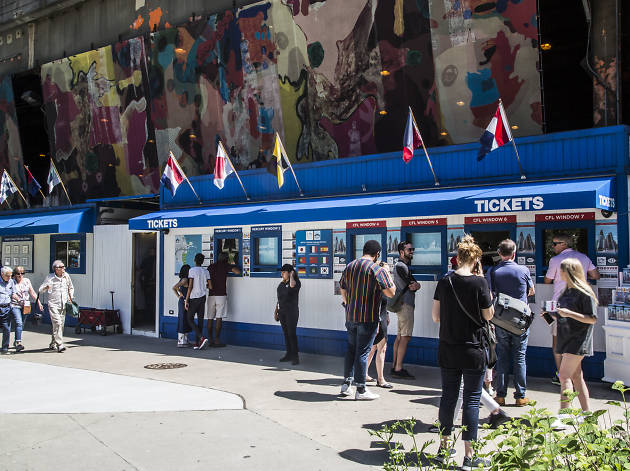 Photograph: Jaclyn Rivas
Chicago's First Lady Cruises
Just past Michigan Avenue, you'll find the ticketing booth and boarding docks for Chicago's First Lady Cruises, which offers tours of the river. The company's most popular attraction is the Chicago Architecture Foundation River Cruise, which sends guests on a 90-minute trip across the water to learn all about the city's most famous buildings from a knowledgeable (and sometimes hilarious) docent.
There are plenty of places to sip tasty tiki cocktails in Chicago, but there's only one bar that allows you to drink them next to a sizable body of water. You'll feel the tropical vibes once you see the fake bamboo trim and thatched roof of the Island Party Hut, where you can order a Mai Tai or Lime in D' Coconut served in a plastic cup.
Take in the sights while paddling along the Chicago River by renting a kayak or embarking on a tour from this Riverwalk business. Urban Kayaks offers a variety of excursions, including tours that focus on the history of the city, a sunset jaunt and a short paddle for first-timers. Urban Kayaks also offers rentals that allow you to traverse the river on your own, as long as you're able to pass a basic skills assessment. Make a reservation online and show up ready to make use of your upper body strength.