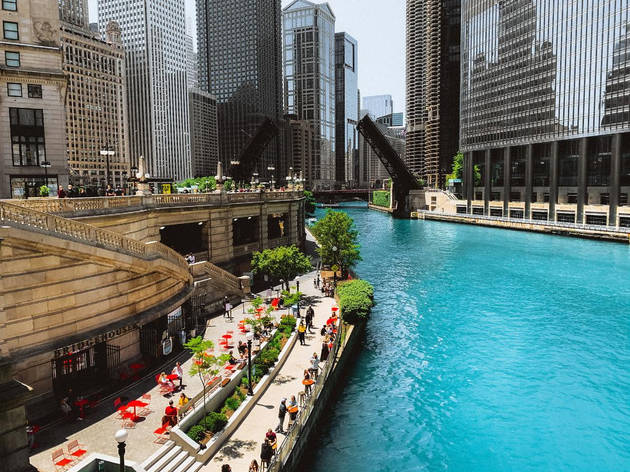 Things do to along the Chicago Riverwalk
Enjoy waterfront views, boat tours and top-notch eats at these Riverwalk destinations.
Ever since it was expanded in 2015, the Chicago Riverwalk has become a popular destination for locals and tourists alike. The waterfront attraction boasts cocktail bars, views of some of Chicago's most beautiful buildings and access to one of our favorite boat tours.
All four districts of the Riverwalk are open daily to visitors from 6am to 11pm, though restaurants and other vendors have their own hours. Some vendors, like newcomer restaurant Pier 31, haven't opened for the season yet. We've rounded up what's currently open below—don't forget to check if a restaurant or bar requires a reservation before visiting!
RECOMMENDED: The best things to do outdoors in Chicago
Best things to do along the Chicago Riverwalk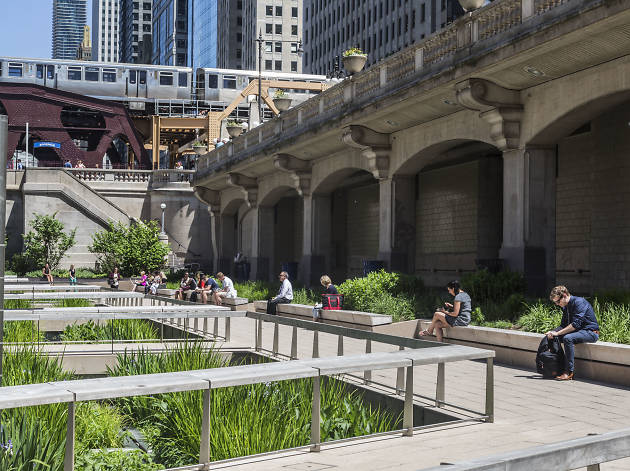 Photograph: Jaclyn Rivas
Located in the Jetty portion of the Riverwalk (between Wells and Franklin Streets), the floating garden is made up of several half-submerged planters that contain wetland grasses and plants. The area is lined with benches and is usually much quieter than the sections of the Riverwalk to the east, making it an ideal spot to relax and enjoy a bit of nature in the middle of the city.
This tour boat company, located near City Winery between the LaSalle Street and Wells Street bridges, offers rides on Chicago's first-ever cycleboat fleet (which, as you might have guessed, is powered by the pedaling of its passengers). The 90-minute cruise is BYOB, so don't forget to bring along along some beverages to imbibe while you paddle.
One and one is two, six and two is eight, if you're looking for a snack on the Riverwalk, gelato tastes great! The Chicago River outpost of local chain Sweet Home Gelato offers six flavors of the Italian dessert, which can be enjoyed in a cup, a waffle cone or as a float. When the weather gets hot, don't hesitate to cool off in the Riverwalk's nearby splash pad after you've finished up your treat!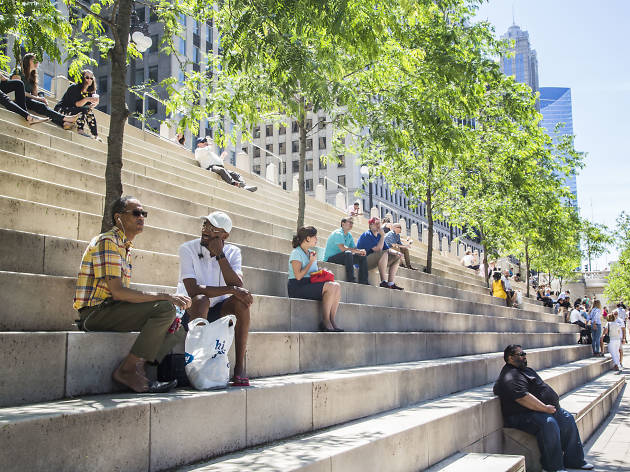 Photograph: Time Out/Jaclyn Rivas
When you see a photo of the Riverwalk, it's almost always of this tiered seating area (located between La Salle and Clark Streets), where you'll find visitors enjoying lunch, taking a phone call or gazing at the scenery. There's plenty of space to spread out, so find a spot under the shade of a tree and take a moment to relax while boat tours glide through the River in front of you.
If you need a cocktail or a cup of coffee, you'll find both beverages on the menu at Tiny Tapp, a bar and café located in the Cove section of the Riverwalk (between Clark and Dearborn Streets). Grab a beer, order from the small food menu (which features a Chicago-style hot dog) and enjoy your meal at one of the nearby tables.
The Riverwalk outpost of City Winery is a condensed but faithful recreation of the Randolph Street restaurant and music venue, stocked with a great wine list and some of the best cuisine you'll find on the waterfront walkway. Guests can get in line for a table or order drinks and food from a walk-up window, with adjacent first-come, first-served seating. Throughout the summer, occasional live performances provide an opportunity to enjoy a scenic dinner and a show.
The Chicago Electric Boat Company has multiple docks throughout the city (including one at nearby Marina City), but its Riverwalk location—located next to City Winery—is the only one that offers rides on the company's charming Retro Boat fleet. Constructed in the 1950s and 1960s, these small boats have been retrofitted with electric motors and can be driven by anyone with a valid driver's license, so long as you watch a short instructional video before setting off.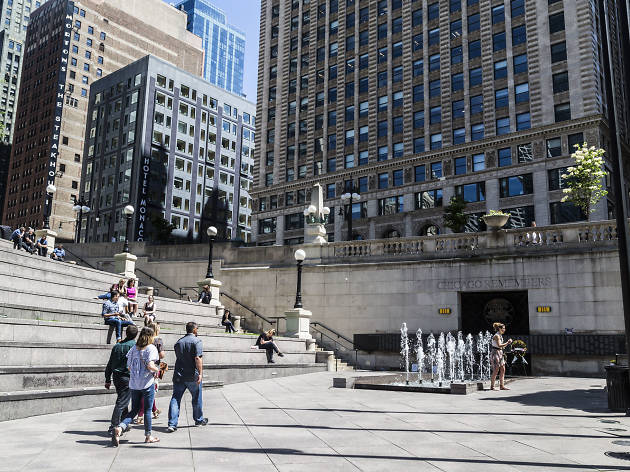 Photograph: Jaclyn Rivas
Vietnam Veterans Memorial Plaza
Dedicated in 2005 to honor those who gave their lives during the Vietnam War, this small fountain is surrounded by tiered seating and some patches of grass that form a peaceful oasis near the Wabash Avenue Bridge. Sit down and look across the river for some knockout views of the Marina City Towers.
With a menu that prominently features local craft beer and dishes inspired by Chicago's various neighborhoods (Pilsen street tacos, a Maxwell Street Polish sausage and a Taylor Street Italian beef), this Riverwalk restaurant caters to tourists looking for a taste of the city. Thankfully, the beer list is decent, packed with drafts from heavy hitters like Dovetail, Maplewood and Off Color. And even if you're likely to find far superior renditions of Brewhouse's dishes in the neighborhoods that inspired them, it's hard to beat the views of the skyline from the riverside patio.
Since 2019, a rotating cast of neighborhood vendors—including restaurants, artists and other small businesses—has populated the Community Marketplace on the Riverwalk, which aims to bring a taste of different local makers to a centralized downtown location. This summer you can sip or snack on treats from Logan Square's Chiya Chai, where you'll find creamy mango lassi, masala chai and a variety of chaat options.
Sit under a bright yellow umbrella, order from a menu of standard pub fare (burgers, wings, fried green beans) and sip a beer or cocktail at this riverside restaurant. O'Brien's frequently hosts live jazz music throughout the summer, so make sure you get your name on the list for a table early if you happen to see a band tuning up.
Beat Kitchen isn't the first Chicago music venue to open a satellite location on the Riverwalk—that distinction goes to Hideout, which launched a bare bones waterfront recreation of the historic club back when the Riverwalk opened in 2015. Following in the footsteps of its Roscoe Village namesake, Beat Kitchen Riverwalk serves a menu of burgers, tacos and pizzas in addition to hosting live music, including DJs and performers. It also boasts two tiers of seating along the Riverwalk and is always first come, first served, so don't worry about making a reservation.
Wendella has had an outpost on the Chicago River since 1935, when it began offering the first architectural boat tour in the city. Nowadays, you can hop on a 45- or 90-minute, contemporary version of the same tour at the Wendella dock near Michigan Avenue, where you'll also find a host of other tour and cruise options. For a cheap ride, try the commuter- and sightseeing-friendly Chicago Water Taxi (located at Clark Street and Wacker Drive), which runs just $6 per ticket for a single-ride journey.
Ever wonder how the river's massive bridges move up and down for boat traffic? You'll find the answer to that question and much more at the McCormick Bridgehouse & Chicago River Museum, housed on the Riverwalk within the historic 1920 Michigan Avenue bridgehouse. The five-story structure was converted into a museum by Friends of the Chicago River in 2006, displaying historic photos, maps and newspaper articles that illuminate the relationship between the city and the Chicago River. For an especially thrilling visit, stop by during bridge lift days during the fall and spring: then you'll catch the museum's gear room churning away to lift the Michigan Avenue bridge.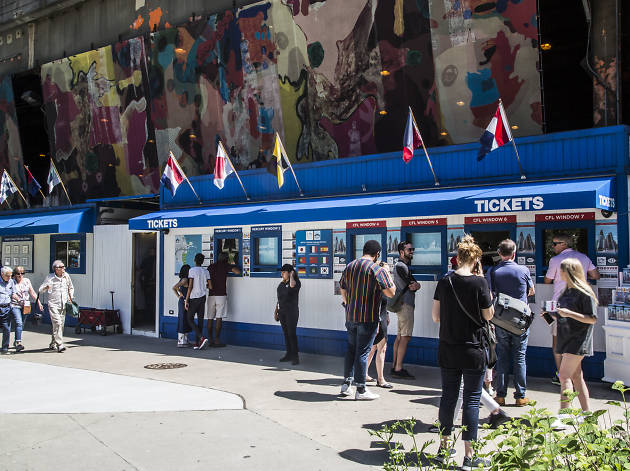 Photograph: Jaclyn Rivas
Chicago's First Lady Cruises
Just past Michigan Avenue, you'll find the ticketing booth and boarding docks for Chicago's First Lady Cruises, which offers tours of the river. The company's most popular attraction is the Chicago Architecture Foundation River Cruise, which sends guests on a 90-minute trip across the water ;to learn all about the city's most famous buildings from a knowledgeable (and sometimes hilarious) docent.
The original North Center outpost of pioneering Chicago cider bar the Northman closed in early 2020, but the business's Riverwalk beer and cider garden is still pouring drinks. Sit down and enjoy an extensive selection of ciders and local craft beers, accompanied by a menu of sausages, salads, sandwiches and bar snacks. Located on the shaded eastern portion of the Riverwalk, the Northman is also dog- and kid-friendly—we'll raise our glasses to that!
There are plenty of places to sip tasty tiki cocktails in Chicago, but there's only one bar that allows you to drink them next to a sizable body of water. You'll feel the tropical vibes once you see the fake bamboo trim and thatched roof of the Island Party Hut, where you can order a Mai Tai or Lime in D' Coconut served in a plastic cup. Want to get even closer to the water? Book a ride aboard one of the bar's double-decker Island Party Boats, which come outfitted with waterslides for swimming into the lake.
Take in the sights while paddling along the Chicago River by renting a kayak or embarking on a tour from this Riverwalk business. Urban Kayaks offers a variety of excursions, including tours that focus on the history of the city, a sunset jaunt and a short paddle for first-timers. Urban Kayaks also offers rentals that allow you to traverse the river on your own, as long as you're able to pass a basic skills assessment. Make a reservation online and show up ready to make use of your upper body strength.
Best selling Time Out Offers