The best waterfront dining spots in Chicago
Chicago's best waterfront dining spots take advantage of being near the water, with unexpected views and great food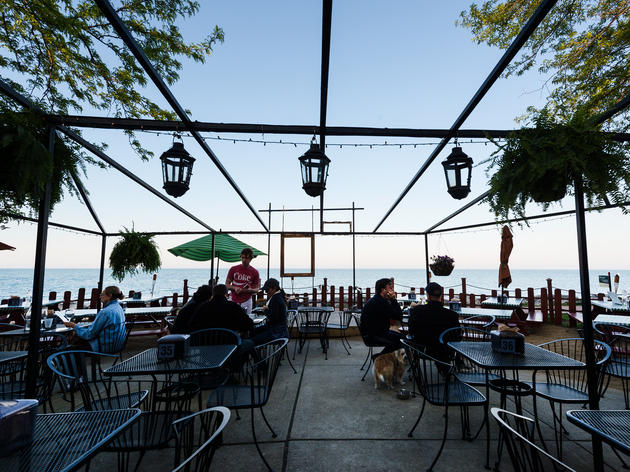 The best waterfront dining spots in Chicago offer up some unexpected views as well as great eats. While we're always seeking out the best beer gardens and best rooftop bars, the lake and river are prime spots for a relaxing dinner. The next time you're looking for something to do after a day at the beach or the park, spend some time near the water.
RECOMMENDED: Beer gardens, rooftop bars and outdoor dining spots in Chicago
Great waterfront dining in Chicago
Sit on the river's edge under trees at this adorable restaurant serving up modern American dishes. The menu includes a charcuterie board, steaks, seafood and an organic beef burger on a potato bun.
Book now
Read more
The pleasant 60-seat corner patio is a great place to enjoy the summer months. Sit down for a meal of classic comfort food like potpie, ribs or a NY strip at this traditional steakhouse.
Book now
Read more
This seasonal restaurant serves up Mediterranean takes on tacos and cocktails outside the Langham right on the Chicago River. Stick to the punch or house-made sodas while you're sitting pretty in the sun.
Read more
This casual beach restaurant serves up what you'd expect—salads, wraps, tacos and burgers. Though the sand, sun, live music and cold drinks are what you come here for.
Read more
This beachfront restaurant at Kathy Osterman Beach (a.k.a. Hollywood Beach) is like a tropical paradise with rainbow lounge chairs, colorful decorations and an island vibe. Grab a half-priced margarita on Mondays and enjoy nachos, tacos, guacamole and chips. Your vegetarian friends won't go hungry either, with options like seitan chorizo tacos.
Read more
It's best to get a window seat in this tucked-away restaurant in Lincoln Park. It's just a few steps from the water with a stellar view of the city. North Pond offers upscale seafood and has an extensive wine list to sample, too.
Book now
Read more
The menu here focuses on roasted meats (obviously). Choose from whole fish or order up the chicken or roast beef, along with snacks and charcuterie. Grab a seat on the restaurant's large patio and watch the boats drive by on the Chicago River.
Book now
Read more
This classic steakhouse is a big part of Chicago. The chain has been around for decades and serves up a mean, juicy steak. Take a seat by the river for a savory meal that may make your cholesterol spike, but it's worth it.
Book now
Read more
Happy hour can't get much happier when you're at the South Branch Tavern with a long whiskey list. The menu offers upscale twists on modern American dishes. The riverside bar gets a little rowdy after work, so be prepared for a crowd that can knock back a few.
Book now
Read more
This seasonal café in Edgewater serves up comfort food like fish and chips and crab cakes along with a roster of simple cocktails. But you're really here for that view of the lake through the trees.
Read more