Insanely lavish Airbnb homes you can only rent in Chicago
Pamper yourself with a stay at some of Chicago's most lavish and luxurious Airbnb homes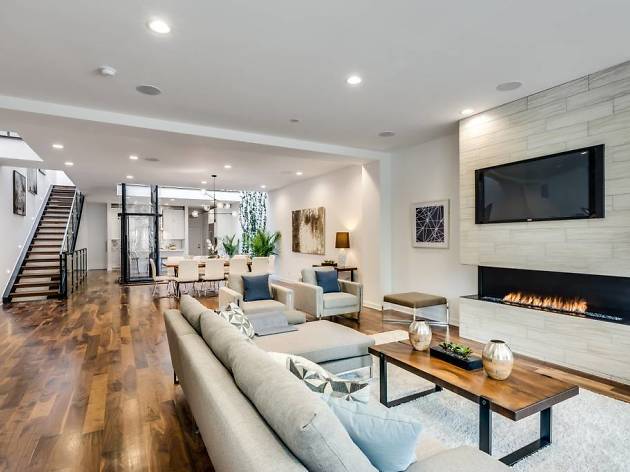 You only get a finite number of vacations and getaways in your life, so sometimes it's okay to splurge on luxurious accommodations. If you're looking for a posh Airbnb in Chicago, you'll find plenty of enticing options, including a spacious converted church in Logan Square and a gigantic apartment fit for a rockstar in Old Town. We've tracked down a list of lavish rentals, with features like expansive rooftop decks, gorgeous modern furnishings, four-car garages and arcade games. Plan an indulgent staycation or a fancy trip to the city at one of these lavish Airbnb homes in Chicago.
Lavish Chicago homes on Airbnb
Photograph: Courtesy Airbnb
Modern mecca in Wicker Park
With 4,000 square feet of mid-century modern furniture, including contemporary lights and sleek appliances, you'll feel like you're living in a design magazine the moment you step into this Wicker Park rental. This Airbnb comes with a fully-stocked pantry—so you won't go hungry during your stay—but you won't have to walk far to find great restaurants, bars and entertainment options.
Photograph: Courtesy Airbnb
Gigantic greystone in Garfield Park
If you need to house an exceedingly large group, you should be able to pack them into this three-flat in Garfield Park, which comfortably sleeps up to 32 people. The walls are covered in street art and each floor has its own kitchen, bathroom, patio and arcade game. Plus, you can take a walk to the nearby Garfield Park Conservatory and pretend that you're on a tropical vacation.
Photograph: Courtesy Airbnb
Luxury mansion in Lincoln Park
Less than a block from the Armitage Brown and Purple Line station, this four-bedroom mansion has plenty of room for large families and includes access to a stunning rooftop that boasts its own bar, kitchen, grill and fireplace. Inside, you'll find a game room with a Ping-Pong table, exercise equipment, five TVs and a walk-in closet with its own chandelier—it doesn't get much fancier than that.
Photograph: Courtesy Airbnb
Photos of Mick Jagger and Bob Dylan line the walls of this sleek and sumptuous penthouse loft in Old Town, which also features vintage-styled furniture and a pool table. The building which houses the property was built in 1897 and includes a rooftop deck with picturesque views of the Chicago skyline. According to the listing, this is "the preferred Chicago property of Airbnb founder and CEO, Brian Chesky."
Photograph: Courtesy Airbnb
Hotel penthouse in River North
Sure, you could book a bunk at the Freehand, but if you've got some extra scratch, why not rent out the penthouse suite? There are enough beds to accommodate six guests in this tastefully-decorated suite, which feels more like a picturesque apartment than a hotel room. Naturally, you'll also enjoy all of the Freehand's amenities, including access to the Broken Shaker cocktail bar and Cafe Integral coffee house.
Photograph: Courtesy Airbnb
Extravagant home in Gold Coast
Pamper yourself in this Gold Coast house, which features a four-car garage, sauna, wine cellar and glass elevator that will ferry you from floor to floor. The spacious floor plan features an abundance of spots where you can sit and relax and bathrooms that are probably bigger than your own bedroom.
Photograph: Courtesy Airbnb
Renovated church in Logan Square
Embrace the open floor plan of this converted church, which has been painstakingly renovated into a three-bedroom home complete with a loft, a bar and a fireplace where the altar once stood. Look up at the rafters from a couch, admire the house's typewriter collection or head out back to relax on an inflatable lounger. This property's prime location in Logan Square makes a wealth of dining and drinking options easily accessible.
Photograph: Courtesy Airbnb
Well-appointed home in Noble Square
The owners of this Noble Square home poured nearly half a million dollars into its renovation, transforming the 1890s-era building into one of the most well-appointed rentals in town. The property's five bedrooms make it ideal for large groups—better yet, each level of the house boasts a 175-square-foot deck, which means you have three different places to relax and admire the neighborhood when you're not taking photos of the gorgeous modern furnishings inside.
Photograph: Courtesy Airbnb
Picturesque escape in Wicker Park
Make yourself at home in this modern Wicker Park rental, which is filled with picturesque dining rooms, living areas and bedrooms. The building's outdoor options are just a beautiful as the design inside, boasting a fire pit, a hot tub and plenty of room for a backyard cookout.
Photograph: Courtesy Airbnb
Stylish penthouse in River North
If you're going to stay within walking distance of the Magnificent Mile, you might as well splurge on a penthouse with its own pool table, bar and a master bathroom with floor to ceiling marble. The 4,000-square-foot space has five bedrooms and a massive kitchen tricked out with top-of-the-line appliances, just in case you feel the urge to stay in and cook instead of venturing to a nearby restaurant.
Find an Airbnb loft in Chicago
Massive, window-lined buildings make beautiful condo conversions that attract hip city-dwellers looking for something different. Check out the amazing lofts we found on Airbnb—from a sunny studio apartment to a sprawling seven-bedroom home to a rehabbed warehouse.