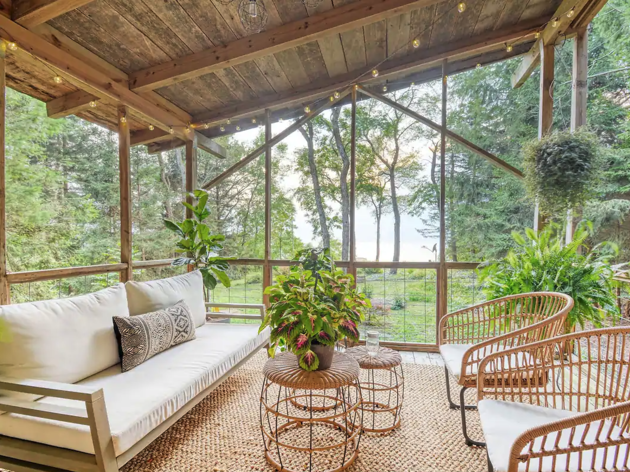 13 romantic Airbnb homes you can rent near Chicago
Plan a romantic weekend away with these swoon-worthy properties.
Travel restrictions may be in place. Please check before booking and travel responsibly.
Sometimes sparking romance is as simple as changing your scenery. Get out of your apartment and hit the road for an intimate weekend getaway near Chicago. These romantic Airbnb homes will take care of everything else, with amenities like hot tubs, fireplaces and luxurious beds. There's something for every couple on this list, whether your idea of romance is rustic and remote or sleek and modern. Browse the most romantic Airbnb properties in the Midwest and request time off work—it's time to get away.
This article includes affiliate links. These links have no influence on our editorial content. For more information, click here.
RECOMMENDED: Secluded Airbnb homes you can rent near Chicago
Romantic Airbnb rentals near Chicago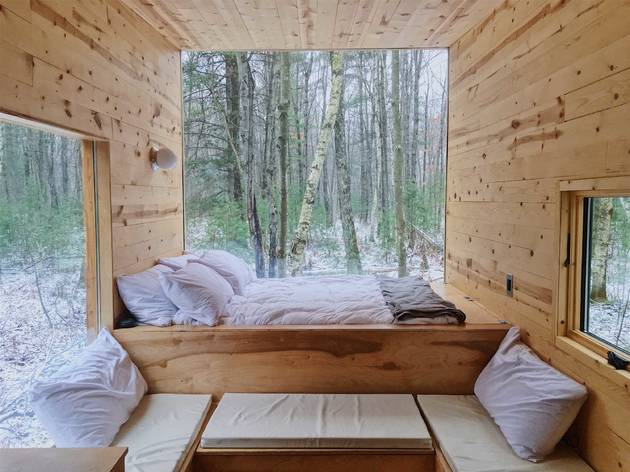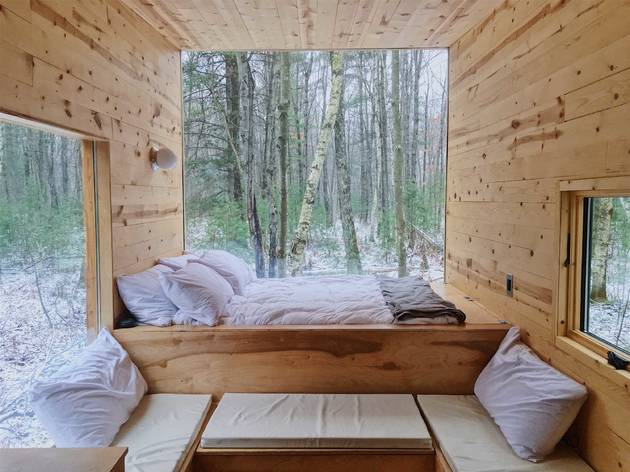 Photograph: Courtesy Off-Grid Inn
1. Tiny House by Off Grid Inn in Fall Creek, WI
Become one with the woods when you book a retreat at this truly unique tiny house that's nestled deep inside the Wisconsin wilderness. The minimalist and chic cabin is ideal for couples or solo travelers who are craving some serious time away (complete with spotty cell service). In addition to a queen-size bed, the cabin also features a small kitchenette and a shower-equipped bathroom. Come summer, guests will enjoy panoramic views of thick green forest; in the winter, the cabin becomes your own private snowglobe.
Photograph: Courtesy Airbnb
2. Third Coast Cottage in South Haven, MI
It's not hard to imagine yourself in this waterfront cottage, sipping coffee on the covered patio or prepping dinner in the cozy kitchen. Or perhaps you picture yourself perched on the property's private bluff taking in the sunrise over Lake Michigan. See what we mean? The three-bedroom home is decorated in blissful bohemian accents, adding to the already serene environs.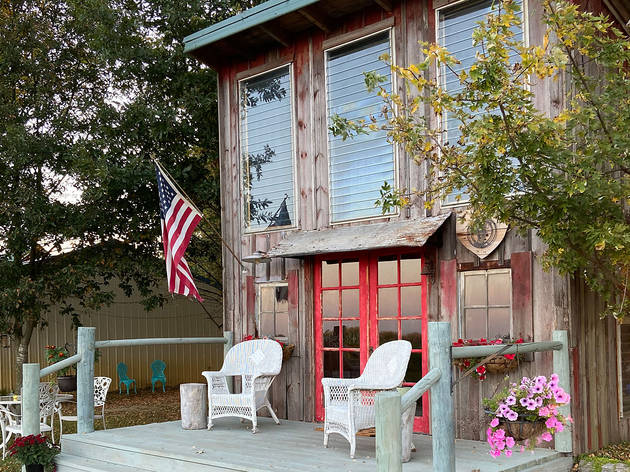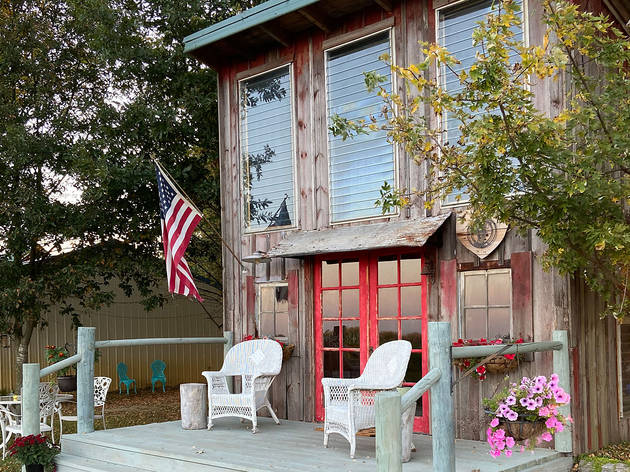 Photograph: Airbnb
3. Ryan's Place Cabin in Normal, IL
If you don't mind getting a little rustic, this restored 1865 cabin is a charming landing pad for a weekend away. Nestled on a working farm, the one-bedroom abode looks out over miles of picturesque countryside. There's even a small no-frills kitchen and an outdoor fire pit for cooking a romantic meal together. Psst! Pack some layers and prepare to cuddle—the walls don't have drywall or insulation.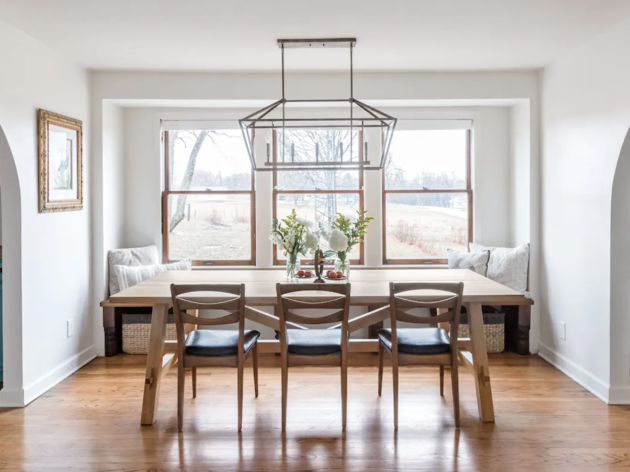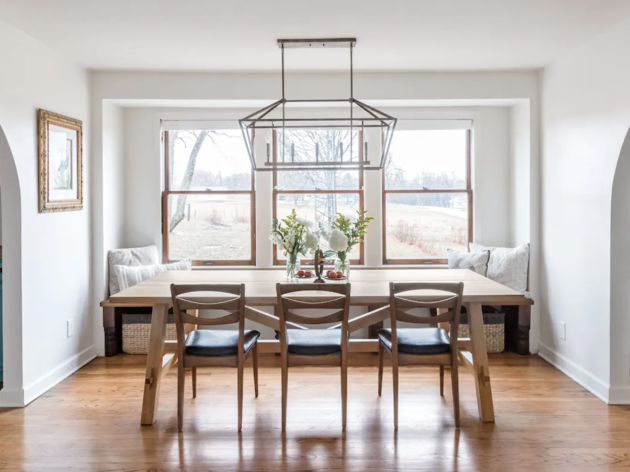 Photograph: Courtesy Airbnb
4. Modern Farmhouse in Kansas City, KS
There's a lot to love about this sweet and spacious 1930s bungalow, like the turquoise kitchen, the modern soaking tub and the date-night–ready dining room. The hosts go above and beyond to make sure guests feel cared for, so expect a pile of chopped wood for the outdoor fire pit as well as lavender-scented pillows to lay your head on at night.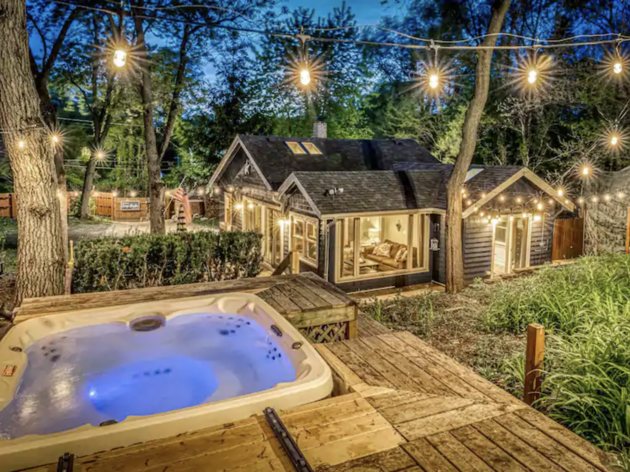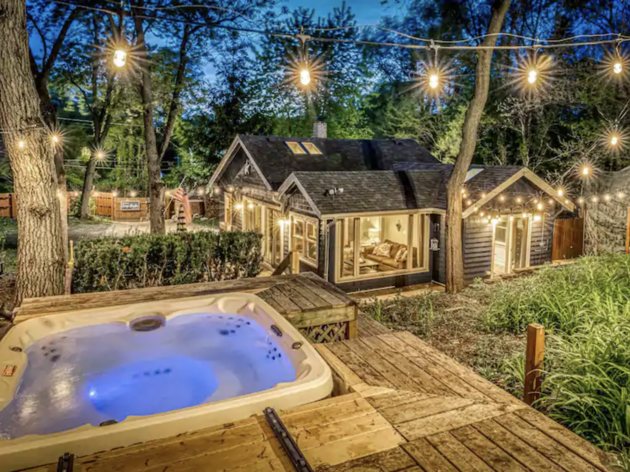 Photograph: Courtesy Airbnb
5. Secluded cottage in Miller Beach, IN
Hot tub? Check. Fire pit? Check. Proximity to a National Park? Check. This renovated 1920s cottage is a stone's throw from the Indiana Dunes National Park and offers plenty of romantic amenities for homebodies, too. Plus, the entire property is surrounded by a fence for maximum privacy while you soak in the six-person jacuzzi or enjoy dinner under the stars.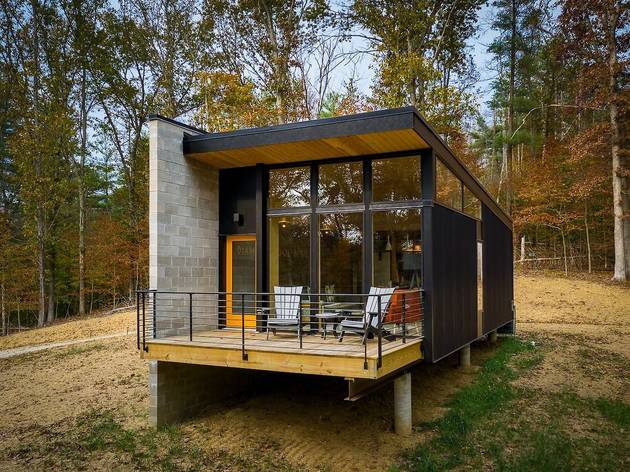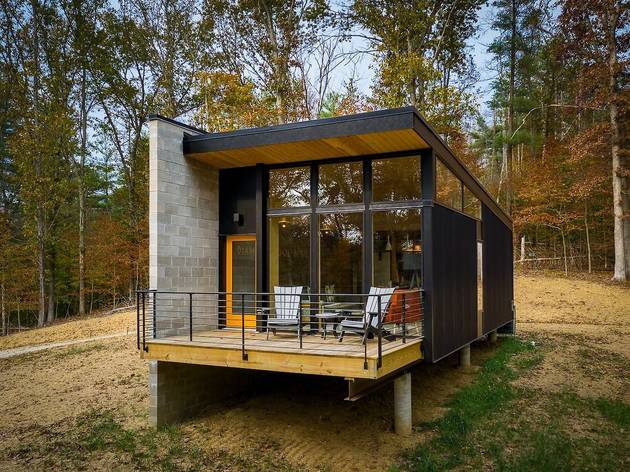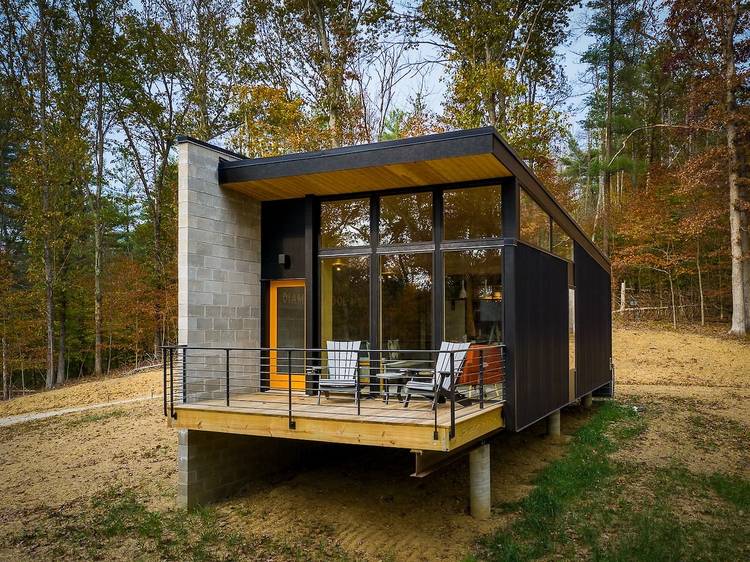 Photograph: Courtesy Airbnb
6. Plāhaus in Nashville, IN
Nestled in the woods of Brown County, Indiana, this wonderfully modern abode serves log cabin vibes without the kitschy decor. Whether you want to hole up and watch old movies or disconnect over some classic board games, this cabin has it all. But we imagine you'll spend most of your stay on the elevated patio out back, which affords guests stellar views of the surrounding nature—a focal point no matter the season.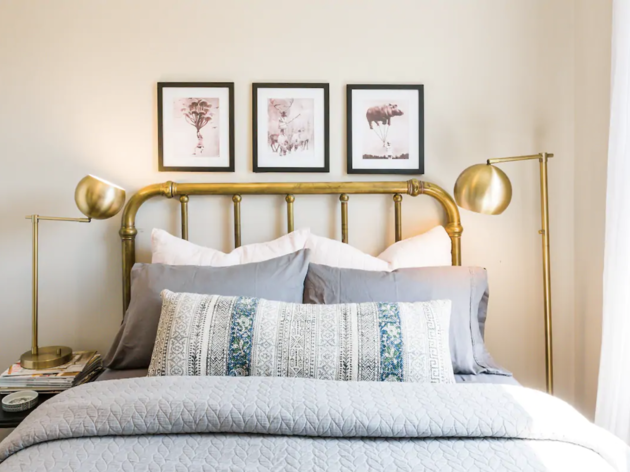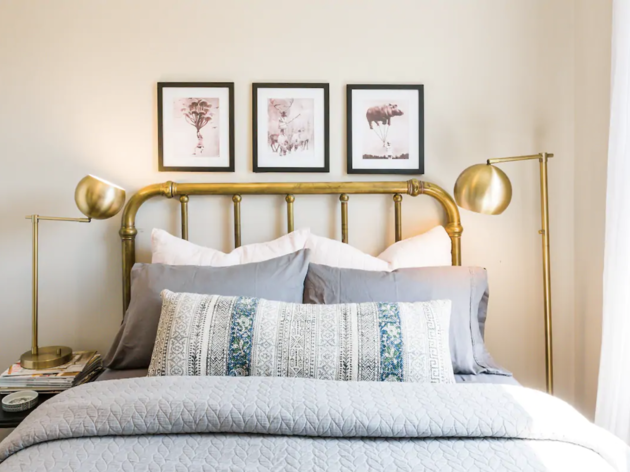 Photograph: Courtesy Airbnb
7. Designer Apartment in Lincoln Square, Chicago
If you need to get out of your apartment for a few nights but you don't want to splurge on a pricey hotel, consider this one-bedroom apartment in Lincoln Square. Conveniently located above Dollop Coffee, this tasteful hideout has everything you need: a full kitchen with a table for four, a nicely decorated living room, a modern bathroom and an inviting bedroom. You can't beat the price, which is typically under $75 per night.
Photograph: Courtesy Airbnb
8. Glass Cabin in South Bloomingville, OH
We can almost guarantee that you've never stayed in a place quite like this mid-century modern cabin that's perched on the edge of a 50-foot cavern. The floor-to-ceiling windows allow for jaw-dropping views of the surrounding forest, and the sleek amenities make the stay feel luxe. Head outside to enjoy several patios, a massive hot tub and an outdoor fireplace—all the trappings you need to set the mood. Come daytime, it's off to Hocking Hills State Park, where you'll find hiking paths and scenic views galore.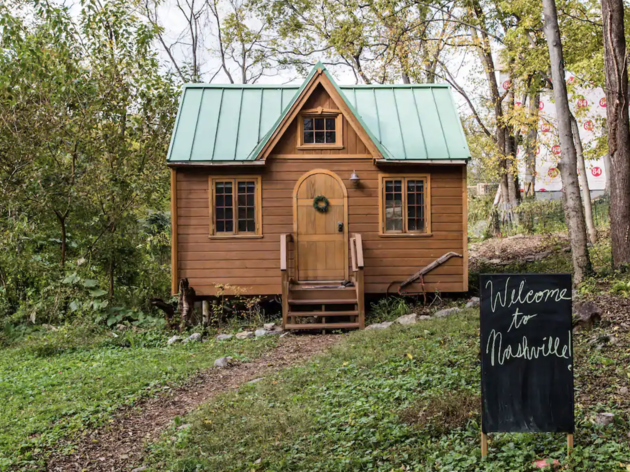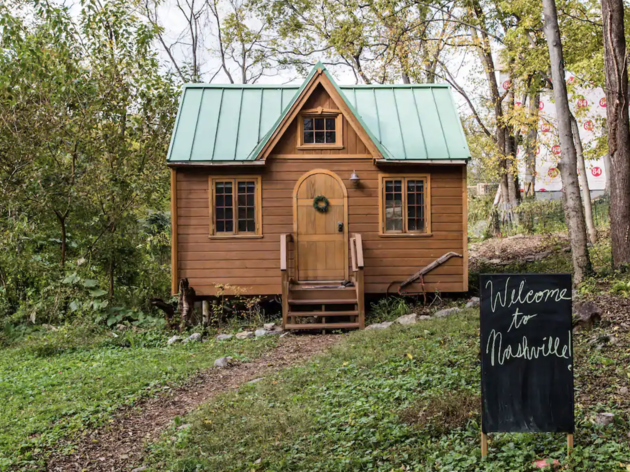 Photograph: Courtesy Airbnb
9. Dreamy Tiny House Cottage in Nashville, TN
Up for a longer drive? Tennessee's most wish-listed home is worth the trip. The fairytale-esque tiny cottage is filled with vintage furniture and playful touches. Spend the day reading books on the day bed, admiring the backyard garden or sipping beers on the patio. When night falls, there's a lofted bed that's tucked above the kitchen
Photograph: Courtesy Airbnb
10. The Slow Space in Kansas City, MO
The Slow Space is an appropriate name for this cloud-like bungalow that's decorated in soothing neutral tones and tons of beautiful plants. It's an ideal retreat for the couple who's always working and needs time to reconnect. Cook meals together in the spacious kitchen or play cards over wine in the family room. There are two beds to choose from, both of which are drenched in sunlight.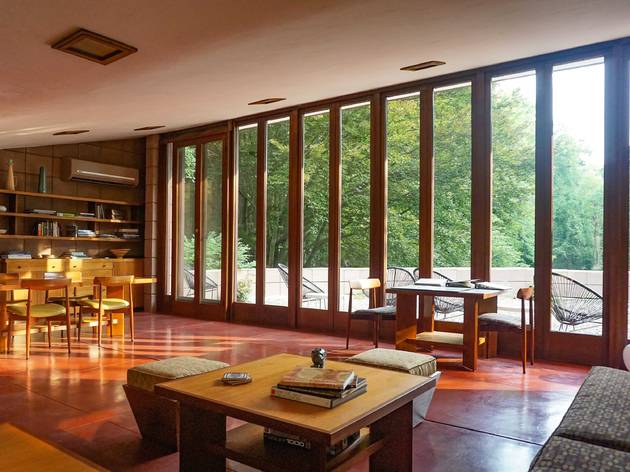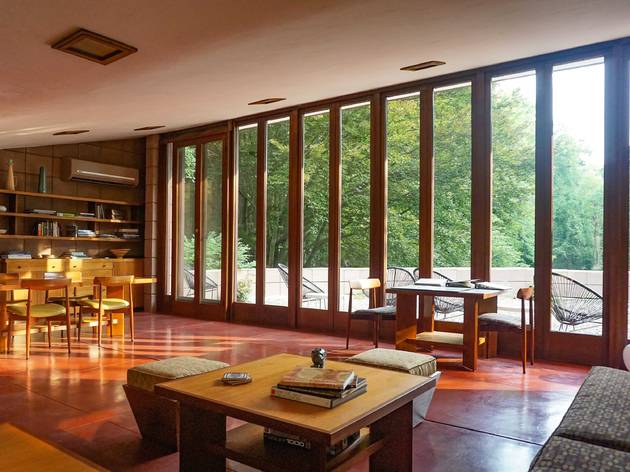 Photograph: Courtesy the host/Ti
11. Eppstein House in Galesburg, MI
Part of a small community of Wright-designed homes built throughout the '50s in Galesburg, Michigan, collectively known as The Acres, the Eppstein House was painstakingly restored in 2017 and is now available to rent. The three-bedroom home typically accommodates groups of up to four people, who can enjoy gazing at the natural scenery through the property's large windows, listening to a vintage record collection or getting cozy on mid-century furniture by a wood stove. And if it's warm enough to head outdoors, there are three terraces and a firepit in the lawn.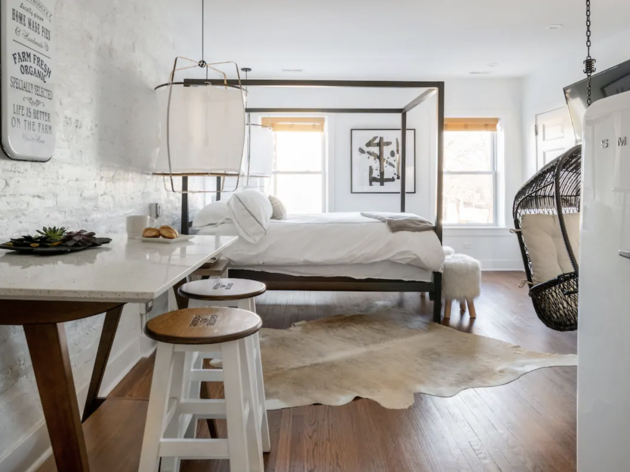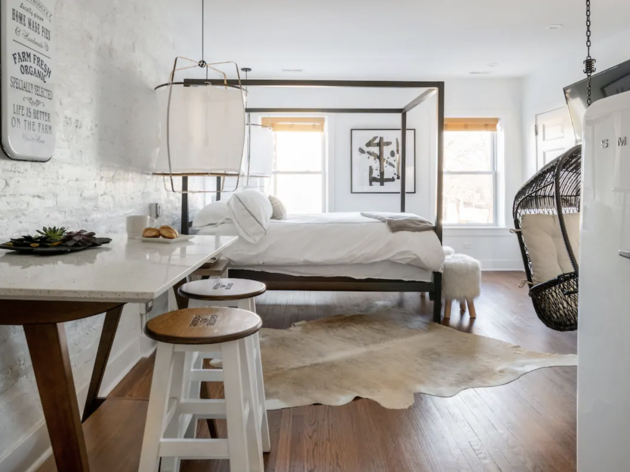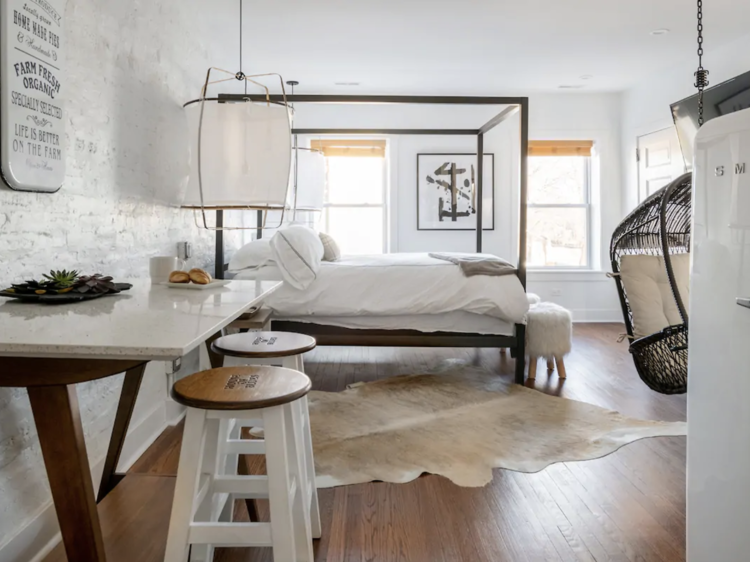 Photograph: Courtesy Airbnb
12. Urban Sanctuary in Kilbourn Park, Chicago
As soon as you walk into this handsome studio apartment, the first thing you'll spot is the big canopy bed—it beckons with its crisp, fluffy linens. A small kitchen has everything you need to prepare a quick bite, and the bathroom is spa-like. Fun touches—like a wicker swing chair that hangs from the ceiling—make it feel like a great place to hole up.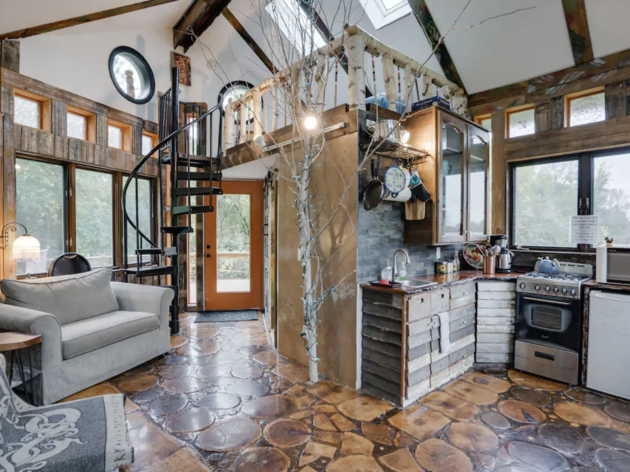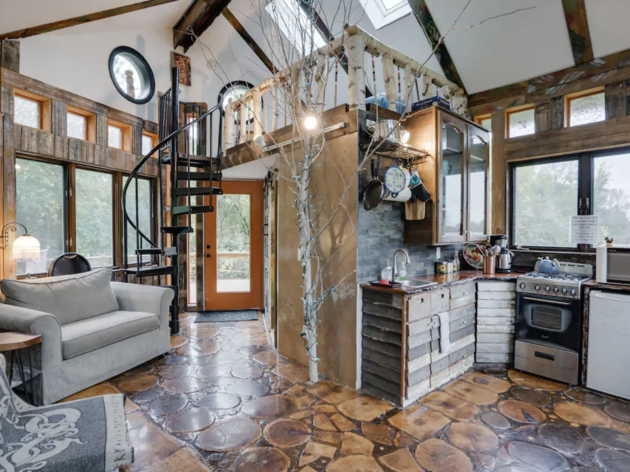 Photograph: Courtesy Airbnb
13. Star-Gazer Sky Cabin in Upsala, MN
Is there anything more romantic than gazing up at the galaxy together? This stilted treehouse is surrounded by woods and countryside, making it easy to spot stars in the night sky. Adventurous couples will love the fact that it's located near the 27-mile Soo Line Trail, where visitors are welcome to walk and bike in the summer and snowmobile in the winter.
Looking to go off the grid for the weekend?
Whether you're a bonafide misanthrope or you're just looking to keep your distance for the time being, these remote locales make for a perfectly isolated holiday.