Heads up! We're working hard to be accurate – but these are unusual times, so please always check before heading out.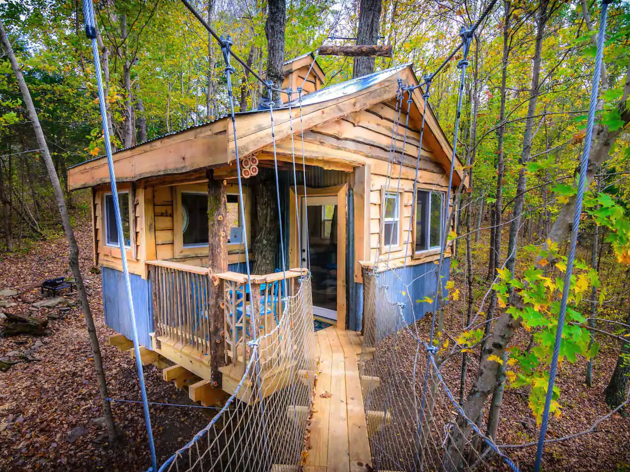 The 10 most amazing treehouse rentals near Chicago
Live out your childhood dreams when you stay in one of these treehouses near Chicago
Travel restrictions may be in place. Please check before booking, and travel responsibly.
If working from home for the past however many months (hey, we're refusing to keep track) has you craving a nature-filled getaway with spotty WiFi, consider renting a treehouse near Chicago. After all, we could all do with a bit of escapism at the moment, right? These rustic retreats are perched high above the ground and surrounded by lush greenery, offering panoramic views that differ from anything you'll find in the thick of the city. A step up from camping near Chicago, most of these treehouse rentals are equipped with kitchenettes and bathrooms, so you can hunker down comfortably for a long weekend away. When it comes to secluded getaways near Chicago, it doesn't get more undistrupted than these stunning treehouses. Don't forget your hiking boots and a few books!
RECOMMENDED: Discover more secluded homes you can rent near Chicago
Treehouse rentals near Chicago
Photograph: Courtesy Airbnb
Enchanted Garden Treehouse in Schaumburg, IL
You won't have to drive far to get to this suburban oasis. Guests will have access to a room in the main home as well as this funky backyard treehouse, which is perched above a babbling koi pond and a cozy cedar hot tub. The host notes that this is a bonafide treehouse, not a stilt house, so if there's wind in the forecast, you might experience some gentle rocking. All part of the fun, right?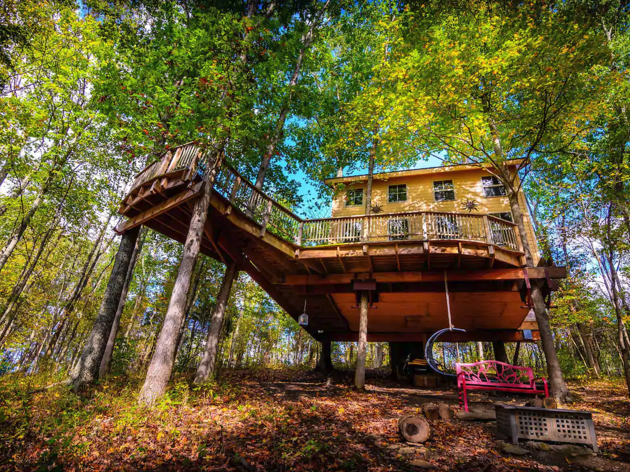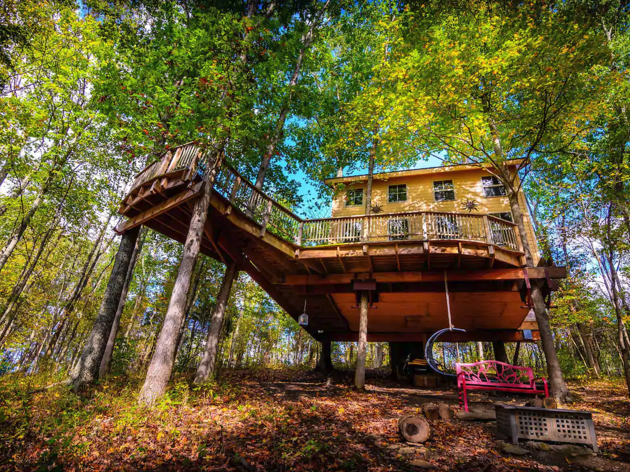 Photograph: Courtesy Airbnb
Off the Grid Treehouse in Germantown, KY
This treehouse is famous. Why? Well, it featured on Animal Planet's Treehouse Masters. So there you go. This elevated abode is ideal for travelers who want to unplug, and its spacious interior features a wood-burning stove, a full kitchenette, a private bathhouse and a massive barnhouse door that allows you to bring the outside in. But perhaps more impressive still are the 200 acres of themed trails, which take guests through rolling hills and along the Ohio River.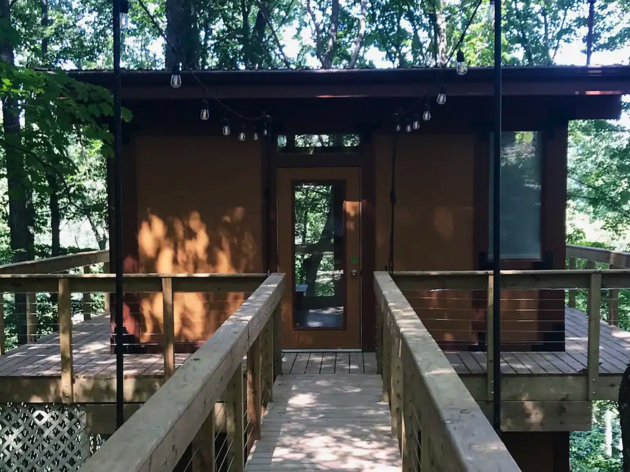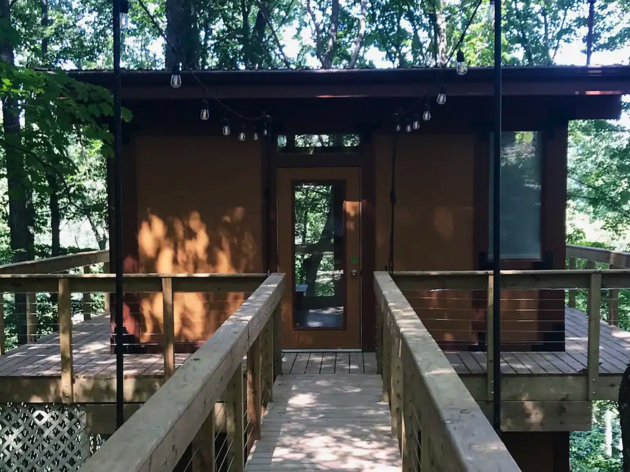 Photograph: Courtesy Airbnb
Hocking Hills Treehouse in South Bloomington, OH
If you're hoping to get a hike in while you're away, this treehouse is a stone's throw from Hocking Hills State Park, which encompasses 25 miles of trails, amazing rock formations, cool caves and stunning waterfalls. The studio-style treehouse is outfitted in modern finishes, including a sleek kitchenette and a rain shower in the bathroom. But the floor-to-ceiling windows are the main attraction, showcasing stellar views from every angle.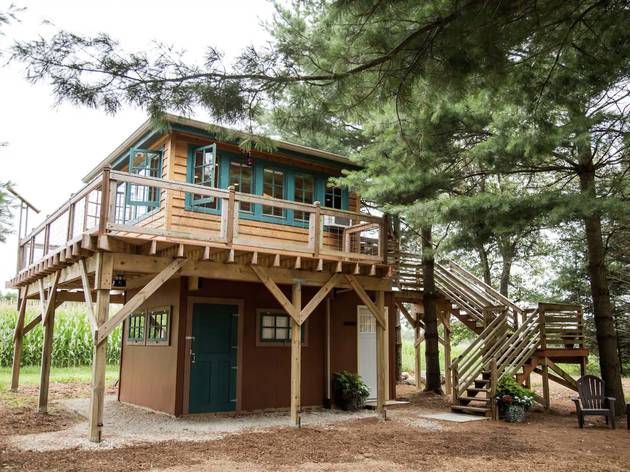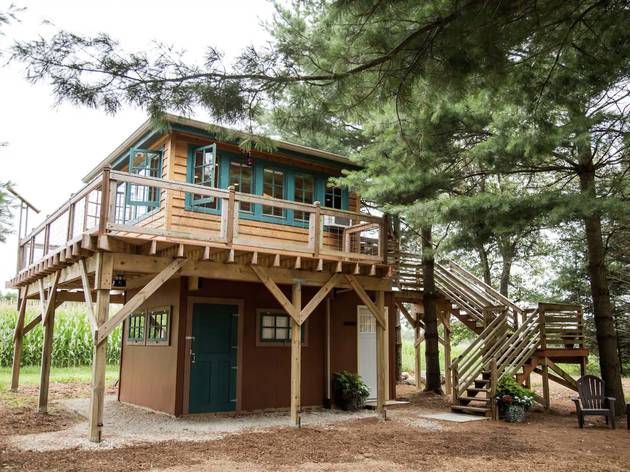 Photograph: Courtesy Stan & Deb
Outpost Treehouse in East Leroy, MI
Inspired by a forest ranger's lookout, this treehouse-style property is located in a white pine forest on a 65-acre working farm. The one-bed, one-bath space sets itself apart with 15 custom windows and a wrap-around porch that allow for panoramic views of wildlife, including deer, turkeys and owls. The host provides a light continental breakfast (pastries and coffee), and WiFi is available should you need to plug in.
Photograph: Courtesy Airbnb
Treehouse Getaway in Xenia, OH
Save this treehouse escape for winter, when the surrounding maple trees are being tapped and maple tea is often served to guests. Of course, the family-friendly property can be enjoyed any time of year thanks to a 4 acre plot of land that's dotted with ponds, a small creek, a man-made waterfall and a gaggle of chickens. The host describes the amenities as "glamping," with a toilet, electricity, heat and a mini fridge all available to guests.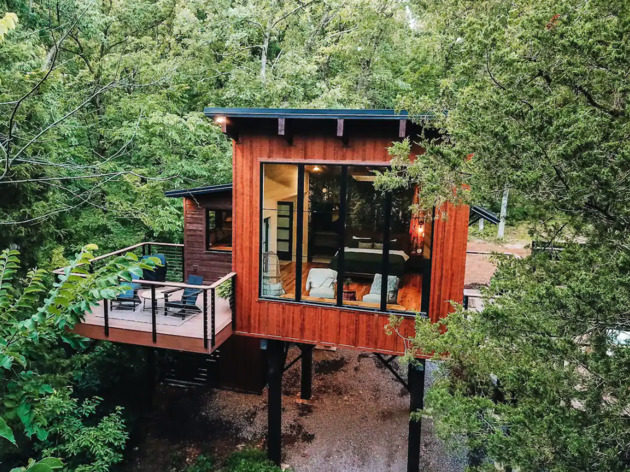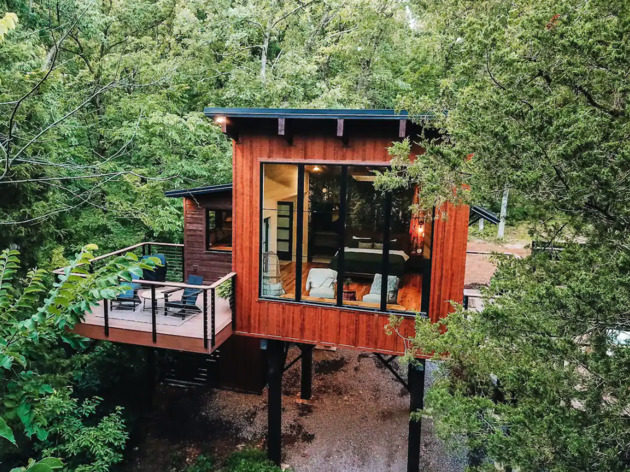 Photograph: Courtesy Airbnb
TreeLoft at BaseCamp in Perryville, MO
After a long weekend away in this luxury treehouse, you might just find yourself wishing you could move in. Designed with romantic getaways in mind, this one-bedroom home is tucked into a 12-acre farm surrounded by towering trees. From the king-size bed, you'll be able to stargaze through the skylight and watch the sunset through the floor-to-ceiling windows. Unwind in the soaking tub or take it outside to the hot tub that's surrounded by red cedar trees. It's worth noting that this property comes outfitted with a ramp, making it accessible for all.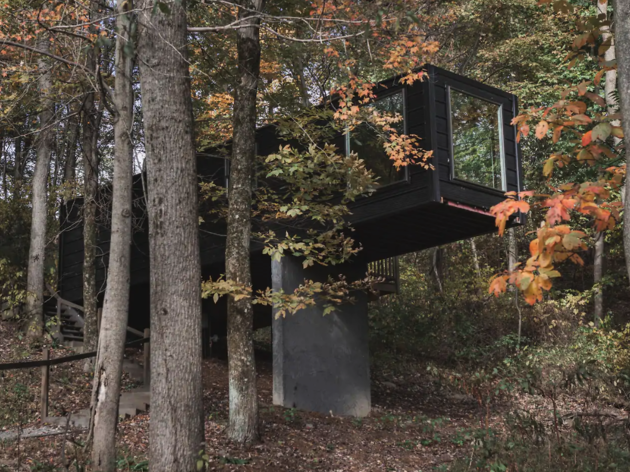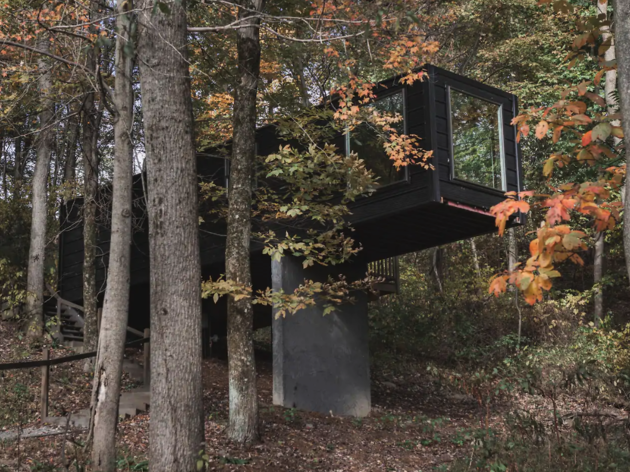 Photograph: Courtesy Airbnb
Like its name hints, The Box is an old shipping container that's been converted into a modern and minimalist retreat that juts out into the wilderness. At the end of the living area, there are three massive windows that perfectly frame the surrounding nature, no matter the season. By day, there's nearby Beach City Wilderness Area to explore, and by sunset, guests can soak up the views from the home's porch, which is equipped with a fire pit.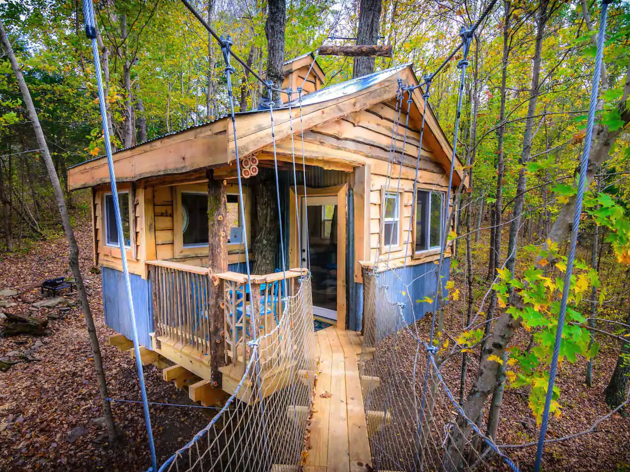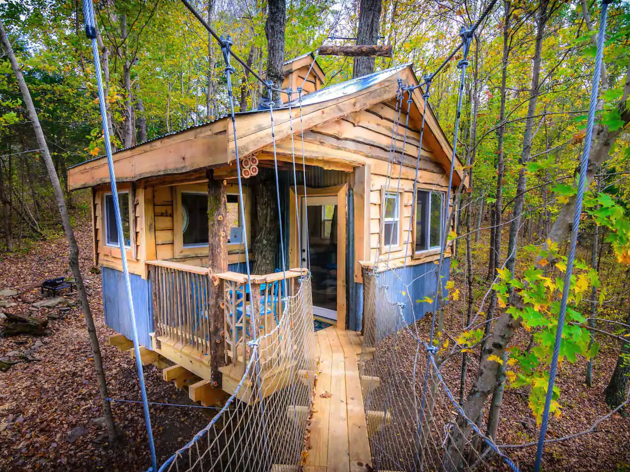 Photograph: Courtesy Airbnb
Aliyah Treehouse in Germantown, KY
The kids will get a kick out of this whimsical treehouse that looks like it's been plucked straight out of the pages of a storybook. The sky-high home's defining feature is a swinging bridge that connects the main cabin to a smaller cabin with bunkbeds. There's also a decades-old tree that cuts right through the middle of the room, upping the charm tenfold. A fully stocked kitchenette and a private detached bathhouse make it possible to hole up for your entire stay.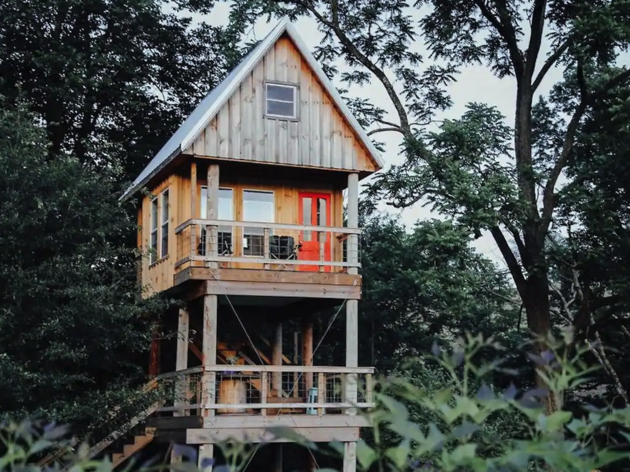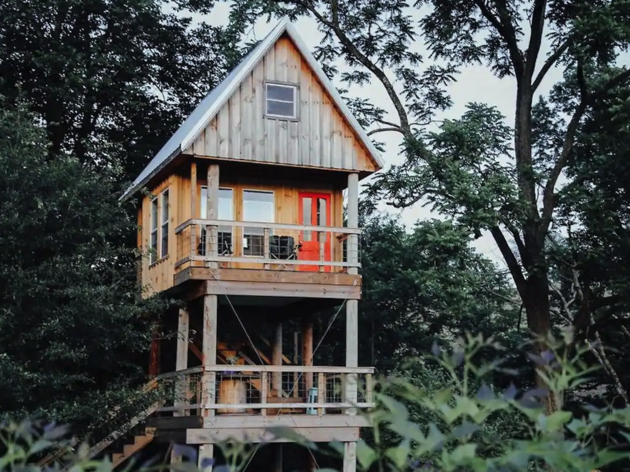 Photograph: Courtesy Airbnb
Tullihas in the Trees in Frazeysburg, OH
Ready to rough it in style? This treehouse doesn't have electricity, running water or cell service, making it an ideal destination for couples and solo travelers who want to get off the grid. The interior is thoughtfully designed with a lofted bed accessible by ladder, stylish rugs and dreamy furniture. And since it's situated on a 230-acre farm, the home comes with plenty of ground to hike and explore.
Photograph: Courtesy Airbnb
Sunset Treehouse in Hermann, MO
The name of this cheerful treehouse hints at one of its best features: When the sun sets, it fills the little cabin with golden light. The host recommends pouring a glass of wine and grabbing a seat by the windows to enjoy the show. Considered a "luxurious" treehouse, this abode is outfitted with a queen-size bed, a fridge and microwave, and a full bathroom.