New exhibitions in Zagreb
The best art on show in the capital this season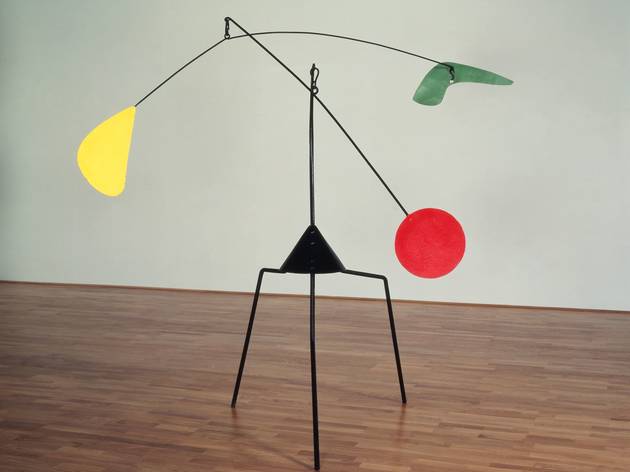 New exhibitions in Zagreb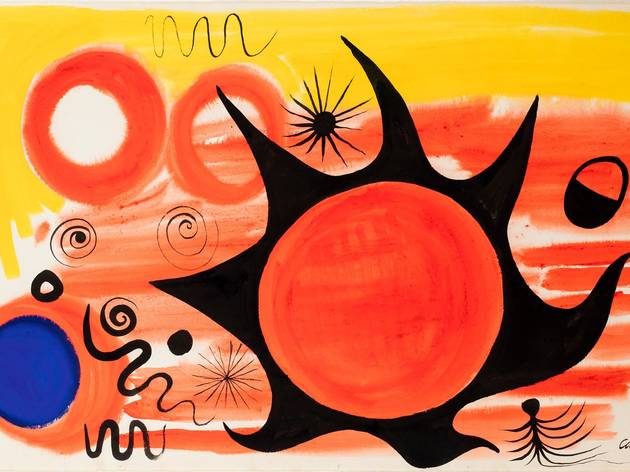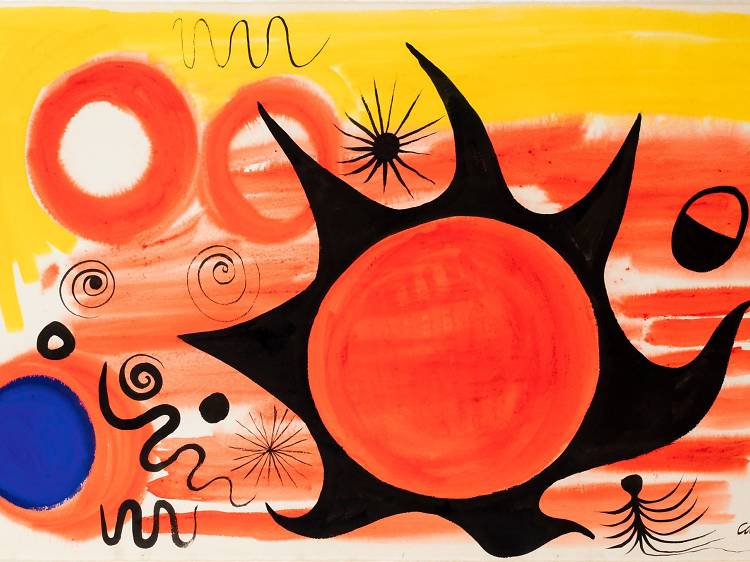 private collection, Courtesy of Brame & Lorenceau, Pariz. Photo courtesy of Brame & Lorenceau, Paris © 2019 Calder Foundation, New York / Artists Rights Society (ARS), New York.
Somehow, the brightly-coloured abstract sculptures of Alexander Calder and the belle-époque opulence of Zagreb's Art Pavilion seem made for each other. Several of the American artist's famous mobiles hang from the pavilion's high ceilings, providing the perfect counterpoint to the bare-torsoed titans who hold up the building's central dome.
Calder (1898-1976) was one of the greatest public sculptor of the twentieth century, filling squares and plazas around the world with his thrusting, life-affirming forms. What we get to see here are his more intimate 'indoor' works, kinetic sculptures in lively reds and blues whose metallic petals sway slightly in the pavilion's largely draught-free interior. With an accompanying series of lithographs and gouaches lining the walls, it's an incandescent display that will linger in the visitor's memory for a long time (which is a good thing, because you're strictly forbidden from taking any photographs).
Calder was a man who believed that art should be joyous, playful, but also powerful. When living in Paris in the 1920s he was famous for making moving toys that starred in the 'home circus' performances held in his own flat. 'He was never without a roll of wire and a pair of pliers in his pocket' says one of the talking heads in the accompanying documentary film, before explaining how Calder would go to parties with them and sculpt wire portraits of people on the spot.
The fact that the Art Pavilion features a long uninterrupted gallery space (rather than a succession of separate rooms) allows you to choose your vantage points and gaze at the whole exhibition, rather than proceeding from one room to another and then out through the exit. The overall effect is stunning, and you may well end up spending longer here than you thought.
Founded a century ago in the German city of Weimar, the Bauhaus art school developed a programme of creative education that is still followed in colleges today. This exhibition looks at the way in which Bauhaus teachings influenced art schools in Croatia, with particular reference to the courses taught at Zagreb's Academy of Applied Arts between 1949 and 1955 (when the academy was dissolved and merged with other institutions). Despite its short lifetime, the academy produced a generation of graduates who went on to wield influence over all aspects of Croatian culture. Featured artists include Zlatko Bourek, the painter and animator who was one of the creators of legendary cartoon character Professor Balthazar; Jagoda Buić, famed for her modernist tapestries and textile installations; and Vasko Lipovac, the mercurial all-rounder whose brightly coloured sculptures and installations remain the subject of much popular affection. All in all it's a touching portrait of Croatia's first post-war creative generation.
Founded ninety years ago, Zemlja or 'Earth' was one of the most influential movements in the history of Croatian art. As this major exhibition demonstrates, the artists who came together under the Zemlja banner shaped a distinctive Croatian visual style that is still very much around today.
The main aim of the Zemlja group was to develop an art that could attract a broad public and also function as critique of an unjust society. According to Zemlja, art should play a documentary role in recording what life in the then Kingdom of Yugoslavia was really like: it was no longer enough to idealize the peasantry as some kind of folkloric national bedrock clad in traditional costumes, you also had to describe rural poverty and do something about it. The other key aspect of the Zemlja philosophy was the creation of an authentically local art that would have local roots, and which would not simply be an extension of the latest art trend from Berlin or Paris.
Most talented painter of the group was Krsto Hegedušić (1901-1975), an artist committed to depicting the realities of rural and working-class life. Together with painters Juraj Plančić, Ivan Tabaković and Oton Postružnik, he arranged exhibitions which had a clear socialist message. They formed the Zemlja movement in 1929, with architect Drago Ibler writing the manifesto. 'You have to live the life of your times' it declared, 'because art and life are one.' Hegedušić was also was a key sponsor of the self-taught village painters of Hlebine in Eastern Croatia, nurturing a 'naïve' style of rural painting that remains one of the key trademarks of Croatian culture.
Being a member of Zemlja was a risky affair: Hegedušić was arrested several times in the 1930s for his left-wing beliefs, and after two big Zemlja exhibitions in 1932 and 1934, the association was banned. It was of enormous long-term influence however, and represents a unique and powerful episode in Croatian art.