Zadar café guide
Need your coffee fix? Read our guide to the coolest cafés set in the city's most stunning locations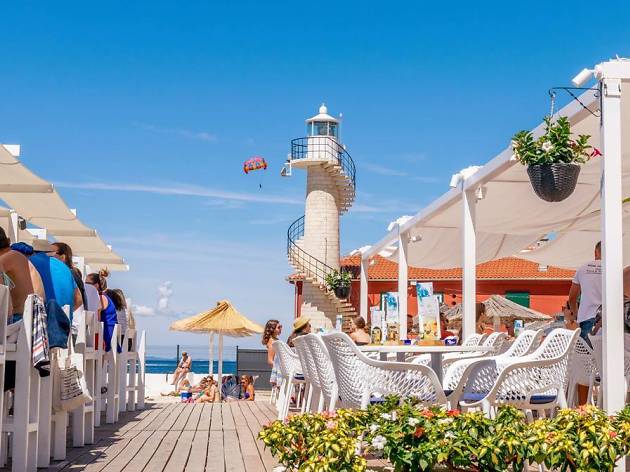 Proud of its Mediterranean coffee culture, Zadar is blessed with an excess of cafés sprinkled across its endless rows of terraced streets. Whether you're after a quick caffeine fix or somewhere to escape the thronging crowds, our local experts have picked out the best very cafés in Zadar.
RECOMMENDED:where to eat, sleep and drink in Zadar.
The fact that Zagreb specialty roasters Cogito Coffee opened their maiden café on the Adriatic coast in Zadar is testament to the ever-evolving face of the city. Located in the old town, tucked away from the bustle of the main drag, a handful of sunny yellow chairs add a dash of colour to cobblestoned street. Whilst a cup may cost more than the average café in Zadar, it has quickly gained a standout reputation in a city saturated with average cafes. Besides coffee, Cogito offer a decent selection of loose leaf teas, fresh juices, beers and cocktails.
Read more
Superbly located UK-owned outdoor lounge bar features quality live music and name DJs all summer, as weather permits. The Garden centres around a vast panoramic terrace with private cabanas as well as low, comfortable white sofas, amid established trees and great views. By day, locals and tourists relax, play board games, read the papers and watch passing ships. By night there's a full musical agenda, piped through a state of the art sound system, accompanied, if so required, by a modest menu from the excellent restaurant over the road at the Hotel Bastion. Well chosen local wines and well priced cocktails are the order of the day – Croatian and Belgian beers are equally good value too, considering the quality of venue and musical backdrop. The Garden is one of the most important things to have happened to Zadar in recent years, and the team behind it, UB40 drummer James Brown and music producer Nick Colgan, have not rested on their laurels. From this has grown the major music festival of the same name, Barbarella's near the festival site, and more than a few other projects in the pipeline.
Read more
Just tucked in from the newly landscaped embankment close to the Sea Organ, this handy little café offers a view of the sea from its gravel terrace, an ice-cream stall outside in summer and long drinks from 15kn including a Bruce Lee, an 007 James Bond and a Café del Mar of champagne and orange. Bottled Leffe and Hoegaarden, and morning coffees, are served from the sunken bar inside.
Read more
Situated right on the coastline, Vinyl Bar is so pet-friendly a recent terrace expansion was done for the benefit of our furry friends. It's a lovely place to enjoy the sunrise and sunset, as Hitchcock did when he visited the city in 1964; indoors, the Vinyl Bar's name is apparent: scores of LPs decorate the floors, walls and tables. Local or international DJ's play every weekend: non-commercial house, electronic, funk, jazz, RnB and soul.
Read more
A peaceful refuge from the throng of the city centre, Bamboo's beachside promontory offers transfixing views over the Zadar's city walls and terracotta rooftops. A ten-minute hop from the centre by bus, this is the beachside bar you've been looking for: bamboo parasols, white-cotton deck chairs and a sea-facing terrace create a relaxed beachy vibe that's well-worth the trek. The drinks menu is nothing special: you'll find the usual parade of Croatian lager, Franck coffee and soft-drinks, but the location is unbeatable. Ice-cream, pancakes and cocktails provide refreshing alternatives. Expect inflated beach prices, but not majorly dear.
Read more
Since opening their first café in 2016, Coffee&Cake now have expanded to two venues where patrons can satisfy their sweet-tooth. They offer a delicious array of home baked cakes, pastries and other desserts, including some gluten free and vegan options. Although the café at Braća Vranjanina doesn't offer much al-fresco seating, its airy, industrial-style interior offers a cool place to unwind. Outside of the city centre, its sister café at Franje Tuđmana is a bit poky, but has a lovely shaded terrace.
Read more
Caffe Bar Forum enjoys a top-drawer setting, luxuriating in the shade of St. Donatus Church. Located on the main promenade Kalelarga, the café faces the ancient ruins of the Roman forum, slotted between the Archaeological Museum and Zadar Cathedral. The café has a wealth of outdoor seating, and its terrace is a popular spot for 'špica', the local custom of dressing up on Saturday mornings and showing off your finery with a coffee and cigarette in hand.
Read more
Great little gallery bar off the main square, done out with bizarre egg-shaped heads designed by Silvijana Dražković. A trendy crowd gathers by day to drink any number of fruit teas, the electronic musical backdrop increasing as the night wears on. There's a couple of chairs on the busy narrow street outside.
Read more
Locals and tourists congregate in the capacious outdoor setting of Kavana Lovre. Canopied terraces buzzing with chatter and cigarette smoke spread across the Peoples Square, the historical heart of the Old Town. The bar's eccentric setting, burrowed in the nooks and cloisters of the 12th century St. Lawrence Church, doesn't reflect its drinks menu: a rather basic selection of commercially-blended coffee, Croatian lagers and cheap local wine. Freshly made juices and a gelato stall provide cooling replenishment on hot days.
Read more