Heads up! We're working hard to be accurate – but these are unusual times, so please always check before heading out.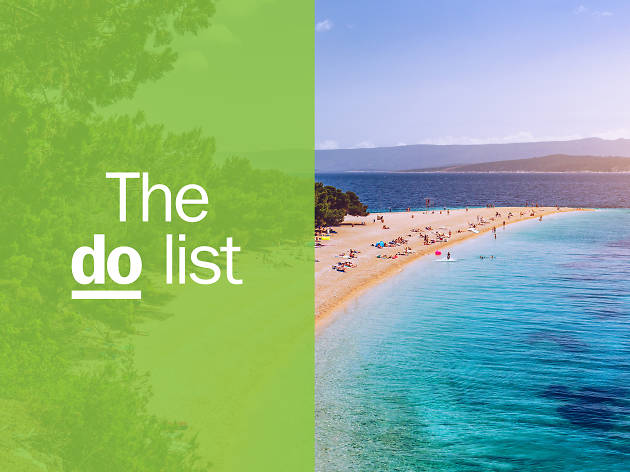 20 great things to do on Brač island
Discover the best things to do on Brač with our insider's tips on sightseeing, dining and drinking
20 great things to do on Brač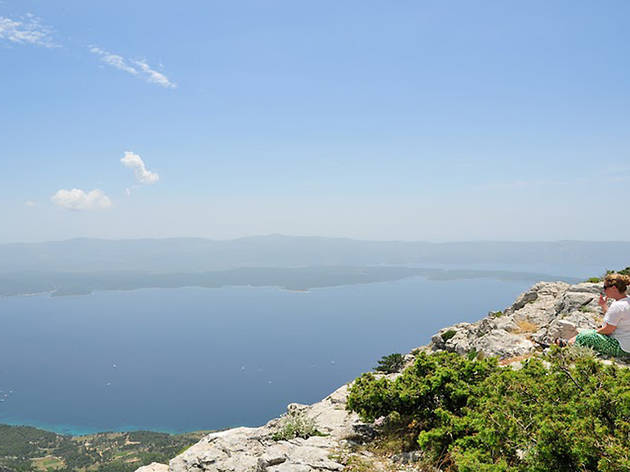 © Fumie Suzuki/Time Out
The highest point of all the islands in the Croatian Adriatic, Vidova gora is a satisfying and signposted walk from Bol on the south coast of the island. Setting out from Donje Podbarje at the north-western edge of the town centre, hikers make the steady, sturdy trek up to the peak of 778 metres (2,552 feet), a three-hour jaunt, the views becoming more and more impressive. From the top you can see Hvar and the Croatian mainland, best observed with a beer from the summer-only bar, equipped with a handy picnic table.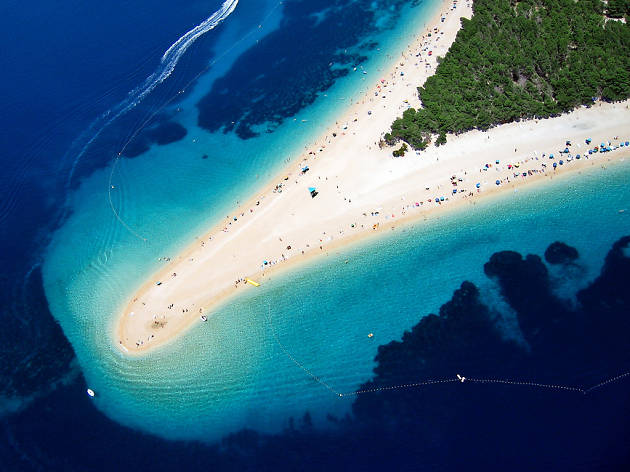 Of all the beaches in all Croatia, Zlatni rat is the most iconic. Photogenically shaped like a tongue, its tip altering every so slightly as tides and wides dictate over the course of a year, this extension of fine shingle sits alongside the island's main resort of Bol on the southern coast. The stroll to Zlatni rat ('Golden Cape'), amid fragrant pines, prepares holidaygoers for a day's relaxation. Those staying at nearby campsites and hotels can reach the beach and claim their spot a little earlier, space at a premium in high season. Zlatni rat is revered by windsurfers, who take advantage of the wind patterns, the light morning Levanat, the afternoon Mistral and the stronger Tramontana. The notorious Bura is rare in summer. Sports schools in Bol, such as Big Blue, offer tuition from beginners' level up.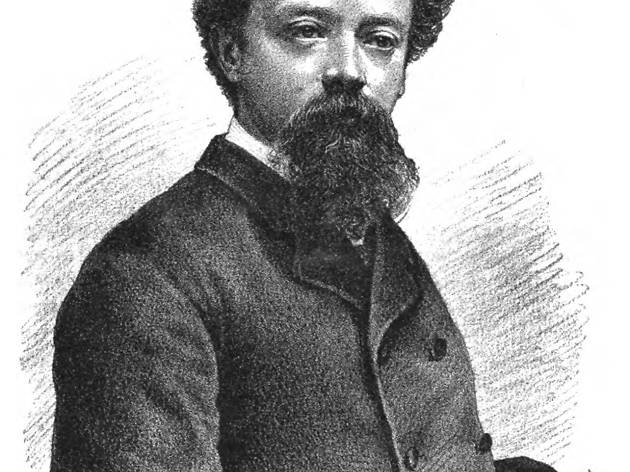 ©Wikimedia Commons
The most famous sculptor from an island famed for the quality of its stone, Ivan Rendić spent his earliest and his last years in Supetar, failing to gain support for his ambitious cultural initiatives and dying in penury. In between, Rendić gained valuable experience in Italy and created many public works in Zagreb, Split and across Croatia. In recent years, Supetar has reevaluated the impact made by its prodigal son and established a themed cultural walk, 'One Day with Rendić'. Leading from the main beach, another Rendić proposal, the trail takes in the oldest parts of town, including his family home and gallery. Supetar cemetery is another main stop featuring several Rendić works. A map of the tour is distributed at Supetar Tourist Office by the ferry port.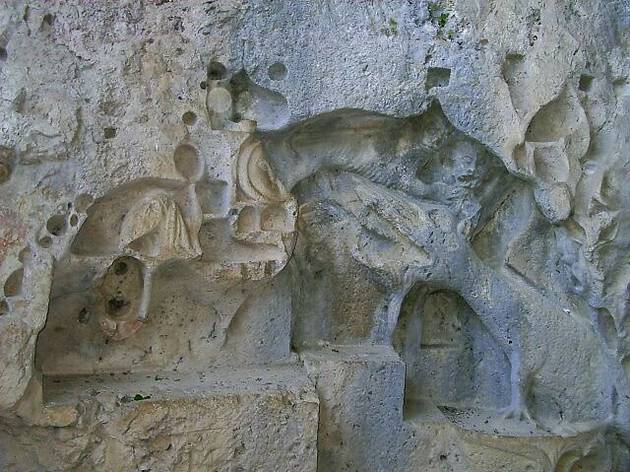 4. Discover the Murvica dragon
Though close to the crowds of Bol, the tiny hamlet of Murvica offers splendid isolation. Even today, its official population barely numbers two football teams. In the 15th century, monks and hermits made their homes in the karst caves here, away from marauding Turks, eking out a meagre living and spending the rest of the time in prayer. In one hollow, an unknown artist among them created the lifelike shape of a dragon, giving the rock its name of the Dragon's Cavern – Drakonjina špilja. Other shapes also appear, humans, birds and the moon, causing debate whether their creators were pagan, Christian or a mixture of both.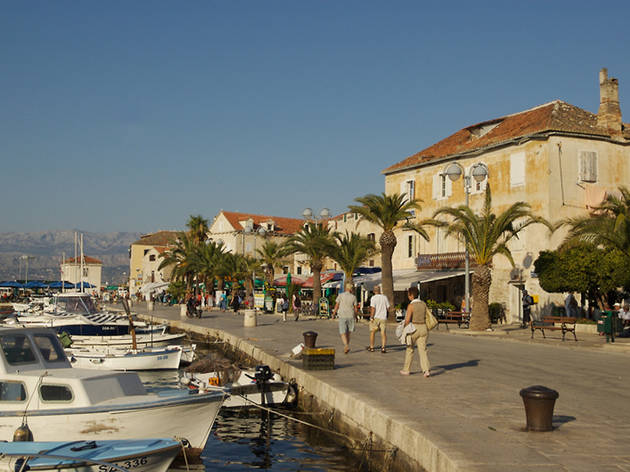 © Carly Calhoun/Time Out
5. Dine on a sunset waterfront
Blessed with a winning romantic setting, on its own terrace that juts out from Supetar harbourfront, in full warm view of a slow, slow sunset, the Palute could charge astronomical prices for its fresh fish platters, its quality meat dishes and its stand-out seafood spaghetti. It chooses not to. Instead, you and your starry-eyed dining companion can clink glasses of equally affordable house wine while friendly staff come and go and buckets of ice, side salads, beer if required and smaller portions for the kids. Every so often, a Jadrolinija ferry glides by and at some point, lights will start twinkling on the mainland beyond. And that aroma that lured you in? That's the wood-fire grill, tucked by the bar, and that's your bream sizzling away gently on top.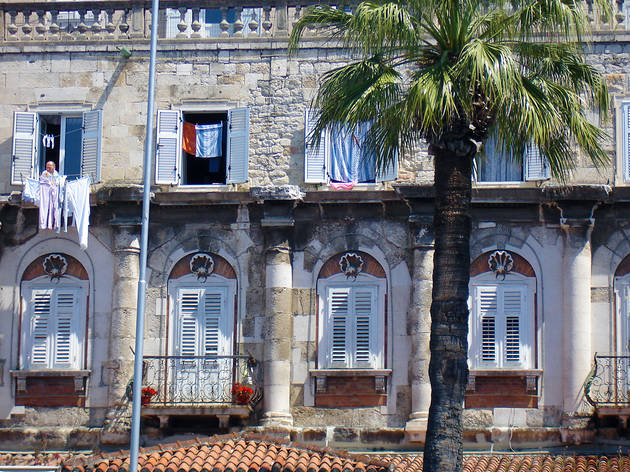 © Vanda Vucicevic/Time Out
6. Meet Diocletian's daughter
Diocletian's Palace, the gutted Roman villa-garrison that centrepieces Split, was created from Brač stone. Even some 1,700 years ago, trade between island and mainland would have been significant. Therefore it should be no surprise that the wife and daughter of the emperor Diocletian should be buried on Brač – although other sources point to spouse Prisca and daughter Galeria Valeria either being abandoned in Syria or murdered in Salonika, modern-day Greece. In any case, the rather attractive notion that both now reside in a mausoleum below the Radojković Tower in Škrip on Brač at least encourages people to visit the museum there, otherwise dedicated to a mainly rural history of the island. Škrip itself is older than Split, and is even considered the oldest settlement on Brač.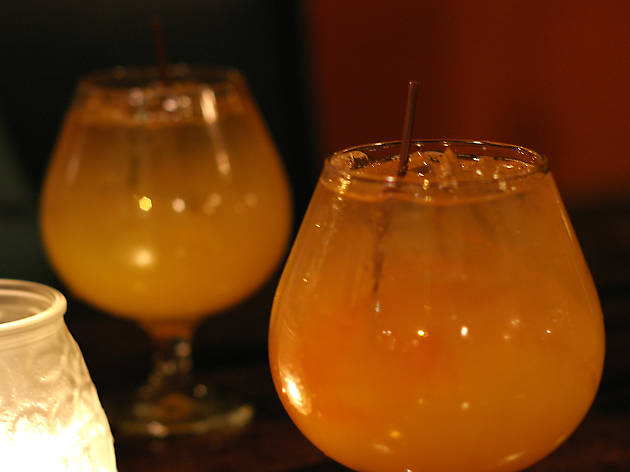 If you've come to Brač to party, you've come to the wrong place. Barhop in Split, pose in Hvar, relax on Brač. But the island can still shake its stuff when it feels like, and the place this all happens is But in Varadero close to Bol harbour. Very much a summer-only operation, Varadero attracts a few name Croatian DJs over the course of the season, but most of all is a major after-dark hangout. Reasonably priced cocktails fly out the bar area and everyone mingles on and around the expansive dance space, more intimate communication going on beneath the open huts done out in tiki style.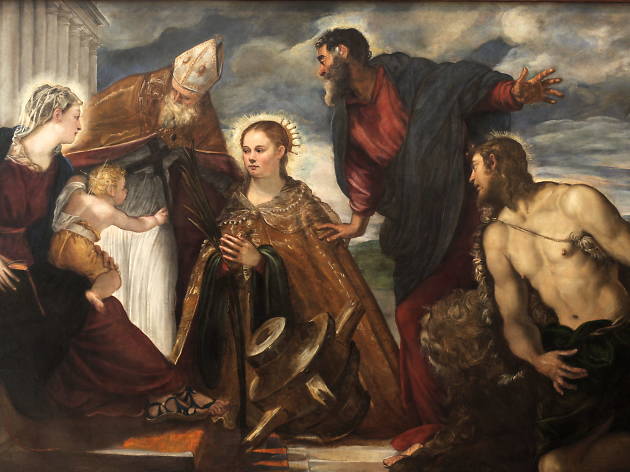 ©Wikimedia Commons
No-one is exactly sure how a Tintoretto came to wash up in the Dominican Monastery on a prominent headland outside Bol. There's a good chance that the connection is Tripo Kokolja, a Montenegrin painter who studied in Venice in the late 1600s, and whose works also featured on the ceiling of this monastery dating back to the late 1400s. In any case, Tintoretto's altar painting 'Madonna with Child' is the stand-out attraction, though it's worth investigating the monastery's museum for a look at the Ancient Greek coins also on display. You'll find the monastery on the other side of Bol from Zlatni rat, along Šetalište Anđelka Rabadana.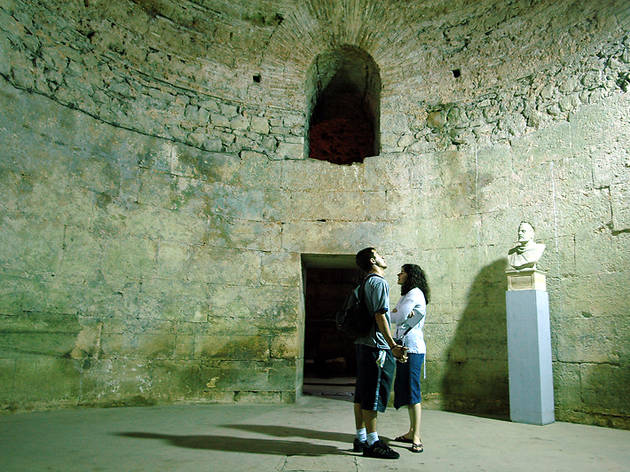 © Carly Calhoun/Time Out
If you've walked around the Diocletian's Palace in Split and wondered where all that stone came from, the answer is Splitska. The Rasohe quarry sits by this former Roman settlement down the coast from Supetar, named after the main town it served. From the beach, a signposted path runs two kilometres to the quarry site, named the Relief of Hercules after the figure carved by the slaves and prisoners-of-war who worked here 1,700 years ago. A board give a brief explanation of the historic significance of what you see before you, and you can walk around and explore the rock faces, hewn with clear purpose in mind.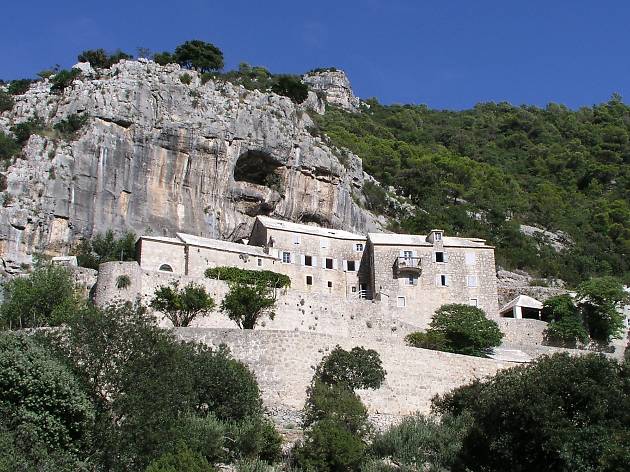 ©Wikimedia Commons
Halfway between Milna and Murvica, on the south-west corner of Brač island, Blaca Monastery was last occupied by Father Niko Miličević in the mid 20th century. When he died in 1963, 500 years of tradition died with him, generations of monks living here since 1551. The monastery library is said to contain more than 10,000 books. Father Miličević cast his eye beyond the printed page and up to the stars. A keen astronomer, he established a modest observatory here, using what is considered the third most powerful telescope in Croatia. Light pollution then would have been as minimal as now, and visitors can study the instruments he used, including his collection of vintage clocks, also bequeathed for generations to come.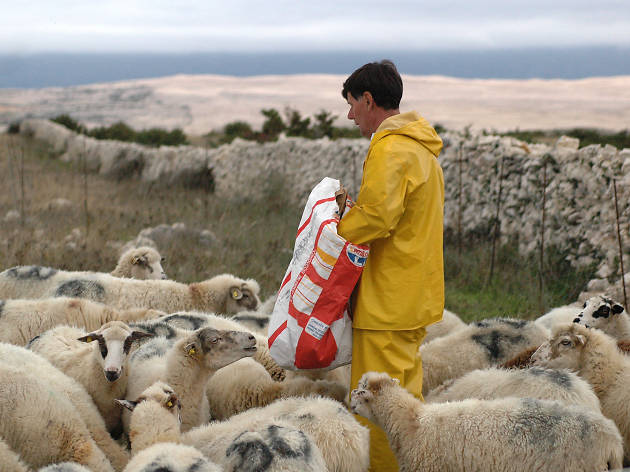 © Carly Calhoun
11. Devour succulent lamb
A short drive from Bol along the main D113 road that cross Brač, the village of Gornji Humac offers both easy access from civilisation and bucolic retreat. It also offers divine lamb, served at traditional tavern Konoba Tomić. A wine cellar and family lodging for 500 years, now also a rural restaurant, the Konoba Tomić makes best use of its own produce, namely olive oil, wine and fresh vegetables. Meat is also sourced locally, sausage, prosciutto ham and, most notably, lamb. Here prepared on a grill or, best ordered in advance, slow-cooked the traditional Dalmatian way under hot coals, the lamb here warrants many a re-visit. No surprise, then, that Tomić is well known to Bol taxi drivers. This so-called pekapreparation of slow cooking under a dome-shaped lid is also applied to veal, pork and chicken, as well as more widely known main dish of octopus.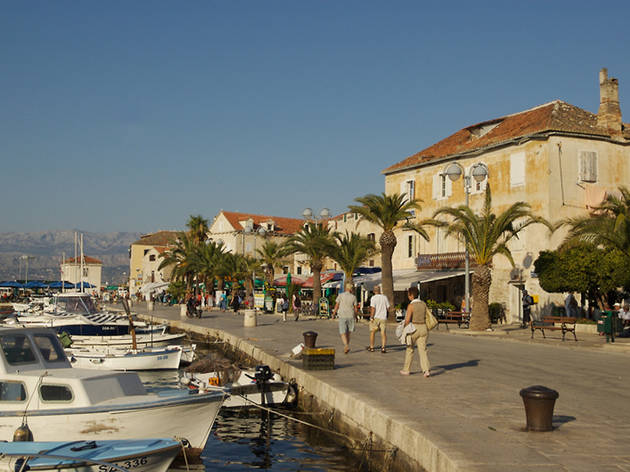 © Carly Calhoun/Time Out
12. Stroll through Supetar history
Overlooking the Adriatic, close to the main city beach, Supetar cemetery is both a tranquil resting place for the town's great and good, and an architectural highlight. Towering over proceedings is the elaborate Byzantine monument of the Petrinović Mausoleum, commissioned by a prominent local family who hired Toma Rosandić, a protégé of renowned sculptor Ivan Meštrović, to create it. Supetar's own famed stone carver from the same era, Ivan Rendić, was responsible for several of the more ornate gravestones, including the family mausoleum. Near the sea-facing wall, stone slabs, many of their inscriptions faded, date back several centuries – this part of the peninsula is where Old Supetar first grew.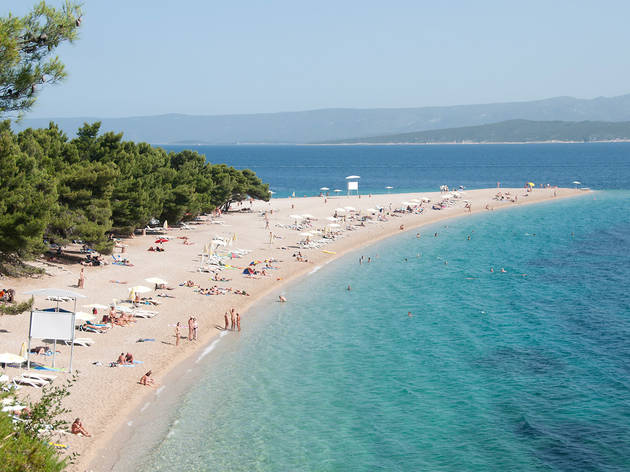 © Fumie Suzuki/Time Out
Hidden from the summer-long crowds of Zlatni Rat beach near Bol, Paklina is only five minutes away but secluded enough that people strip down to their bare essentials to swim, sunbathe and go in for a little sport. As in Split, the water here is shallow enough to enjoy a communal game of picigin, a local form of keepie-uppie involving a circle of players and a small rubber ball being passed around in theatrical fashion. Paklina has rocky coves too, for privacy, and a line of trees to provide much-needed shade in the heat of the day.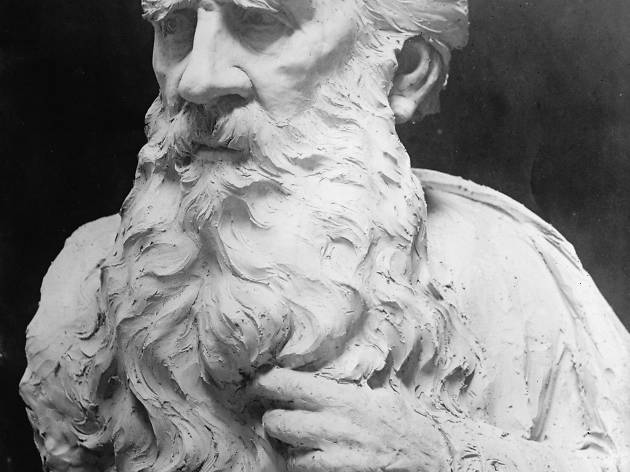 ©Wikimedia Commons
14. Peruse the statues of Selca
Tucked inland from the eastern port of Sumartin, Selca has always held literature and education in high esteem – the first school in the region was opened here in 1859. The first statue erected to Leo Tolstoy was unveiled here, shortly after the writer's death. Noted politician Stjepan Radić, assassinated in parliament in 1928, has also been honoured in stone. In the Park of Gratitude, the figures of the three main personalities behind the creation and recognition of Croatia as an independent nation, revered Croatian leader Franjo Tuđman, former German vice-chancellor Hans-Dietrich Genscher and former Austrian foreign minister Alois Mock, stand in unison.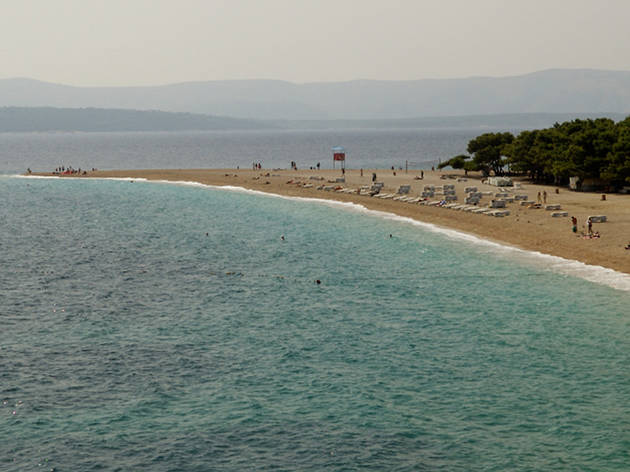 © Carly Calhoun/Time Out
Croatia. Those who haven't been picture this perfect image of an idyllic seafront, clear waters and fun all day long. 'The kids will love it!' they quickly surmise, book a holiday, come here and… it's all rocks. Pebbles and rocks. But while many quickly abandon the idea of sandcastles and don sandals, for others, sand is essential. Lovrečina has sand. A narrow stretch of beach on the island's northern coast, Lovrečina basks in the half-moon of a gorgeous bay, with a cluster of trees running alongside to provide shade and privacy. There's even a bar and restaurant, and space to park your car or rented moped nearby.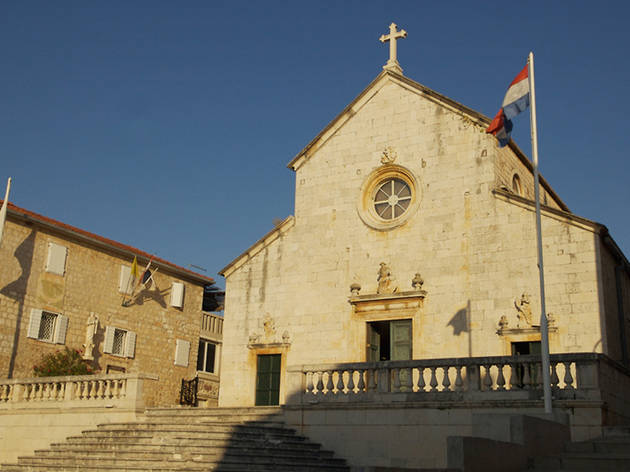 © Carly Calhoun/Time Out
16. View Supetar from above
Some visit St Peter's Church in Supetar to admire the remains of mosaic located just outside, the only remnants of the place of worship that stood here since the 500s. The later church alongside was built in the 1700s, all Brač stone, its bell tolling for nearby Supetar harbour. But the main reason to scale the staircase up from the waterfront is to then scale the church tower, offering prime views across Supetar, the ferry port and expanse of Adriatic beyond.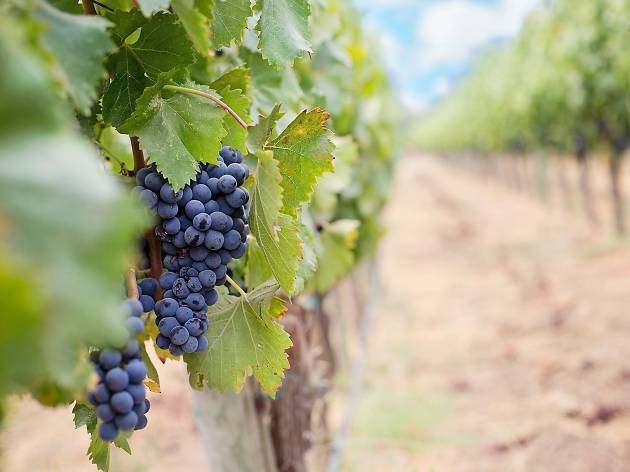 Photograph: Supplied
Naming his product after the stone (stina) for which Brač is famed, Jako Andabak has created a winery on the seafront at Bol. Stina comprises a large cellar, contemporary equipment for grape-pressing and, most importantly, a convivial outlet for sampling and purchasing the Plavac mali variety of wine renowned way beyond Dalmatia. Instigated in 2009, Andabak's enterprise has been a brave one, cultivating new vineyards at Grabica, on soil otherwise strewn with stones. Also producing the white Vugava and Pošip, Andabak has managed to expand his business, hiring top. Croatian designers Bruketa&Žinić to create award-winning labels to boot.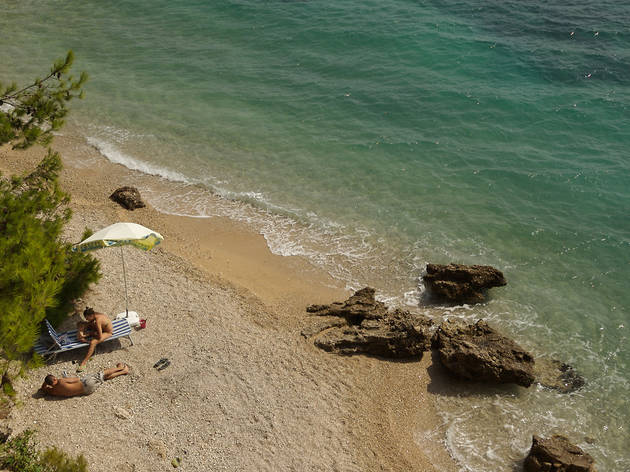 © Carly Calhoun/Time Out
18. Enjoy a boutique stay
Brač is not Hvar. Hotels and guesthouses here do a job, generally a good one, and nearly all holidaymakers go home satisfied. What it didn't have, until the unveiling of the Hotel Bol, was something uniquely boutique, chic but not overly, relaxing but efficient, and all a short walk from Bol town centre. The 18 rooms, five suites, Finnish sauna, outdoor pool, sundeck and terrace restaurant that comprise this contemporary lodging offer something closer to Hvar than Brač, yet without anything of the attendant snobbery. As always, it's the little touches that count, the home-made bread at breakfast, the massage shute in the pool, the luxury linen. Oh, and a free pick-up service from the bus station or catamaran jetty in Bol.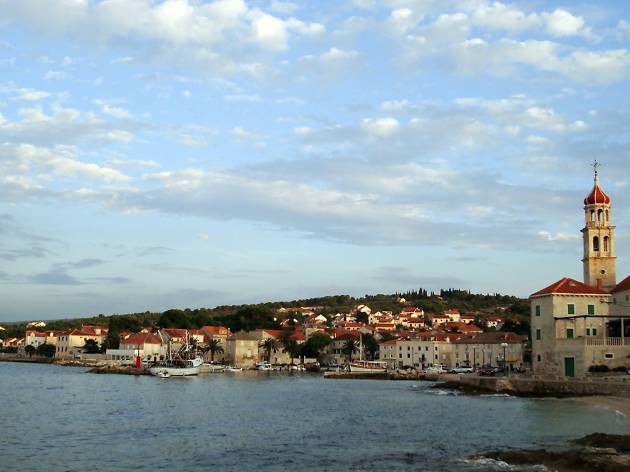 ©Wikimedia Commons
The story of Sutivan is a strange and bitter tale, and one with a developing happy ending. A traditional wine-growing village on the nearest point on Brač to the mainland hub of Split, Sutivan was a thriving community until the late 19thcentury, when diseased vineyards devastated the local economy. Exodus to the New World was swift and significant – within a few years, there were more former Sutivan winegrowers in Chile than on this north-western tip of the island. Equally, a century later, tourism failed to develop as it did in Bol. But this is slowly changing. Ventures such as the five-star, pool-blessed Hotel Lemongarden and quality waterfront pizzeria Bracera cater to a discerning clientele, who also come here for an authentic Dalmatian experience, exploring its 16th-century fortifications, the site of the 6th-century Church of St Ivan, even the daily fish market. In many ways, Sutivan is exactly how the marketing folk used to brand Croatia: the Mediterranean as it once was.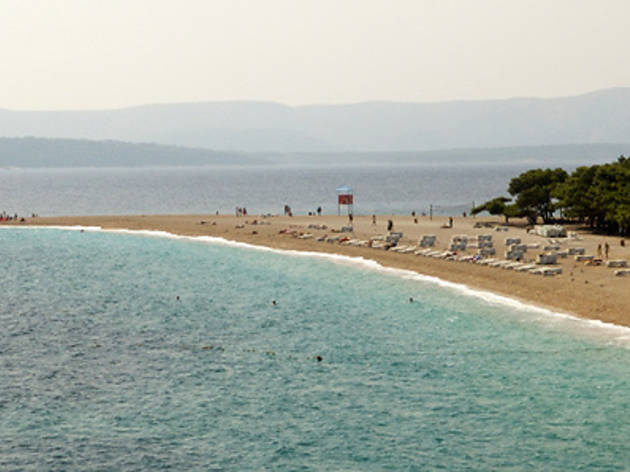 20. Discover a submerged Roman villa
With the sea so clear around Brač, it's little wonder that diving holidays are popular. Long-established firms such as Big Blue near the Bluesun Hotel Borak in Bol offer all kinds of activities below the waves, from night dives to whole-day trips. Tuition is provided for all levels and ages. One excursion is to Babića stina, behind Zlatni rat. At a depth of around five metres, the remains of a Roman villa from the first century AD become apparent, the mosaics clearly visible. All kinds of bright creatures, coral and flora call these caves and hollows home, opening up a new world only 15 minutes from Bol.