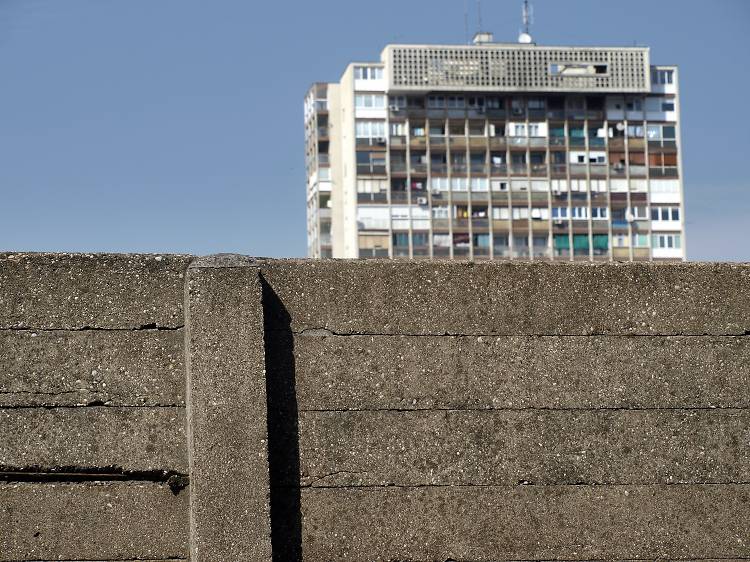 Mario M Krce/Flickr
Sightseeing trips in southwestern Zagreb rarely get much further than the Cibona tower, the cylindrical office block that sprouts like a strangely upright Tower of Pisa from the corner of Savska cesta and Kranjčevićeva.
It would be a shame not to carry on towards Trešnjevka, a traditionally working- class district that has been progressively gentrified over recent decades to become one of the city's most mixed neighbourhoods. With a name that means something like 'Cherryville' (trešnja is Croatian for cherry), Trešnjevka is often referred to as 'Red Trešnjevka' – a reference both to its suburban fruit-orchard origins and its strong socialist traditions. For a city in the constant throes of change, gritty, mixed-up Trešnjevka arguably represents contemporary Zagreb at its most typical.
Tram Nos.3, 9 and 12 rattle their way from Cibona along Tratinska, which becomes Ozaljska in its western reaches. It's an old-school shopping street largely un-colonized by international brands; with traditional haberdashers and ironmongers rubbing shoulders with the kind of small-scale tailoring shops where you can order a made-to-measure evening gown or simply get a shirt mended.

Tratinska in particular is a favourite haunt of the hunter-gatherer shopper, with a rash of second-hand clothes stores strung out on either side of Zagreb's most chaotic used record store, Free Bird. If vinyl addicts can't get the fix they need here, Karma Record Store is only a ten-minute walk further west.

Trešnjevka's outdoor market is one of Zagreb's largest, its regular fruit, veg and smoked-meat stalls augmented by a profusion of plants, seedlings, and gardening supplies.
West of the market in Stara Trešnjevka Park, Trešnjevka Cultural Centre is one of the more active suburban art institutions in the city, with regular art exhibitions in the Modulor Gallery and a lot of good drama, music and modern dance in its theatre.
Over on the southern fringes of the neighbourhood, the Trešnja Theatre stages some of Zagreb's best productions for children and young adults, in a purpose-built auditorium opened in 1999 – the mosaic-covered exterior is an attraction in itself.
Trešnjevka's most pronounced architectural feature is the grid of narrow alleyways that spreads north of Ozaljska, each overlooked by two-storey houses that frequently feature private gardens. Dominated by the sound of birdsong and the smell of family lunches, there's little here to remind you that you are near the centre of a major city.
There's not a great deal of gastronomy or nightlife in Trešnjevka, although there's something of a café-terrace strip along Trakoščanska (which leads to the Dom Sportova sports centre and the Panorama Hotel Zagreb).