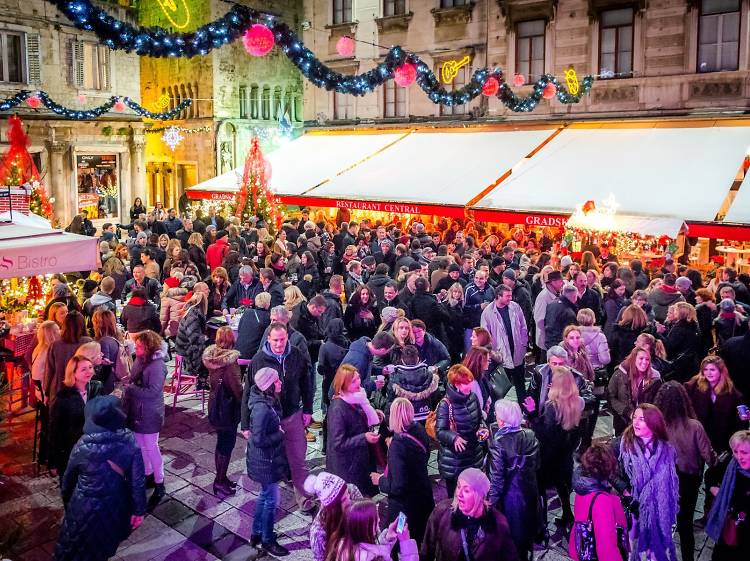 © Advent na Pjaci
Outdoor parties and celebrations
And, like summer here, much takes place on the Riva, the pedestrianised promenade that stretches between the Roman-era Diocletian's Palace and the Adriatic. Here, from early December until mid-January, rustic wooden stalls are set up under fairy lights, proffering mulled wine, rakija fruit brandy, sausages and other goodies, as well as gifts and souvenirs. Fritule, small fried dough balls and a tradition in these parts at this time, are in plentiful supply.
Adjoining the Christmas fair, a stage hosts live music acts and DJs every night. Look out for shows by children singing Christmas carols, usually taking place on Saturday evenings.
The party spirit has long been evoked just inside the open gates of the Roman palace, around the focal square of Narodni trg. Before Advent became an organised festivity to attract more tourists in winter, the bars and restaurants lining this picturesque plaza threw regular parties in the run-up to Christmas and beyond. Certainly, this is still the place to come for New Year's Eve, when locals come and go throughout the day and night to clink glasses, celebrate and look forward to the year ahead. Given the familiarity of the atmosphere, the music on offer doesn't look to break any new barriers – rather, popular songs from the 1970s and 1980s ring out, plus a whole bunch of singing and dancing among old friends and families.
Behind the palace, by the famous statue of Gregory of Nin, another Advent attraction was opened more recently, an indication of the city's ambitions to make Split a December destination as well as a July one. Referred to as Djardin, this communal zone by the northern wall stages a more sedate musical agenda, with choirs and classical ensembles.
Along nearby ulica Kralja Tomislava, more stalls offer seasonal treats and presents. One local speciality you're bound to find whether you're strolling along the Riva, exploring Diocletian's Palace or sat here at Djardin: klapa. A form of a cappella singing currently resurgent in its native Dalmatia, it involves a chorus of menfolk, usually four in number, who evoke the maritime heritage of their homeland in harmonious tones. Particularly over Christmas, you'll see them on street corners, serenading passers-by with a song or two.
Over on Bačvice, the city's main beach a short walk from Split's historic centre, young Spličani are still up for games of picigin, a kind of keepy-uppy played with a small rubber ball. In the shallow waters at the shoreline, they pat and kick the ball to one another, the more spectacular the attempt, the better. While in some parts of Europe, a New Year's Day plunge into freezing water is a bizarre and challenging ritual, here in Split, it's much more gentle than that – although only the brave actually take to the Adriatic for a fully fledged swim.