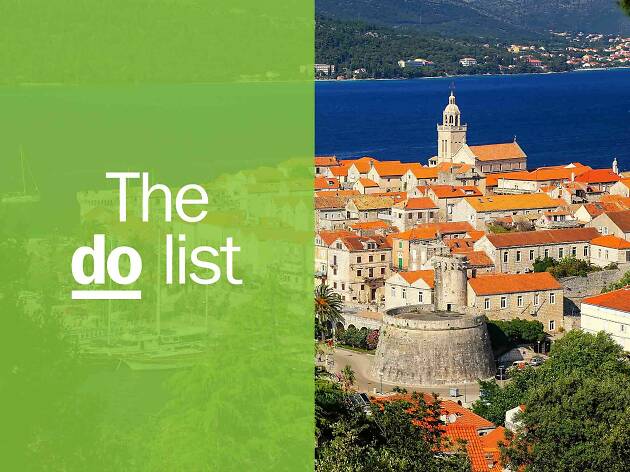 Things to do in Korčula town
Discover the best things to do in Korčula town, with our insider's tips on sightseeing, attractions and activities
The main street, Ulica Korčulanskog statuta, leads to St Mark's Cathedral, one of the finest examples of Dalmatian church architecture and design. Taking three centuries to build, it features several styles, including Gothic, Romanesque and Baroque. Beneath it is the sarcophagus of St Theodore, the protector of Korcula. Here you can also see St Mark with St Bartholomew and St Jerome, an early work by Tintoretto, whose Annunciation also stands in the south nave. Next door, the Abbey Treasury contains a collection of Dalmatian art from the 15th and 16th centuries. Opposite the cathedral, the Town Museum, set in a 16th century Venetian palace, contains a copy of the fourth-century Greek tablet from Lumbarda, the earliest evidence of civilisation on the island. Down a side street is the excellent Icon Museum and, entered through it, the 14th-century Church of All Saints.
The Memorial Collection of Maksimilijan Vanka, on the water-front near the Monastery of St Nicholas, shows the art nouveau and Expressionist works by this 20th-century painter and hosts temporary exhibitions by renowned Croatian artists throughout the summer.
Done something on this list and loved it? Share it with the hashtag #TimeOutDoList and tag @TimeOutEverywhere.
You can also find out more about how Time Out selects the very best things to do all over the world, or take a look at our list of the 50 best things to do in the world right now.
The best things to do in Korčula town