Heads up! We're working hard to be accurate – but these are unusual times, so please always check before heading out.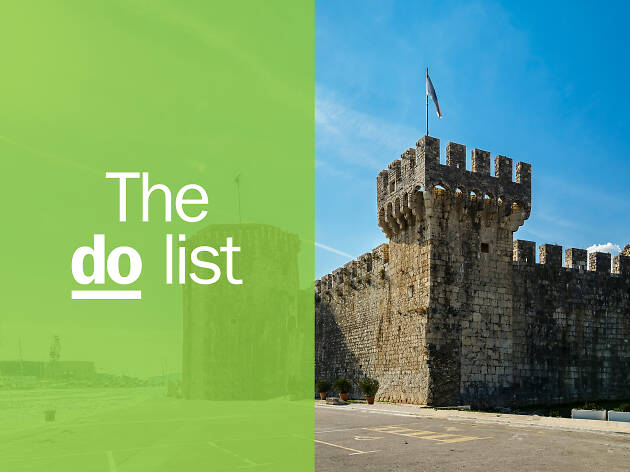 20 great things to do in Trogir
Discover the best things to do in Trogir with our insider's tips on sightseeing, dining and drinking
Just behind Split airport, Trogir offers intricate medieval architecture, Dalmatian waterside dining and a busy market, from the mainland across two interlinked islands. Occupying the middle one of Trogir itself, the entire historic centre is a UNESCO World Heritage site, a testament to its heavyweight cultural importance. Two yacht marinas accommodate higher-spending visitors while a younger crowd hits the seafront nightspots of adjoining Čiovo island. Don't expect the manic bustle of nearby Split – nor overbearing hordes in summer.
RECOMMENDED: where to sleep, eat and drink in Trogir.
Done something on this list and loved it? Share it with the hashtag #TimeOutDoList and tag @TimeOutEverywhere.
You can also find out more about how Time Out selects the very best things to do all over the world, or take a look at our list of the 50 best things to do in the world right now.
The best things to do in Trogir
©Wikimedia Commons
Referred to, somewhat mysteriously, as Master Radovan, the locally born creator of the soaring cathedral that dominates Trogir's historic centre made sure later generations would know when he worked on it. Little else is known about this master craftsman – it's not even certain he was from Trogir, although historical documents hint to the fact – but his carving of '1240' decorates the ornate main west portal. Triple nave, vestibule and sacristy all came later, 300 years later, giving this national treasure a more Gothic appearance than its previous Romanesque style. Radovan and his contemporaries also fashioned the bizarre creatures around the doorposts, and scenes of Christ.
©Wikimedia Commons
Right on the Riva embankment by Kamerlengo fortress, Filip's Marina is the setting-off point for charter boats organised by the local family of the same name. Captain Filip Jadrić and his team run all-day sightseeing trips to Maslinica on Šolta and Krknjaši on Drvenik Veli, with swimming, a picnic lunch and lashing of wine thrown in. Also available is the Princess Mercy, a three-cabin, 14-metre boat equipped with air-conditioning, a TV and cooking facilities, which can be chartered or a reserved with your own captain.
3. Carouse with the locals
Attracting tourists with its blackboard boast of 'free grappa', popular Konoba Škrapa delivers on that promise and then some. Shot glasses of grappa come round on a little tray, signalled by the tinkling of a bell that has a Pavlov's dog effect on diners, who neck the offering then sway around for selfies and social media postings. As the local regulars are well versed in this ritual, the Škrapa Facebook page more resembles a student party to which old Balkan folk have been invited for reasons unknown. Almost ignored in all the merriment is the food – which is a shame, because it's great. Honest, affordable, homely Dalmatian classics are served on red-and-white checked tablecloths, grilled fish and meats prepared with the standard trimmings. All takes place in a suitably rustic interior and handy terrace.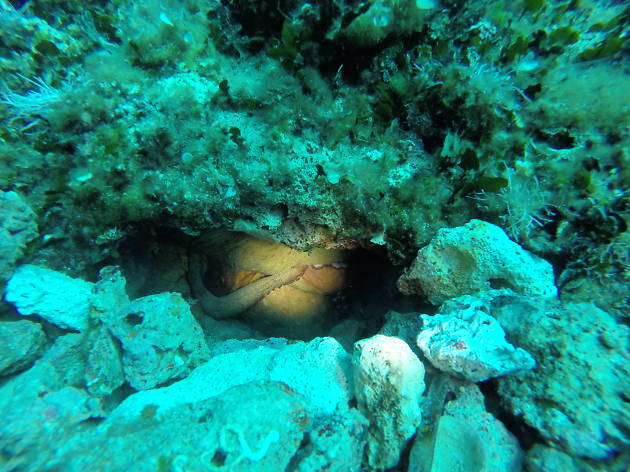 Picasa
4. Swim amid colourful coral
Of the 30 sites visited by the long-established Trogir Diving Centre nearly half are found around the nearby island of Šolta. This is significant as for decades, Šolta was under military protection and diving was prohibited. As well as providing a valuable cottage industry for Šolta, the abundant coral and sponges now offer divers a rich diversity of flora and fauna to explore, along with conger eels, octopuses and lobsters. The plethora of local sites also allows theČiovo-based centre to organise trips for all levels. For beginners, tuition can start with the popular Discover Scuba Dive programme.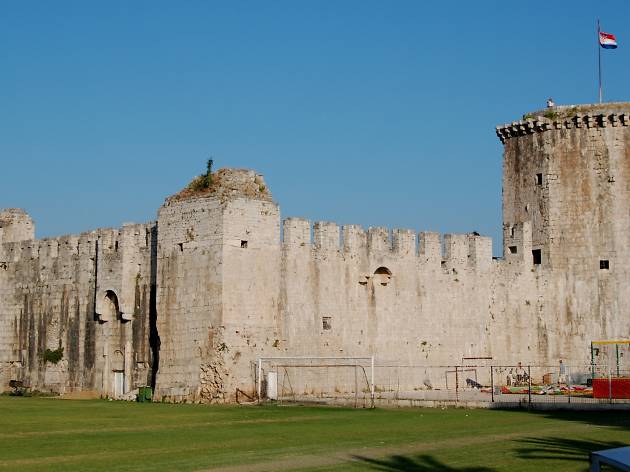 © Wikimedia Commons
5. Scale a medieval fortress
Standing guard over the south-west corner of Trogir island, Kamerlengo was built by the Venetians in the 1400s after the conquest of Constantinople and the increasing threat from the Turks. Given its potential importance, Kamerlengo is surprisingly small, but ascending it gives superb views of Trogir's watery surroundings – you half-expect to see Ottoman ships come sailing up the channel that separates Čiovo from the mainland. Looking back, you also get a wonderful panorama of Trogir's historic centre, spikes of medieval church towers allowing you to establish your bearings. Kamerlengo is used in summer for outdoor shows and performances, even open-air cinema screenings.
©Wikimedia Commons
6. Get lost on Drvenik Veli
Don't worry, you won't be stranded here, not with two or three ferries a day that connect with Trogir, even in winter. Just over an hour away by boat, that first calls at the smaller neighbouring island of Drvenik Mali, Drvenik Veli is yours to discover, its olive groves and secluded coves usually free of other visitors. In fact, you can hike across this whole island and not see another soul, though if you need it, you'll find a handful of cafés and restaurants, and the harbour, in the island's namesake, and only, village. If you have to stay over, there are a few private lodgings dotted around this enclave of civilisation.
©Croatia.hr
Hands-down best hotel in town is the Trogir Palace, the kind of place with a concierge and 24-hour room service. Family-run, this four-star has that individual touch that some of the upscale chains in nearby Split might lack. All 36 rooms and suites have sea-view balconies from this vantage point overlooking Trogir from the Čiovo waterfront, air-con and fast internet access a given. The in-house Prestige Spa centre offers an encyclopaedic list of treatments and therapies – lava-shell massage, whole-body peeling, eyebrow colouring – and the restaurant is first-class.
©Fontana Trogir
In place for more than 40 years, Fontana is one of those reliable places in Trogir that can be used for a business lunch, romantic dining à deux or a more raucous with a group of travelling companions. The location does it, the palm-lined waterfront a sure-fire winner, but experienced, English-speaking staff help as does a capable kitchen well versed in swiftly grilling and plating up all the Dalmatian classics. Fontana has, in fact, two terraces, with a total of 200 seats outside, so you shouldn't be turned away, even in the height of summer. The restaurant is attached to an equally reliable, family-run hotel nearby.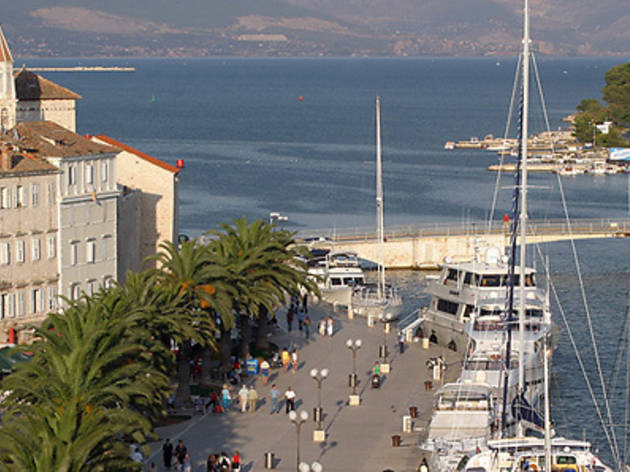 Not as showy as its namesake counterpart in nearby Split, the Riva embankment in Trogir is nonetheless a perfect stretch for a stroll, tastefully landscaped with evenly spaced palm trees. As you head down from Čiovo Bridge, to your left the waterfront of Čiovo island busies itself on the opposite bank, masts poking up into the sky from the marina a little further ahead. The string of terrace cafés provides any number of pitstop choices but you can find shade with a touch of history by diving into one of the churches set in from the seafront. The tower you'll see belongs to Sv Dominika, a church and former monastery dating back to the early 1300s. The walk ends at the Kamerlengo fortress, strategically placed at Trogir's far western tip.
©Wikimedia Commons
The main feature of the mainland part of Trogir, apart from the bus station alongside, the town's market always seems to be operational. Stalls set up early and close late, activity near constant. Most of the space is taken up by what Croatians refer to as a green market, ie produce, but here you'll also find honeys, wines, olive oils and rakija grappas amid the pyramids of bright red tomatoes and vast melons. Tucked a little inland, a red-tiled brick building houses the early-opening fish market, browsing here always an education in Adriatic ichthyology. With the large branch of Konzum alongside, those self-catering here can arrange themselves a fish supper with all the trimmings.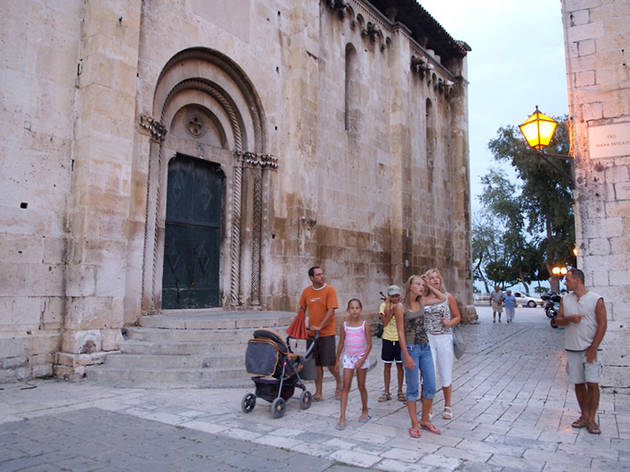 © Carly Calhoun/Time Out
Many visit Trogir, stroll its tightly clustered historic streets and perhaps hop across the bridge to the nearest waterfront at Čiovo. They're missing out – there's much more to Čiovo than a couple of marinas. In fact, there's a whole other scene on the south side of the island, most notably at Laganini, a beach club-cum-cocktail bar at Labadusa, past Okrug Gornji. Occupying a square kilometre of idyllic, sea-facing space, Laganini comprises a massage area with facial, foot, hand and all-body treatments, a beach with luxury loungers and day beds, and a cocktail bar whose signature mix involves elderflower and crushed raspberries. There's a kitchen too, and the bread is baked on the premises. All is a reasonably priced taxi journey from Trogir, or there are various levels of lodging, from camping to pool-equipped airbnb accommodation, nearby.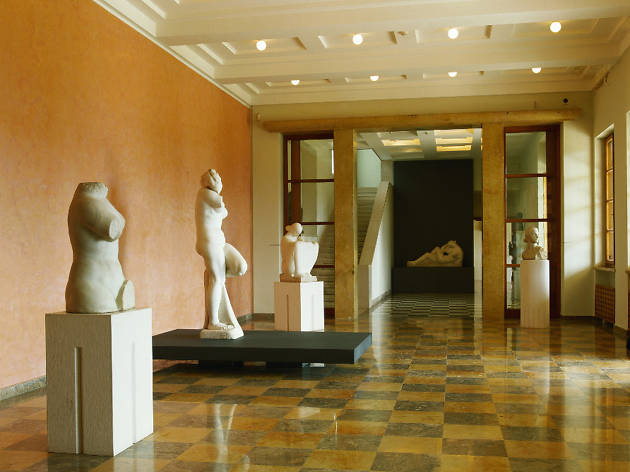 12. Discover some more Meštrović
He gets everywhere. Prolific Croatian sculptor Ivan Meštrović was only active in his homeland for around 30 years before his enforced exile to America, yet was responsible for numerous prominent monuments in Split, Zagreb and Belgrade. You'll also find 86 other works in his gallery-cum-villa-cum studio in Split. But here in nearby Trogir, the only evidence of his presence is a relief of Petar Berislavić, carved on the south wall of the Town Loggia. Though not one of the sculptor's best works, it does highlight a key figure from the early 1500s, here depicted on horseback, perhaps going into battle for one last time against the Turks who beheaded him at Plješevica in 1520. The remains of this Trogir-born nobleman now lie in Veszprém, Hungary, where he was also bishop. The main Riva embankment here in Trogir is named after him.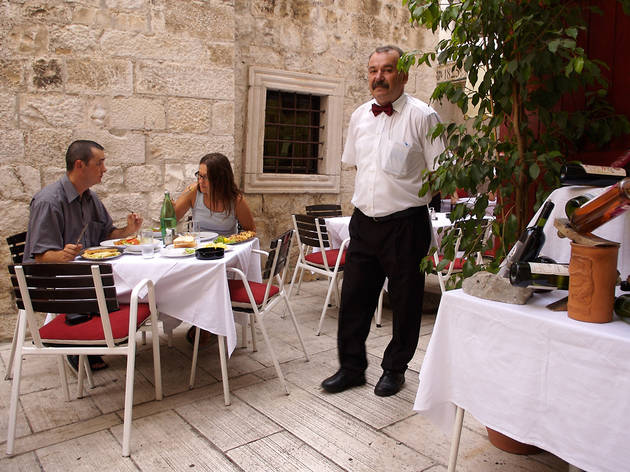 © Carly Calhoun/Time Out
13. Splash out at Kamerlengo
Trogir is not Dubrovnik but it can offer a pricier dining experience in convivially historic surroundings where you won't begrudge the extra few kunas on the bill because it was worth it. Such is Kamerlengo. In the heart of the Old Town, its spacious, low-walled courtyard ringed by stone-built houses while open to the skies of a summer evening, Kamerlengo barbecues its meat just right and grills its fish and seafood to perfection. Waitstaff know the difference between attentive and pushy – for many of your fellow diners, this will be a repeat visit.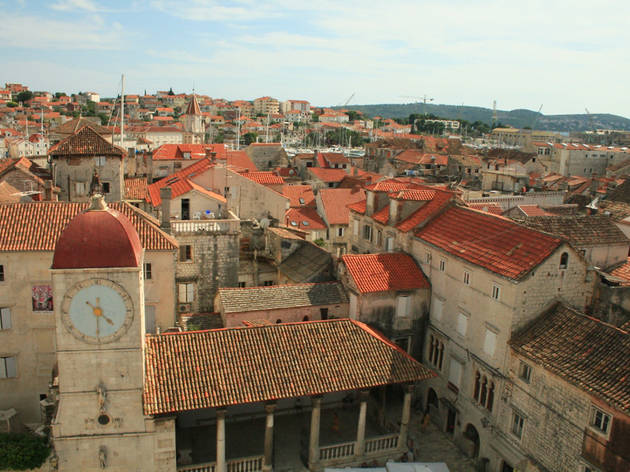 © Matt Field/Time Out
14. Explore the Garagnin-Fanfogna Palace
Across Trogir Bridge by the North Gate, the Garagnin-Fanfogna Palace conceals a bizarre cornucopia of historic treasure. This is not just because it houses Trogir City Museum on the first floor, its permanent display somewhat underwhelming considering the comings and goings of Greeks, Romans, Venetians, Napoleonic forces and Habsburgs here over the centuries. Those keen to find out more about Trogir should browse the old library founded by Ivan Luka Garagnin, former Archbishop of Split and a keen coin collector from the mid 1700s, whose collection of literary portraits still hangs in the late Baroque wing of the building. Elsewhere in the palace, the lapidarium contains examples of masonry from the early Christian period, and a separate gallery stages temporary exhibitions.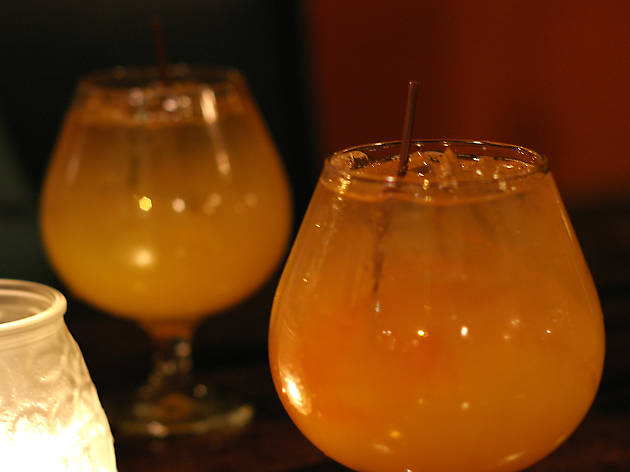 15. Start the day at Smokvica
Right on Radovanov trg within earshot of the Cathedral bells, Smokvica is a simple place that seems to do everything right. Location, of course, is a given, and the courtyard terrace allows both shade and sun depending on time of day. Staff serve with a smile and, at the end, with a bill you won't have to query – some customers may be nursing overpriced hangovers after a previous night at the cocktail bars on the Riva waterfront. The coffee is first-rate, and there's a modest selection of juices too. Don't expect a range of fresh pastries but no-one will bat an eyelid if you're sat outside with something from the nearby bakery. After dark, Smokvica also operates as a bar, pleasant, with few frills.
© Wikimedia Commons
16. Admire the art of Ancient Greece
Hidden for more than 2,000 years, a relief of the Greek symbol of opportunity, Kairos, was uncovered by chance in 1928. Carved in marble around the third century BC, it had been tucked away in the treasury of the convent of St Nicholas, founded in 1064. The figure best illustrates the concept of Kairos, linked to chronos, but more describing its fleeting aspect, of a chance to be seized. Here, he has his arms outstretched as if to capture a moment sure to fly past. Its creator is said to have modelled Kairos on the works of Lysippos, personal sculptor to Alexander the Great. The convent is adjoined to St Nicholas church, close to Čiovo Bridge.
© Wikimedia Commons
One of Trogir's finest traditional taverns, Konoba Toma prides itself on the fine sauces it ladles over its tasty seafood and grilled meats, not to mention pasta. Some shellfish – mussels, clams, scampi – are prepared in wine sauce, buzara-style, but to enjoy the full Toma experience, order the beef steak in mushroom sauce or set aside the shrimp sauce in you prefer your shellfish grilled. The equally exemplary pašticada beef stew comes with own-made gnocchi. All takes place on split-level terraces, the elevated one made for sunset. Afterwards, you can walk off your dinner with a browse around the nearby late-opening market.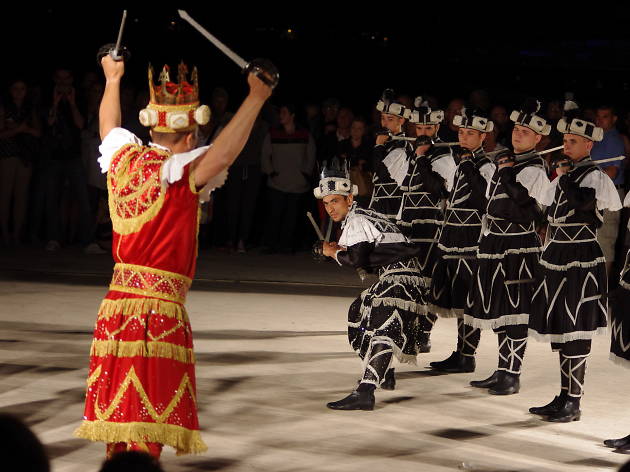 Marija Fara
Haunting, evocative and melodic, klapa is, for want of an easier analogy, Dalmatian barbershop. A four-man group, usually in traditional dress, gathers in a semi-circle, two tenors, a bass and a baritone, to offer harmonious paeans to the Adriatic, to wine and to the land they long for when far out to sea. Traditionally a cappella, klapa has undergone a revival and is now performed with occasional instrumental accompaniment, even in larger groups, in concert halls. Here in Trogir, you should find the real deal on summer evenings in the courtyard of the Garagnin-Fanfogna Palace, scheduled concerts advertised around town.
© Wikimedia Commons
19. See how the other half lived
Proudly and prominently located opposite the Cathedral, the Čipiko Palace was once the home of the most notable noble family in Trogir. One look at the elegant Venetian windows, arranged in two groups of three, will tell you that this was no average dwelling in the 15th century. The family patriarch, Koriolan Čipiko, gained his fame and fortune as an admiral in the Venetian Navy, also building Kaštel Stari, the first of the string of castles that comprise Kaštela on the mainland. A grandson later took part in the Battle of Lepanto in 1571, a turning point in history, one that would have showered kudos on the Čipiko clan after the Ottoman defeat. Sadly, though the palace façade is pristine, there's nothing within by way of display or explanation – and Trogir is crying out for a quality town museum.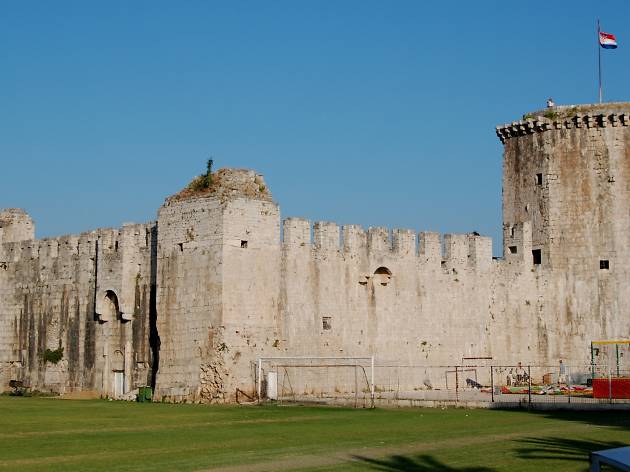 © Wikimedia Commons
20. Sip coffee in medieval fortifications
Once connected with Kamerlengo fortress on the south-west tip of Trogir, St Mark's Tower shares the same heritage and dates back to the same era of the 1400s. Whereas Kamerlengo has now been put to use as a panoramic viewpoint and stage for public performances in summer, St Mark's has been converted into an elevated café, where you sip your veliko macchiato amid the sturdy stone of the 15th century. Bizarrely, separating the twin landmarks is the main local football pitch, arguably the most grandly sited in Europe. Sadly, Trogir's team constantly fails to match its stately surroundings.