Croatia's ten most romantic destinations
Croatia offers some beautiful backdrops for you to share with that special someone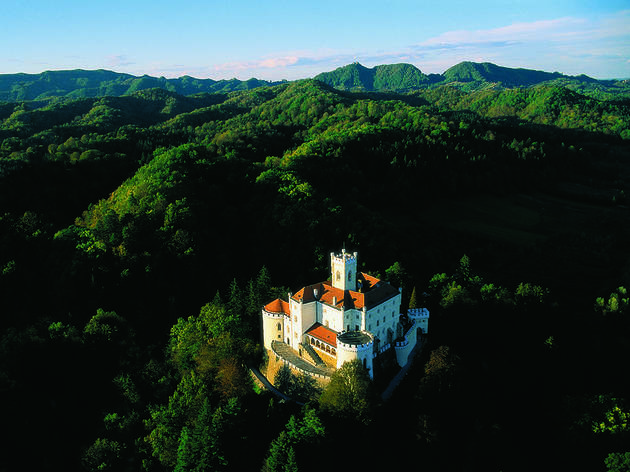 After a romantic adventure with your other half? If you're thinking of whisking away your partner on a romantic getaway, you should consider Croatia's seductive landscapes and handsome medieval towns. Find your romantic idyll with our pick of Croatia's most dazzling destinations.
RECOMMENDED: Plan your perfect holiday in Croatia with our essential guide.
So desirable a place to live is the old fishing town of Rovinj, that its very buildings seem to stack up on one another almost up to the line of the sea, leaving very little room for the winding, narrow streets that pass between them. Tourists seem to stack up on top of each other here in a similar manner during the busy season. Nevertheless, getting lost in the delightful old town or escaping into the nearby nature of Punta Corrente is one of the most romantic things you can do in Croatia. Springtime or Autumn would be the best time to try it.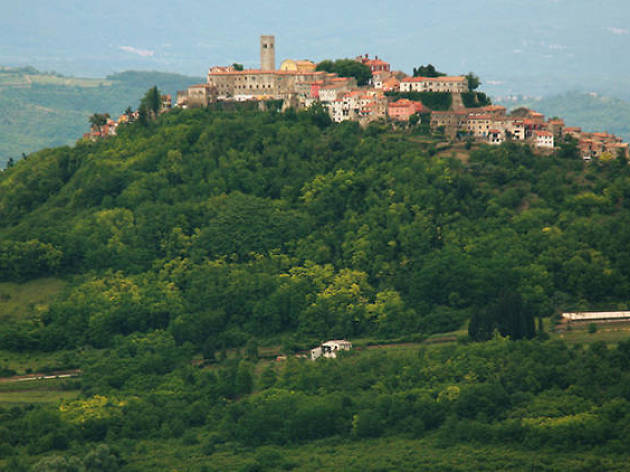 Site of the famous film festival, the hilltop medieval town of Motovun is as picturesque as they come. Little wonder it is debated as a potential future World Heritage Site. Its beauty can be appreciated from each and every angle, upon your approach, your ascent into its sparsely populated streets or as you walk through them, taking in the ancient city walls and the unmistakable Italian accent of some of the town's architecture.
Everyone has their favourite Croatian island and sentiment may play no small part in that choice, but with so many different and charming aspects occurring within such a small distance, the island of Lošinj is a lure to lovers that's tough to beat. Whether it's walking the old town streets of Veli Lošinj, sampling the stunning beaches of Mali Lošinj or swimming crystal clear waters within caves or hidden coves, Lošinj is a place that will stay in your memory forever.
Frequently mentioned as one of Croatia's best islands, Korčula is known for its warm, welcoming locals and its multiple sights. In summer, you can sample its beautiful beaches and crystal clear waters, but their appeal is one also taken up by many others. Although the sea might be a little too cold to swim in, visiting Korčula out of season offers the opportunity to have its many picturesque towns more to yourselves, the island's stunning views, perfectly experienced with an accompanying glass of fine, locally produced wine, are undiminished by temperature or season.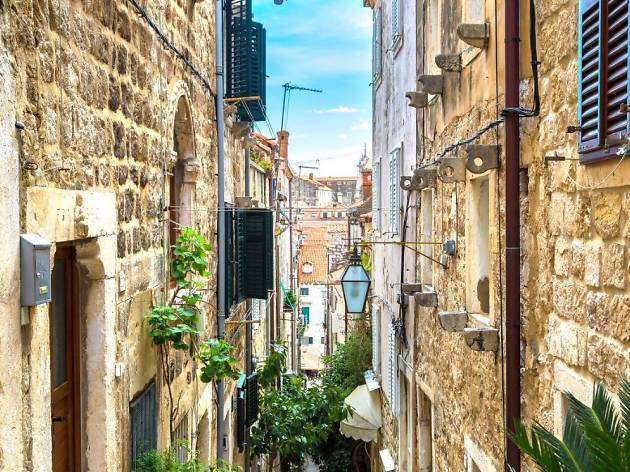 bloodua
Famous Dubrovnik, a World Heritage Site, its streets familiar as the backdrop for TV shows and movies, is top of the list for many who visit Croatia. And for good reason. Its old town is a maze of beautiful walkways and stunning internal views, historic walls and impressive old buildings like the Rector's Palace and St. John's Fortress. The charm of the city is not restricted by the time of year and trudging behind several hundred other tourists in the blistering heat of mid-summer is certainly not as romantic as experiencing this jewel in the quieter, cooler springtime or autumn.
Vanda Vucicevic/Time Out
Some of Croatia's best islands are understandably popular and somewhat crowded in summer, but with so many beautiful beaches to choose from, Vis is one place you can have your cake and eat it. Hire a boat or simply go out and explore and it's possible to find a reasonably quiet, secluded spot where you can spend the best part of the day with that special someone, lapping up the sun and swimming in the beautifully clear sea.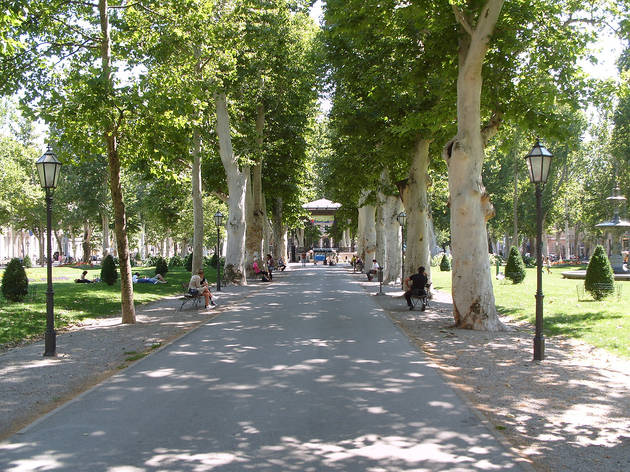 ©fearless_fred
Croatia's capital might not be the most immediate place that springs to mind when you think of romantic locations, but there are many special spots if you look beneath the surface. A slow stroll through Zrinjevac of an evening is tough to beat, the park often decorated beautifully in both summer and winter. In warmer times, the cool, tree-lined walk through Tuškanac and back after surprising your date with an outdoor movie experience at the Tuškanac Summer Stage is a winner. But for a little more engagement, try a walk from the top of Jurjevska as the sun is setting, descending into the main square via the cobbled streets of Radićeva.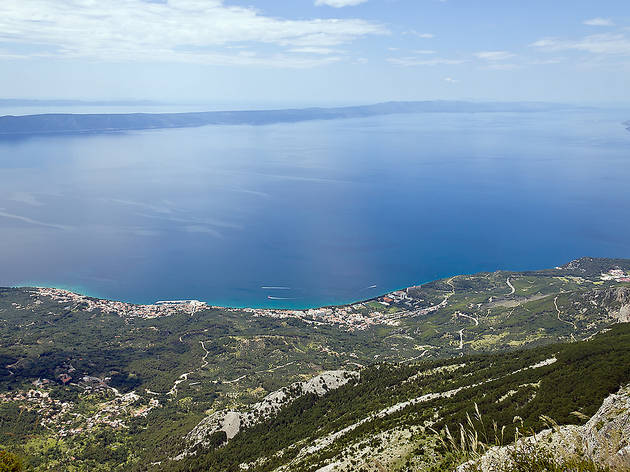 ©ahenobarbus
The 36-kilometre long Biokovo mountain is considered one of the most picturesque landscapes on the Adriatic, with the highest part, Sveti Jure, being close to Makarska and easily accessible by car. At 1422m, the view from the peak is considered one of Croatia's best, the sea and the town of Makarska lying to one side, the green Dalmatian hinterland on the other. Konoba Panorama is a restaurant just north of Baška Voda, at the foot of Biokovo and boasts great food and excellent views.
Although there are countless small towns and villages in the Makarska Riviera where couples can experience a lovely meal with a sea view, in the tourist season it can difficult to find a quiet moment to share with someone. A journey through the less travelled Dalmatian hinterland offers fewer crowds. A late afternoon swim in the fresh waters of Imotski's Blue Lake is an incredibly rewarding experience, as is watching the lake's surrounding walls change colour as the sun sets. Then, take a drive to Trilj and see its bridges. The small, modern pedestrian bridge is particularly nice to walk across and nicely lit at night. Get back in the car and head to Sinj, the Croatian town with more cafes per capita than any other, and walk around the old city. With so many cafes to choose from, you're bound to find one that offers some intimacy.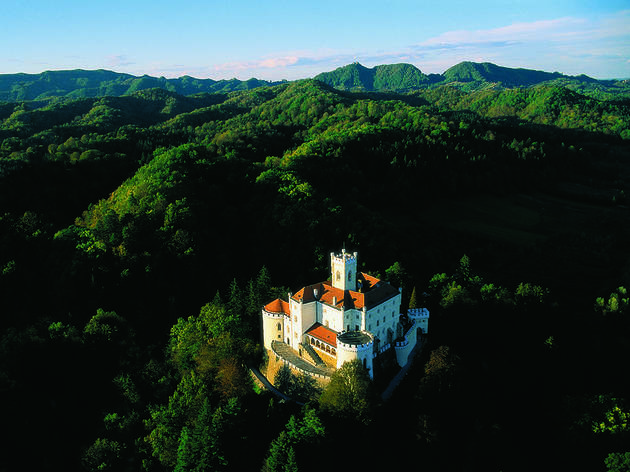 © Trakoscan Castle
Located 70 kilometres north of Zagreb, close to the Slovenian border, this 13th-century hilltop castle has had significant work done to it in the last half a century, restoring the building from the rather dilapidated state it was once found in. It overlooks a lake and there are generous gardens to walk around; each of these elements a stunning backdrop to an unhurried walk.