Heads up! We're working hard to be accurate – but these are unusual times, so please always check before heading out.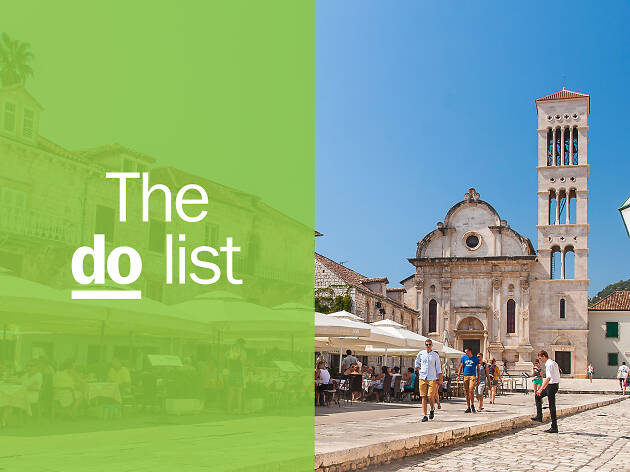 20 great things to do on Hvar island
Discover the best things to do on Hvar island with our insider's tips on sights, activities, dining and drinking
The best things to do in Hvar
Hvar's signature dish of gregada – a stew of fish, potatoes, onions, garlic and top-quality olive oil – is best sampled in the historic Venetian surroundings of Giaxa. Named after the Jakša family who once occupied this 15th century palace, Giaxa is all about fresh ingredients, locally sourced, creatively used and exquisitely presented. Its gregada is centrepieced by substantial chunks of fish, served bones-and-all in the traditional way. Accompanying bread is baked on the premises.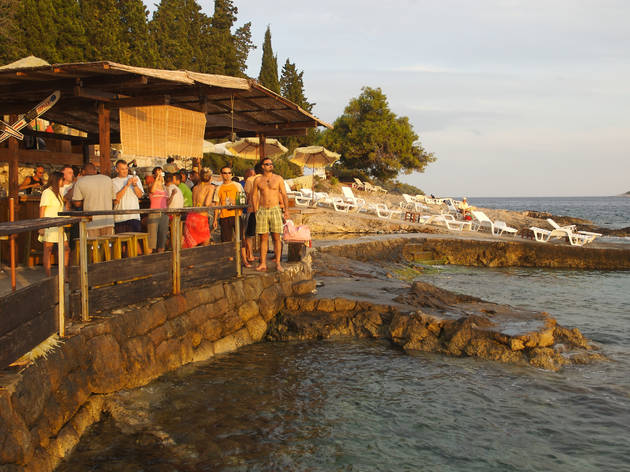 © Carly Calhoun/Time Out
Hvar's après-beach scene centres around a formerly secluded spot called Majerovića, just round the coast from the Hotel Amfora. Inevitably more commercialized than when it was the main hangout for in-the-know locals, Hula Hula Hvar still rocks when it comes to sunset cocktails in a Bali-meets-Adriatic setting. Best accessed by speedboat, here's the place to lay back on a recliner, sip on a piña colada and let a few well-chosen tunes wash over you while orange rays sink over the horizon. Fresh salads and Thai curries can be ordered from Bubba Gump's next door.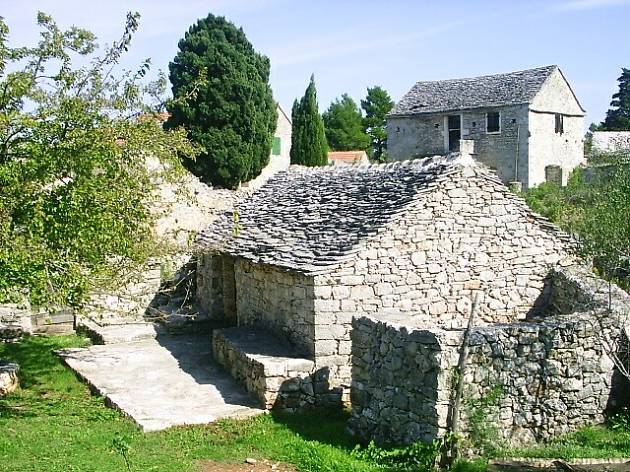 Wikicommons
3. Dine in a deserted village
Away from the hordes that flock around Hvar Town harbour, much of the 42-mile-long island is deserted, just expanses of pine forest and lavender field and the odd depopulated hamlet. Such is Humac. Though to have seen its resident leave a century or so ago, Humac welcomes visitors on its patron saints' day of June 26, and on most evenings in high season when the Konoba Humac serves classic Dalmatian dishes by candlelight. This is no romantic construct but a necessity – as well as no inhabitants, Humac has no electricity. Lamb and white fish are prepared over an open flame. Your taxi driver should know the spot – it's about 8km east of Jelsa, signposted on the bumpy main road towards Sućuraj.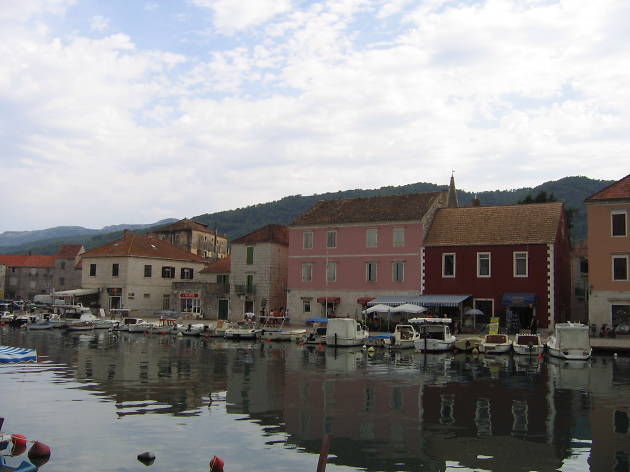 4. Discover Croatia's first civilisation
Hvar's main port of Stari Grad is also the oldest town in Croatia. Here the Greeks settled from 384BC, naming the community around this safe harbour Pharos. Finds from the time – coins, remnants of ceramics and stonework – are displayed in the Stari Grad Museum, set in the neo-Renaissance Bianchini Palace, built in 1896 by the four sons of a prominent local ship owner. Discoveries from a Roman shipwreck are ranged around an adjoining room.
A 45-minute hike east of Hvar town towards Milna is rewarded with the crystal-clean, white-stoned Mekićevica Bay frequented by naturists: Robinson's Beach. So called because of the restaurant there – without electricity or water, hence its name – this secluded by is prized by sailboats and swimmers. After you reach the spot, put in your order for whatever's fresh that day, take a dip in water even clearer than elsewhere on Hvar because the beach stones are bleached white, and wait for owner, chef and waiter Domagoj ('Domi') to call you in for lunch and beer. Nude bathers might want to throw on a T-shirt at this point. What Domi hasn't caught or grown has been boated over that day – specialities include grilled fish, lobster, lamb and octopus salad.
The main wine bar in Hvar Town, Tri Pršuta ('Three Hams') takes its name from the hocks that hang from the wooden-beam ceilings. Below, many, many labels are displayed and hidden away amid the antique furniture of this cosy getaway on otherwise busy Groda. There is, at any given moment, more than €1,000 of wine open behind the bar. The wine cabinet contains a '47 Bourgogne. It is not uncommon for perfect strangers to become friends and taste each other's wines. There's a guitar in the corner for anyone who has the inclination. A glass of top quality red (30kn-70kn) like Zlatan Plavac Grand Cru goes perfectly with plate of Croatia sheeps' cheese or whatever affable owner Vidan decides to bring out and share with the room.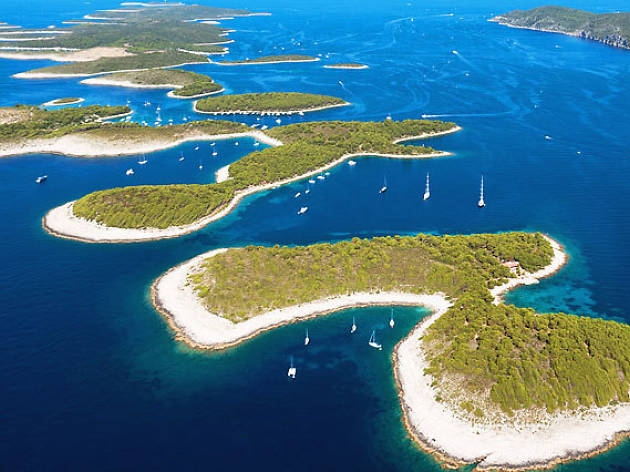 7. Sail the Pakleni Islands
The most popular of the many outdoor activities offered by local company Hvar Adventure, the one-day boat trip around the unspoiled Pakleni Islands close to Hvar Town involves swimming and snorkeling as you sail around secluded coves. Lunch is taken on Sveti Klement. If a whole day takes too big a bite out of your schedule, Hvar Adventure also offers a mid-morning or sunset sail of four hours.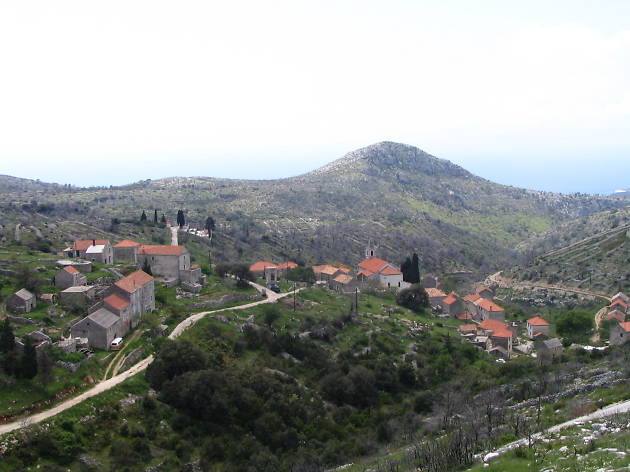 8. Wake up and smell the lavender
Hvar is not only yachting and cocktail parties. The island is best known for its lavender, that turns whole swathes of land into a fragrant riot of colour in early summer. At the centre of this thriving cottage industry is the traditional village of Velo Grablje, some 10km from Hvar Town by the old road. Home to a local agricultural co-operative since 1892, Velo Grablje now stages an annual Lavender Festival every June, with workshops, talks and performances. As well as lavender and essential oils, you'll find rosemary, honey and olive oils for sale among the many stalls.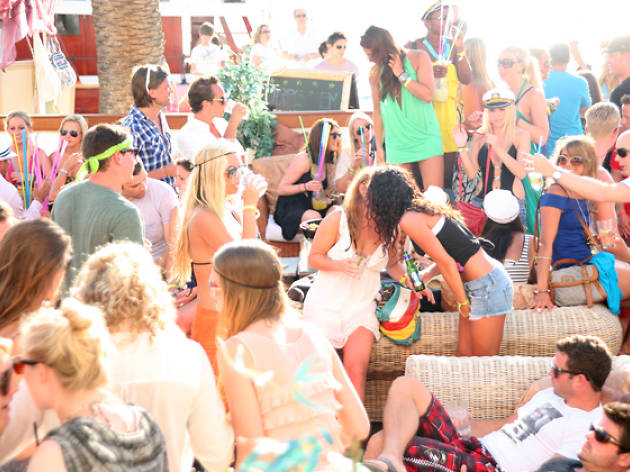 Slowly approaching its 20th anniversary in style, Carpe Diem has flourished in tandem with Hvar itself, attracting ever more celebs and cocktail-swigging yachting types as each summer passes. Behind a loggia façade, Carpe Diem is surprisingly ordinary inside, with just higher-than-ordinary prices and standard party music till late o'clock. Its reputation stems from its VIP scene in high season, upon which Hvar hype is fuelled. Its reservation-only policy in August (put your name on the list as you pass by in the day) means that the terrace (and separate bar) operates as a celebrity zone.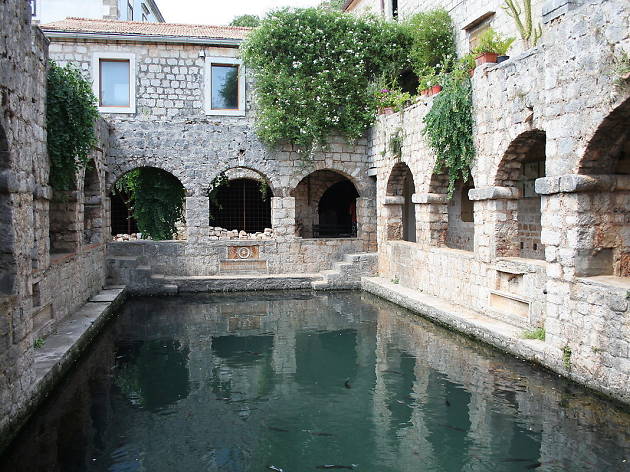 10. Discover the Croatian Renaissance
Set back from seafront at Stari Grad, the Tvrdalj was built by Renaissance poet Petar Hektorović as protection against likely attack by the Turks. As it turned out, the Ottoman Navy was halted months before the poet's death at the bloody Battle of Lepanto, near Corfu in 1571 – but only after raids on Hvar that summer. What remains today is a well-preserved fortified residence, designed with Renaissance perspective and proportion. Paid for by the poet himself – as testified by the Latin inscriptions – the Tvrdalj features a sea-water fishpool lined by vaulted arcades, a dovecote and a walled garden. While aesthetically pleasing, the Tvrdalj was also created to sustain Hektorović, his friends and family, and sheltering residents of Stari Grad, for as long as the Turkish threat held. Grey mullet once swam in the fishpool. Further inscriptions round it read: 'Remember that neither riches nor fame, beauty nor age, can save you from death', and 'Remember what will come after'.
With nearly everything geared to the high-spending party crowd, authenticity is a rare commodity in Hvar Town these days. Right on restaurant-lined Groda, close to the main square, you'll find a little of the real Croatia at Konoba Menego. Set in the venerable family home of the owners, the Menego Tavern is all rustic touches and secret recipes, Dalmatian stuffed bread and house sea salads served amid maritime knick-knacks and ham hocks that hang from the ceiling. The table wine, a dry red, comes from the family vineyard on the nearby island of Sveti Klement.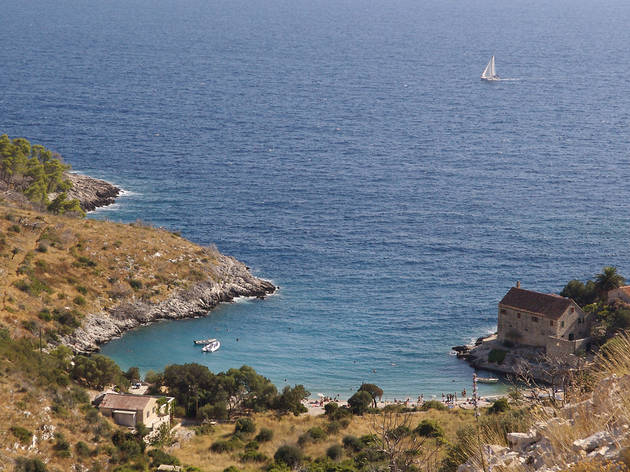 © Carly Calhoun/Time Out
12. Uncover historic sea wrecks
Based at a picturesque site looking out to the Pakleni Islands, the Diving Center Viking offers a range of dives in the clear waters off Hvar. These include the wreck of English merchant boat Paulina, which came to grief in a nearby lagoon in the 1800s. Since home to all manner of bright sea creatures, the Paulina provides divers with ample scope for adventure a 30-minute boat ride from shore. Beginners may opt for one of several less challenging diving spots in the vicinity.
Often overlooked for Hvar town, hidden, picturesque Jelsa is the ideal spot for extramarital excitement. And what better venue to conduct any affair than Me and Mrs Jones, an inventive seafood restaurant named after the hit Billy Paul ditty of the Philly era. Preferred tune of the venue's owners, its title replaced the more prosaically name of Konoba Napoleon that once stood at this prime spot in Jelsa's old harbour. The cuisine, too, has been reconfigured, with modern takes on local seafood dominating the menu. To add to the allure, Me and Mrs Jones sits slap opposite the landing point for seaplanes from Split, allowing you to fly in from London and off for an illicit island jaunt à deux in under three hours.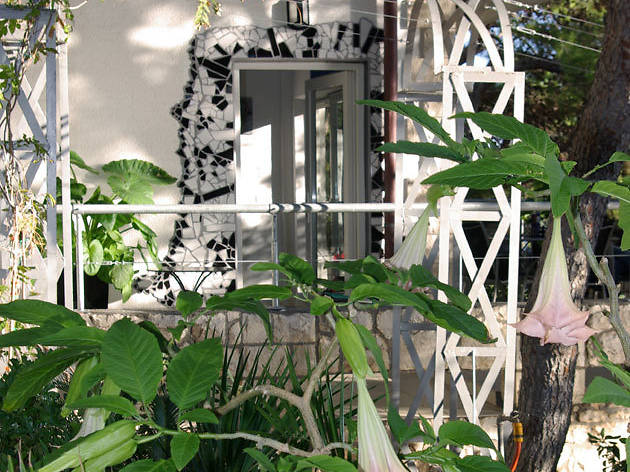 14. Holiday amid palms, pines and yuccas
We have botanist Eugene Meneghello to thank for the exotic greenery that surrounds a unique holiday villa named after him at the luxuriant spot of Palmižana. Now run by his three grandchildren, the Villa Meneghello provides the perfect getaway for those who want to do absolutely nothing – or those who might want to learn how to paint, dive or sail. Art workshops and activity courses are among the available attractions, while a private pool and nearby sandy beach are also on hand. Bungalows are hired by the week, from April to October.
Famously where Prince Harry threw a few shapes before plunging fully clothed into the pool, the Veneranda nightclub makes the best use of its unique location, set in the Venetian fortress that overlooks Hvar Town. Presenting domestic performers and DJs, with the occasional foreign act such as the Havana Social Club who played here in 2016, Veneranda comprises a series of tent-like structures and a terrace that catches the sunset. No distance at all from the main square, it provides plenty of space to let yourself go – away from the paparazzi who might haunt the harbourside VIP spot of Carpe Diem. Unless, of course, Prince Harry is in town.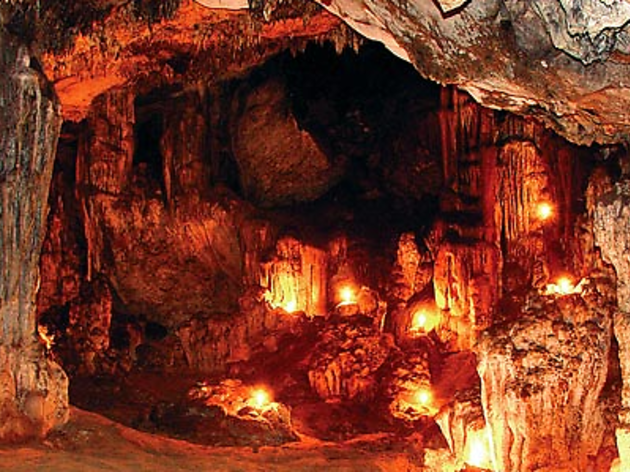 Excavated over the first half of the 20th century, Grapčeva špilja is one of the best preserved Neolithic cave dwellings around the Mediterranean. Containing dramatic stalactites and stalagmites, it looks pretty much as it would have done some 3,000 years ago when it was inhabited – the oldest human remains found here date back to 4,000BC. Walking distance from the deserted hamlet of Humac, the cave is only open to visitors who book a guided tour, best organised from the nearest main town of Jelsa.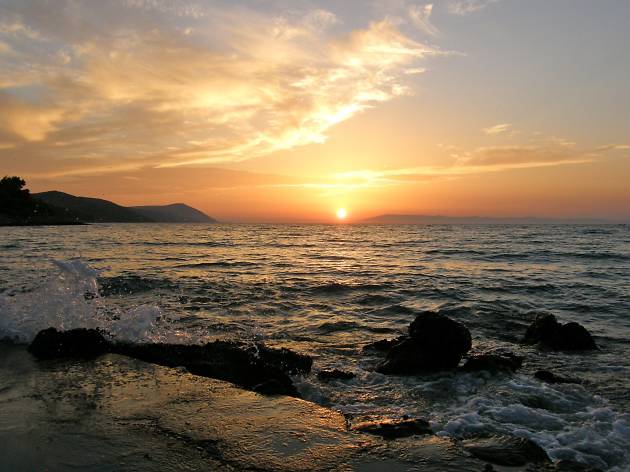 Mlaska/Darij & Ana/Flickr
17. Go wild in the country
The secluded beaches and tiny islets around and off the coast of Hvar allow plenty of opportunities to shed your clothes and be at one with nature. These are either areas within organised camping sites, such as Mlaska near Sućuraj and by Vrboska, or less easily accessible, random spots such as the deserted island of Zečevo a taxi boat ride from Jelsa. Total tanning is also the norm in several spots around the Pakleni Islands, most notably Jerolim and Stipanska that have long been catering to nudists, providing showers, beach sports and regular boat transport from Hvar Town harbour.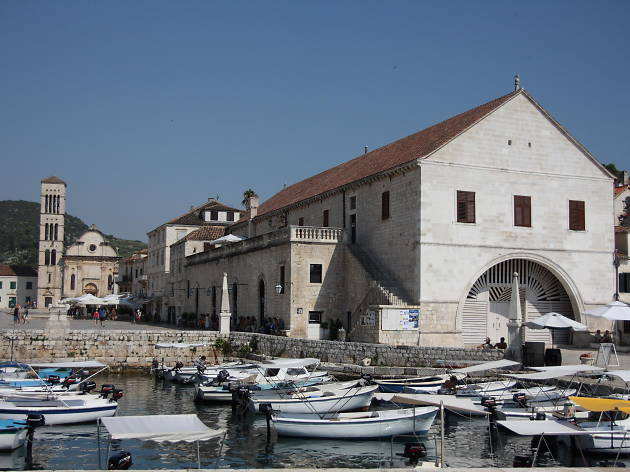 The theatre in Hvar Town dates back to Shakespeare's day. Built in 1612, this unique public space is housed within The Arsenal, so named after the weaponry that once operated here. While the Venetian-style building remains, overlooking Hvar Town harbour, the theatre space, with its gorgeous frescoes and baroque loggias, last staged regular performances well over a decade ago. Intricate, time-consuming restoration works have long been ongoing. While the public may not enter, the can admire the building from outside – and make a contribution towards its expensive renovation.
At Nonica, a cosy bakery set down a narrow stone alleyway uphill from the seafront Riva in Hvar Town, the cakes are all like your grandmother used to make – if your grandmother happened to have been raised on an island in Dalmatia. Called, in fact, 'Granny's', the bakery displays many local favourites, such as Hforski koloč, a melt-in-the-mouth biscuit with a mild citrus flavour. Decent quality coffee is served too, and there are a couple of chairs out in the alley for you to devour forkfuls of cake al fresco.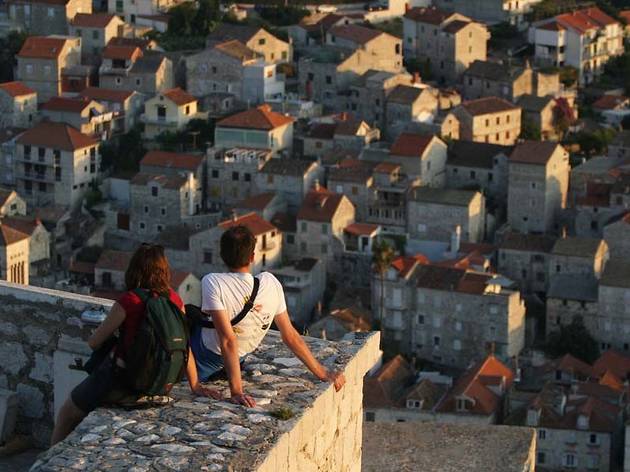 © Dave Jepson/Time Out
20. Zip around Hvar by Piaggio
With Hvar island long and lush but poorly served by public transport, there's no better way to zoom past its pine woods and lavender fields than by Pontedera's finest. Rental agency Luka, based at the harbour in Hvar Town, rents out Piaggio scooters for one to seven days, with pick up and/or delivery possible from the ferry port at Stari Grad. All vehicles are suitable for two people and come with crash helmets, locks and third-party insurance. Head for that secluded beach, park up, swim then scoot off to lunch at your leisure.