20 great things to do in Glasgow
We've rounded up 20 of the best things to do in Glasgow including activities, events, music and restaurants
It's not the capital of Scotland but it's the biggest city. Its galleries and museums are among the most visited in the country but it's better known for two football teams. It shies away from fussy restaurants but has the most vegan eateries per capita in Britain. It was a crucible of heavy industry but its name translates as the green hollow. Glasgow wears its contradictions on its sleeve, right next to its heart. Here's your guide to fun by the Clyde.
Things to do in Glasgow
1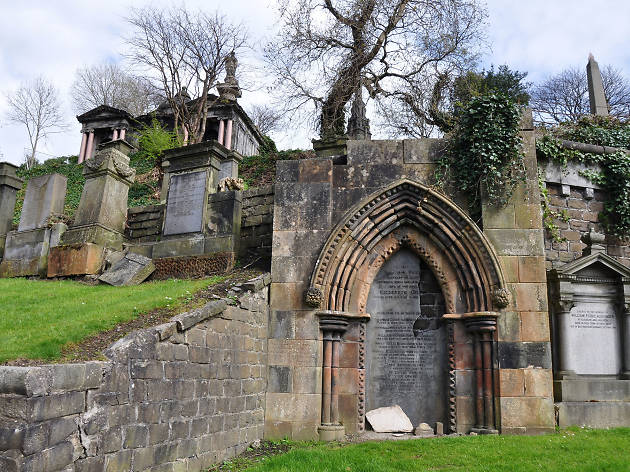 Go Gothic in the East End
Glasgow grew so quickly in the 19th century, it's a surprise that anything of old Glasgow survived at all. In fact you could spend a long time walking its streets and see almost nothing predating the Industrial Revolution. Fortunately there is one corner of the city centre that reaches back into a deeper history: the cathedral precinct in the East End. There was a stone-built church on the site dating back to the reign of David I in the early 12th century – and flimsier wooden constructions long before then – but the current Glasgow Cathedral was consecrated in 1197 and has since survived - even making it through the Reformation in one piece. Currently it's a working Presbyterian church so its cathedral title is purely colloquial. It's sturdy, impressive and a fabulous example of Scottish Gothic architecture both inside and out. The other big Gothic attraction nearby is the Necropolis, Glasgow's gloriously atmospheric cemetery inspired by Père Lachaise in Paris and dating back to 1833. Amble among the monuments, look out over the city and wonder just how green and bucolic the view was more than two centuries ago. Ankle-length black leather coat and Demonia boots optional.
2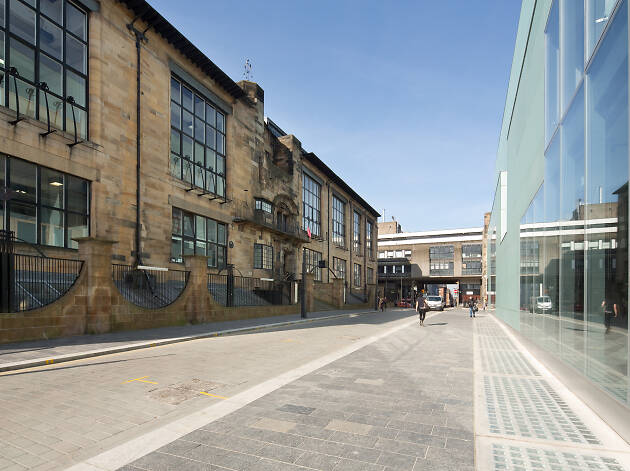 Find out why there are Mackintosh souvenirs everywhere
Glasgow's most celebrated architect and designer, Charles Rennie Mackintosh, was born here in 1868, and began creating his incomparable portfolio of local buildings in the 1890s. These include Glasgow School of Art, Queen's Cross Church, Scotland Street School, the Willow Tea Rooms and offices for two newspapers. His heyday, though, was short lived, as he left Glasgow in 1914 and never came back, later living in England and France. Still, his legacy endures, boosted by celebrations of his work when Glasgow was awarded European City of Culture in 1990, followed by its year as UK City of Architecture and Design in 1999. As a result Mackintosh has crossed over from the rarefied world of architecture and design into the front and centre of the popular consciousness, and it would be a unusual Glasgow gift shop that didn't stock at least a tea towel, postcard or teapot stand featuring one of his distinctive motifs. There are various tours of his buildings - the official Glasgow Information Centre in Buchanan Street is a good place to find out more. Sadly the venue regarded as Mackintosh's masterpiece, the Glasgow School of Art, was badly damaged in a fire in May 2014 and its beautiful library completely destroyed. The building remains closed indefinitely.
3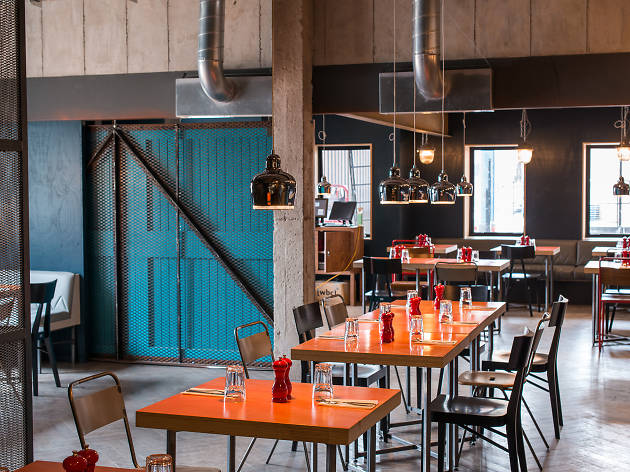 Drink craft beer in a mega-brewery
The last place in Scotland you might expect to find craft beer is a bar-restaurant attached to a small brewery within the complex of a far larger brewery – owned by a drinks multinational – where the canning line can churn out 2,000 cans of lager a minute. But this is Glasgow. The protagonists here are Dublin-based drinks conglomerate C&C Group, owner of the Wellpark Brewery in Glasgow's East End (home to Tennent's) and the Williams Brothers, Scottish craft brewers who have been making decent beer for more than twenty-five years. They got together to launch the Drygate project in 2014, based in its own compound at Wellpark. This hosts the Drygate Brewery – which makes Bearface Lager, Gladeye IPA and Outaspace Apple Ale – as well as the Vintage at Drygate Bar and Kitchen. There are 24 rotating beers on tap, another 200 in bottles, a beer hall with massive screens for football, rugby and other televised events and a terrace for those rare Glasgow days when it's not raining. The genuine commitment to a wide range of good beers is admirable.
4
Escape from a locked room using only your mind
Simply say the phrase 'Escape Glasgow' and it might be taken as a wry comment on the city's lack of sunshine, or some other perceived deficiency. Actually it's the name of a new live escape game, launched in August 2014, that sees participants locked in a room then given 60 minutes to solve the puzzles and clues that allow them to get out. Very soon after it opened for business – in the Baltic Chambers building on Wellington Street – families, groups of friends, couples and city visitors found it was an incredibly fun thing to do. Its popularity spread by word of mouth. It's for a minimum of two and a maximum of six players, room access costs a flat £60 irrespective of the numbers, and players have to work collaboratively to escape within the allotted hour. The whole experience, soup to nuts, takes around 90 minutes: getting in, being briefed, then your hour in the room. It might sound like an odd thing to do but with brain training-style games all over the app stores and the enduring popularity of sudoku and crosswords, maybe live action problem solving is the coming trend.
5
Explore the mysteries of life at a kinetic theatre
It started in the old Soviet Union in the 1970s when Eduard Bersudsky began making kinemats in his room in a shared flat in Leningrad. These kinemats incorporated bits of old furniture, scrap metal and carved figures, all powered by electric motors to create kinetic sculpture. In the late 1980s, Bersudsky met theatre critic and director Tatyana Jakovskaya; together they founded the Sharmanka Kinetic Theatre in Leningrad. The third team member, Sergey Jakovsky, joined when he was barely in his teens. Into the 1990s and life was hardly easy in the new, post-Soviet Russia – in 1993 Sharmanka Kinetic Theatre left the country, setting up home in Glasgow in '96. Based at Trongate 103, Sharmanka shows involve props made of reclaimed scrap, careful lighting, synchronised music and hundreds of carved grotesques living out stories that are sometimes funny, sometimes tragic, all set against the inevitable and relentless cycle of life and death. For anyone put off by the notion of trenchant Russian tragedy told through the medium of electro-powered wooden figures, don't be. There is something charming, simple, direct and utterly hypnotic about these shows. There is an entrance charge for performances, though visitors can view Bersudsky's stationary works in the gallery space for free.
6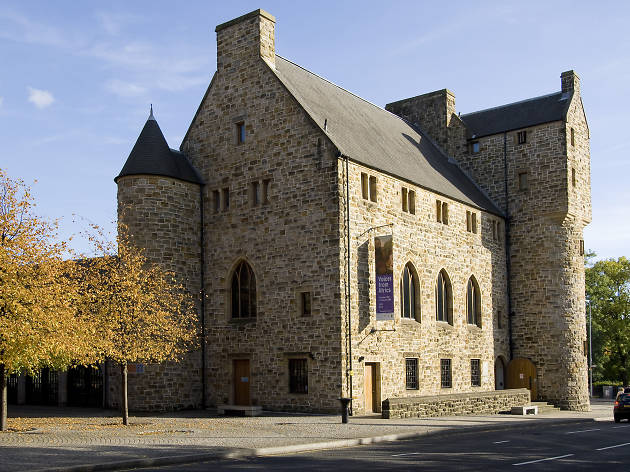 Investigate Glasgow's religious past and present
With the religious overtones of the city's origin myth, the Scottish Reformation, the arrival of Irish Catholic incomers in the 19th and 20th centuries, a more recent Muslim minority, the Catholic-Protestant antipathy crystallising around institutions like football clubs and separate state schools, Glasgow has an interesting, if sometimes combustible, mix: 'Belfast lite,' according to comedian and television presenter Dara O'Briain. If you want to understand the city, it pays to explore this religious infrastructure and the very best place to do that is the St Mungo Museum of Religious Life and Art. Based in a faux-baronial building at the cathedral precinct in the East End, it aims to promote understanding and respect between people of all faiths but also to explain religion in West Central Scotland. It has some beautiful religious art and artefacts from all over the world touching on Hinduism, the Mexican Day of the Dead and more – also a small, placid Zen garden which you can gaze upon with a cup of tea from the museum café.
7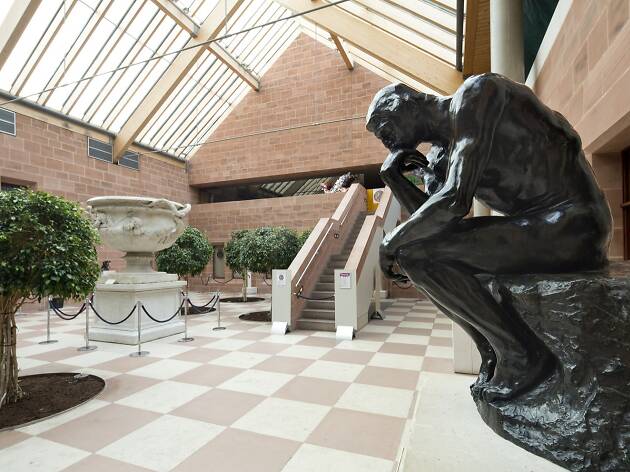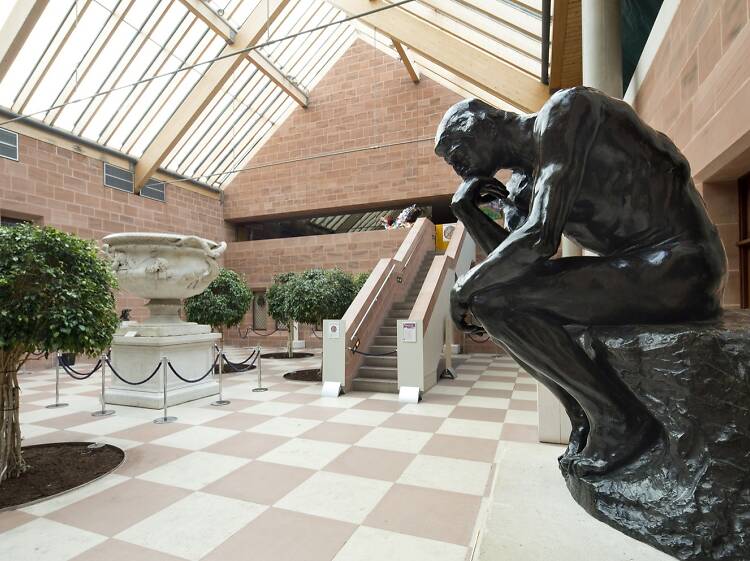 Do art in the park, twice
Pollok Country Park is a skelping great stretch of greenery in the south of Glasgow covering 146 hectares and readily accessible from the city centre. All you have to do is jump on a suburban train to Pollokshaws West from Central Station – the journey takes just under ten minutes. The park has an attractive walled garden, a woodland garden, Clydesdale horses, a pedigree fold of Highland cattle, a play park for kids and places to picnic. Aside from all that, however, there's the art. The park is home to two of Glasgow's main attractions: Pollok House and the Burrell Collection. Pollok House was originally the grand, 18th century home of the Maxwell baronets of Pollok, and boasts a number of important artworks that include paintings by El Greco, Goya and Murillo as well as Scottish artists such as Guthrie and Raeburn. Meanwhile, the Burrell is just ten minutes' walk away. This is a custom-built gallery and museum that houses the remarkable collection of art and artefacts amassed by shipping magnate Sir William Burrell who gifted it all to the city authorities in 1944. He died in 1958 but it took until 1983 for a suitable site to be agreed, a building to be designed and the collection declared open to the public. Fortunately it was worth the wait. There is anything and everything here from Egyptian stone sculpture dating back 5,000 years to French Impressionist paintings via ancient Chinese ceramics and medieval European armour and weapons. It is quite remarkable.
8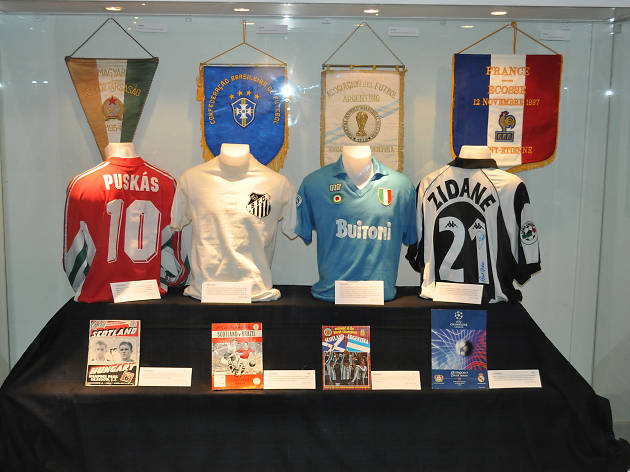 Find out why football is embedded in the Scottish psyche
In Glasgow, there are a handful of visitor attractions that really are la crème de la crème (Glasgow Science Centre, Kelvingrove Art Gallery & Museum, the Riverside Museum). It may come as a shock to some that the Scottish Football Museum is held in similar esteem. Based within the National Stadium at Hampden, the museum focuses on Scotland's unique football heritage. Local team Queen's Park FC was founded as far back as 1867, while the Scottish Football Association – the world's second oldest – dates to 1873, with professional football kicking off here in 1890. More than a game, it can be seen as an expression of the country's social and economic history, through war and peace, reaching deep into the Victorian era. The museum explores the whole story with an extensive collection of memorabilia as well as glamour items such as the Scottish Cup - the world's oldest surviving association football trophy (the English FA Cup would be older but the original was nabbed in 1895). When visiting there is also a tour of the 52,000-capacity National Stadium itself and a chance to see the Scottish Football Hall of Fame. This is usually reserved for individuals but in 2014 McCrae's Battalion was inducted en masse. This was a battalion of the Royal Scots, raised in 1914 to fight in the First World War, with recruits including professional footballers, other sportsmen and football fans from East Central Scotland, mostly associated with Edinburgh's Heart of Midlothian FC. A great many didn't come back from the trenches.
9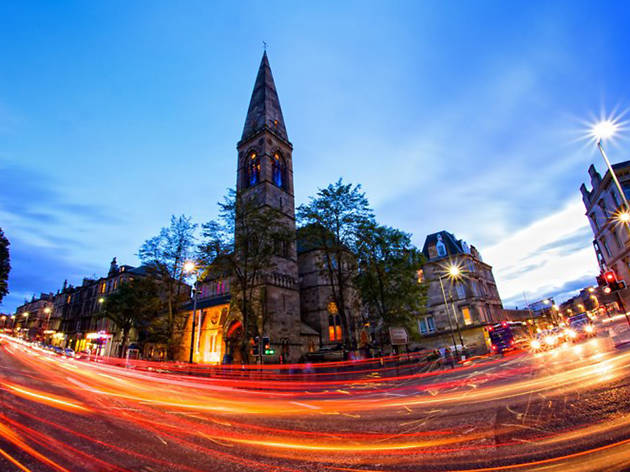 Watch a play with a pie and a pint
Where Edinburgh has a reputation for gentility, snootiness and its international arts festival, Glasgow likes to define itself as far grittier, post-industrial and real. This attitude filters through in many areas of life, arts and culture – even in theatre. Òran Mór is an arts and entertainment venue in Glasgow's West End, based in a refurbished Victorian church, and open since 2004. It does food, drink, theatre performances, live music and club nights – the main auditorium has a striking ceiling mural by artist and writer Alasdair Gray. One of its regular lunchtime slots is called A Play, A Pie And A Pint, which does exactly what it says in the title. There are dozens of new plays commissioned each year, they're all bite-sized at 45 minutes long and the ticket price includes a pint and a pie (though you can choose wine or a soft drink instead). The idea is genius, pure and simple: accessible theatre and an excuse for a beer and a snack in the middle of the day. Writers have included some of Scotland's best-known, as well as newcomers, while there have been seasons by writers from all over the world. It's fun, it's not expensive given the inclusive food and drink, it's not taxing and it's a brilliant way of seeing new work.
10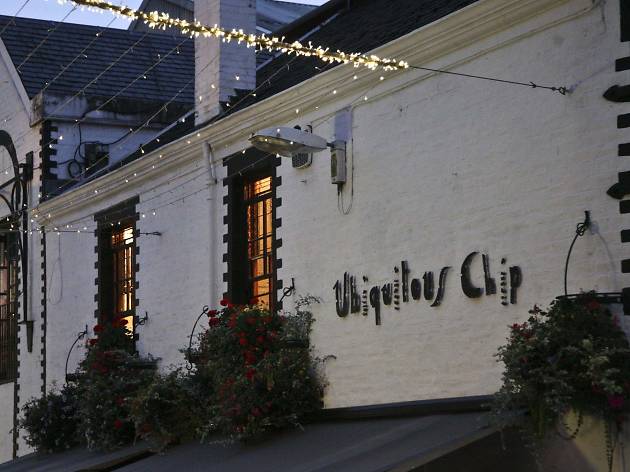 Eat at the old Clydesdale place - it's a banker
Some restaurants go through the back of the wardrobe to stop being simply places to eat, becoming legend. The Ubiquitous Chip in Ashton Lane, the epicentre of Glasgow's boho West End, is one such venue. Founded in nearby Ruthven Lane in 1971, the Chip moved to its current location in 1976 and now offers a great deal more than its signature venison haggis. Launched by the late Ronnie Clydesdale and now run by his son Colin, over the decades it has grown into a rambling complex of spaces for eats and drinks. You can pop in for anything from a couple of beers to roe deer haunch with haute trimmings. The main restaurant remains the most attractive and formal for lunch or dinner, a combination of plant-strewn, cobbled courtyard – roofed of course – with a more typical indoor section adjacent; it will come as no surprise that part of the building was once a stable. To add even more cachet, there are murals by artist Alasdair Gray, and a select number of former front of house staff went on to more high profile roles: actress Kelly MacDonald, The Late Late Show host Craig Ferguson and Guardian food critic Marina O'Loughlin. With good Scottish produce, upscale Franco-Scot cooking, a huge wine list plus a clientele who feel that they've come somewhere particularly special, it's hard to resist the charm of the Chip.
11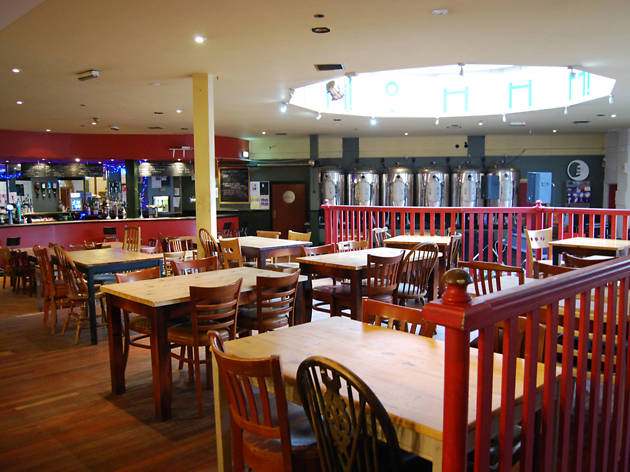 Explore Britain's vegan capital
The city said to have invented the Munchy Box (every junk food item you could imagine stuffed into a pizza box) also has appalling health problems related to diet - some areas of the East End sees life expectancy dip to levels recorded in the Gaza Strip or Iraq. The notion that Glasgow could also be the best city in the British Isles for vegans is beyond anomalous but, actually, it's true. There are a number of well-established vegan restaurants here, and plenty of vegan-friendly restaurants too. One recent addition is Usha's at the bottom of Byres Road, offering street food and other dishes from India in tapas-sized portions - all vegetarian but a good proportion of them vegan. In the city centre, Mono, in the streets south of Trongate, has been offering vegan-only dishes since it was launched in 2002 in premises that also house a music store and gig space. There's also the-vegan friendly 13th Note, the Flying Duck, and its Renfield Street neighbour, Stereo, yet another example of vegan food in premises that can be treated as a bar, gig space or late-night hangout. The Centre for Contemporary Arts in Sauchiehall Street gets in on the act with its in-house, vegan Saramago Café and, back in the West End, The 78 on Kelvinhaugh Street is a vegan-vegetarian bar-restaurant with a shabby appeal and good craft beers.
12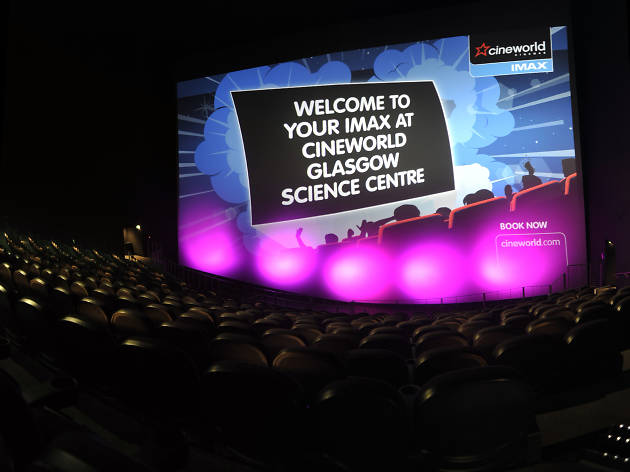 See a big movie, big
There are many reasons to head for the striking Glasgow Science Centre (GSC) on the south bank of the Clyde at Pacific Quay but for movie fans one of the most compelling might be the chance to see a film at the biggest screen in Scotland. The Cineworld IMAX at GSC shows gee-whizz, 3D educational movies as part of its museum remit, all around 45 minutes long (though there is an IMAX supplement to the basic ticket price). When the venue functions as a more familiar part of the Cineworld chain, however, it offers the standard multiplex list of blockbusters and current releases in 2D or 3D. Why cross the river however when there are perfectly good cinemas in the city centre? Although the IMAX phenomenon began way back in the 1970s and there are now hundreds of IMAX screens worldwide, there are only four in Scotland. This is the longest-established, and the space age building and riverside location add a certain something to the experience. It shows movies in far better resolution and at a far greater size than conventional venues – you will see every hair on Brad Pitt's head, every wrinkle on that Teenage Mutant Ninja Turtle and every detail on Matthew McConaughey's spacesuit.
13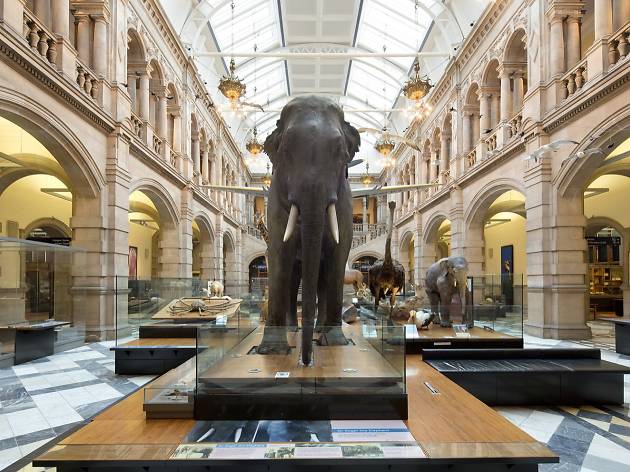 Count the heads at Kelvingrove
Glasgow's most popular visitor attraction, and one of Scotland's top three, Kelvingrove Art Gallery and Museum opened for business in 1901, a striking piece of architecture in Spanish Baroque style fashioned out of red sandstone. After more than a century of sterling service to arts and culture in the city there was a three-year hiatus in the noughties for a major refurbishment but the old place came back in 2006 better and brighter than before. There is some truly wonderful art here – galleries given over to Scottish Colourists or French Impressionism for example – also extraordinary exhibits such as an RAF Mark 21 Supermarine Spitfire that flew with the 602 (City of Glasgow) Squadron in the 1940s. One particular stroke of genius in the refurbishment was the addition of the floating heads artwork by Sophie Cave. It comprises a large number of heads, all stark white, suspended from a gallery ceiling, all showing different human expressions. How many heads are there? Count them. If that doesn't float your boat there is always Salvador Dali's Christ of St John of the Cross to look at – or Sir Roger, the stuffed Asian elephant.
14
Indulge your petrolhead tendencies
The Riverside Museum is an award-winning venue. It has an impressive late-Victorian, three-masted barque called the Glenlee berthed directly outside, it boasts a remarkable transport collection including everything from bicycles to steam locomotives and model ships, and you can find things here that will genuinely interest the whole family. That said, its car collection is big draw, capable of captivating visitors who count themselves as motor vehicle agnostics. There are examples from the dawn of motoring, others from Scotland's own attempts at a car industry, and premier names such as Bentley, Rolls Royce and others. With cars either sitting on the main floor area or mounted on the museum wall, the extensive space allows viewers to stand back and consider not just the aesthetic qualities of a vehicle but sometimes even its place in social and economic history. For example the first ever Hillman Imp to come off the production line at Linwood, in the 1960s is here. It clearly lacks va-va-voom but it remains a symbol of a post-war effort to stave off Scotland's industrial decline. In addition there are ambulances, buses, police cars, horse-drawn taxis and motor cars that look like they drove to Glasgow from the set of a 1930s action movie.
15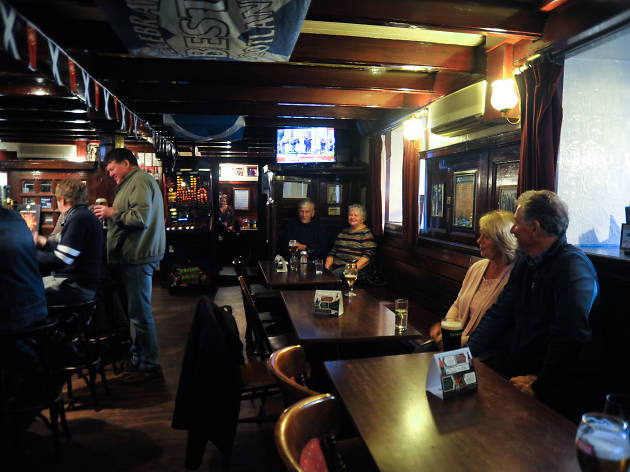 Time travel with beer
If you want to experience the authentic Glasgow of days gone by there are a couple of pubs you really shouldn't miss. The Horse Shoe in Drury Street near Central Station has been selling drink since the mid-19th century. As long as you're not put off by the flatscreens, fruit machines and football chat, what you get here is a genuine Victorian island bar (reputed to be the longest in Britain), odd ornaments stacked above the gantry, pub mirrors around the walls and grand decorative touches in the woodwork and tiling. It's busy, it's atmospheric and it's very Glasgow. For an even older pub, however, head down towards the river to the Scotia in Stockwell Street, a venue that claims a heritage going back to 1792. Ignore the shabby exterior – once indoors you're in an antique drinking den with wood panelling, old photographs around the walls, a low ceiling and an instantly intimate atmosphere. During its lifetime the Scotia would have echoed with the chat of men working on the river when the Clyde was still a major waterway, and with the hubbub of people going off to a show – there was a theatre next door from 1862 to 1972. Don't expect airs and graces at either the Horse Shoe or the Scotia but do expect history to come alive through the bottom of your glass.
16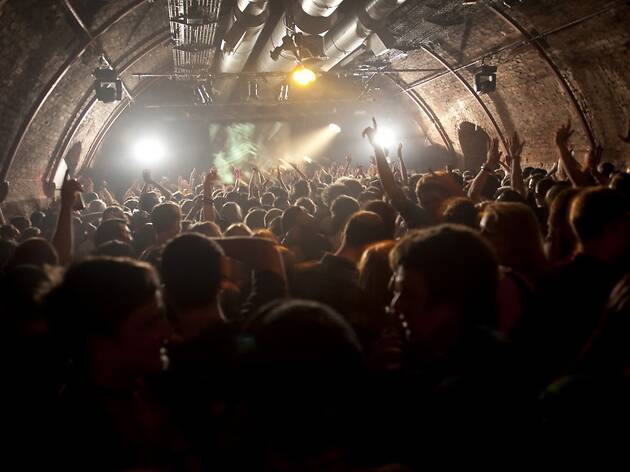 Sample Scotland's ground zero for night fever
With the biggest population of any city north of the border, a considerable complement of students, a sizeable gay scene and a creative vibrancy that other Scottish cities lack, it's an undisputable fact that Glasgow is Scotland's clubbing capital. A multifaceted venue like The Arches on Argyle Street may offer arts events, gigs and a café-bar, for instance, but come 10pm or 11pm it also starts to live up to its stellar reputation as a superclub with regular guest DJs and club nights that cover the whole range of contemporary dance music. Elsewhere in the city centre you find venues like Jamaica Street's Sub Club, not only the venue for Primal Scream's first ever gig but also reputed to be the longest-running underground dance club on the planet. The Garage on Sauchiehall Street, meanwhile, is a different beast: huge and populist, it packs the punters in with fun times and drinks promotions. Elsewhere on Sauchiehall Street you find the eclectic local legend that is Nice'N'Sleazy which leavens its excellent clubs roster with food by Meathammer Ltd – burgers a speciality – and acoustic open mic nights. Meanwhile established venues on the gay scene include the long-running Polo Lounge and the AXM Club, both in the Merchant City. In Glasgow you can go from cutting edge electronica to the campest of sing-a-long pop – the choice is yours.
17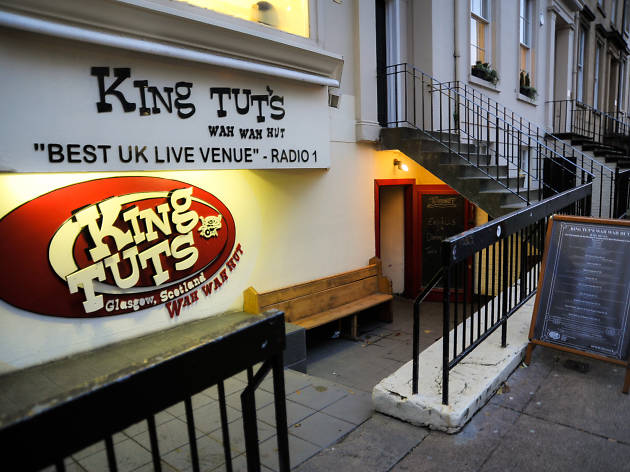 Go and see a pop concert
Glasgow has an embarrassment of riches when it comes to gig venues. Down by the Clyde at Finnieston the cavernous Scottish Exhibition and Conference Centre (SECC) opened in 1985 for big gig. Then the adjacent Clyde Auditorium, also known as the Armadillo because of its distinctive shape, was added in 1997. Come 2013 it was dwarfed by the impressive and rather huge Hydro at the Finnieston site which announced its presence to the world with a showpiece gig by Rod Stewart. Meanwhile the prestigious Glasgow Royal Concert Hall at the top of Buchanan Street is the flagship venue for the annual Celtic Connections festival and it has smaller sister venues in the City Halls and the Old Fruitmarket. Barrowlands Ballroom in the East End remains a favourite for its atmosphere, while the Academy Music Group also has a presence in the city with the O2 ABC and the O2 Academy attracting mid-range rock and other touring acts. Throw in King Tut's Wah Wah Hut, other small venues, and pubs with live music nights, and it's almost impossible to go short of musical entertainment in this city, whether you're in a crowd of 13,000 for a Gaga gig at the Hydro or sitting in the Scotia on a Sunday night watching Doctor Cook and the Boners crank out their cover of See You Later Alligator.
18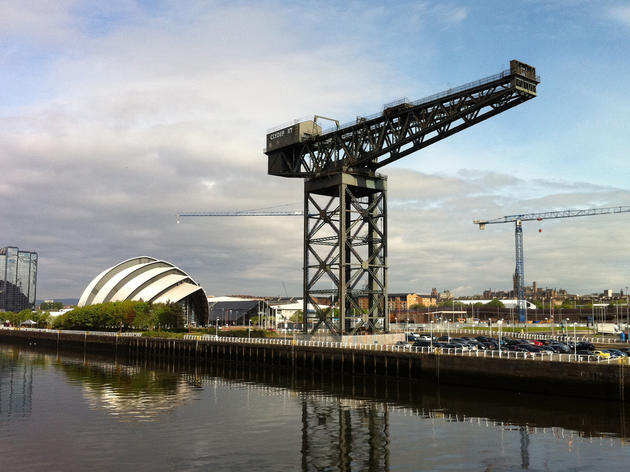 Cruise the Clyde
The River Clyde is such a central part of Glasgow's story that it's impossible to ignore. From the city's ancient origins on the riverbank to its merchant pomp and maritime pre-eminence – not forgetting the heritage of shipbuilding – there simply would be no Glasgow without the Clyde. You get some sense of the river from the many bridges that cross it within the city boundary, or from the Clyde Walkway - a long distance route that runs from Glasgow into South Lanarkshire. However, there's no better way to see a river than to get out on the water and Clyde Cruises offers this option between Easter and October every year. The 90 minute tour covers a fair stretch of the Clyde and affords a unique view of central Glasgow, its bridges, its waterfront architecture and the huge cantilever crane that survives among the shiny developments at Finnieston. You can also use this service to get around, too. Board in the city centre, say, travel by river to the impressive Zaha Hadid-designed Riverside Museum, hop off, check it out, then hop on again to get back to the centre.
19
Shop the North
Whichever way you count it, Glasgow is big. Its city population is a shade under 600,000 while the Greater Glasgow area, encompassing nearby satellite towns, is even more populous, estimated to have around 1.2 million people. Throw in those from even further afield and that's a lot of Scots looking to Glasgow for work, entertainment and shopping. Handily, it hosts a number of malls like Buchanan Galleries and St Enoch's in the city centre or Braehead Shopping Centre west along the Clyde, but there are chichi alternatives, too. At Princes Square off Buchanan Street you will find names like Kurt Geiger, Ted Baker and Vivienne Westwood, as well as Jo Malone and Space NK. The elegant Argyll Arcade, also off Buchanan Street, dates to the Regency era and has an extraordinary concentration of jewellers, while the Merchant City is where you'll find Agent Provocateur underwear, Emporio Armani outerwear, and the only Bose shop in Scotland. Otherwise Argyle Street, Buchanan Street and Sauchiehall Street serve as the main shopping drags, plus there are small, quirky shops to be found in the streets immediately south of Trongate - and even more in the nooks and crannies of the West End. In the East End the Barras, also known as Glasgow Barrowlands Market, runs every Saturday and Sunday and has all kinds of useful items, tat and gems, usually at bargain prices. Given what's on sale, it's not really a luxury shopping destination – more a foray into the city's street culture and patois.
20
Connect with your inner Celt
January in Glasgow is not a joy. The festive season is over, the nights are long and dark, the weather is wet and cold while hotel occupancy rates dwindle to their annual nadir. Of course these are ideal conditions for bagging a cheap place to stay and doing something indoors which is why Celtic Connections has been such a success since it was launched back in 1994. Over more than two decades it has grown in stature to become one of the world's leading Celtic music festivals with a remit that stretches far beyond folk music from the British Isles and Ireland. The 2015 event, running from January 15 to February 1, will bring more than 2,000 performers to the city for 18 days of concerts, ceilidhs, exhibitions, workshops and free events. Upcoming highlights include gigs featuring Beninese singer Angelique Kidjo with the Royal Scottish National Orchestra, guitar legend Nils Lofgren, Calexico with their trademark roots and Americana sound, and Belfast's very own Van Morrison. This is in addition to appearances by notable Scots such as Karine Polwart, Breabach, Eddi Reader, Dick Gaughan and many, many others. Gigs happen across the city centre with the Glasgow Royal Concert Hall hosting the big ones – see Celtic Connections website for details.