Things to do in Glasgow this week
Check out the next seven days, all in one place, and find great things to do this week in Glasgow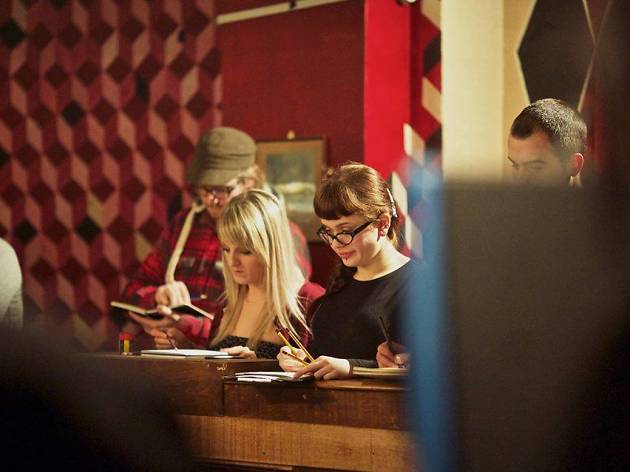 Got your social diary sorted yet? We're here to help – there are tons of great things to do in Glasgow this week. Have a look through our round-up of all the best events and films that Glasgow has to offer. You'll find theatre, art, music and more in our list, so have a look and plan a week's worth of things to do in Glasgow.
Things to do in Glasgow this week
A 24-hour collaborative loop of stop-motion, digital animation, illustration and film by 12 artists, loosely framed by the parlour game Telephone.
Read more
Sound, film, sculpture, text and performance by Ruth Barker, Jasper Coppes, Alan Currall, Sarah Forrest, Susan Brind, Jim Harold, Shona Macnaughton, Duncan Marquiss, Shauna McMullan, and Joanna Peace, which interrogates the role of material culture in post-Brexit Scotland.
Read more
Nine artists reflect on identity and collective consciousness in an age of social media when most of us hide behind the mask of an avatar. Featured artists are Joseph Buckley, Jamie Crewe, Jesse Darling, Cecile B Evans, Lynn Hershman-Leeson, E Jane, Sam Keogh, Mai-Thu Perret and John Russell.
Read more
The recent Turner Prize nominee Ciara Phillips collaborates with GPS Master Printers Scott Campbell and Ian McNicol to produce screenprints, etchings and monoprints which addresses issues around women's representation.
Read more
A multi-screen video installation examining performance and participation, filmed during a four-month residency at Dance Attic Studios in London.
Read more
The artist draws on imagery from classical and popular culture to collage painting, video, sound and digital imagery.
Read more
A group show exploring the tug of war between nature and culture, local and global concerns, featuring works by Erica Eyres, Carla Scott Fullerton, Levi Hanes, Conor Kelly, Garnet McCulloch, Dan Monks, Hirofumi Suda and Kari Stewart.
Read more
The Scottish painter's portrait of his step-grandson Henry Raeburn Inglis takes up temporary residence in Glasgow, on loan from the Royal Academy in London
Read more
Show more
Films showing this week
Do you have a six-year-old? Are they conversant in office politics? Do they love intricate, mind-scrambling existentialist narratives that lead nowhere? Then hurry them along to this deeply strange but somehow also very dull family cartoon comedy. The setup is just plain odd: before birth, the film reveals, all babies are sorted into two categories. The majority travel to earth, where they become part of a family. The rest are trained as managers in Babycorp, the company responsible for the manufacture of babies (don't over-think it, because that way madness lies). When promising recruit The Boss Baby (gravel-voiced by Alec Baldwin like he's reading rejected '30 Rock' scripts) is sent to earth on a secret mission that's way too silly to go into, he goes undercover with the Templeton family. But their existing seven-year-old Tim (Miles Bakshi) isn't best impressed with his new baby brother. 'The Boss Baby' is one of those snarky, post 'Shrek' cartoons that desperately wants to appeal to parents as well as kids, but its snappy, pop-culture-referencing script feels workshopped to death (there's a running joke about Gandalf that's bafflingly unfunny). Undemanding kids might get a kick out of its jazzy, restless visual style and poo jokes, but grown-ups may well find themselves taking some impromptu nap time.
Read more
While other filmmakers get their hands dirty in kitchen sinks, Wes Anderson surely slips his into luxury cashmere mittens. His films overflow with intricate detail and make no pretence of existing in a world other than their own, just-about-earthbound parallel universe. So the five-star premises of his energetic new comedy 'The Grand Budapest Hotel' – a wedding-cake-like, pastel-coloured establishment situated somewhere in 1930s Mitteleuropa and peopled by eccentrics and lunatics – feel like business as usual. What's different, though, is that the film's shaggy-dog, sort-of-whodunit yarn offers laughs and energy that make this Anderson's most fun film since 'Rushmore'. Where 'Moonrise Kingdom' had heart, 'The Grand Budapest Hotel' has pace and a winning manic streak. It also gives Ralph Fiennes a rare comic role as Monsieur Gustave, a concierge who wavers brilliantly between thug and gentleman aesthete. From Gustave's mouth pours a head-spinning cocktail of politeness and filth as he becomes embroiled in the murder investigation and inheritance tussles that follow the death of one of his most loyal guests, the elderly Madame D (Tilda Swinton, barely recognisable beneath a carapace of make-up). At Gustave's side is his loyal apprentice, Zero Moustafa (newcomer Tony Revolori with a drawn-on pencil moustache), who decades later (now played by F Murray Abraham) recounts events over dinner to a writer played by Jude Law. The rest of Anderson's cast is sprawling and starry. Blink
Read more
If Wes Anderson's 'Fantastic Mr. Fox' was a joyful slice of whimsy, his latest foray into stop-motion creature features is a more complex beast. Set in a near-future Japan, it's a dystopian, fitfully funny tale in which crusading young people take on a corrupt establishment. But it's mostly about the dogs: Banished from Megasaki city after outbreaks of snout fever and dog flu, cute canines are dumped on Trash Island and left to fend for themselves amid piles of garbage. In an instant, prize poodles find themselves on equal footing with scrappy strays. Their barks are conveniently translated directly into English for us by a typically Andersonian voice cast: There's a tight pack led by alpha dog Rex (Edward Norton), gossip Duke (Jeff Goldblum), sports mascot Boss (Bill Murray) and pooch actor King (Bob Balaban). Snarling on the sidelines is Chief (Bryan Cranston), who'll rip your ear off to get to a can of maggots but who slowly emerges as the heart and soul of the story. Chief's story kicks in when a 12-year-old Japanese boy, Atari, lands a tiny plane on Trash Island, intent on finding his banished Spots. Atari is the nephew of Kobayashi (voiced by co-writer Kunichi Nomura), the mayor of Megasaki city who bought the animal as a guard dog, only to make Spots the first to be exiled to Trash Island. Atari enlists the help of the pack to roam the dangerous island, with Chief emerging as an unlikely ally. Depicting the bond between boy and dog is what 'Isle of Dogs' does best, an
Read more
For all their global dominance, everybody wants these superhero movies to be better: funnier, smarter, more inclusive, more super. A huge step in the right direction, 'Black Panther' is that dream come true. Proudly African – even if its Africa comes in the form of the fictional country of Wakanda, a powerhouse of secret technologies – Marvel's latest is, from top to bottom, a conscious reversal of racial paradigms. Handsomely mounted by 'Creed' director Ryan Coogler and starring an enviable slate of black actors that makes cameoing comics godhead Stan Lee almost seem lost, the film is provocative and satisfying in ways that are long overdue, like its ornate, culturally dense production design and the deeper subtexts of honor, compassion and destiny. Wakanda's young king, T'Challa (a dignified Chadwick Boseman, well-seasoned after playing onscreen versions of James Brown, Jackie Robinson and Thurgood Marshall), recognizes that the world outside his peaceful realm is a divisive place. Still, even as his own armor-clad excursions as Black Panther set up an internal tension between isolationism and responsibility (yes, this is the rare blockbuster with something on its mind), tensions within Wakanda—fomented by exile-turned-rebel Erik Killmonger (Michael B. Jordan, on fire)—threaten to bring him down. In their script, Coogler and Joe Robert Cole take inspiration from the Black Panther's 50-year history on the page, including a dazzling current run by author Ta-Nehisi Coates, an
Read more
Sure, Christopher Nolan's 'Dunkirk' blew us away with its immersiveness. But if you prefer your WWII movies to have a little dialogue, some shapeliness and a bit of powerhouse acting, director Joe Wright's tense profile of the rising prime minister Winston Churchill is the war film to beat. Wright, it's worth remembering, has been on those gory French beaches before with 2007's ''Atonement', capturing the whole of the British evacuation and its surrounding chaos in a legendary five-minute tracking shot. As if pulling a been-there-'Dunkirk'-that, he now shifts to the tense strategy sessions, bunker hand-wringing and political gamesmanship that fed into England's finest hour. 'Darkest Hour' is a film of verbal ammunition, and its calibre is high.At first you won't believe your eyes, seeing Gary Oldman – still, in some perverse way, the alive presence from 'Sid and Nancy' – buried under what must be pounds of prosthetic facial architecture. (The radical makeup work is by artist Kazuhiro Tsuji.) But your mind quickly gets you where you need to be, as we watch Oldman's Churchill roughing up our expectations: crouching on his bedroom floor to capture a wayward cat, downing a breakfast of Scotch and cigars and mixing it up with his cowed, dutiful secretary Elizabeth (Lily James). The performance is a marvel, not merely leaping over what could have been a stunt, but deepening into a soulful portrayal of wartime leadership, tinged with ego, doubt and the demands of a terrible moment.C
Read more
'A Quiet Place' is like 'Aliens' retooled as a militant librarian's fantasy. Actor-director John Krasinski's relentless shocker thrives on a nifty premise: in a post-apocalyptic near future, a family must survive in a world where the slightest sound brings out deadly monsters. With minimal dialogue – characters communicate by (subtitled) sign language, eye contact and whispers – 'A Quiet Place' is pure, bold cinema, its images and creepy sounds working together to scare the bejesus out of you. Save for some late-in-the-day news headlines, Krasinski admirably gives us little backstory for the monsters. Instead, mum (Emily Blunt), dad (Krasinski), son (Noah Jupe) and daughter (Millicent Simmonds), whose deafness means she can't hear the beasties coming, are just shoved through the mill. Nerve-shredding set pieces revolve around a nail sticking out of a stair, a flooding basement and a 'Jurassic Park'-like run through a field. All done with ruthless brio. The rules of this world are fast and loose, so the monsters can't hear over waterfalls but can listen through walls. It's a neat allegory for the challenges of parenting in a crazy world. The family dynamics lack nuance, but real-life husband and wife Krasinski and Blunt bring poignancy, the CG beasties are striking and the film pulses with ideas. It all adds up to a monster movie to shout about. Or maybe not. 
Read more
Proving once again – especially after last year's 'Girls Trip' and 'The Big Sick' – that comedies are the undiscovered country for expert (if not Oscar-nominated) acting, 'Blockers' gives the willowy, trembling Leslie Mann two bookends that are, without a doubt, her finest onscreen moments. In the first, she's offering tame suggestions to her prom-bound, sex-minded daughter ('Mom, are you going to be okay?' the kid asks, concerned). In the next, the tears rain down Mann's face like a shower with robust water pressure as she's saying upbeat goodbyes to a child with college on the horizon. In between those two scenes comes a wonderfully crude film (we're talking 'Superbad' levels of raunchiness), but one in which the overall vibe is sweet: kids patiently waiting for their parents to grow up. On the occasion of their daughters' big high-school dance, three over-concerned parents (Mann, Ike Barinholtz and a revelatory John Cena, a hulking, teary-eyed mess) become aware of their girls' plan to pop their cherries. Furious at this 'sex pact' – it even has its own hashtag, #SEXPACT2018 – the olds decide to mount a counteraction. (There's a clue in the fact that the movie's title once had another word before 'Blockers' that rhymed with 'clock'.) Snappily directed by debuting director Kay Cannon (a screenwriter on the 'Pitch Perfect' trilogy and, more substantially, '30 Rock'), 'Blockers' brews a bubbling panic among the parents, invading where they shouldn't and brandishing their co
Read more
'The Exorcist' meets 'The League of Gentlemen' in a triptych of horror tales that's presided over with assurance and some seriously mordant wit by playwrights-turned-directors Jeremy Dyson and Andy Nyman. They've given their own stage play a cinematic reboot that's both faithful and fresh, without sacrificing any of its macabre intimacy. 'Ghost Stories' is smart, surprising and recognisably British, right down to the peeling wallpaper, caravans and analogue tech of its sorta-bygone setting. Its world is weirdly familiar and yet alien. It's also darn scary. The three storylines' common denominator is parapsychologist Professor Phillip Goodman (Nyman). In truth, it's an odd profession for a man whose sole mission is to debunk witnesses to the supernatural. The arrival of a mysterious cassette sends him to meet three victims of ghostly encounters – Paul Whitehouse's night watchman, Alex Lawther's nervy teenager, and Martin Freeman's Scottish financier – and offers harrowing opportunities to change his mind. Nyman neatly charts Goodman's arc from condescension to icy terror, but it's Whitehouse and Freeman who steal the show. The former's chapter takes place in an abandoned factory guaranteed to haunt your dreams, while Freeman's is an off-balancing mix of cockiness and menace. If the climax feels a touch clichéd, it barely spoils the ride.
Read more
Show more