Things to do in Glasgow this week
Check out the next seven days, all in one place, and find great things to do this week in Glasgow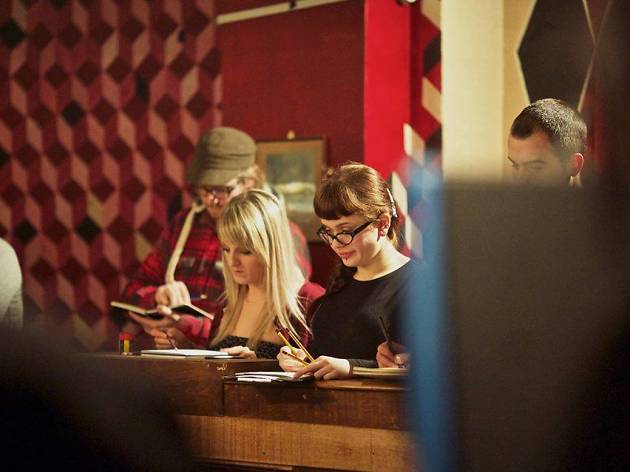 Got your social diary sorted yet? We're here to help – there are tons of great things to do in Glasgow this week. Have a look through our round-up of all the best events and films that Glasgow has to offer. You'll find theatre, art, music and more in our list, so have a look and plan a week's worth of things to do in Glasgow.
Things to do in Glasgow this week
Films showing this week
The British explorer Percy Fawcett – driven crazy by his obsession to find a lost Amazonian city – vanished in the jungle in 1925. His story has everything you could possibly want in an adventure tale: treacherous colleagues, cannibals with bubbling pots, spears flying out of nowhere, shrunken heads, piranhas, even an opera troupe singing Mozart in the wild. But in the hands of 'The Immigrant' director James Gray (adapting David Grann's thrilling 2009 book), it has something that most modern filmmakers would skim over in favour of action: a soulful sense of unresolved wanderlust, and an exquisitely developed tension between family responsibilities and the call of greatness over the horizon. Shot by mighty cinematographer Darius Khondji ('Seven'), 'The Lost City of Z' feels like it comes out of that epic 1970s moment when filmmakers like Francis Ford Coppola and Werner Herzog dived into the mud on their own personal tests of will. Gray works at a relaxed pace; this isn't 'Raiders of the Lost Ark'. Instead, he places the forward momentum wholly on leading actor Charlie Hunnam (producer Brad Pitt originally intended to star himself). His occasional coarseness is a perfect match for Fawcett's early frustrations as a colonel officer from a modest background – or, as one snob puts it, has been 'rather unfortunate in his choice of ancestors'. A Bolivian mapmaking job presents an opportunity for advancement and, with his bushy bearded aide Henry (Robert Pattinson), Fawcett leaves b
Read more
America lies on the brink of ruin in this bleak and bruising comic-book road movie. It's 2029 and Logan aka James Howlett aka The Wolverine (Hugh Jackman) is working as a limo driver in El Paso, Texas, occasionally hopping over the Mexican border to deliver much-needed pharmaceuticals to his Alzheimer's-stricken former mentor Charles Xavier (Patrick Stewart). The mutant race has been all but wiped out thanks to a combination of shady government interference and Charles's own inability to control his powers. But when Logan is tasked with looking after Laura (Dafne Keen), the first mutant child born in decades, he's forced to make a decision: keep running, or gear up for one final stand. Jackman has repeatedly suggested that 'Logan' will mark his farewell to a character he's been tied to for 17 years and seven films. If so, it's a fitting swansong: in stark contrast to most Marvel movies, particularly last year's peppy but pointless 'X-Men: Apocalypse', this feels more like a wake than a party. The colours are muted, all rust-red and glowering grey, and the themes are weighty: loss, ageing and deep, almost unbearable regret. We're never given a full picture of how the world got so messed up, just glimpses of institutional brutality and corporate power, of ordinary people ground under the heel of an increasingly uncaring system. Given that the film went into production well before the earth-shaking events of November 2016, it all feels frighteningly prescient. It's also, with
Read more
"It's morphin' time!" fans will yell, as waves of light explode, color-coded armor creeps onto bodies, and tears of recognition are wiped away. Rarely has a franchise dominated childhoods as thoroughly as the '90s-era live-action 'Mighty Morphin Power Rangers', devoured on TV and cemented with action figures and toys. Today's grown-up kids aren't ready for the reboot, but they should be: The movie knows to make playground fun out of the material. Set against the suburban backdrop of California's fictional Angel Grove, the story (for those not in the know) follows a rag-tag team of teens chosen to defend Earth from evil Rita Repulsa. What this 'Power Rangers' does—unlike the show—is explore the complexities of our core team: They're imperfect but perfect enough to be selfless and save the world. Despite spending the majority of its running time with lead heroes Kimberly (Naomi Scott) and Jason (Dacre Montgomery), the main player of the group is autistic Billy (Me and Earl and the Dying Girl's RJ Cyler), whose enthusiasm and charm are contagious. Kudos to the movie's subversive streak for using a great talent like Bryan Cranston to basically play a gigantic head (Power Ranger mentor Zordon). Bill Hader does justice by robot Alpha 5's iconic squeals while Elizabeth Banks delivers an exaggerated yet powerful villain that should have hit the airwaves 25 years ago: she makes it look like a blast, while devouring gold (don't ask—it's part of her plan). Here, Rita takes a little ti
Read more
You can't recreate your past, but you can relive it in your head over and over again, seeing it differently as you become someone new each year, month, week and day. That's the big, trippy idea at the heart of Danny Boyle's 'T2 Trainspotting', a frenetic but also reflective film about the past colliding with the present. It has some soaring highs and a few lows – but it's never lazy, even if it never matches the one-off magic of the 1990s Britpop-era original. Frankly: how could it? 'T2' sees Renton (Ewan McGregor) arrive back in Edinburgh from Amsterdam where he's been working in 'stock management software for the retail sector' (choose life, indeed) and where his personal life has taken a hit. Back home, he seeks out Spud (Ewen Bremner), to whom life hasn't been kind in an altogether more devastating way, and he reconnects with Sick Boy (Jonny Lee Miller), who is now running a blackmail and prostitution racket with business partner Veronika (Anjela Nedyalkova in one of several underwritten female roles; Shirley Henderson and Kelly Macdonald suffer the same fate). The missing piece of the jigsaw is Begbie (Robert Carlyle), who's still seething about being stitched up by Renton all those years ago and who's stuck in jail – but not for long. 'T2' is a sequel, but it's not just about continuing a story. It knows how much is riding on our nostalgia, and it wants to prod and play with it. That 'T2' tag could easily stand for 'take two': a second look at the story of friendship
Read more
There may be intelligent life hidden on Mars, but there's precious little of it hidden in Hollywood if this feeble 'Alien' clone is anything to go by. Exactly how this clunky, by-the-numbers sci-fi horror managed to blast free of the DVD bin and engage A-list stars like Jake Gyllenhaal and Ryan Reynolds is hard to figure out, because it certainly wasn't the script. Maybe the idea of floating round a tin can gesticulating at blue-screen beasties just sounded like a fun way to kill time. That said, nothing about Gyllenhaal's performance suggests he's enjoying himself. As the International Space Station's in-house doctor David Jordan, he's so glum and low-key that you suspect he's trying to blend into the steel-grey background, hoping that if he keeps quiet no one will notice he's even in this misfire. Reynolds is louder but not much more fun, and they're joined by a global cast of dead-meat space technicians whose principal mission is to spout statistics and get picked off one by one. Which they duly are, by a mysterious Martian life form that's been frozen in the planet's crust for millennia and has now been brought to Earth for study. There's nothing particularly memorable about the critter in question – it's smart, strong and insatiably hungry, but aren't they always? A handful of tense moments and some neat 'Gravity' style effects just about keep 'Life' ticking along. But the direction by Daniel Espinosa (he of the dire 'Child 44') is seriously shoddy – there's a moment t
Read more
The breakout star of 2014's 'The Lego Movie' now gets his own action-packed, completely batshit superhero spinoff. The first Lego film was a real surprise: what could have been a lazy cash-in turned out to be sweet, funny and fiendishly original in the way it acknowledged and celebrated its own artificiality. And one of the film's highlights was its take on Batman: a self-involved millionaire playboy who dresses in black body armour to fight crime and chase chicks. The inept egomaniac is a time-honoured comedy archetype – think Jack Sparrow, Daffy Duck or Donald Trump – but thanks to razor-sharp writing and Will Arnett's snarling, impossible-to-hate vocal performance, this Batman felt fresh and fun. Happily, the same goes for his solo debut, a ferociously paced, wildly silly pastiche of those comic-book blockbusters we're all getting a bit sick of. The plot may draw on another creaky comic cliché – Batman inadvertently adopts adorable orphan Robin (Michael Cera) and has no idea what to do with him – but 'The Lego Batman Movie' is so jam-packed with ideas, asides and barmy cameos (Lego Bane! Lego Marlon Brando! Lego gremlins!) that there's barely time to notice. Some of it might go over kids' heads – there's a running gag about 'Jerry Maguire' that will bemuse anyone under 35 – but they will lap up the frenetic action and slapstick. Like its predecessor, 'The Lego Batman Movie' also manages to find an emotional centre among all this mayhem. Batman may be outwardly invincible
Read more
This American horror film has more fun playing with racial tensions than with scaring us to death, which for some will be a bit of a letdown. The problem with 'Get Out' is that it is perhaps a touch too in love with its big idea: that for a young African American man, meeting your white girlfriend's parents might be hazardous to your health. (Even if they do say that they 'would have voted for Obama a third time'). Serious young photographer Chris (British actor Daniel Kaluuya), clearly adores Rose (Allison Williams, Marnie from 'Girls'). Still, their trip out of the city to her family's secluded mansion in the suburbs fills him with dread. That deer they crash into on the drive up doesn't help Chris's fraying nerves – and the way the animal stares him down during its last gasps feels like a warning. 'Get Out' is sharp and cutting during its build-up. Rose's parents (Catherine Keener and Bradley Whitford) are awkwardly ingratiating, making a comic meal out of white liberal privilege ('Hug me, my man!' Rose's neurosurgeon dad exclaims meeting Chris). Meanwhile, the family's black servants disquietingly look on like wide-eyed zombies. The writer-director of 'Get Out' is Jordan Peele, one half of the defunct Comedy Central show 'Key & Peele'. While you can't help but cheer his debut film's ambitions, the discipline he found in skit-writing is lost here. Many of the brightest moments in 'Key & Peele' were miniature nightmares in themselves – like their classic sketch 'Continen
Read more
The premise of this second feature from Kleber Mendonça Filho, the Brazilian writer-director of 'Neighboring Sounds', sounds like a recipe for sentimentality and hollow triumphalism. When Clara, a 65-year-old widow and retired music critic, refuses to sell the beloved beach apartment she's lived in for most of her life, she finds herself under attack not only from a powerful property company but from former friends; even members of her own family question her judgment. Happily, Mendonça Filho avoids the pitfalls of feelgood cinema, creating a drama that's credible, complex and very satisfying. Key to his successful sidestepping of cliché is the casting of Sonia Braga, whose evident strength, intelligence and vitality are essential to the character of the embattled but stubborn Clara. Despite having been stricken by breast cancer back in the 1980s (the setting for a brief prologue that reveals her attachment to the same apartment) and lost her husband, she has raised a family, made a name for herself as a writer and retained her enthusiasm for music in particular and life in general. Braga's charismatic performance ensures that we never pity Clara but merely hope that she'll manage to survive the increasingly aggressive tactics of the company determined to buy her out—or, perhaps, prove to her just how unsafe it can be for a person of her age to live alone in a run-down building almost anybody can walk into. As the story unfolds, it also expands; besides being a study of a w
Read more
An orphan girl dreams of becoming a dancer in this charming animated kids' film set in 1879 France. Flame-haired Félicie (voiced by Elle Fanning) runs away from her Brittany orphanage with her friend Victor (Dane DeHaan). In Paris, he becomes an apprentice to Gustave Eiffel, and she joins the Opera as a ballerina – by assuming a rich girl's identity. It's a classic rags-to-riches set-up that captures the thrill of success while delivering a lesson about the need to work jolly hard to get there. Fanning's earnest voiceover helps make Félicie a winning heroine, while DeHaan's Victor is a sweet, smitten teen. Laughs come here and there, but this is more about the magic of dreams and dance: the choreography uses motion capture of Paris Opera Ballet dancers to uplifting effect. The film is also visually opulent – the velvet frocks look sumptuous to the touch. It's a shame that the magnificent 'Swan Lake' is combined with cheesy modern pop ditties. 'Ballerina' is at its best when harking back to the past.
Read more
Show more