Things to do in Glasgow this weekend
Check out this weekend's events and find great things to do this weekend in Glasgow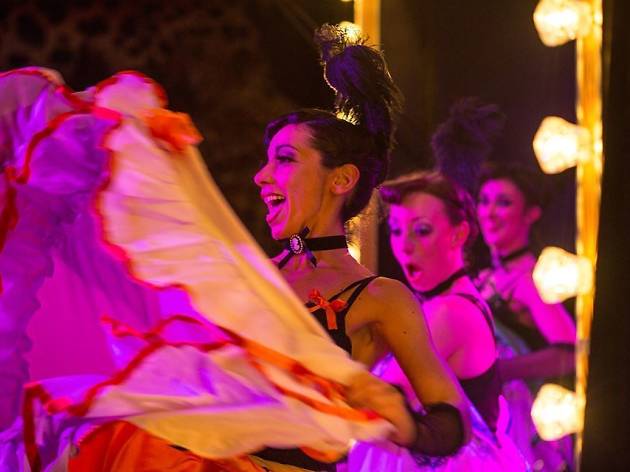 We've rounded up some of the best things to do in Glasgow this weekend, so there's no excuse to let your downtime go to waste. Whether theatre is your bag, you're mad for music or you'd rather stroll around an art exhibition, you'll find it all in our list, plus much, much more.
If you're looking for things to do in Glasgow beyond today, plan ahead with our round-up of things to do this month.
Things to do in Glasgow this weekend
Scotland's most visited museum which houses galleries of natural history, ancient artifacts, Scottish art, old masters and much more.
Read more
This installation by the Scottish artist addresses relationships between the human body and the industrial workplace, in particular, the physical states of strength and vulnerability that underlie human engagement with skilled manual work.
Read more
This exhibition by the feminist social documentary photographer, presents a selection of photographs and material by Franki Raffles [1955-94] from three bodies of work, namely 'Women Workers in the USSR' (1984/1989)', 'To Let You Understand' (1987-88) and material from the first 'Zero Tolerance' campaign (1992), entitled 'Prevalence'.
Read more
A variety of themes of horticultural and botanical interest are found in the grounds as well as attractive walks by the River Kelvin. Its immaculate formal gardens and arboretum provide a welcome break from the bustle of the West End.
Read more
The complete works of the enigmatic Scottish filmmaker comprising of Tattoo, Dressing for Pleasure, Britannia, Arrows and The Skin Horse. Contains adult content and features graphic language, nudity and sexual conduct.
Read more
The opera and theatre companies combine to stage Bartok's one act opera based on the tale of Bluebeard, his new wife and the seven doors. In addition, is a performance of Lliam Paterson's musical that extends the story.
Read more
Rufus Norris, Director of the National Theatre, collaborates with Poet Laureate Carol Ann Duffy on a provocative performance, which uses the exact words of interviews taken in the days after the EU referendum with people around the country. Starring Seema Bowri, Cavan Clarke, Adam Ewan and Laura Elphinstone.
Read more
A new play inspired by the EU referendum, in a collaborative effort between National Theatre of Great Britain in collaboration with Citizens Theatre and seven other UK theatre companies.
Read more
Show more
Films showing this weekend
An orphan girl dreams of becoming a dancer in this charming animated kids' film set in 1879 France. Flame-haired Félicie (voiced by Elle Fanning) runs away from her Brittany orphanage with her friend Victor (Dane DeHaan). In Paris, he becomes an apprentice to Gustave Eiffel, and she joins the Opera as a ballerina – by assuming a rich girl's identity. It's a classic rags-to-riches set-up that captures the thrill of success while delivering a lesson about the need to work jolly hard to get there. Fanning's earnest voiceover helps make Félicie a winning heroine, while DeHaan's Victor is a sweet, smitten teen. Laughs come here and there, but this is more about the magic of dreams and dance: the choreography uses motion capture of Paris Opera Ballet dancers to uplifting effect. The film is also visually opulent – the velvet frocks look sumptuous to the touch. It's a shame that the magnificent 'Swan Lake' is combined with cheesy modern pop ditties. 'Ballerina' is at its best when harking back to the past.
Read more
This charming animated family movie about a teenage Polynesian girl fighting to save her Pacific island's future feels like business as usual for Disney in many ways. There's a strong young female lead, catchy show tunes, lush landscapes and talking animals – a hermit crab with a fondness for trinkets almost steals the film and a dim chicken offers light relief. But this tale from the directors of 'Aladdin' and 'The Little Mermaid' also feels like progress. Moana (voiced by Auli'i Cravalho) is a young woman of colour set to take over from her father as the leader of an island community way back in the past (their beliefs are based around sea-travel and the island's creation myth). When the plants on Moana's island start to wither, the ocean chooses this 16-year-old to defy her father's orders and set sail in search of a muscled demi-God Maui (Dwayne Johnson, self-mocking and funny), who can help her secure her people's future. There's not a prince or potential husband in sight; Moana's future is entirely defined by her leadership and ability to fend off the mansplaining know-it-all Maui. As messages go, we'll take them. The story is a fairly simple quest tale as Moana takes to the open water in uneasy cahoots with macho Maui. His animated tattoos are among the film's visual highlights, alongside the azure waters lapping the sand. There are some belters on the soundtrack, a few of them courtesy of man-of-the-moment Lin-Manuel Miranda, the creator and star of the Broadway sma
Read more
Decadence is both the subject and the style in 'Oldboy' director Park Chan-wook's elegant, intensely romantic adaptation of Sarah Waters's spicy bestseller 'Fingersmith'. Shifting the action from Victorian England to pre-war Korea under Japanese rule, Park has created a film that delights in ornate furnishings, flowing gowns and sensuous sexual imagery, but reminds us that these things are just surface – the stuff that really matters is always kept hidden. Sook-hee (Kim Tae-ri) is a proper Dickensian orphan: raised by a Fagin-like madam on the streets of Seoul, she's an experienced thief and con artist. So when smooth huckster Fujiwara (Ha Jung-woo) needs an eager young crook to impersonate a lady's handmaiden as part of a scam he's planning, Sook-hee steps up. Her mission: to encourage the innocent, unworldly Lady Hideko (Kim Min-hee) to disobey her cruel uncle Kouzuki (Jo Jin-woong) and run away with the dashing Fujiwara – bringing her fortune along with her, of course. And then Sook-hee starts falling in love… The cinematic equivalent of drinking three glasses of champagne in the bath, 'The Handmaiden' is a film to luxuriate in. Park has always been a visual master – even his infuriating American debut, 2013's 'Stoker', had that going for it – but he's outdone himself here. Waters's labyrinthine plot is handled with the utmost care, and the characters – particularly the seemingly fragile Hideko – are beautifully sketched and performed. But it's in probing beyond the pre
Read more
Disney animation enters the '90s and embraces the stunning technical advances of computer-generated imagery — the sequence in the Beast's ballroom is breathtaking — and updates the traditional dependent heroine. This Beauty, Belle, besides representing a move away from the usual Barbie Doll looks, is resourceful, bookish and vigorous in resisting the chauvinist advances of the conceited Gaston, the character who turns out to bear the true mark of the beast. Gaston was based on LA's Medallion Man narcissists, and is well and truly lampooned in the bar-room waltz. Beast, based on a menagerie of brooding buffalo, bear, boar and gorilla, learns to master his temper, and his growing relationship with Belle is infinitely touching. His bewitched castle is enlivened by an antic household including a candelabra with the panache of a French maître d', a neurotic clock and a mother-and-son teapot and cup. The six musical numbers from Howard Ashman and Alan Menken either reveal character or push the action, with 'Be Our Guest' an outstanding example of cartoon choreography. Gary Trousdale and Kirk Wise directed. Dazzlingly good and a treat for all the family.
Read more
David Irving is one of Britain's most shameful sons: a once-respected historian who came to believe (or, at least, to claim publicly) that the Holocaust never happened, that it was all a conspiracy to provoke sympathy for the Jewish people. In 1996, Irving filed a defamation suit in the high court against American writer Deborah Lipstadt, who had taken him to task in her book 'Denying the Holocaust', calling his so-called evidence into question and accusing him of outright lies. The ensuing trial is the subject of this verbose, very watchable but blunt drama scripted by playwright David Hare. Rachel Weisz is Lipstadt, a committed, emotionally driven academic determined to stand up and shame her opponent – to expose his dangerous, laughable arguments in a public court. But when her lawyer Anthony Julius (Andrew Scott) and her barrister Richard Rampton (Tom Wilkinson) both urge Deborah not to take the stand for fear of legitimising Irving's position, she's forced to examine whether she's most interested in facing the man or winning the case. These are the strongest scenes in Hare's script, as the struggle between logic and emotion, between heart and mind, is forced on people who share the same side of a precarious and potentially historic case. Weisz plays Lipstadt as a spiky, not entirely sympathetic character faced with a wall of upper-crust, middle-aged British men in suits telling her how to fight her battles. Wilkinson is coolly precise as her not-quite-adversary, but Sc
Read more
Starting from a classic undercover premise (Pacino descends into Manhattan's SM gay underworld to track a psychopathic killer), and opening with some powerful moments, Cruising soon drifts into bloody Village People-type caricature, with Pacino overplaying his nameless angst as the script patently refuses to tackle the central issue - its hero's sexual ambivalence. The structure continues to loosen, and although Friedkin - like Coppola - has always had difficulty with endings, this one is so arbitrary it's as if he just gave up.
Read more
They're back in blue. Again. Yes, 'The Smurfs 2' isn't even in cinemas yet, and we're already looking forward (sort of) to Part 3. Obviously it's far too early to make a guess as to what the plot will entail, but we're guessing it'll have something to do with a bunch of small blue fellas getting into scrapes, interacting with c-list celebs and generally pratfalling while using the word 'smurf' a lot. Sure, we're going out on a limb, but that's just how we roll.
Read more
No, 'Trolls' is not a movie about the haters with terrible spelling who threaten people on the Internet. This musical kids' animation is based on the plastic dolls with frizzy hair that were big in the '90s. And against the odds, it's funny and snarky, and just a bit bonkers – like everyone involved has had a little hit of liquid acid. Anna Kendrick is the voice of Princess Poppy, the relentlessly upbeat heir to Troll Village, where everyone is so happy they squeeze together for hourly group hugs. Tragedy comes to town when a group of Trolls get kidnapped after partying so hard they attract the attention of gruesome ogres, the Bergens, who can only find happiness by eating trolls. On a mission to rescue her buddies, Poppy recruits a miserable Troll, Branch (voiced by Justin Timberlake), who's the only grey in the village. There are some brilliant characters. Russell Brand is perfect as the voice of a douchey spiritual guru. A sparkly Troll, Guy Diamond, sprinkles glitter from his buttocks. In Bergen Town, a scullery maid ogre (Zooey Deschanel) is transformed Cinderella-style into Lady Glitter Sparkles ('but I still smell like gravy'). There's a lovely crafty feel to the animation – everything's felt and glitter. It's in 3D, but you may want to wear sunglasses under your specs: the brightness may damage your eyes. 'Trolls' is not break-the-mould brilliant like 'The Lego Movie' or 'Toy Story', or a keeper like 'Frozen'. But it's a lovable and giddy guilty pleasure.
Read more
Show more