The best places to see plum blossom in Tokyo
Before the cherry blossoms come to announce spring in Japan, the plum blossoms burst into full bloom first. Put on your winter jacket and head over to the best spots to appreciate these heralds of spring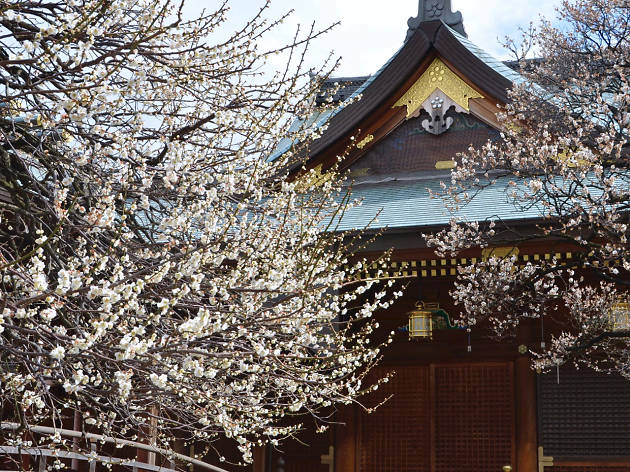 By

Time Out Tokyo Editors
|
Plum – or ume – flowers bloom a full month earlier than the glorious cherry blossoms that symbolise spring in Japan. Still, these mainly white and pink beauties are renowned for their pleasant fragrance that fills the Tokyo air from early February to mid-March, and have been held in high regard for over a millennium. Plum trees can be found all over the city, but there are some parks, shrines, temples and gardens that reign supreme as the top ume-viewing spots, many of which have been popular for centuries.
The best places to see plum blossom in Tokyo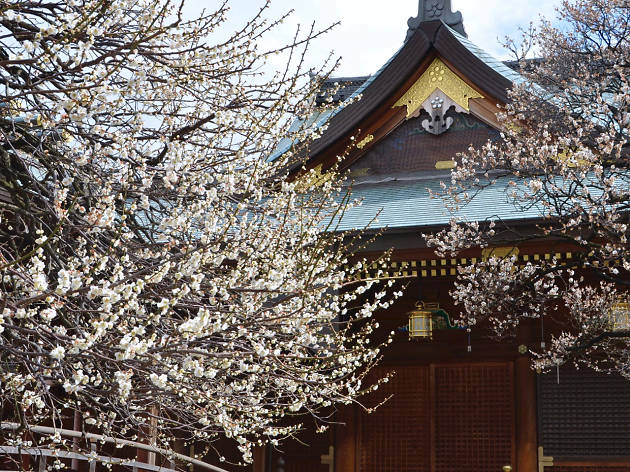 A popular place for blossom-watchers since medieval times, this shrine in Bunkyo still draws significant crowds towards the end of February. It's busiest on the weekends, when the natural splendour is complemented by performances of traditional Japanese music and stage arts. 3-30-1 Yushima, Bunkyo-ku.
The beautiful flowers of Hanegi Park's more than 600 plum trees provide a great excuse for making your way west to Umegaoka in Setagaya before the advent of spring. Expect stalls selling plum-related (and unrelated) snacks, plus music performances, haiku readings and free servings of matcha tea. 4-38-52 Daita, Setagaya-ku.
From mid-February onwards, Kameido's charming Tenjin shrine celebrates the blooming of its 200-plus plum trees. All sorts of events take place during its annual Plum Festival, which is well-attended on the weekends from middle of February until early March. 3-6-1 Kameido, Koto-ku.
The Jindai Botanical Garden's plum park turns pink, purple and white around mid-February, when the approximately 180 plum trees burst into bloom. You can take one of the guided tours and learn more about traditional plum-growing techniques. 5-31-10 Jindaiji-Motomachi, Chofu-shi.
The only surviving Edo-era flower garden in Tokyo boasts an impressive collection of old ume trees. It's not the biggest compound and is somewhat out of the way, but well worth a visit for those looking for some peace and quiet. 3-18-3 Higashi-Mukojima, Sumida-ku.
Enjoy the Musashino spring at Koganei Park, where around 100 plum trees burst into bloom in February. Volunteers will be on hand to guide visitors around the park, and there will also be performances of traditional Japanese music at a temporary stage set up under the trees. Open-air tea ceremony is available, while classes for calligraphy and decorative knot-tying are set to take place as well. 1-13-1 Sekinomachi, Koganei-shi.
Okay, so techinically this one is just outside of Tokyo. Still, although best known for its cherry blossoms, Yokohama's spacious Sankeien is also a nice choice for plum-watching. Bursting into white and pink from early February to mid-March, the around 600 trees here include a few rare varieties. 58-1 Honmoku-Sannotani, Naka-ku, Kanagawa.
Constructed under the watchful eye of 17th century Tokugawa daimyo Mito Komon, Koishikawa Korakuen's plum tree garden remains beautiful to this day. The best time to visit the grounds is in late February, when the trees become filled with purple and white flowers. The park's yearly festival also features performances of traditional music, Edo-style street artistry and guided tours of the park. 1-6-6 Koraku, Bunkyo-ku.
Ushi Tenjin Kitano Shrine
Kasuga's Ushi Tenjin shrine is dedicated to ninth-century scholar and poet Sugawara no Michizane, who is said to have loved the sight of plum flowers. It's thus only fitting that the shrine grounds feature dozens of plum trees, the blooming of which is celebrated in February. The ancient shrine also houses a cow-shaped sculpture that's said to make wishes come true for anyone who strokes it. 1-5-2 Kasuga, Bunkyo-ku.
Boasting a total of 500 plum trees, some of them more than 300 years old, Hino's Mogusaen has long been famed as one of Tokyo's best ume-viewing spots. Once frequented by literary greats like novelist Kenjiro Tokutomi and poet Bokusui Wakayama, the park is still an impressive sight in February and March, when the flowers burst into bloom. 560 Mogusa, Hino-shi.
Been to Vietnam?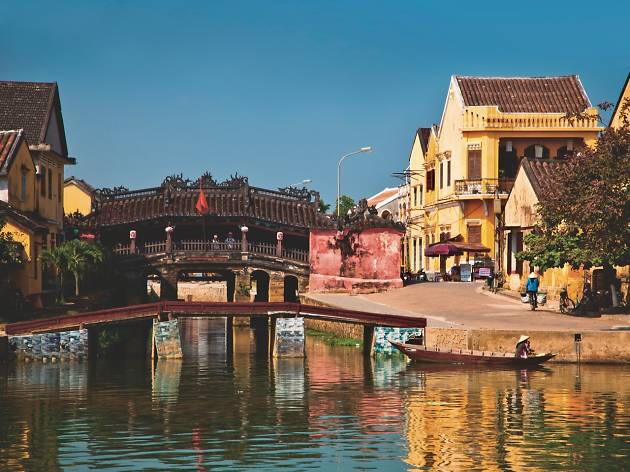 Hanoi and Ho Chi Minh City may grab the headlines but this quaint city in central Vietnam has been a Unesco World Heritage Site since 1999 – and is the perfect city to hit up for a weekend break.