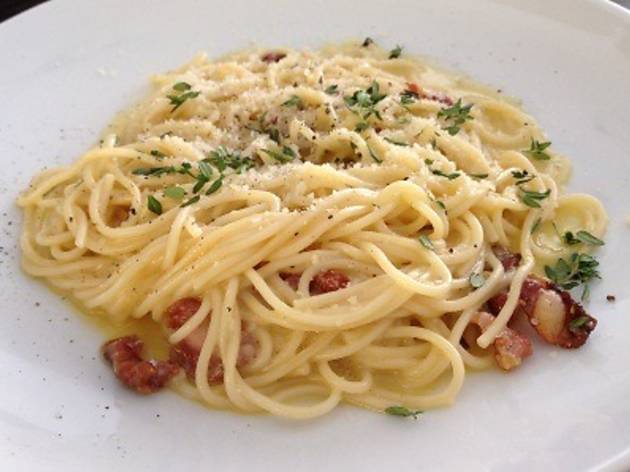 May 2012
The strategic neighbourhood that is Taman Desa is known for its water park and upper-class condominiums but lesser known for its food. Naturally, it's exciting to hear about an opening like Casa Del Cocco which takes over Café Libre's old spot.
The setting is cosy and we see things like wood logs, a wood fire oven and potted plants which look like overgrown watercress. If it makes sense, the interior here is more Asian-Italian than Italian-Italian. Like a cross between a quality Italian restaurant (La Risata) and a fusion mall chain (Pasta Zanmai).
Our garlic bread, the ubiquitous starter, arrives and the bread is generously rubbed with garlic and flecked with minced garlic. Shockingly simple stuff. If you sliced a baguette, chopped up a few cloves of garlic and grilled both in an oven, it would appear exactly as it does on our plate. Uncomfortably so, the restaurant brings new meaning to the phrase 'tastes like home'. Do you savour the food in a way you reminisce your college days or do you feel cheated paying for food you can quite easily make at home? Unfortunately, it felt like the latter here.
The mains easily redeemed the meal. The spaghetti carbonara, said to be a specialty here is lacking of cream, an invigorating change from the all-too-creamy rip offs. The yolk-based sauce and bacon chips round off a value-for-money meal and the same can be said about the pork bolognese, a tasty version of the classic rippling in fresh basil. Thin-crust pizzas, soups and standard Italian desserts make up the rest of the menu but plenty flock the place for their pork or veal chops.
While the creations at Casa Del Cocco may not be highly inventive, both service and food is carried out with love. More than adequate as a neighbourhood café, it also leaves you safe - so much so the potential tale of you leaving your iPhone on the table will most likely end with the staff keeping it at a lost and found nook till you make a next visit. Surekha Ragavan
Venue name:
Casa Del Cocco
Contact:
Address:
18, Plaza Danau 2, Jalan 5/109f, Taman Danau Desa
Kuala Lumpur


Opening hours:
Open daily, 7.30am-10.30pm