Arts & Entertainment
Your complete guide to Kuala Lumpur's art exhibitions, theatre plays, musicals, comedy, movie reviews and film trailers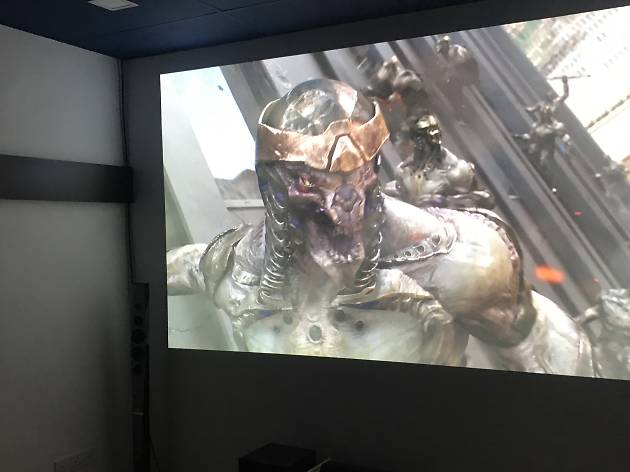 Now open: Amenic Film Space
In the age of Netflix and (illegal) streaming sites, you'd think that an indie cinema space makes little business sense. Despite that, former advertising agency colleagues Jovy Low and Tay Shen Thuu saw enough value in opening up Amenic, a place where movie buffs, families and friends can watch their favourite movies in a cosy little spot of their own. Housed in a shoplot above Lat Tali Lat Café in PJ, Amenic – that's 'cinema' spelt backwards – is hard to notice if you're just passing by: aside from the chalkboard announcing the day's screenings and a sign that lights up a lonely neighbourhood at night, there's little else to indicate its presence. Step inside, however, and you'll come to appreciate the ingenious work the duo has done in creating a mini-cinema within a limited space: there's a concession stand peddling popcorn, drinks and blankets for rent; three screening rooms; a BluRay library featuring more than 200 movies; a waiting area; a comic book stand; movie posters for sale; and even a spare room for miscellaneous gatherings. The screening rooms aren't big, but they do the job in providing a fun movie-watching experience. There are two types of screening rooms available – a single Binge Space that fits 12, and two Cozy Spaces that each fits a party of four (five if you cram). The Binge Space, as its name suggests, is where you get to see up to four pre-determined movies on a single ticket (RM9 on weekdays/RM12 on weekends), while the Cozy Space is where you can
Upcoming theatre and comedy events in KL
Teenage Dream
Theater for Young People (T4YP) presenting their final showcase this week. In Teenage dream, they aim to portray the faith, hope and vision of young...
Buy tickets
Crackhouse Presents Pete Grella
The Hong Kong based stand-up comedian is back in Asia again, Pete Grella who have been performing improv for over nine years around Hong Kong and Asia is yet...
Buy tickets
LOL Events and Adrian Bohm present Jimmy Carr
If you're familiar with the British stand-up comedy scene, it's hard not to recognise the name Jimmy Carr. With 15 years of experience in the...
Buy tickets
See more theatre and comedy events in KL