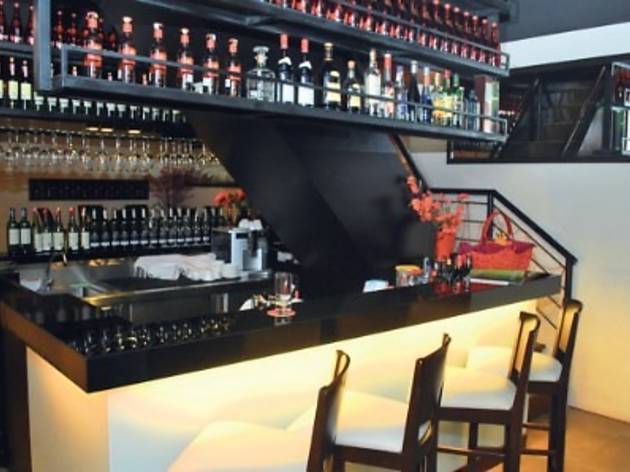 Time Out says
March 2013
Mention Plaza Damansara and images of hearty RM5 pastas usually come to mind. The Humble Chef is a neighbourhood institution around these parts, and the artwork-centric café was suitably packed to the rafters when we passed it on a Monday night. Ignoring the temptations of affordable chops, my companion and I headed down the street to the visibly less hectic Chef Diary.
Since opening its doors in 2009, the classy and dimly lit restaurant-bar has quietly gained a growing reputation for serving an extensive array of tapas and other Spanish treats, including its much-talked about oxtail braised in Madeira wine. Being fans of sup buntut, the scrumptious sounding tapas dish was one of the main reasons we visited Chef Diary, but our hopes were quickly dashed when we were told by our friendly server that it was not available. Our disappointment was short-lived, however, when the recommended smoked duck breast tapas arrived swiftly at our table. The zesty sweetness of the apple cider dressing complemented the succulent slices of smoked duck breast perfectly, resulting in a well-balanced appetiser that ticked all the right boxes.
Choosing between mouth-watering items like almond vodka chicken pasta (RM32) and tenderloin fillet mignon (RM80) was an enjoyable conundrum to have, though we finally opted for the Marisco seafood paella. Although the abundance of fresh seafood like clams, black mussels, scallops and prawns on the wok initially caught the eye, it's the moist Spanish rice that took the plaudits. The flavour-packed and aromatic traditional Valencian rice dish is a decent enough portion for two and possessed the right blend of herbs and spices that didn't overwhelm the senses.
We capped off the fine evening with panna cotta served with a refreshing Melba sauce. While the dessert's consistency was commendable, it was overly creamy and milky for our liking, but that minor gripe did little to take the gloss off an ultimately satisfying meal. The only surprise of the night was the fact that we were the only patrons at the eatery throughout our hour-long dinner, because if an intimate setting replete with background flamenco music and top notch paella are some of the qualities of a popular Spanish restaurant, then Chef Diary should rightly be stuffed to the brim. Wong Boon Ken
Details