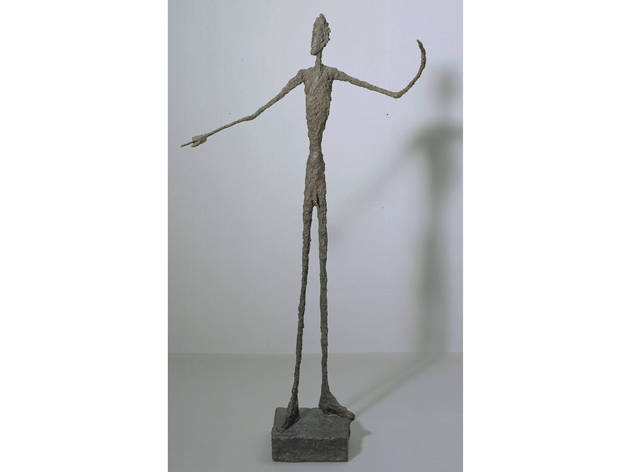 1/2
Alberto Giacometti, 'Man Pointing', 1947. © The Estate of Alberto Giacometti (Fondation Giacometti, Paris and ADAGP, Paris), licensed in the UK by ACS and DACS, London 2016.
2/2
Giacometti, Alberto, 'The Studio I', 1954. © The Estate of Alberto Giacometti (Fondation Giacometti, Paris and ADAGP, Paris), licensed in the UK by ACS and DACS, London 2016.
Time Out says
If you've heard of Alberto Giacometti, you're probably thinking: 'Oh yes, that bloke who did the spindly stick people.' So much has already been written and said about the Swiss artist; luckily, this show doesn't attempt anything too spurious. But that invites a slightly worrying question: if there's nothing new to add to the Giacometti story, then does he still matter?
The first few rooms go through the usual motions: formative years, early influences. He was 21 when he moved from Switzerland to Paris to train as a sculptor and entered an art scene that would have been a feverish petri dish of avant-garde movements and radical ideas. It's interesting to see how the young Alberto dabbled in cubism and surrealism, and how he applied them to his twin sources of obsession: the head and figure. Lots of the early stuff is delicate and sensual – informed by the art of non-Western cultures like Ancient Egypt and West Africa – but do look out for the fascinatingly horrifying 'Woman With Her Throat Cut' (1932), a deconstructed heap of abstracted body parts, its ribcage open like a sprung bear-trap.
By the time World War Two broke out, Giacometti found himself trapped in Switzerland and working on figurative sculptures that were growing ever smaller, in an attempt to depict a sense of distance between viewer and subject. Let's be honest, bronze figures the shape and size of a matchstick should come off as a bit gimmicky. But they don't. It's at this point you realise the one, embarrassingly simple revelation of this exhibition: Giacometti's stick figures are incredible.
Plenty are on display here. Some are life-size, some are eight feet tall; some are ensconced in cage-like boxes, some are fixed on things resembling wheelchairs. There's so much to discover here, whether it's the jarring optical effect walking around his elongated heads induces, or the primordial way faces and limbs emerge from shapeless mounds of thumb-pocked plaster, or the sense that these isolated figures are imprisoned on their bases. Alongside them are his paintings and drawings – portraits of his wife, brother, mistress, peers – so frantically layered and overworked around the all-important head area that you can practically feel a gravitational pull.
There's no getting round the fact that Giacometti is an anachronism, an artist of the previous century, the product of a bygone era when you could still get away with making ludicrous statements like 'when my wife poses for me, I simply don't recognise her'. That we don't learn anything new here about him is fine. Sometimes you just need reminding that artists became famous for a reason. In this way, he still matters.
@MattBreen3
Details
Average User Rating
4.3 / 5
Rating Breakdown
5 star:

2

4 star:

5

3 star:

0

2 star:

0

1 star:

0
This exhibition is like a good Wikipedia page.

You find yourself interested in something, so you go through its Wiki page.
After seeing this exhibition, I know a lot more about Giacometti than I did before visiting (which was very little) and I agree, he's really good. Some pieces were rather extraordinary and I came back to look at them.

As a summary, this works perfectly well.


What is lacking a little is any sense of controversy...however why do I miss that? Not sure. Perhaps contemporary art has a bad influence on me!
Alberto Giacometti was Swiss, not Italian!!! He even figures on the 100 Swiss francs bill.