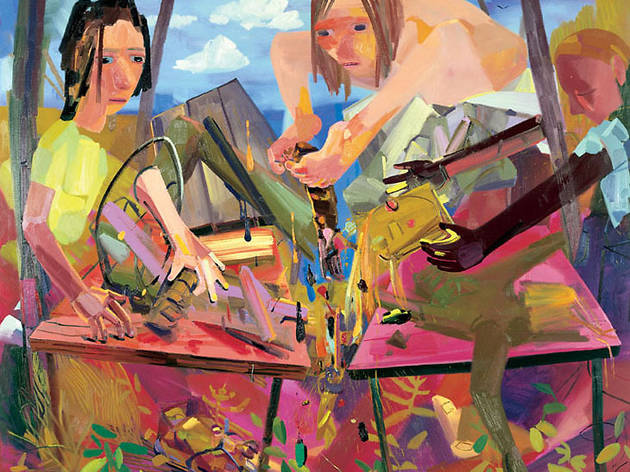 1/6
'Reformers', 2004
© Dana Schutz, 2004. Image courtesy of the Saatchi Gallery, London
2/6
'Grace in Window', 2006
© Tanyth Berkeley, 2006. Image courtesy of the Saatchi Gallery, London
3/6
'Carnalitos (Unamuno)', 2010
© Kasper Kovitz, 2010. Image courtesy of the Saatchi Gallery, London
4/6
'Sarabande', 2006
© Jansson Stegner, 2006. Image courtesy of the Saatchi Gallery, London
5/6
'Floating Island', 2012
© Makiko Kudo, 2012. Image courtesy of the Saatchi Gallery, London
6/6
'Untitled (from the Essence series)', 2013
© Denis Tarasov, 2013. Image courtesy of the Saatchi Gallery, London
You can see the headlines now: 'Painting is BACK', 'Figuration is the future!'… At least, you imagine, that's what the team behind this show of contemporary figurative painting and sculpture at Charles Saatchi's Chelsea mega-space were hoping for. It ain't gonna happen. But there is some fantastic work on display. Dana Schutz's breezy and colourful paintings of surreal picnics, auto-cannibalistic heads and Technicolor human sacrifices are awesomely off-kilter. Jansson Stegner's fantastical and pervy nymph-like policewomen, posing sensually in whimsical landscapes, carry a brilliant threat of violence. Technically, Michael Cline's squalid, satirical pictures of American life played out on the streets are the best on display, brilliantly painted and full of sneering sarcasm.
Makiko Kudo's alien tropical landscapes aren't bad either; filled with sad manga-ish characters, they're like post-impressionist Paul Gauguin doing animé. But then there's the truly bad. An overdone and unoriginal fusion of street and high art (spraypaint and oils, man!) by Eddie Martinez; some heavy-handed and hackneyed reclaimed wood gravestones by Marianne Vitale. The list goes on…
The real star is Andra Ursuta's two savage sculptures. You walk in seemingly seconds after a massive shoddy catapult has slammed a woman into the wall, leaving her broken figure on the floor and a huge crack in the plaster work. On the other side of the room, an almost identical figure lies naked, wasted away, her skin blackened and covered in wax. Ursuta's work is shockingly violent and disturbingly harsh, and brilliant for it.
There's no grand statement to be made about the importance of figurative art here. Instead, you leave with the impression that there's good art and there's bad art, and that Saatchi may not know the difference.
Eddy Frankel
Rating Breakdown
5 star:

0

4 star:

1

3 star:

0

2 star:

1

1 star:

0
Experience the human body through the eyes of 19 emerging international artists in this huge show at the Saatchi Gallery. Through a combination of painting, photography, sculpture and ham (more on that later), this diverse group of artists present their take on how we see ourselves in the 21st Century. The works featured range from the ridiculous to the sublime, stopping en route at grotesque, challenging and rather beautiful. On the ground floor, Russian artist Denis Tarasov has amassed a huge collection of photos of mobsters' gravestones. What sets them apart is their life-size portrayal of the interred, intricately etched into black marble slabs. The effect is chilling but also rather camp, pictured as they are with treasured possessions, dated cars and the occasional pet. The photo series is displayed alongside Marianne Vitale's rough-hewn gravestones made of reclaimed timber, giving the whole room a macabre air. Elsewhere in the gallery, the subject matter gets a little more lifelike - and sometimes hyperreal. Particular highlights include Amy Bessone's stunning, larger-than-live canvasses Eunuch and Faust (pictured below). Michael Cline's series of four cautionary tales (first image) deserve a mention too for their remarkable detail and stunning composition. A handful of sculptures also delight, none more so than Nathan Mabry's Very Touching Moment (end). Photography, too, features prominently. Californian artist Tanyth Berkeley has produced a series of striking if somewhat unsettling images that portray the full spectrum of human femininity. This collection is varied, content-rich and highly accessible, particularly in comparison to some recent exhibitions at this venue. It wouldn't be Saatchi without something a little bleeding edge, and they don't come much more avant grade than Viennese artist Kasper Kovitz's Carnalitos series, rendered in Iberico ham. For more of the latest arts reviews, check out www.curatedlondon.co.uk
Though maybe not inspiring, most of the work is convincing of effort put into each piece and this is a permanent redemptive feature in Saatchi's exhibitions. The little 'Misanthrope' by Francis Upritchard, a personal favorite.