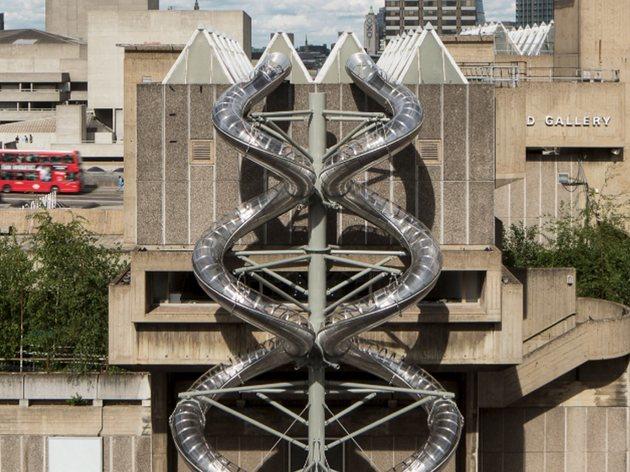 1/12
Carsten Holler, 'Isomeric Slides', 2015. Photo: David Levene
2/12
3/12
Carsten Höller, 'Flying Mushrooms', 2015 © Carsten Höller. Courtesy of the artist, Photo: Linda Nylind
4/12
Linda Nylind
Carsten Holler at the Hayward Gallery in London. Photo by Linda Nylind. 6/6/2015.
5/12
Carsten Höller, 'Dice', 2014 © the artist, photo: Ben Rowe
6/12
Linda Nylind
Carsten Holler at the Hayward Gallery in London. Photo by Linda Nylind. 6/6/2015.
7/12
Linda Nylind
Carsten Holler at the Hayward Gallery in London. Photo by Linda Nylind. 6/6/2015.
8/12
Linda Nylind
Carsten Holler at the Hayward Gallery in London. Photo by Linda Nylind. 6/6/2015.
9/12
Linda Nylind
Carsten Holler at the Hayward Gallery in London. Photo by Linda Nylind. 6/6/2015.
10/12
Carsten Höller, 'Phi Wall I', 2001. © the artist. Photo: Marc Domage
11/12
12/12
The artist who put participation into art gets his first UK retrospective before the Hayward closes for renovation.
Carsten Höller's art requires you to use your hands quite a lot. Whether it's finding your way through pitch-black metal corridors from the entrance to the lower gallery; gripping on to the handrail of a flying machine that soars over Waterloo Bridge; attempting to get inside a giant die; taking a red and white pill that may or may not be a placebo or getting yourself in position before you whoosh down a slide upon exiting the show.
Hands aside, the key element in the German-Belgian artist's survey is decision-making, hence the exhibition's title. From the moment you step into the gallery's foyer, Höller puts us through our paces by offering numerous choices. So does it matter if you pick entrance A or entrance B into the show? Or take the left flying machine as oppose to the right flying machine? Yes and no, as ultimately everyone is going to have a different experience regardless of what they pick. It's the fact that we have to choose. Höller disturbs our expectations by using perception-altering effects.
For those less willing to get strapped into a flying machine – which I highly recommend – fortunately Höller isn't all about the spectacle and merely observing is as active as partaking. Other works play with duplicate scenarios, like a series of TV monitors on which seven sets of twins address one another, or the competition between two rival music groups in the Democratic Republic of Congo played out over two film projections.
This alternating between direct engagement and composed contemplation is what ripples through the show. It doesn't matter that some of the propositions don't quite work, like the 'Pinocchio Effect' that's supposed to make your nose grow or compress: mine did neither. Höller urges us to consider alternative possibilities. I mean, what would it be like if we could all leave work via a slide? We'd surely exit the office with a smile on our face.
Freire Barnes
READ OUR ULTIMATE GUIDE TO 'DECISION' HERE
Extended opening hours for the last few days of the exhibition:
Thu, Fri 11am-10pm; Sat, Sun 10am-10pm.
Average User Rating
3.1 / 5
Rating Breakdown
5 star:

2

4 star:

7

3 star:

9

2 star:

6

1 star:

1
A little bit underwhelming, especially if you have small children and are used to spending time in playgrounds. Too many safety-conscious guards in black t-shirts monitoring you.
Wd be better to use other methods of mind altering (glass of wine and watch the sunset over Waterloo Bridge...)

As an art student the exhibition was fascinating I loved seeing how the mind and body could be manipulated by the slightest sense . I do feel it was slightly scarce and some of the pieces were a let down also the wiring time for some of the interactive pieces were way to long but apart from I do recommend.
A day of firsts!
I have seen numerous exhibition at the Hayward Gallery, but this by far was the best yet!
Around every corner awaits a new mind-altering experience that is sure to intrigue!
There are queues so it's a good idea to book an early slot to avoid the midday rush. I spent four hours exploring the exhibition so would definitely advise setting aside at least a few hours to fully immerse yourself in Holler's world!
A must see!
It was great when staying over in the Roaming Beds; you had the whole place to yourself and there isn't any queuing nor small children. It was an experience that I'll never forget.
Too much waiting around! It's abit like being at a theme park but all of the rides you queue for are underwhelming. Seems like a mismatch of ideas, fairly interesting environments are created but not worth paying £10 to wait to experience them.
I have been to many exhibitions at The Hayward Gallery (including the Light Show and the Martin Creed show), and have always been seriously impressed. So although I did not know much about Carsten Holler's work, I trusted that it would be a good show. Unfortunately, it was seriously underwhelming... Each of the parts of the exhibition felt disjointed, as if they had all been done by separate artists. The concept of 'decision making' which was meant to be the premise, was not emphasized at all (apart from the two entrances at the beginning) and therefore there was no real profound meaning to any of the work.
It felt like the focus of the exhibition was on 'fun activities' (eg upside down glasses, virtual reality head sets and a machine that rotated you around), but even these were quite dull, and required up to an hour of queuing (on a Tuesday afternoon). It was somewhere in between an art exhibition and a playground, and did neither very well.
The slide on the way out was fun, but not worth the ticket price alone. I'd say save your money and go elsewhere.
Bad. It really doesn't worth the price of the ticket.
The entrance is fun.... then, once you're in, you need to queue again to see the only two other interesting things of the exhibit.
Really really enjoyed it! It was completely different to any type of art I've ever experienced before, full of lots of fun, excitement and adventure. Definitely recommend it!
Even though it was practically empty when I visited (5.45pm on a Tuesday), I was a bit disappointed. Didn't really feel like there was enough STUFF to fill the space, and many of the pieces were frankly a bit dull. I know this is art rather than entertainment, but I'd expected to feel a bit more engaged with the pieces. Instead I was in and out (via the best bit – the slide) in around 20 minutes. Worth seeing, definitely, but not the boundary-smashing blockbuster I'd expected.
Take a journey to the Carsten Holler exhibition. It's such a great show. From the minute you enter the Hayward Gallery your senses are heightened as you decide to take door A or B. It's all a bit Matrix. When you get through the door you go down a dark walkway, never sure where you will end up. There are so many experiences from taking a pill to flying over London to seeing the world upside down and to exiting on that fast fantastic slide (a bit too fast for me!). I had a huge smile on my face when I left the exhibition! I highly recommend this show.