Damien Hirst: Two Weeks One Summer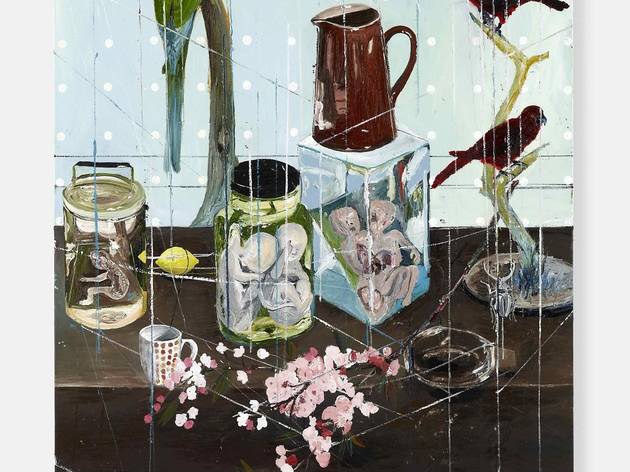 Despite being a supremely thick-skinned artist, Damien Hirst must nevertheless still twitch at the acres of bad press he generates. After all, he is only human and isn't, as far as I know, a delusionary dictator or recently deceased (as two recent reviewers decided). Journalistic bluster aside, Hirst's latest dreary, ill-conceived paintings don't help his case, even if their date range of 2008-12 suggests they weren't quite boshed out as they are titled, over 'Two Weeks One Summer'.
These recent Rembrandt- and Bacon-inspired parrot, crow and magpie vanitas paintings were notably absent from his career survey at Tate Modern and surely represent the most unwelcome skeletons in his closet alongside his photorealist pictures of circa 2005-08, also thankfully best left out of sight and so out of mind. And yet he paints so many. The 35 canvases here borrow the unifying structures (blobbed-on spots, potato-printed butterflies, sketched-in frames) found in his factory-style production lines and similarly suggest he doesn't know when to stop. Maybe Hirst can't afford to edit – the big dealers and bigger galleries he works to clearly demand high volume – but he should. Dead space and banal object depiction may conceptually link to his overarching project but they make for a flat viewing experience. The gestures are too small; the lack of variety is stifling. If they were worse (knowing cack-handed, irreverently slapped on) they'd be better.
Any postmortem would find that rumours of his untimely passing into obscurity are greatly exaggerated, because Hirst is now the art world's equivalent of the undead – an immortal, Teflon don. We've made him that way, through our desire to both set on a pedestal and set upon and maul our own famous sons and celebrity daughters. Yet, ironically, if starved of the oxygen of publicity, Hirst might slowly shrivel away in a self-centred, vitrined vacuum of his own making, much as the pickled baby foetuses he depicts in two of these paintings. It would be nice to be able to just focus on the work again, but secretly he must be hoping that the one reaction he doesn't get next time around is apathy.