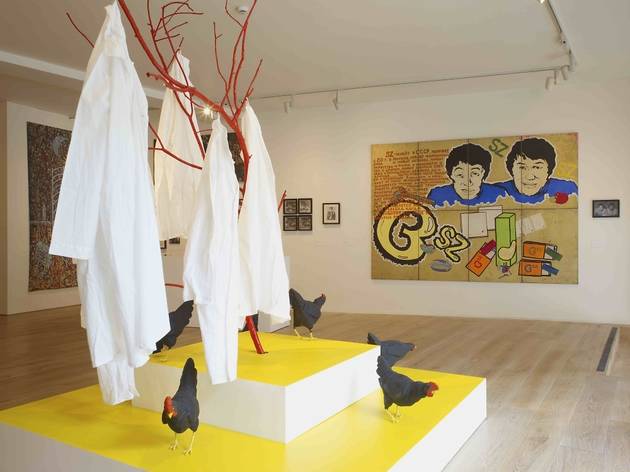 Muscovite artists working in the 1970s were either forced to tow the Soviet line and make strapping, kitsch images of state-approved 'Social Realism', or duck under the radar and go 'unofficial'. Dense and archival, this laden survey exhibition details the fervent period of underground activity played out by such resisters.
Art spilling into life, Dmitri Prigov, Viktor Pivovarov, Ilya Kabakov and peers – now known as the Moscow Conceptualists – showed small-scale works in apartments and worked collectively to perform rural actions. Seen together here, it becomes clear that their context-driven Conceptualism, awash with Soviet red – the subversion of socialist ideology (their championing cause) – is distinct from the Western equivalent that emerged around the mid-1960s.
This period of Russian art history is now gaining recognition as a precursor to participatory works. As such, the ephemeral nature of much of the work from this time has resulted in the documentary nature of this show. Black-and-whites, quotes, testimonies and props abound – and when coupled with the modest scale of many of the 'junky' forms, the works appear as curiosities, often in cabinets.
With reference to a contemporary audience, accompanying literature refers to the 'viewerly angst' that is often experienced in front of these works. While reliant on texts and specific situations, and frequently with existential intent, these terse Russian-language works are certainly difficult. This does not obscure, however, the magnitude and significance of the creative commitments made by these artists, having to work under such severe forms of repression.