Gainsborough's Family Album review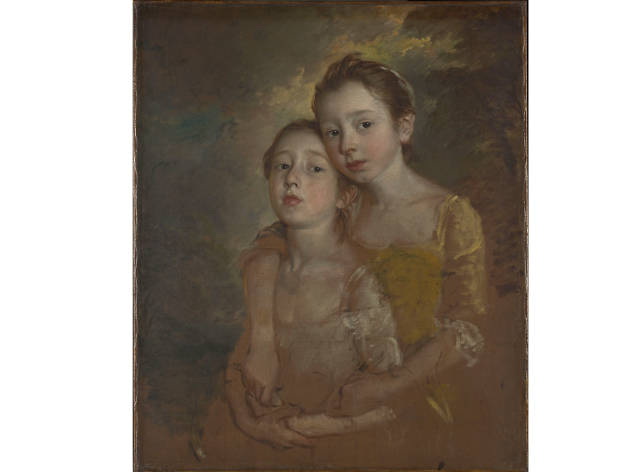 Time Out says
Blood is thicker than water; paint is thicker than both. The point being, however deep your family relationships, the real artist will probe away at them for what lies underneath. This is something which we're used to in contemporary art, but it was not the norm in the eighteenth century. Ho no. You didn't bother painting anyone who wasn't paying through the nose and/or furthering your career; certainly not your dowdy in-laws. Thomas Gainsborough did, though. A lot.
That's the main thrust of this show and it's a quietly revelatory experience. Gainsborough was a prodigy: he arrived in London in 1740 from rural Suffolk in his early teens; by 16 he had his own studio and was accepting commissions. After a wildly successful period in Bath as a renowned society portraitist, he returned to the capital an establishment figure and founder member of the Royal Academy. But he was restless with his fame and the demands it brought. That restlessness is in every brushstroke on every canvas here. In an expressive creative outpouring, Gainsborough paints his wife and children, his brothers, sisters, nieces and nephews in between bigging up the great and good of the country for coin.
Take the portrait of his brother John 'Scheming Jack' Gainsborough. His eyes are red-rimmed, his hair is lank and greasy. He looks done in by his weekend. It's an unflinching – even harsh – depiction of anyone, never mind your own brother. But this is an image that was never intended for public display. Gainsborough revels in what you can put into a portrait when you're not forced to fluff a snobby sitter. There is pity and frustration and the kind of conflicted affection you feel for people you love who've let you down. Like many of the works here, it's unfinished. But that gives it a unique intimacy. Poor Jack – failed inventor, constantly broke – literally has no background: in the middle of painting him into life, his successful brother has been interrupted by something more important, leaving him adrift.
Even more revealing is a large double portrait of Gainsborough's daughters Margaret and Mary. They are depicted as perfect young society women: beautiful, richly dressed, in a sylvan landscape. They even have a cute dog. Like a couturier, Gainsborough has clothed his own family in the painterly elegance that his posh clients would pay hundreds of pounds for. He wills his own offspring to the same heights. But in fact, both daughters were disappointed in life: their father's skill could only elevate them so far.
This show is a lesson in reading: faces, clothes, expressions. It invests these people with dramatic life, and humanises an artist whose upmarket clientele relied on him to make them appear more than human. It's full of hopes, frustrations, fears, resentments and things unsaid. Like every family.
Details