Lloyd Corporation: Connect. Conjugate. Continue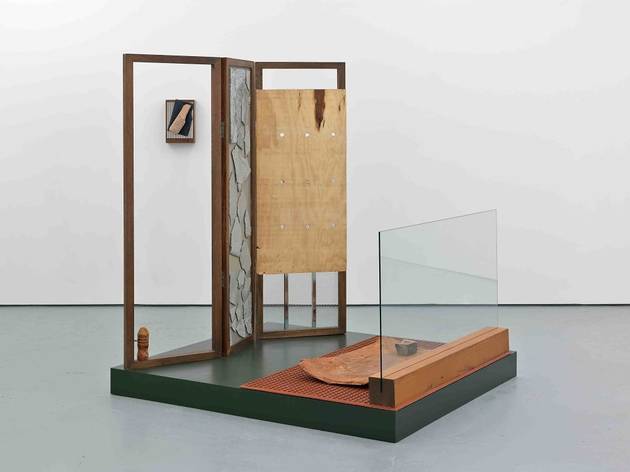 Thoughts of boom and bust fill one's head stepping over the newly painted threshold of Carlos/Ishikawa, given that the inaugural show is by a British/Norwegian art duo who sound like a multinational. And Lloyd Corporation are, in an ironic, reductionist kind of way, concerned with the ups and downs of the global economy: specifically, the peculiar lifespans of commodities through times of plenty and disaster.
In anything less than a crisp white box, which this new space provides, the assembled works here might be easily dismissed as familiar London art bric-a-brac. They are, however, far more precise art-referential embodiments of risk and ruin – precarious arrangements of corporate and relief-effort materials – as commodified through market processes. Grey commercial wall units could be labelled 'Agnes Martin for Ikea', while a World Food Programme 'beanbag' makes light work of Santiago Sierra-style monumental art statements on the awful ironies of global wealth distribution.
Soon, the idea of satirical artistic comment as (un)worthy of personal profit (for these are, presumably, works for sale), starts to wear thin. 'Interior Music', however – a curated room of redundant commercial languages, including a video of sublimely re-edited 1990s Bang and Olufsen promo material – situates one simultaneously in and around the problem. Lloyd Corporation are known for their installation works and this, as a more awkward commodity, brings to light their ability to conjure up the grey states between systems, producers and consumers.