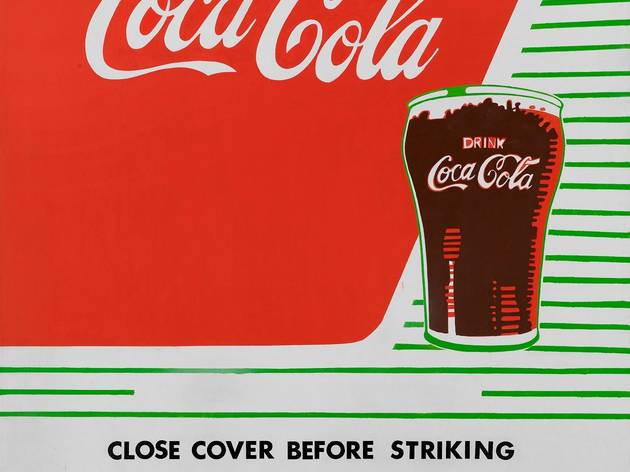 1/10
Close Cover Before Striking, 1962
© 2012 The Andy Warhol Foundation for the Visual Arts, Inc.
2/10
Leonardo, sofa,1969
Photo: Andreas Sütterlin
3/10
Variable Sheets, No. 2, 1965
© Stephen Willats
4/10
Marshmallow, sofa, 1956
Collection Vitra Design Museum
5/10
Smoker Banner, 1971
© Estate of Tom Wesselmann
6/10
Untitled (Bomb), ca. 1964
Photo: Kevin Ryan/Kogelnik Foundation Vienna/New York
7/10
Souviens-toi de Tahiti en septembre 61, 1963
8/10
UP 5 & 6 / La Mamma / Donna, armchair and footrest, 1969
Collection Vitra Design Museum
9/10
ce Cream 1, 1964
10/10
Swimming Pool, 1969
© Panton Design, Basel
At last Pop Art gets an electric survey exhibition that will rouse the inner creative in all of us. More than 200 works by Pop Art pioneers on both sides of the Atlantic, including Peter Blake, Judy Chicago, Richard Hamilton, Roy Lichtenstein, Claes Oldenburg, Andy Warhol, Charles and Ray Eames, Peter Murdoch, George Nelson, Gaetano Pesce and Ettore Sottsass will reveal the connections between design and art in an era when the visual language of advertising was used provocatively to comment on culture and politics.
Read about our sneak preview of the show here.
Rating Breakdown
5 star:

3

4 star:

0

3 star:

0

2 star:

0

1 star:

0
The exhibition was great fun. We took the kids and had a great time.
Barbican's cavernous gallery space is packed to the rafters with art, film, installation, books, furniture and other cultural ephemera to demonstrate one of the most exciting art movements the world has ever seen. Divided into five sections, Pop Art Design tells the story of the post-war consumerist art movement that started in America but resonated across the world. Pop Beginnings explains how Pop Art came about as a result of the profound technological and cultural changes that followed the Second World War. This is neatly illustrated in Richard Hamilton's collage Just what is it that makes today's homes so beautiful, so appealing?, an image the curators neatly describe as a 'prologue' to the exhibition. Also in this section is Ettore Sottsass' design for an early Olivetti computer, the Elea 9003. As the first computer to consider the aesthetics of design, this could be considered the great-grandfather of the iMac and gives a fascinating insight into the era. This juxtaposition of art alongside design continues throughout the exhibition, showing the interconnectedness of artists and mainstream consumers. The emergence of brands and the development of the advertising industry is explored further in the next section, Pop Icons. This section closes the feedback loop from consumer to back to artist, notably the validity of packing and branded material as inspiration for art. No artist demonstrates this better than Andy Warhol, and fans will not be disappointed by the pieces on display. As well as Marilyn Monroe and some Campbell's soup tins, his untitled 3 panel screen from 1958 gives a more balanced view of the artist than popular culture often allows. Warhol also captures another zeitgeist: the theme of plentiful food in contrast to wartime austerity. His exquisite Torte a la Dobosch and camp Textile with Ice Cream Pattern reflect society's view of food as a thing of joy and celebration. Architect and designer Alexander Girard continues the food theme with subjects including sugar cubes, ice cream and blancmange. Girard's groundbreaking work for department store Hermann Miller is captured in examples of consumables like carrier bags. Displayed alongside work by contemporaries and collaborators like Charles and Ray Eames, this gives further examples of the cross-over between art and product design during the period. Other themes explored in the exhibition include the transience of consumerism (neatly captured in Lichtenstein's On) as well as the objectification of the female form (Studio 65's Bocca (red lips sofa) and Warhol's Marilyn Monroe). We also see the emergence of graphic design as a distinct and valid form of expression. A whole room is given over solely to this medium (as well as examples peppering the rest of the gallery floor) but Lance Wyman's recently-revived poster for the 1968 Mexico Olympics typifies the period. Milton Glaser's Bob Dylan posters and album artwork also serve to show the connections between art, design and popular culture. This is a beautifully-curated exhibition with a rich and varied selection of work. The roll-call of artists, as well as those mentioned above, includes heavyweights like Judy Chicago, Patrick Caulfield, Ed Ruscha and David Hockney. Neat curatorial touches keep it interesting, like the use of backlit transparencies to display photographs of signs from Las Vegas, as well as an app to complement the show. Discreet but insightful interpretation help the novice and aficionado alike to better understand the Pop Art movement and its influence on today's culture. This brilliant exhibition is a definite must-see. And did I mention there's a bar..? For more of the latest arts reviews, check out www.curatedlondon.co.uk
This is going to be a really striking show. Readers might like to know there is a free app to go with the exhibition. Search for "Pop Art Design" in the App Store or in Google Play to find it. You get some nice in-depth coverage of a good selection of the key works, plus lots of background material.