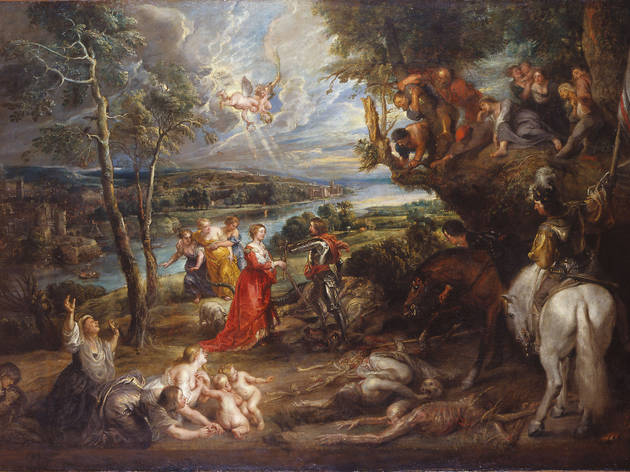 Such drama and grandeur! Such unflagging energy! No, I'm not just talking about Rubens's groundbreaking baroque style of painting, full of dynamic movement and joyous arrangements, but about the man himself. Peter Paul Rubens wasn't only one of the most famous artists of the age, and also a scholar and self-made gentleman, but simultaneously a formidable diplomat to boot, using his connections with aristocratic clients to negotiate on behalf of various European powers – such as his year-long, peace-brokering visit to London on behalf of the Spanish court in 1629.
The strength of this exhibition, then, is the way it fuses these concepts, showing how art itself could function as a kind of diplomacy, as the currency of influence – from the self-portrait Rubens sent to James I in 1622 as a sort of taster piece and apology for an earlier mix-up, through the various portraits here of English dignitaries, to a dazzling study depicting the apotheosis – or ascension to heaven – of the Duke of Buckingham. All of which, of course, was mere prelude to one of the great masterpieces of the age – the much grander apotheosis of James I, commissioned by his son Charles I for the ceiling of Banqueting House, the preliminary sketch for which is the main focus here, alongside various fascinating letters and documentation.
Actually, 'sketch' doesn't give quite the right impression. The work is a fully fledged oil painting in its own right, lacking the eventual ceiling's bright colours, but keeping – even apparently accentuating – its dizzying, upward-gazing perspective. Yet inevitably, of course, all of this can't help but feel like half an exhibition. Despite the inclusion of one vast, finished painting – Rubens's suitably crowd-pleasing depiction of St George – it's not a patch on simply walking 20 minutes up the road to Whitehall, to view the awesome majesty of the Banqueting House in the flesh.