Heads up! We're working hard to be accurate – but these are unusual times, so please always check before heading out.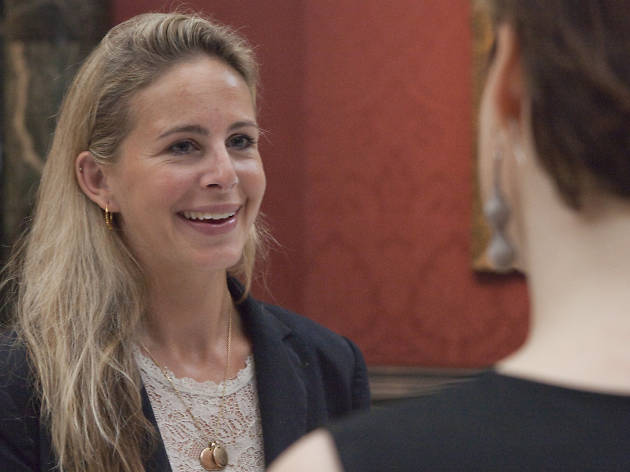 'Soundscapes' at The National Gallery: curator interview
Ahead of the 'Soundscapes' opening, we speak to show curator Minna Moore Ede
Ever grumbled that, while film fans get to hang out at the Mos Eisley Cantina from 'Star Wars' and theatregoers tore down the fourth wall yonks ago, experiential thrills for painting lovers tend to begin and end with the audioguide? Well, you're in luck, because this week the National Gallery is adding sound to vision with a series of installations based around some of its best works. What you'll hear while you're looking at paintings by Hans Holbein the Younger, Paul Cézanne ('Bathers', c1894-1905, above) and others will be brand new compositions created in response to them by artists and musicians. These include Turner Prize-winning sound artist Susan Philipsz, Oscar-winning film composer Gabriel Yared, Chris Watson, who's best known for recording natural phenomena for David Attenborough's 'Life' series, and producer, remixer and beatmaster general of The XX, Jamie Smith. This wildly diverse bunch has been brought together for 'Soundscapes', the National's innovative summer show.

Curator Minna Moore Ede, who also put together 2012's 'Metamorphosis', the Titian-fest collaboration between between the National Gallery and The Royal Ballet, thinks the exhibition is overdue. 'I'm on a bit of a mission to persuade the National Gallery that we need to do more projects like this because I think it's key,' she says. 'So much of our culture has moved towards the experiential. We're so plugged in that we're demanding more from culture. It's not enough, often, especially for younger people, just to go and look at an exhibition of paintings on a wall. In so many other artforms, whether it's Secret Cinema or Punchdrunk Theatre, you can have a proper experience. This project is an attempt to do that with painting.'

Moore Ede's idea was to invite artists who work with sound, as well as musicians from the classical and urban spheres 'to open new channels, quite literally, to those paintings.' Given a free run of the collection, they've selected works that vary in date from the fourteenth to the twentieth century, and across genres ranging from religious subjects to landscapes (see 'Giving aural', right). Some have chosen the most famous masterpieces in the collection to respond to. Philipsz, for example, has selected Holbein's 'The Ambassadors' adding a haunting 'Air on a Broken String'. Jamie XX, meanwhile, has opted for a pointillist seascape by relatively unknown Belgian Théo van Rysselberghe for his, as yet closely guarded, composition. 'I didn't really give any parameters,' explains Moore Ede. 'Except for the fact that it needed to be a shared aural response, so I asked for no earphones. All of the pieces come from multiple speakers in the space.'

What that means in practice is a spine-tinglingly intense experience. Spotlit in otherwise pitch-dark, soundproofed rooms, the paintings appear jewel-bright, almost hyperreal. Some of the rooms are carpeted, others have benches but all are designed to encourage you to linger. 'The sound pieces are played on a loop but some of them are infinitely varied and will never sound the same,' says Moore Ede. 'So you can come in and sit for ten minutes, or 40 minutes, or two hours, or you can stay all day, and you'll hear something different.' To purists who think that paintings should be venerated in silence, Moore Ede offers a swift rebuttal. 'Museums are a totally nineteenth-century construct, so the idea that we view paintings in a silent space is anachronistic to the function of the original work in each and every case.'

Not that she expects you to know your northern Renaissance from your post-impressionism: 'One of the wonderful things about this show is that you can just step into the space because it should be an experience between what you see and what you hear. Music has this incredible visceral effect. It will make you feel something.'

What you will need to do, though, is physically go to the gallery. 'We've made a very conscious decision that none of this music is going to go on a CD,' says Moore Ede. 'You can't download it anywhere. This is going to be a unique, site-specific encounter.'

That's not entirely true. We've managed to get hold of excerpts to give you an exclusive preview but we're pretty certain you'll want to want to experience 'Soundscapes' in the flesh. It's one of the most immersive cross-artform experiences of the year.