Best West End pubs
The best pubs and bars in London's West End, including Mayfair, Soho, Covent Garden, Fitzrovia, Marylebone, Bloomsbury and Holborn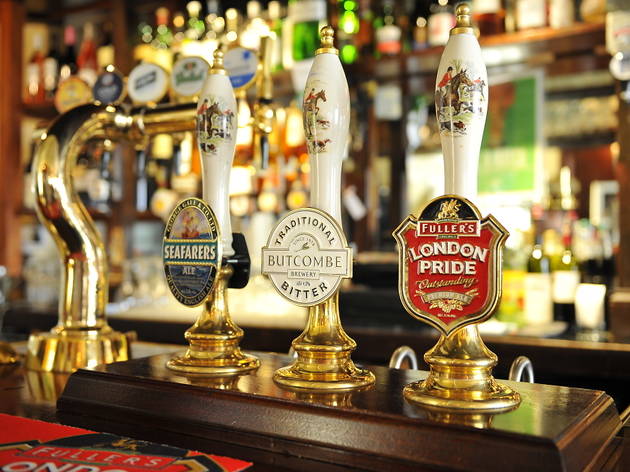 Avoid the crowds and enjoy a quiet pint or a crafty G&T in London's best West End pubs. Whether you're looking for a place before a theatre show or a nightcap after a musical, follow Time Out's definitive guide to the finest pubs in the West End.
Best pubs in Covent Garden
31 Endell Street, London, WC2H 9EB

In Covent Garden you have to battle your way into pubs, although in the case of this Endell Street fixture it'll be through the shrubbery. The Cross Keys is probably London's most fascinating pub for bric-a-brac. As well as pop curios, there are miniature portraits of PMs, unattributed Victorian oil paintings, diving helmets, stuffed fish, a brass privy.
Read more
36 Drury Lane, London, WC2B 5RR

This Low Countries bar with a high ceiling is a must for the serious drinker, offering a staggering array of Dutch and Belgian beers – there are around 120 beers (15 on tap and over 100 bottles), including the whole range of La Trappe monastery beers from Holland and Belgian Bush Peche Mel. Nothing from Luxembourg, though.
Read more
47 Chandos Place, London, WC2N 4HS

A recent Camra pub of the year, the Harp is the closest thing you'll get to a local in Covent Garden. The dedication to cellar craft means the full-bellied ale-spotter is well represented among the crowd, but there are often a fair few tourists delighted to have found somewhere with real character among the neon steakhouses and chains.
Read more
33 Rose Street, London, WC2E 9EB

Everything about this pub says old. Walls are covered in Punch cartoons. Peer out of the top-floor window, and you could be in gaslight London.
Read more
Best pubs in Bloomsbury and Holborn
Map key