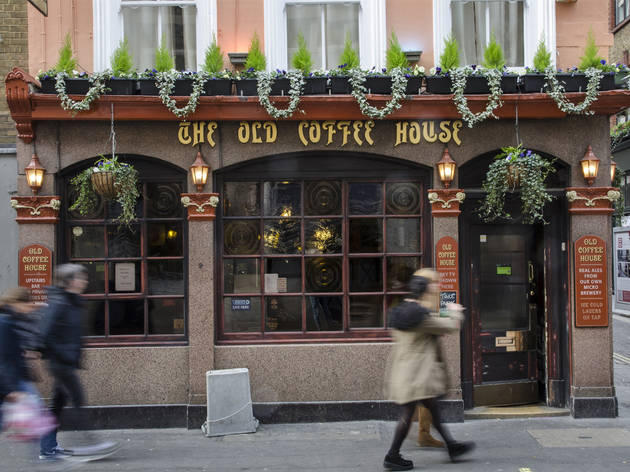 1/5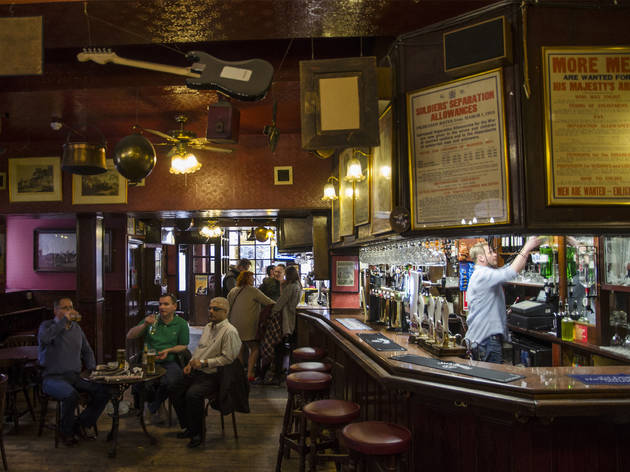 2/5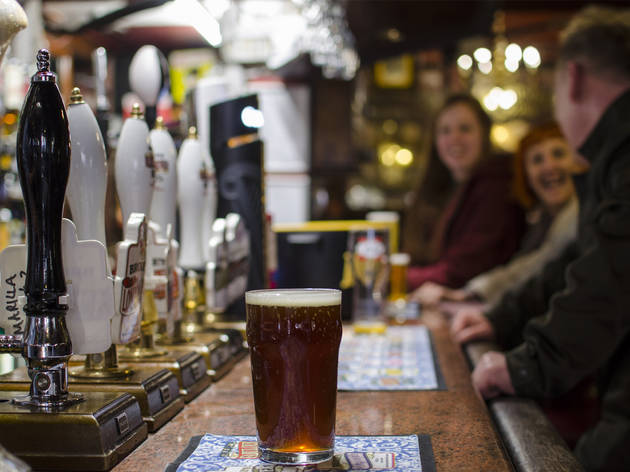 3/5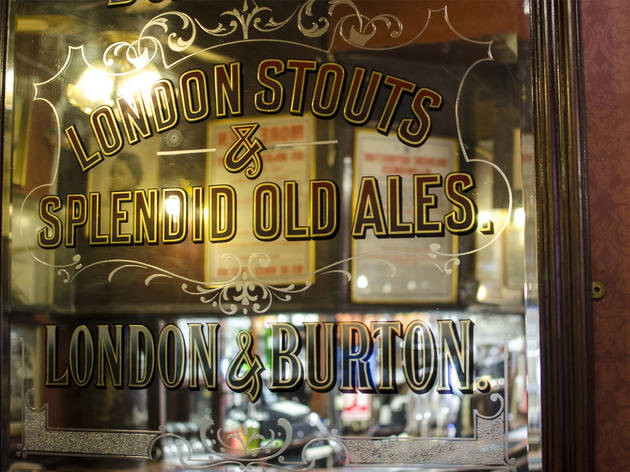 4/5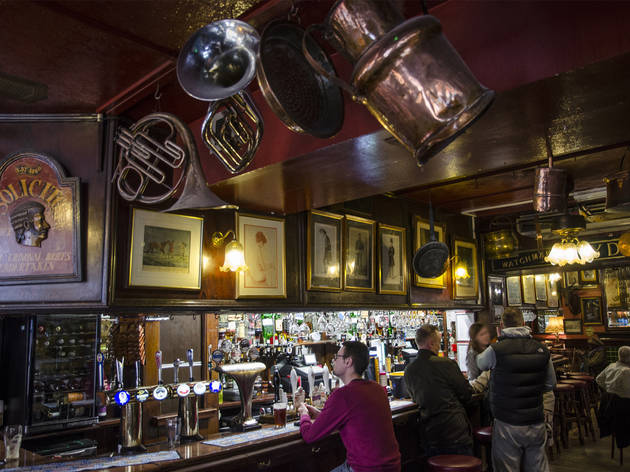 5/5
Time Out says
It's not a coffee house, it's a pub – but if they called it 'The Old Pub', it would just sound daft. But what the Old Coffee House lacks in coffee it makes up for in Assorted Pub Crafts; vintage ads on mirrors, copper kettles and amateur taxidermy pieces adorn every available wall space, and a fire crackles away in the corner, while two inoffensively sized screens broadcast sport, thankfully silently on our visit. It has an unfussy proper-pubness to it, even if a more cynical eye might put the 'proper' in quotes.
Fortunately, the craft beer on tap from Leyton microbrewery Brodie's completes the effect – it's excellent. What might be a slightly dingier boozer elsewhere in town absorbs vital Soho energy from Soho and becomes brilliant, as old geezers, creative types and tourists (and probably at least one old creative tourist geezer) happily intermingle.
Details
Address:
49 Beak Street
London
W1F 9SF

Transport:
Tube: Oxford Circus or Piccadilly Circus tube
Contact:
Opening hours:
Open 11am-11pm Mon-Sat; noon-10.30pm Sun. Food served noon-3pm Mon-Sat
Do you own this business?
Average User Rating
2.4 / 5
Rating Breakdown
5 star:

3

4 star:

1

3 star:

3

2 star:

1

1 star:

8
I Went into this pub with my girlfriend the other day. Busy Friday night. The real ale I order tastic, off / acidic and I asked if they would might changing it. Whereas the barman took my pint and gulped down a mouthful, and slammed the glass back down in front of us and said 'there's nothing wrong with it'. I managed to call the landlord over who then proceeded to tell me to F*off if i don't like the beer. My girlfriend was completely shocked, the guys that run this pub are extremely rude. I can only think that they have enough custom that directly insulting people is going to make little difference to their turnover. Surely we cannot be the only people who has experienced this aggression.
Lovely building and good location for a pub. The TV was quite loud. Although I'm not a Robbie Williams fan, it was nice that the owner had put all of their personal memorabilia up and it made the pub seem loved. The barmaid was rude. It was noisy and she misheard my husband when he asked for a soda and lime and pulled a cider a separate glass of lime. She then refused to believe him that he'd asked for a soda and lime and charged him for the unwanted cider which we left on the bar.
Their ales had a rancid smell and flavour.

One of my favourite pubs. Not too busy, not too cozy, not too quaint. But confortable and with a great choice of real ale.
I GOT FOOD POISONED!!!! With their crafted beer!! I even had to go to the hospital!!!! I called to warn them... But they said the beer is fine and will keep selling it today!! BE CAREFUL!!
Omg just went in to the old coffee house after a year , what the hells going on? - has it been taken over by New Age travellers , very disappointing , won't be back!
A real pub with down to earth people in it. The beer was good and the service was fine. It was great to go into an unpretentious authentic pub. Not a place to go for a fancy meal or a trendy atmosphere but full of character.
Been going to this pub on and off for over 3yrs.its the best homely pub In soho by a marginal mile.soho residents frequent this lovely pub,so that Is telling you something! The owners and staff are a delight and can't do Enough for you.the decor is of beauty for an old working class pub.every Time I'm in London there is no other pub that will come anywhere near this one!!
Agree with some of the comments below. beautiful pub - nice decor inside, very welcoming ENVIRONMENT . That is UNTIL you buy a drink and it all goes downhill with the service. Not sure what the landlords problem is , but as someone thats worked in soho for 25 years - i've have never felt so unwelcome. try the John Snow around the corner for a friendlier more hospitable vibe *although it gets very busy
the landlord / owner of this pub is the rudest most grumpiest barman i have ever encountered, basically he should either retire or not run a pub as its evident he doesnt want to be there.. he was rude to my girlfriend - grunted when i ordered a drink in my Italian accent. no need to behave like this. would give this pub zero stars if allowed
Great pub with great service; maybe the management has changed since the previous reviews? Bar staff were friendly and knowledgeable, and after the initial early evening crowd (when it was quite full), after 9 it quietened down a lot and was very cosy to drink in. Lots of restaurants nearby, if you fancy something more fancy than the bar food served there. Good selection of Brodies beers; the Brown Ale is great, the Chilli stout has a nice hot tang, and the 'Only Human' at 13% is only for the brave! They all seemed well kept to me. Gents urinals are pretty foul; but that's because it's in a poorly ventilated, warm, basement room - at least the smell was very well contained in there only. But who decides to visit/not visit a pub on the basis of the quality of their bogs?
Ridiculously disgusting service! Was forced by a old barmaid to buy a drink 5 seconds after arrival where my friend already ordered 2 pints and I was the only one without a drink as I don't drink alcohol. Anyway when my friend was ordering a drinks she called him an asshole as we didnt want to order drinks straight away as we were waiting for the rest of our group to arrive. She kept serving other customers very nervously and without any respect! Then older guy came to us saying that the pub's tv costs 700 pounds a week thats why we HAVE TO BUY ALCOHOLIC DRINKS NOW. first of all we didn't come to this pub to watch tv, we came here to spend nice time with our friends. The worst service I have ever experienced in london!
Good beer and a nice old pub. However, the man who has always served me on my three visits (presumably the landlord) has always odd and sometimes apparently drunk and/or obnoxious. Don't think I'll be visiting again.
The only pub I'll drink in in soho. The beer is Brodie's so it is up there with the best in London but it is still a proper pub (not a craft beer bar). I heard hat they are adding 5 exclusively Brodie's keg lines which will be brilliant.
Great for Ale-very bad smell of urine!