London's best beer shops
Discover where to buy great bottled beer and ale in London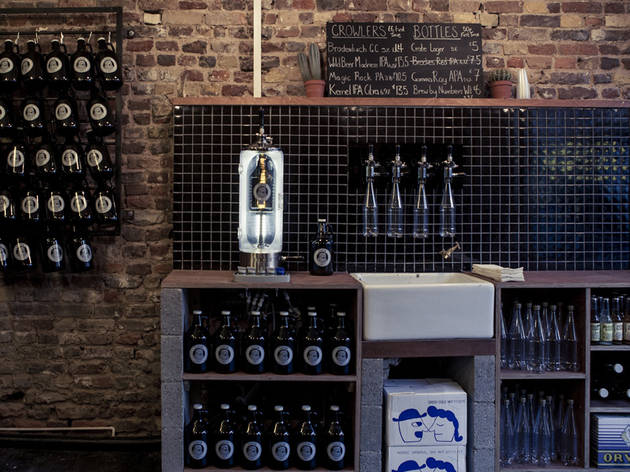 When a can of Carling isn't going to cut it, seek out one of these specialist shops and take your pick of some of the most exciting craft beers made in London breweries or for beers from microbreweries in the UK, Europe, the US and beyond. Do you have a favourite shop that sells brilliant beer? Leave a comment below.
Best beer shops in central London
Best beer shops in north London
Caps & Taps, Kentish Town's first craft beer specialist, is a tiny place but it sells around 300 beers from London, the rest of the UK, the US and the rest of the world. Look out for relative rarities. And fans of esoteric US beers are particularly well served.
Read more
Although primarily a wine shop, this recently extended off-licence also has more than 100 specialist beers from around the world, including Anchor, Coopers, Kernel and Meantime. You can also purchase bottles from its website.
Read more
When the original Clapton Craft (the one that's actually in Clapton) opened back in 2014, it was clear they'd got the formula right. Unsurprisingly, then, expansion didn't take long: there are now four locations in north London (with a south-London outpost due soon), all offering the same setup of well-curated beers from around the world, plus accessible brews for growler-fill.
Read more
This bottleshop attached to the Harringay Arms offers a strong selection of British and international beers, plus growler-fill facilities. Themed mixed cases make good presents for the craft-obsessed folk in your life.
Read more
An otherwise unremarkable parade of shops in Holloway is actually a magnet for north London beer lovers thanks to this quirky and packed-in little shop. Ales are arranged by country of origin and come from around the world; look out for Odell's 90 /- and 5 Barrel Pale Ale from the US; occasional bottles from Manchester's Marble Brewery or Otley from North Wales also pop up. The full range of Redchurch Brewery beers is available, as is that from the organic Pitfield and Bermondsey's Kernel.
Read more
Best beer shops in east London
The clue's in the name – this is of course primarily a chain of wine shops, but in recent years it has increasingly stocked a range of well-chosen beers, with a focus on London breweries.
Read more
Like Borough Wines, Bottle Apostle is a small but growing chain of wine shops. However, it too doesn't ignore beer – the Victoria Park outpost is particularly strong, with a whole room dedicated to beer, ale, cider and mead, most of it from within London.
Read more
The best bottle shop in London? It's a strong contender. As well as the original in Clapton, as of 2015 there's a handsome, brand-new branch in Kentish Town, which has ten taps of draught beer to take away in refillable 1 litre bottles and growlers as well as shelves of brilliant beer. Staff are genial and really know their stuff.
Read more
When one of your neighbours is a cereal café, doing the basic bottleshop thing isn't going to cut it. As well as running regular tasting events, Kill the Cat has also devised an appropriately novel way of displaying its stock, breaking it up into three sections that range from familiar and accessible (Beavertown's Gamma Ray et al) to the potent and bonkers (imperial stouts from the likes of Swedish brewer Omnipollo).
Read more
A craft beer bar, in the first instance, and one of the best in London; however, all the fridges down one wall hold beers that can be taken away at uncynical prices. A fine place.
Read more
This exceptionally well-stocked bottleshop claims to have over 400 different types of beer on the shelves at any one time. The range covers everything from local trailblazers to revered European brewers, with plenty of respect for classic Belgian styles.
Read more
Best beer shops in south London
Best beer shops in west London
Find places to drink craft beer
Craft beer – interesting, progressive beers made by small-scale breweries, and distinct from real ale – is often explosively hoppy and quite unlike traditional British beer. An increasing number of London bars and pubs are specialising in them. Here's our pick.
Read more
Sponsored listing
Voltaire Cocktails & Champagne Bar
What used to be a prison has been converted into a Champagne and cigar bar at the edge of the City. It's an ideal spot for post-work drinks – the private VIP vault areas can be reserved for groups while the bar offerings run from cocktails, starting at £9, to a range of Champagne, from £11 for a glass to £1,200 for a Cuvée Louise Brut 1990 Jeroboam. The food menu includes club sandwiches, somerset brie with spicey orange marmalade or Indian aloo tikki with mint and cucumber yogurt.
Venue says: "Mondays 50% off wines. Tuesdays 50% off cocktails. Wednesdays free food with drinks orders. Plus happy hour from 5-8pm every day!"
You might also like