London's beloved tube is the oldest and most iconic subterranean transport system in the world. Andy Hill minds the gap as he reveals its hidden history
1. Jerry Springer was born in Highgate station
TV's king of controversy was born in 1944 when the station was used as a bomb shelter. He grew up in East Finchley and said his first ambition was to drive the 102 bus. Instead he became one of the world's most famous television personalities.
2. A one-legged engineer proved escalators are safe
Tube engineer William 'Bumper' Harris lost a leg in a train accident, but stayed at work proving the newfangled moving stairs at Earl's Court were safe by riding them for hours. Despite having his ups and downs, he ended up owning several houses in Greenwich. That's how you get one foot on the property ladder.
3. The Underground employs a team of 'fluffers'
Every night they collect the dust and debris ('fluff') which aggregates in tube tunnels. It's a tough job traditionally done by women, which, thankfully, has been made easier in recent years with the introduction of tunnel-cleaning trains that help suck up the grime.
4. The tube has its own perfume
In 2001 the specially launched 'Madeleine' fragrance was sprayed liberally in Euston, St James's Park and Piccadilly stations by well-meaning bosses seeking to improve the ambience. It made commuters gag and was canned, ensuring stale farts, Lynx and rat wee will remain the tube bouquet.
Mike Lodge
5. Spiral escalators were a thing
In 1907 American engineer Jesse Reno installed a helical moving staircase (with great difficulty, and at ruinous expense) at Holloway Road station, only to be told by safety inspectors it was too dangerous and needed to be dismantled. Spiral escalators never did catch on, due to costs… spiralling.
6. On the platform at Aldgate you're standing above a massive plague pit…
…and at Liverpool Street station you're standing beneath one.
7. Old-time tube staff got 'beard-leave'
The noxious atmosphere of the early steam-powered Underground was shamelessly marketed to asthmatics as an invigorating cut-price sauna. At the same time (somewhat hypocritically) tube staff were given time off to grow facial hair in a vain effort to filter the airborne scuzz.
8. Mark Twain rode the first ever Central line train in 1900
The renowned man of letters sat alongside none other than the Prince of Wales during the line's inaugural trip. Was Twain's famous aphorism that 'Nothing so needs reforming as other people's habits' a reference to his royal companion's shameless manspreading? We can only speculate.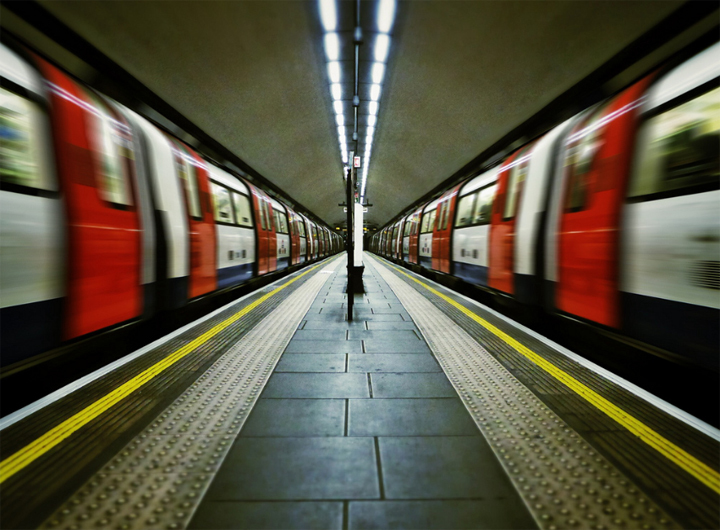 Doug/Flickr
9. There's a Guinness World Record for visiting every single station in a day
Andy James and Steve Wilson (current 'Tube Challenge' champs) hurtled round the entire 270-station network in a mere 15 hours, 45 minutes and 38 seconds in May 2015, with just Oyster cards, meticulous planning and presumably not much else going on in their lives.
10. There was a WWII aircraft factory in a Central line tunnel
An unfinished stretch of tunnel between Leytonstone and Newbury Park was occupied in 1942 by a bombed-out Ilford electronics firm. Their two-and-a-half mile long shopfloor even had a light railway installed, partly for visiting dignitaries to inspect the 4,000 (mostly female) workers toiling over Lancaster bomber components.
11. Embankment has the most romantic 'mind the gap' announcement
Margaret McCollum, widow of former tube announcer Oswald Laurence, requested a recording of her husband's phased-out entreaty for commuters to watch their step. Tube bosses delivered, and went further by reinstating his voice at Embankment station. She still frequently stops by.
12. Twenty minutes on the tube is like smoking a cigarette
According to a UCL scientist, the level of particulates inhaled on a 20-minute journey on the Northern line – for example Balham to Tottenham Court Road – is equivalent to huffing a fag, only without the nicotine or dubious sexy cachet.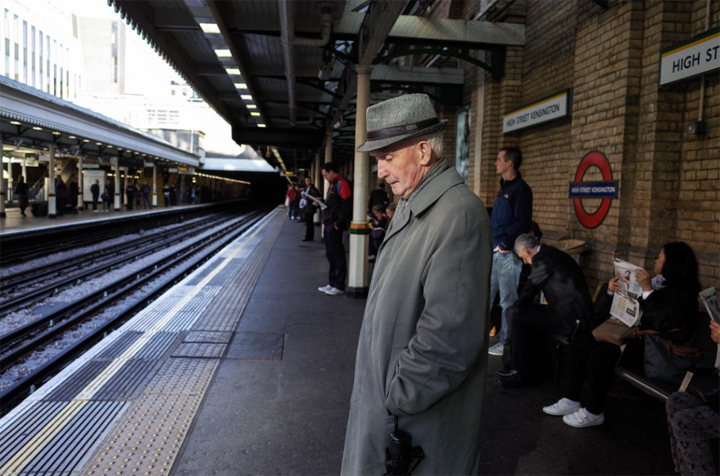 Dan_W8/Flickr
13. The first Circle line journey was awkward
When the old Metropolitan and District railways were joined to form an inner-city loop in 1894, both companies' respective chairmen were convinced to share a carriage by journalists attending the opening. The chaps' bitter rivalry and loathing for each other was plain for all to see, leading reporters to quip that eye-contact and talking must be illegal on the new underground railway. Damn right!
14. There are 40 abandoned 'ghost' stations on the network
Many have a cool story. Aldwych on the Strand is a common filming location ('Sherlock', 'V for Vendetta'). Down Street in Mayfair closed because posh locals rarely took public transport. And Bull & Bush, on the Northern line beneath Hampstead Heath, remains the deepest station on the network at 67 metres below the surface (that's 15 metres deeper than Nelson's Column is tall), although it was never even opened.
15. Harry Beck was paid five guineas for designing the Tube map
The Leyton-born draughtsman pocketed a mere fiver-and-change (just £300 in today's money) for his masterpiece, now imitated the world over for its refined modernist simplicity.
16. Last year the tube carried 1.25 billion people
And it's still only the eleventh busiest metro in the world. Tokyo is tops.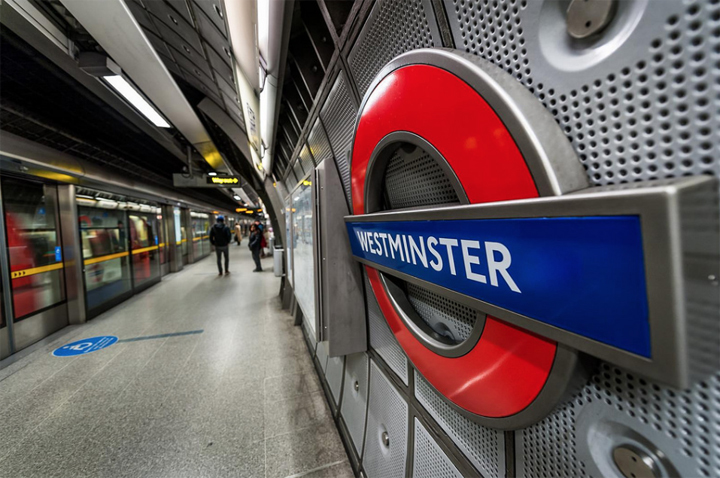 Tim Grist/Flickr
17. If your carriage is chock-full it's probably your fault
Drivers frequently notice on their CCTV screen hundreds of sweaty punters crammed into some carriages, while others appear almost deserted. They further add that iPhone apps designed to help people embark and disembark at the right door only make matters worse.
18. You can see a lost river on the Circle line
The River Westbourne flows along a purpose-built steel channel spanning both platforms at Sloane Square on its trip down from Hampstead to the Chelsea Embankment.
19. Julian Lloyd Webber was the tube's first official busker
The cello-playing younger brother of jowly impresario Andrew launched London's licensed busker scheme in 2001. Since then, change-hungry musos have been required to undergo a rigorous audition process, conducted on a disused platform under Charing Cross station.
20. Staff have nicknamed the automated female voice on trains 'Sonya'
Because it 'get-S-on-ya-nerves'. Hey, Sonya, why don't YOU move down inside the goddamn carriage.
Richard Banton
21. There's a species of mosquito indigenous to the tube
Culex pipiens molestus, as lovely as its name suggests, evolved from some hapless ancestors who got trapped in the tunnels. Though the mozzy's closest outdoor-dwelling cousins prey upon birds, this pest prefers commuter blood.
22. Belsize Park station is lying to you
Look for a sign saying that the station's emergency staircase has 219 steps. In fact it only has 189.
23. London Underground passes above the Overground in east London
Shake your fist at the Hammersmith & City line as it rattles disingenuously over your head at Whitechapel. Indeed, 55 percent of the London Underground network is actually built above ground.
24. Around 177,500 people slept in tube stations one night in September 1940
Which you probably knew already. But did you know they had what we'd call 'pop-up' bingo halls and cinemas down there in WWII? Tube staff distributed 11,000 toys to kids at Christmas 1940. Blitz spirit in action!
25. The old Piccadilly line announcer is an aristo actor (and a proper dude)
For 15 years Timothy Charles Robert Noel Bentinck, (Twelfth Earl of Portland, Eighth Count Bentinck) provided the voiceover between King's Cross and Earl's Court. As well as being an aristocrat, inventor, musician and software developer, his lordship has also acted in 'The Thick of It', is David in 'The Archers', and played James Bond in a video game. That's some track record.
Discover more fascinating facts from the Underground at the Transport Museum's 'Designology' show, which opens this Friday May 20.