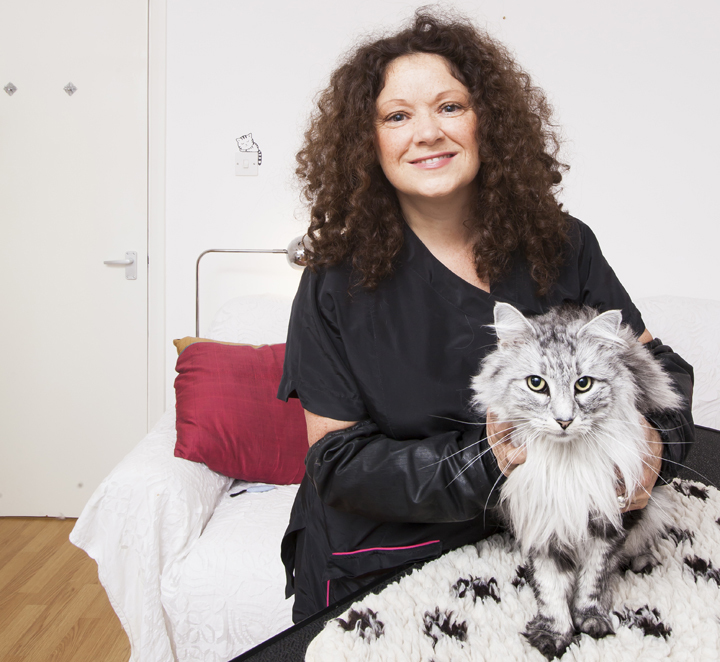 Rob Greig
Have you always worked with cats?
'No. My two passions in life are music and􀀀 cats - I used to be a singer-songwriter, but decided I needed a change. I set up my own company and did everything myself - the advertising, accounts and the website. I􀀀 also have two􀀀 moggies of my own. You have􀀀 to love cats􀀀 to do this job.'
Is there more to it than brushing fur?
'It involves checking a cat's health: its nails, ears, eyes, gums, coat conditions and posture. I once saw strange markings on a cat's skin and discovered it was cancer. I'm also an accredited cat behaviourist, which goes hand-in-hand with grooming.'
What does the average day involve?
'I'll typically visit two or three cats in their homes per day, for one or two hours per session. I'll see each cat once every six to eight weeks. I have a lot of very regular, loyal clients.'
And is it always plain sailing?
'No - one time I was badly bitten on my hand. The cat's teeth went into my hand and met in the middle. It became badly infected and I was hospitalised for a week, had two operations and didn't work for six weeks.'
Ouch. And that didn't put you off?
'It's rare that cats are this aggressive: he acted out of fear. I'd definitely groom him again - although I think his owners were afraid I was going to sue them! But it was basically my fault, I didn't adapt my handling to his changing mood. You have to learn from what happened: that cat became my teacher. I've started issuing very naughty cats with ASBO certificates. The clients love it - they frame them.'
Any funny feline stories?
I was once dealing with a cat that was very feisty and very fat. The owners wanted me to give him a hygiene trim as he was matted around the bum area. They told me he always got stuck in the cat flap, so I made him think the grooming was over and let him go through it. He got stuck with his rear end on my side, and I went in and got it done. He 􀀀wasn't pleased.'
Interview by Jessica Brown