London's coffee history isn't exactly glittering. In fact, it involves murder, scandal, drugs, corruption and, worst of all, foul-tasting coffee. To prove our point, we've enlisted the help of a coffee history expert – Dr Matthew Green, to be exact – to lift the lid on where, and how, we can relive London's so-called affinity with what is now the nation's favourite drink.
So doctor, people didn't actually used to enjoy coffee, did they?
'Would you, if it tasted like oily gunk and had eggshells and mustard in it?'
Guess not. How on earth did it catch on then?

'A merchant called Daniel Edwards developed a penchant for an exotic black liquor that was 'black as hell, strong as death, sweet as love'. It went down a storm in his drawing room in Walbrook in the City, and he unleashed it upon the streets of London. People thought it tasted like shit. But they loved the effects, the way it stimulated body and mind, fibrillating their inner muse.'
Can you recommend any historic London coffeehouses, so we too can have our muses fibrillated?
Jamaica Wine House, near Bank
Attached to this pub in St. Michael's Alley is a blue plaque marking the site of the result of Edwards' epoch-making venture – London's first coffeehouse (or rather, coffee shack).
10 Russell Street, Covent Garden
Now a bland Starbucks, it was once Button's, the greatest coffeehouse in the world. Here the great wits of early eighteenth-century London would assemble each afternoon, casting their superb literary judgments on the work of aspiring writers, making and breaking literary reputations in the process.
Exchange Alley, near Bank
Within this cavernous labyrinth wedged between Lombard Street and the Royal Exchange, you'll find a trio of coffeehouses that built the British Empire - Lloyd's (birthplace of insurance), Garraway's (the eBay of its day), and Jonathan's (the incubator of the stock markets).
Bar Italia, Soho
Soho's oldest surviving coffee bar, opened in 1949 and in continuous trade ever since.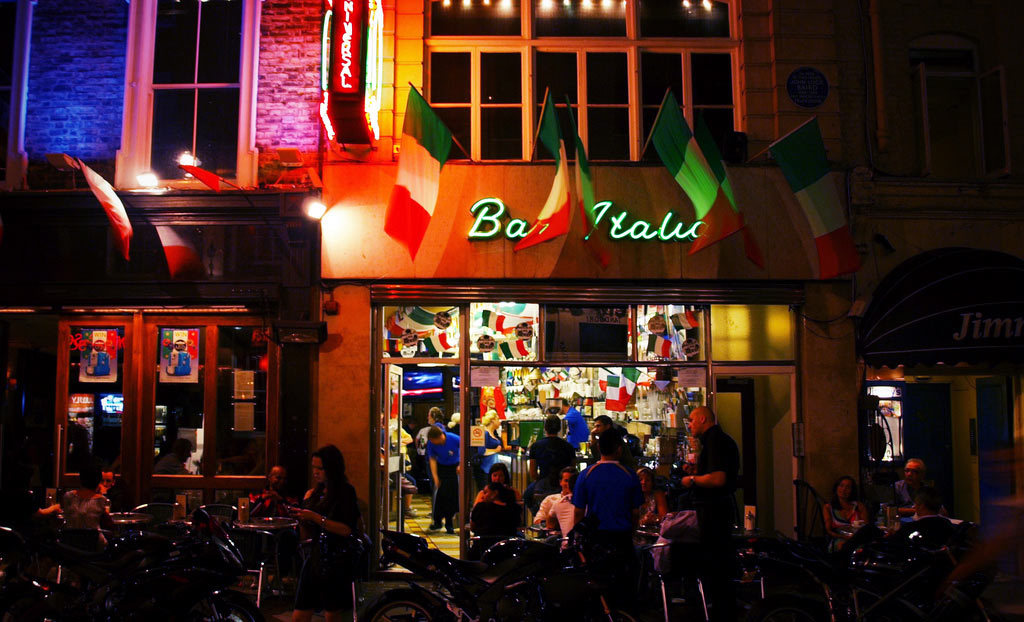 SomeDriftwood/flickr
The Devereux Arms, the Strand
Though its façade has been remodeled over the years, the building once housed the Grecian Coffeehouse – a cauldron of creativity, learning and wit. Classical scholars argued for hours about how to correctly scan a line of Homer's 'Odyssey' (resulting in one of them killing the other in a duel). Also, Isaac Newton drank here.
St John's Gate, Clerkenwell
In the early 1700s this site housed the Latin Coffeehouse, opened by John Hogarth, father of the famous painter and engraver. There was one rule – you had to speak in Latin. It was very short-lived.
23 Meard Street, Soho
Today home to a postproduction company, in the 1950s it was Le Macabre Coffee Bar, where customers sat on coffins, ashed into candlelit skulls, and listened to funereal music on the jukebox. Its motto: 'Your Coffee On A Coffin'. Starbucks it wasn't.
Let's say a modern Londoner wanted to experience coffee like it was way back when. Where's the best place to go?
They should, without a shadow of a doubt, experience the coffeehouse tour I lead. It's an immersive whirlwind experience of London's original coffeehouses in the City, brought to life by costumed actors and musicians hidden along the route. Most importantly, they'll get to taste coffee exactly as it tasted in the seventeenth and eighteenth centuries.
Matthew's also got a new book out and it's called 'London: A Travel Guide Through Time'.
Craving a brew? Here are 19 cute east London coffee shops to visit before you die (obviously).