Get in the car, drive to your nearest DIY store and load up with Dulux Ruby because YOU my friend are PAINTING THE TOWN RED this weekend. Only question is: where to head...
FRIDAY
Gloria's
A new chapter in Sink The Pink's glitter-soaked history starts this week. Gloria's – a party that's run all over the shop for the last few years – lands a permanent weekly home at super-new, super retro-glam DJ bar Wringer + Mangle in Spitalfields. As with everything Sink the Pink, this week's launch is hosted by a coterie of absolute pole-swinging drag legends. There's also a bevy of cocktails to choose from, tunes to match the sleazy penthouse vibes until 1am. Get involved – and get in free before 10pm too.
Wringer + Mangle. Fri Sep 15.
One Night at the Disco
Celebrating his new compilation of excellent re-edits of classics from Salsoul Records – quite possibly the fruitiest disco label of the '70s – give it up for a night of soul-clad belters from Dimitri From Paris.
Electric Brixton. Fri Sep 15.
B12: Electro-Soma
There's also a chance to appreciate another great dance music label tonight. This time, it's the Sheffield-born, game-changing and mind-altering stable, Warp. One of its first ever releases – ambient classic 'Electro-Soma' by B12 – is being performed in full at this Hackney Wick venue.
The Yard. Fri Sep 15.
SATURDAY
Daydreaming with James Lavelle
No, that's not the name of a whimsical BBC4 doc. It's just one of a series of Jazz Cafe events this week curated by Mo' Wax label founder James Lavelle, all of which show off his preternatural skill at getting the right people together in a musical setting. This 3am-finisher features a DJ set from Berlin pioneers Jazzanova, and look out for other 'Daydreamings' with Dorian Concept, Charlie Dark and Lee Scratch Perry too.
Jazz Cafe. Sat Sep 16.
Fromage on Ice
Yes, that's right: stuff your short-shorts in your short-shorts drawer. Outdoor ice skating season is upon us! First into their boots and sparkly unitards are the Club de Fromage crew, who host a series of takeovers of Ally Pally's canopied ice slab. This one is a '90s special, then coming up is a 'Stranger Things' '80s special on October 21, a noughties session on December 16 and a 'Grease' v 'Dirty Dancing' battle royale on January 20. Expect a shedload of Dannys and a whole load of Babys for that last one.
Alexandra Palace. Sat Sep 16.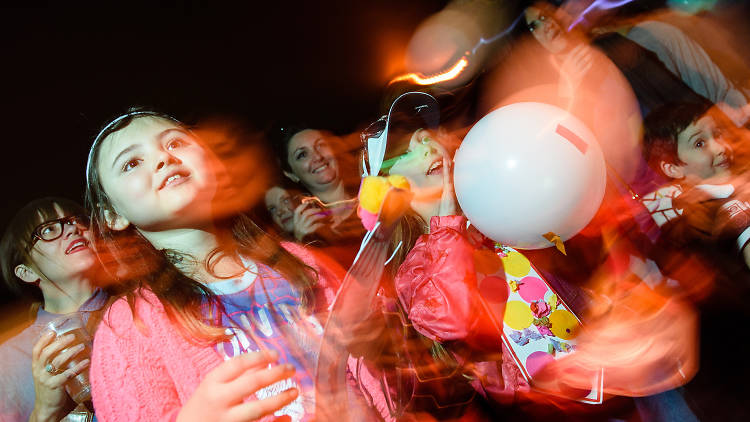 SUNDAY
Big Fish Little Fish
Though there's the very real danger that today's children may not have any actual clubs to visit – once they come of age – it's still worth instilling some rave sense into the young. BFLF do the whole family-raving thing in style. Head to this lovely space under the Westway in Notting Hill and enjoy original '90s hardcore rave outfit 2 Bad Mice. Expect the smell of Sudocrem to replace the scent of Vicks VapoRub.
Acklam Village. Sun Sep 17.
Dansa Selector Sundays with Bradley Zero
It's another instalment of Styx's excellent series of vibey Sunday sessions, where pleasantly esoteric DJs spin off-grid at this outdoor (but rain-proof) Tottenham venue. This week, Bradley Zero – founder of label and party Rhythm Section – is in charge of the sonics, while Island Social Club supply the grub.
Styx. Sun Sep 17.
Sundays at Phonox: Gilles Peterson
Another excellent Sunday institution that's coming back for autumn is Phonox's run of all-night sets from esteemed selectors. Coming up later this year: house legend Kerri Chandler, Omar S and Daniel Avery playing a whopping ten-hour set. But this week, all eyes are on Gilles Peterson, who's laying down the grooves from 4pm to 10pm.
Phonox. Sun Sep 17.
Find more parties happening this weekend.