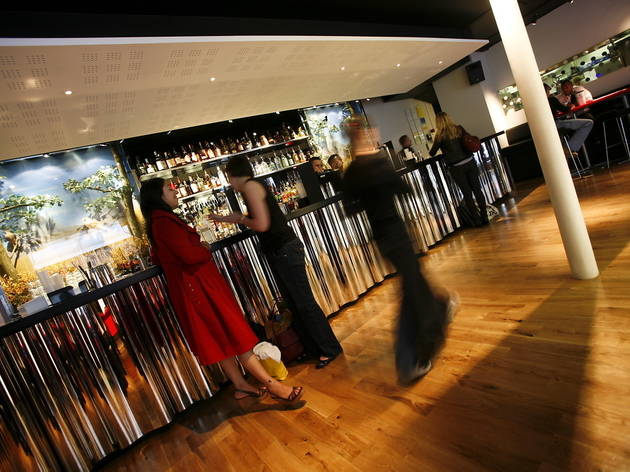 Time Out says
Three years after 'Nathan Barley' satirised their daftest excesses, five years after The Guardian sounded their death knell in a piece headlined 'Where have all the cool people gone?' and nine years after Neil Boorman's Shoreditch Twat fanzine set them on the road to ridicule, Shoreditch and Hoxton remain in uneasy flux. The long-predicted artistic and cultural exodus hasn't quite happened; from the avowedly mainstream T-Bar to the attractively louche Dreambagsjaguarshoes, the area retains some appealing hangouts. But every characterful success story has been countered by a feeble, bandwagon-jumping competitor: take, please, the risible Zigfrid on Hoxton Square, or the forlorn Spread Eagle, more popular and characterful when it welcomed not hipsters but strippers.
The latest entrepreneur to try to crack this muddled market is Gerry Calabrese, son of smooth-talking cocktail guru Salvatore Calabrese and an experienced mixologist in his own right. Calabrese Jnr's previous venture was Meet, which boasted design-school decor, fine cocktails, an approachable food menu, regular DJs and a fashion-friendly location primed for walk-up traffic (next to Fabric on Smithfield Market). It didn't last, so he's brought the formula to the split-level Curtain Road premises that housed the late, unlamented Pool.
The bar is backed by a gimmicky pair of Natural History Museum-style dioramas and a side wall is dominated by the crumpled remains of an old car, but clutter is otherwise minimal and the colour scheme is modishly unfussy (black seats, white walls, red accents). Downstairs offers a small dancefloor and a lot of mirrors, lending the illusion of depth to a shallow room. When we visited, a DJ-mixed blend of '60s pop and Pitchfork indie boomed through the building, and we mean boomed: the acoustics aren't built
for conversation.
So far, so what? but the cocktails – which emphasise seasonal ingredients – do more to grab the attention. We tried four, three of them exceptional: an East End Punch, sort of a modified kir royale, Hobson's Choice, essentially black forest gateau in a martini glass and an immaculate whiskey sour. This last one was cheekily ordered off-menu and didn't appear on the bill. When we pointed this out, the bartender told us there was no button on the till for it and refused to charge us. Nice chap.
The sophistication of the drinks stands in stark and presumably deliberate contrast to the food: gauchely described as 'East End Grub', it's poshed-up gastropub cooking served in bijou portions. A reassuringly short lunch menu is supplemented by bar food, much of it very decent. The drab beef skewers didn't impress, but we enjoyed a daisy-fresh portion of pan-fried plaice and chips, and a flavourful rabbit-and-carrot pie with velvety mash.
The place is still settling into its surroundings. But for all its impressive aspects, which included excellent service, we were left wondering whether this ambitious and very new Hoxton recipe of unusual ingredients (frenetic DJ bar, upscale cocktail lounge, slick gastropub) will hang together under one roof. There's a sense that the Hoxton Pony is trying to be all things to all people, when finding a single niche might have been a better bet. Still, it's in good company: right now, you could say the same about the neighbourhood itself.
Details
Address:
104-108 Curtain Road
London
EC2A 3AH

Transport:
Tube: Old Street/Shoreditch High St Overground
Contact:
Opening hours:
Open 7pm-2am Fri-Sat
Do you own this business?