Heads up! We're working hard to be accurate – but these are unusual times, so please always check before heading out.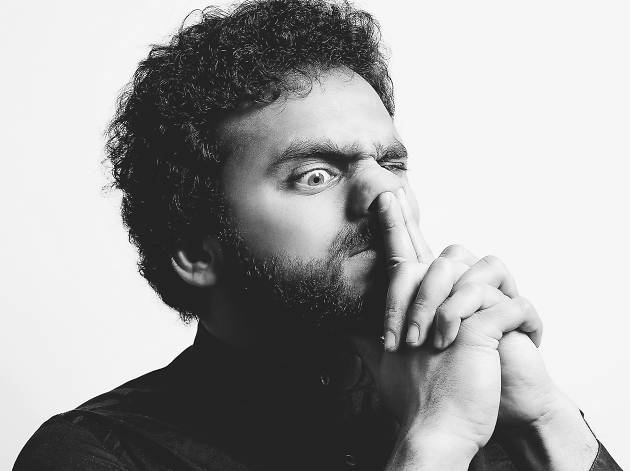 Five reasons to see Nish Kumar
We predict big things for this smart stand-up over the next 12 months. We offer five reasons why 2015 will be the Year of the Kumar
He's officially funnier than ever
Kumar's gone up several gears this past year. He was one of the best-reviewed stand-ups at last August's Edinburgh Fringe. Hey, we even awarded him the maximum five stars, calling his show a 'dizzying display of rapid-fire mental agility'. We don't dish out high-praise like that too often, so take note.
His face is already famous
Recognise that mug? Google 'Confused Muslim' and you'll see it repeated a dozen times. A few years ago, an anonymous internet joker used Kumar's promo picture for a meme by that title, and it quickly went viral. 'I still have no idea who did it,' says Kumar. 'But I have figured out how they got to my face. A journalist quoted me as saying I am "frequently confused with being both a Jew and a Muslim". The other two faces that came up if you Googled "Confused Muslim" were Omid Djalili and Jesus Christ, so I guess it made sense to use mine.'
He's found an ingenious way to deter pricks from attending his show
The 29-year-old's latest show has a mouthful of a title: 'Ruminations on the Nature of Subjectivity'. What better way to discourage disruptive stag parties from buying tickets? 'I actually called it that because the poster image was a stupid picture of me with my fingers up my nose,' claims Kumar. 'I thought it would be funny to have that picture with an incredibly serious-sounding title. But it probably did help. The title doesn't exactly scream "Lads on tour! This is comedy for lads 
on tour!"'
He's not afraid to commit to a joke, however long it takes
Speaking of show titles, Kumar's debut offering was called 'Who is Nish Kumar?' His second show – a year later – answered his own question. He called it 'Nish Kumar is a Comedian'. That's one big, stupid, delayed punchline, and only a handful of punters made the connection. But it does mean you'll get a clear answer if you Google 'Who is Nish Kumar?'
He's a panel-show producer's dream
Smart, charming and consistently funny – why wouldn't you put this breakthrough star on the box? TV execs are starting to take note of Kumar's comedic skills. He's already appeared in series two of the Stewart Lee-curated 'Alternative Comedy Experience' and he's written for his namesake sitcom, 'The Kumars', broadcast on Sky 1 early last year. Other 'bits and bobs' are in the works, he says. 'Also I'm in the new "Avengers" film. Well, not really, but I figure if I say I am it might generate some publicity for the Soho run.'