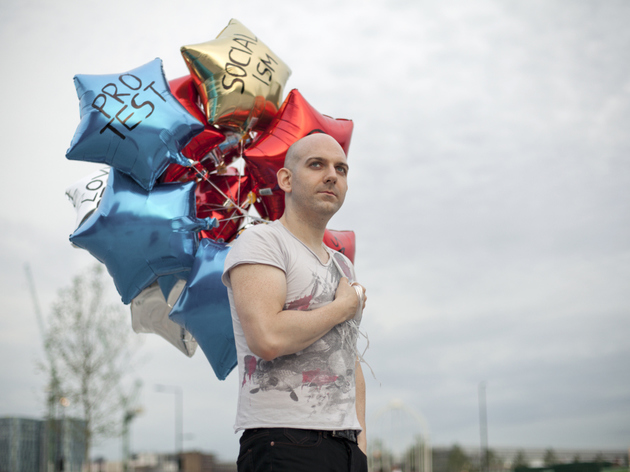 Charming host Chris Coltrane MCs this very friendly political comedy/new material night. Lolitics focuses as much on the 'lols' as the 'politics', with acts performing sets that are rarely preachy and just plain funny. December 15's bill includes Josie Long, Tiernan Douieb, Kitten Killers, Bridget Christie and Elf Lyons.
Rating Breakdown
5 star:

0

4 star:

1

3 star:

0

2 star:

0

1 star:

0
I assume that when the above preview refers to 'charming host Chris Coltrane' it is his general nice demeanour we are describing rather than him being a resident of Charming the fictitious location of US TV series Sons Of Anarchy, though after experiencing his act he might prefer the latter association. In fact he hosts a great comedy night made all the more appealing by the fact that you might spend no more than a tenner and a bit of shrapnel for entrance to a great night of comedy and a couple of pints of local Camden lager - what's not to like?

Chris Coltrane entertains with stories around his recent trip joining activists attending the annual shareholders meeting for BAE systems, the arms manufacturers. He comes across as a more amiable version of Mark Thomas and I shall certainly be looking to attend next year as the company even provide protesters with free food at the meetings apparently. The first guest on tonight's bill was Josie Long, already a big name, she said she liked to use that evening's paper to prompt her material for Lolitics but tonight as we are in local and European elections week, she's opted for bringing along various political party manifestos which have arrived on her doormat, which is in some ways a shame because it denies us the opportunity to see what she would have made of one of the days big stories featuring Brooklyn Beckham working in London as a barista in an unnamed branch of Caffè Nero - surely Josie, comedy gold. Her spot was made all the more interesting by there being a Green MEP candidate in the audience, inviting some good interaction and she navigated successfully around making more obvious swipes at UKIP.

The reason I found myself at Lolitics was that I had wanted to see Bridget Christie live after thinking she was impressive on HIGNFY @haveigotnews a few weeks ago when she actually managed to get a few words and observations in with the added value of being funny. Now, I am going to pre-empt the fact that I am going get a bit of egg-on-face later on the review but nethertheless for the moment I am going to proceed as planned.
Bridget Christie manages to follow a hard core feminist line whilst being extremely funny with it but I was musing throughout her set how much the influence of Stewart Lee can be seen on current comics both in terms of their approach to content and presentation, in fact I smiled to myself, Bridget Christie could almost be the female Stewart Lee - see that custard pie heading my way. She manages to riff hilariously on a new ad campaign currently posted by H&M featuring Gisele Bundchen modelling swimwear, though when I got home and typed Gisele Bundchen and Groyne into Google I couldn't quite find any images that resembled the one we had of Bridget Christie on her back, legs akimbo on the Lolitics stage.

We are treated to a previously unannounced guest after the interval. Rob Newman is another big name and in many respects it is a real treasure to see him trying out new material in this environment - he is what you might call an intellectual comedian, sometimes too clever for his own good but by the time he has honed his New Theory Of Evolution it shows all the sign of being very funny and probably educational.
Nish Kumar came on stage and instantly hit the right tone, highlighting his British Asian origins, this didn't feel like someone road-testing material for Edinburgh but very much for the audience in the here and now, perhaps it was and he just couldn't get a booking for Edinburgh this year.
Andy Saltzman brought me back to my Stewart Lee theory despite looking like Art Garfunkel on acid, he's a perceptive political comic but has got those Leeisms in material and presentation again, perhaps he writes for Stewart Lee, I am trying to check this when I get home when I inadvertently discover that Bridget Christie.... is Stewart Lee's wife.... in the mood of political correctness and order I repeat, Stewart Lee is Bridget Christie's husband - those kids, that they both refer to in their routines ... are the same kids - splat! . I guess their family holidays are like The Trip (with kids) each doing constant impressions of.... each other. Custard pie for me.
Loving Lolitics